In terms of what's quite possibly the most pathetic cover up I've seen for a plane "accident," an Air Canada Airbus A320 crash landed in Halifax last night.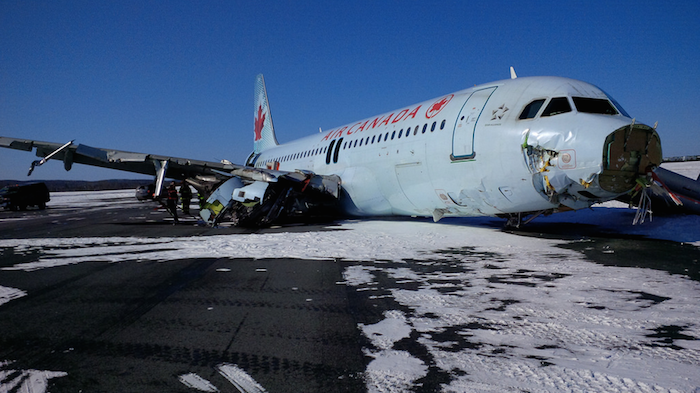 Photo courtesy TSB Canada
First and foremost, thank goodness that nobody seems to be critically injured. While some people went to the hospital, all but one have been released, and none seem to be in critical condition. Clearly this could have ended a lot worse than it did. Especially in light of the Germanwings tragedy, that's a huge relief.
But what kind of leaves me shaking my head is how Air Canada and Halifax Airport are phrasing this accident/crash landing. After the incident last night, Air Canada Tweeted that the plane had "exited [the] runway upon landing:"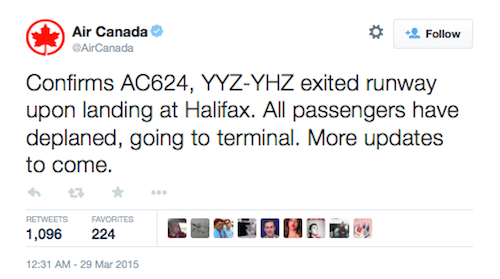 Now maybe I'm just way too lucky, but every time I've taken a flight it has also "exited the runway" upon landing!
Meanwhile a spokesperson for Halifax Stanfield International Airport said that "it was a hard landing, and the aircraft left the runway." I don't know if "leaving the runway" is Canadian nomenclature or something, but to me "leaving the runway" might just as well mean it taxied to the gate.
Now this is a hard landing (one which actually caused damage to the fuselage):
But when you clip "an antenna array," lose your landing gear, and an engine gets disconnected from the plane, I think that hardly constitutes a "hard landing" or "exiting a runway."
Is it just me?