While I usually review flights, airport lounges, and hotels, I figure it's sometimes useful to review other forms of transportation as well. Trains are increasingly replacing planes within Europe for short distances for (obvious) environmental reasons, so what's Germany's "premium" train experience like?
We've just spent several days in Düsseldorf (which we loved), and we decided to take the Deutsche Bahn Intercity Express (ICE) in first class. Winston even joined us, so I'll share what it was like traveling with a dog. In a separate post I'll review the Hyatt Regency Düsseldorf.
Booking Deutsche Bahn ICE first class
We were traveling from Berlin to Düsseldorf on Tuesday evening, a roughly 4hr20min journey. The entry level one-way first class pricing was 51.90 EUR, which I thought was quite reasonable.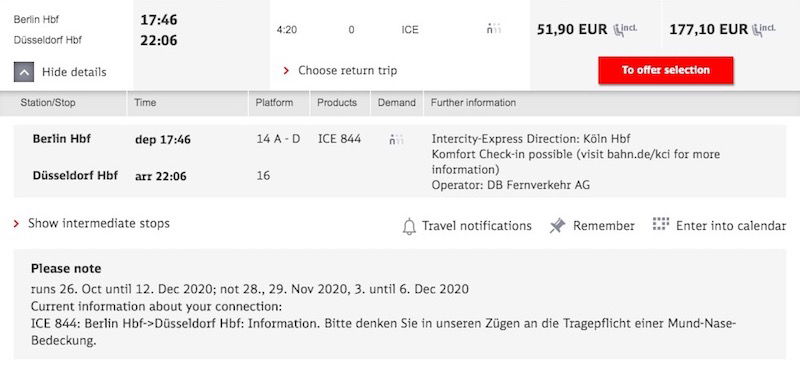 Deutsche Bahn has several types of first class fares. The 51.90 EUR price is the absolute cheapest. If you want ticket flexibility and access to the DB Lounge, your ticket is going to cost at least three times as much. Unless they're serving caviar and Krug in the DB Lounge, there's simply no way that's worth it if you don't need the flexibility.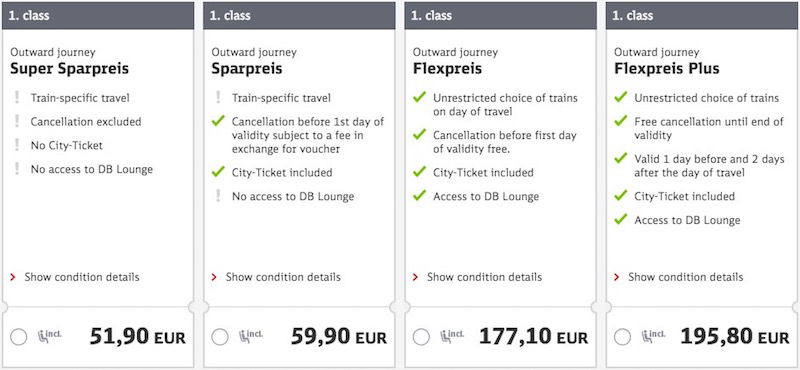 As a point of comparison, second class fares started at 35.90 EUR, so there's a roughly 45% premium for first class over second class.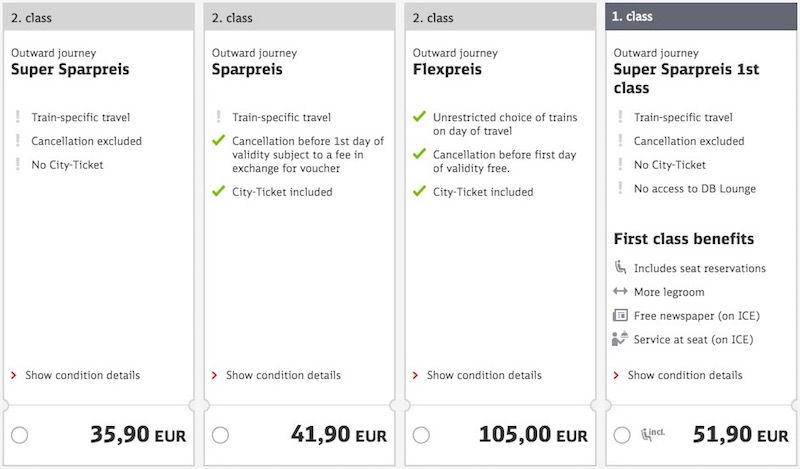 Note that Deutsche Bahn pricing is extremely dynamic. For example, that 51.90 EUR ticket close to departure could instead cost 131.90 EUR.
Booking tickets with dogs complicates things
Now, the above is how the booking experience is supposed to work. However, we were traveling with Winston. Dogs that aren't going to be in a carrier and are "bigger than a house cat" need their own tickets, which cost the same as a ticket for a child (though oddly you're not assigned a seat for a dog, unlike for a child).
Fair enough. Anyway, what's strange is that there are two ways to book tickets for dogs:
You can buy them at a Deutsche Bahn station
You can book them online, but only if you choose to have your tickets delivered by mail, which requires a certain amount of advance booking
For whatever reason you can't book a ticket online for a dog and then print out your own ticket or use a mobile phone ticket
I don't know why that is, it doesn't make sense to me — it's not like the dog has to be present when you purchase the ticket. But in Germany "the rules are the rules," so I went to the train station a couple of days before departure to purchase all of our tickets.
At that point I found out that I could have just purchased the "human" tickets in advance online, and then the ticket for Winston on the day of departure at the station.
Deutsche Bahn first class review
Let me share the bottom line upfront — ICE first class is like flying with a low cost carrier, except there's a lot more space, and the (paid) catering is even worse. But that last part might also have been a function of coronavirus.
Berlin Hauptbahnhof
We got to Berlin Hauptbahnhof at around 5PM for our 5:46PM departure. In retrospect that was way early, but we weren't sure how busy the station would be, how hard it would be to find our track, etc. ICE tickets actually show the track number at the time you book, so that takes the guessing game out of it.
The main train station in Berlin is huge, as you'd expect.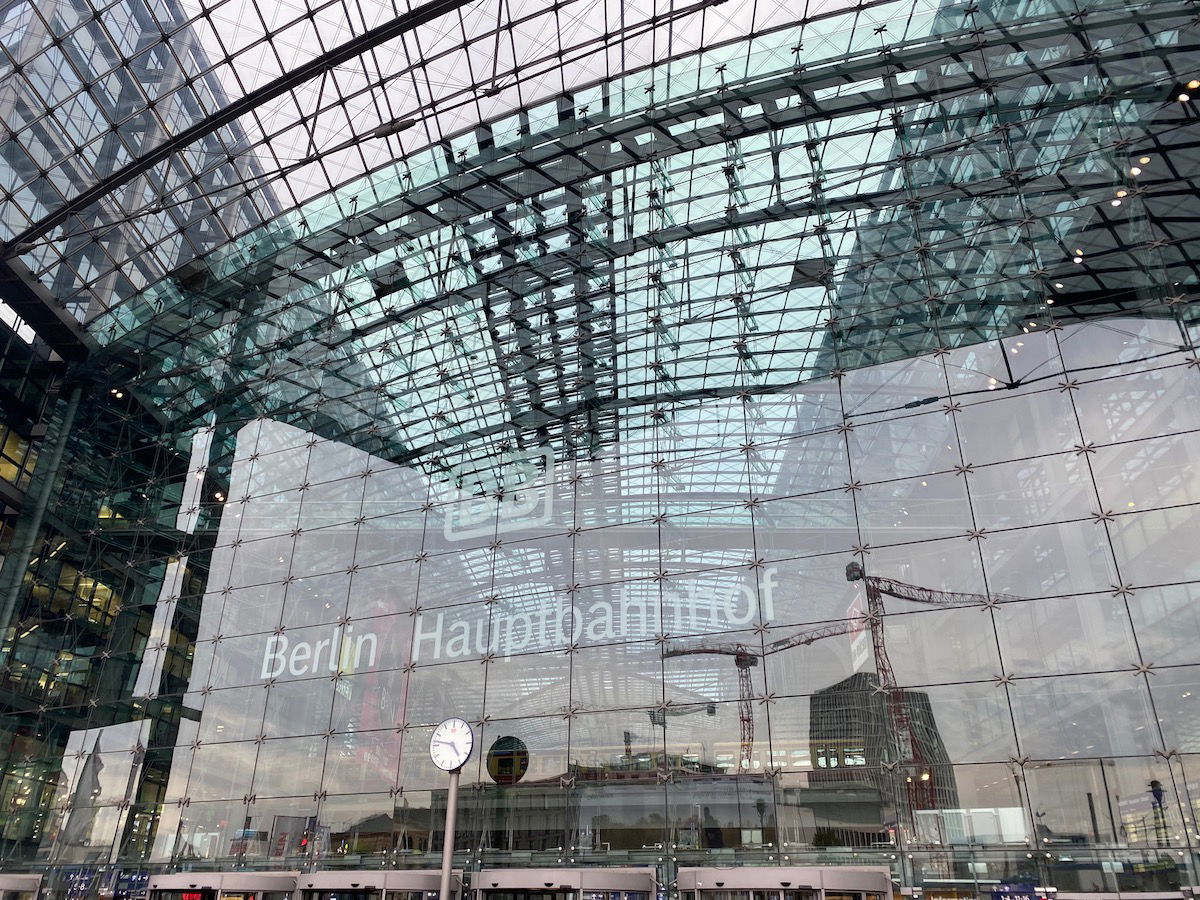 Berlin Hauptbahnhof exterior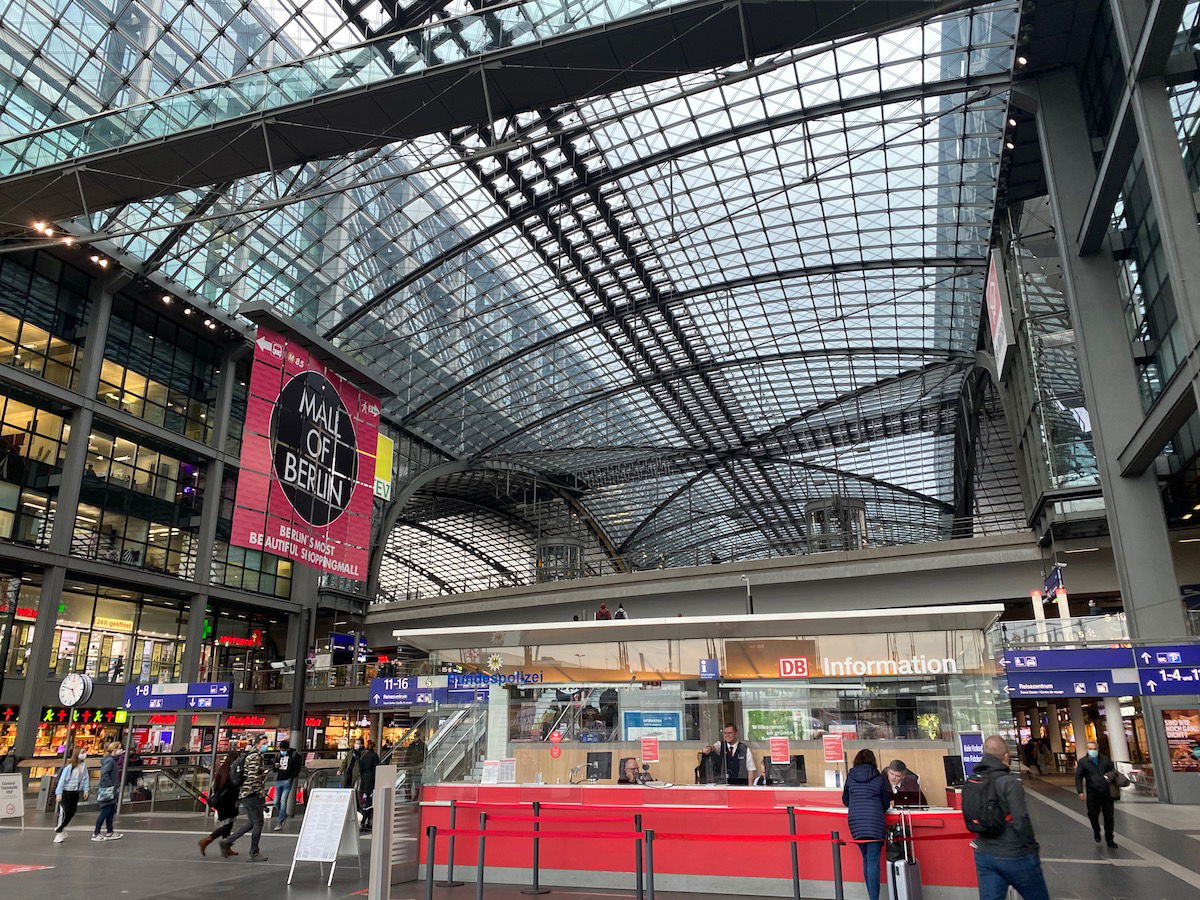 Berlin Hauptbahnhof interior
Our train was leaving from track 14, which was easy enough to find.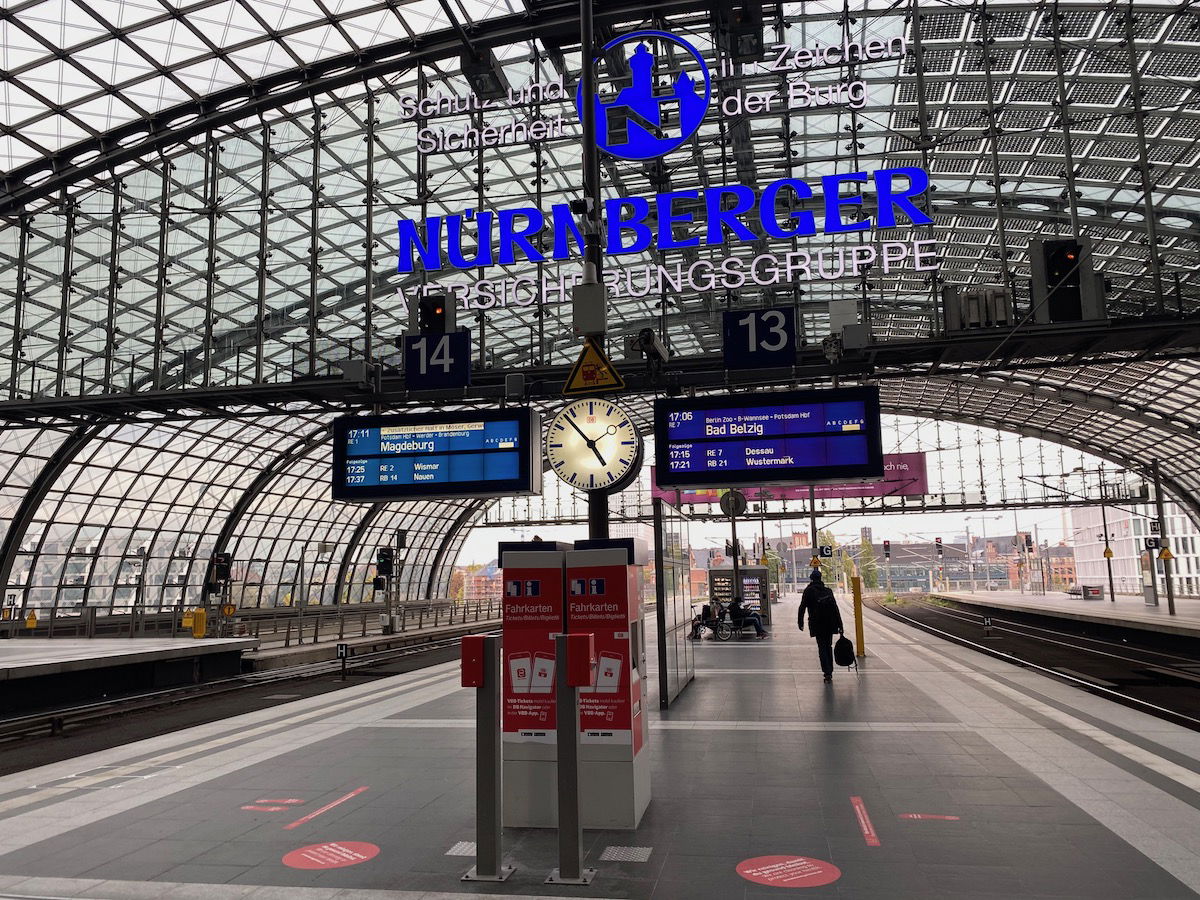 Berlin Hauptbahnhof tracks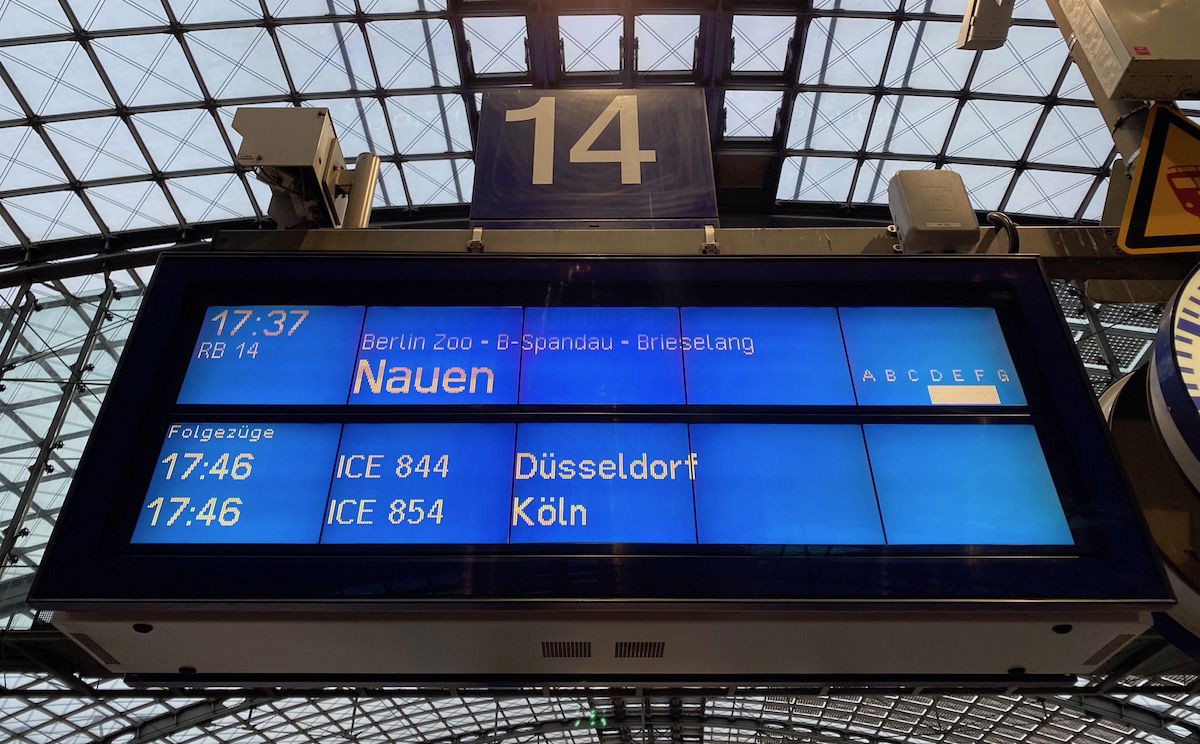 Intercity Express departures board
Our train pulled in a few minutes before departure, and the ICE trains sure are sleek-looking. There were two parts to the train, as the train splits about halfway through the journey. We were in the A-D section.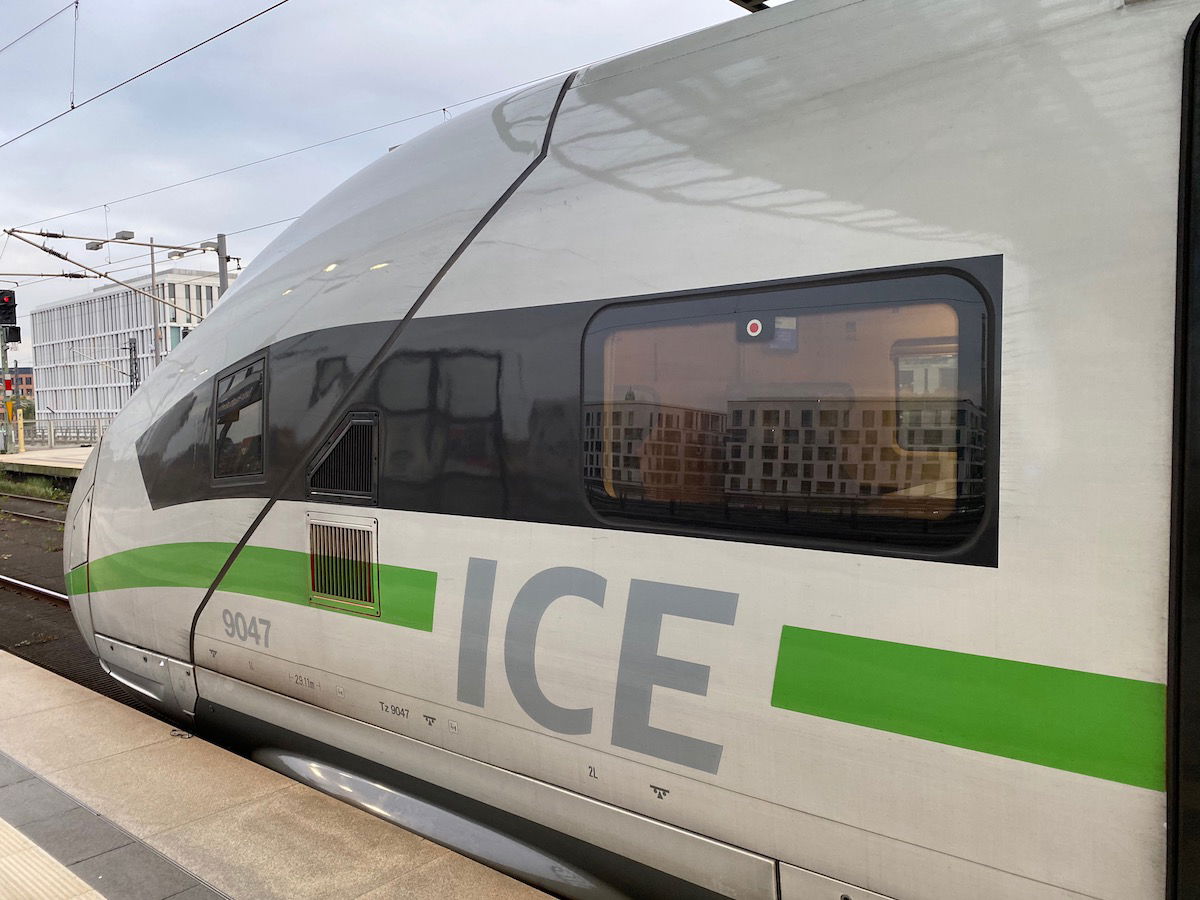 Deutsche Bahn ICE train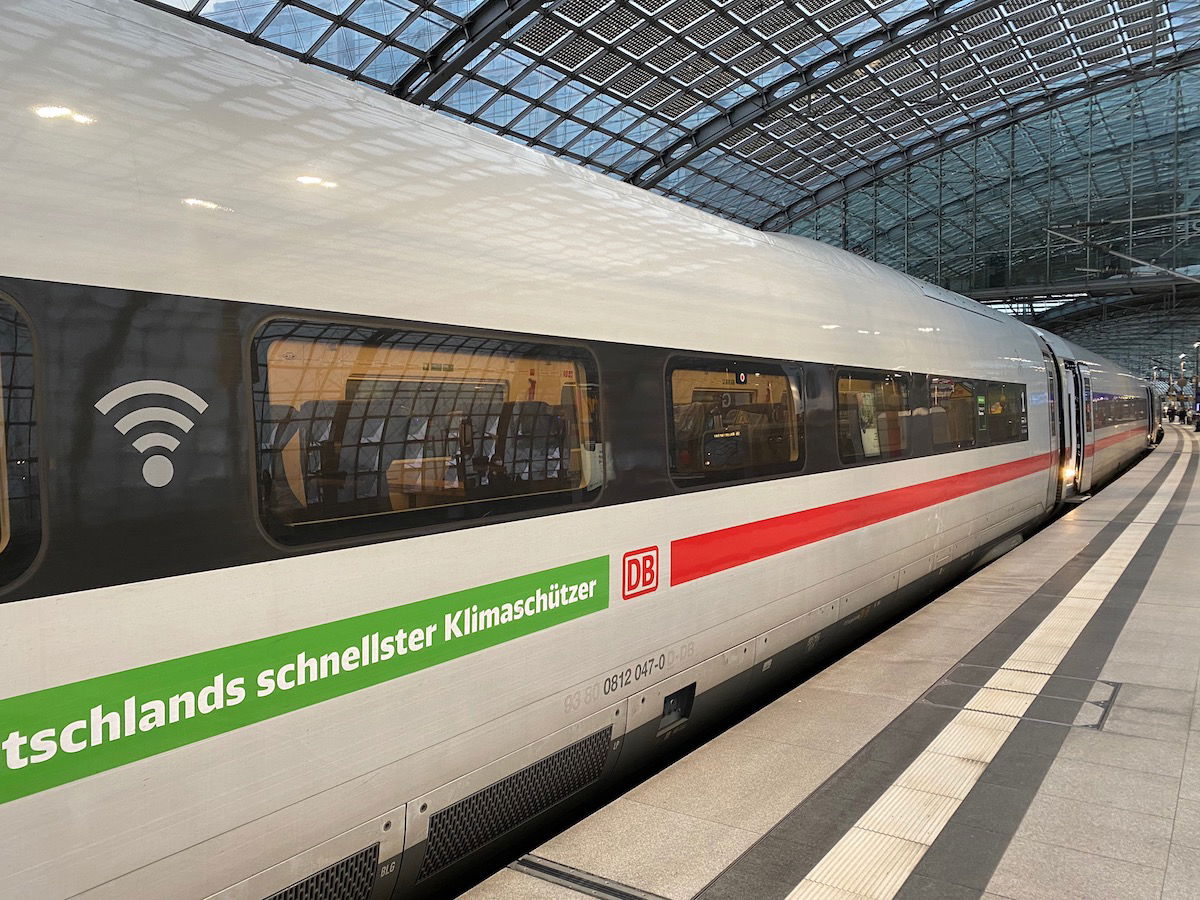 Deutsche Bahn ICE train
I wouldn't exactly call myself a train enthusiast, but I do love the variety of train spotting that was possible (if that's a thing) from the modern ICE, to the more classic S-Bahn.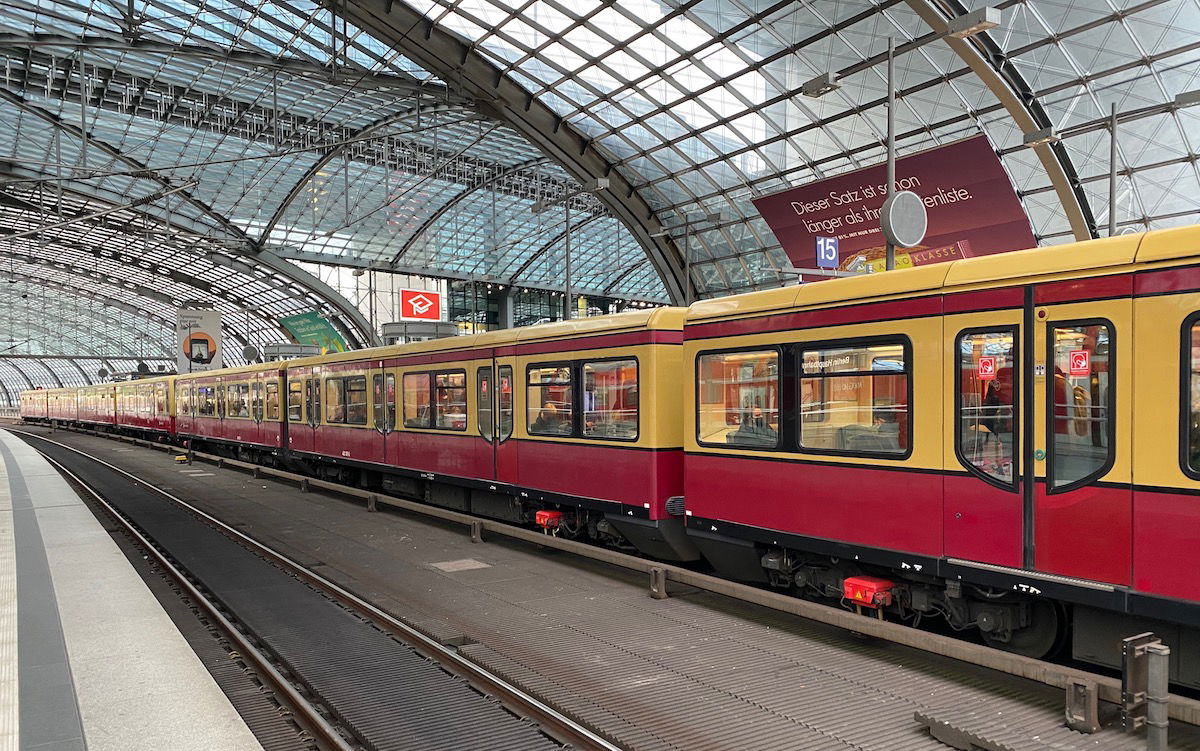 Berlin Hauptbahnhof trains
ICE first class cars & seating
Each ICE first class train has a total of 53 seats. The cars are in a 1-2 layout, compared to the 2-2 layout in second class.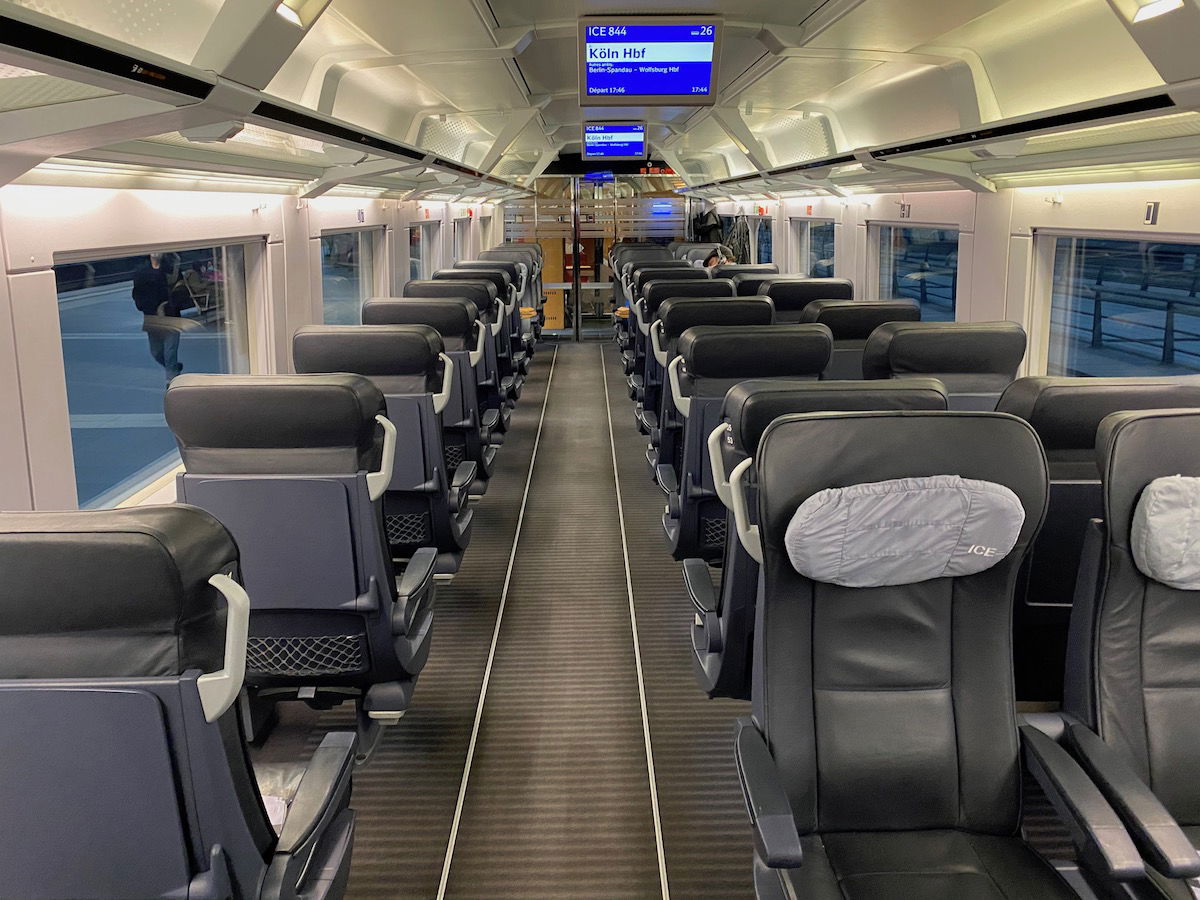 ICE first class train car
There were a variety of seating options, including standard single seats and pairs of seats, both forward and rear facing. Each seat had both a power outlet and a tray table that could be lowered.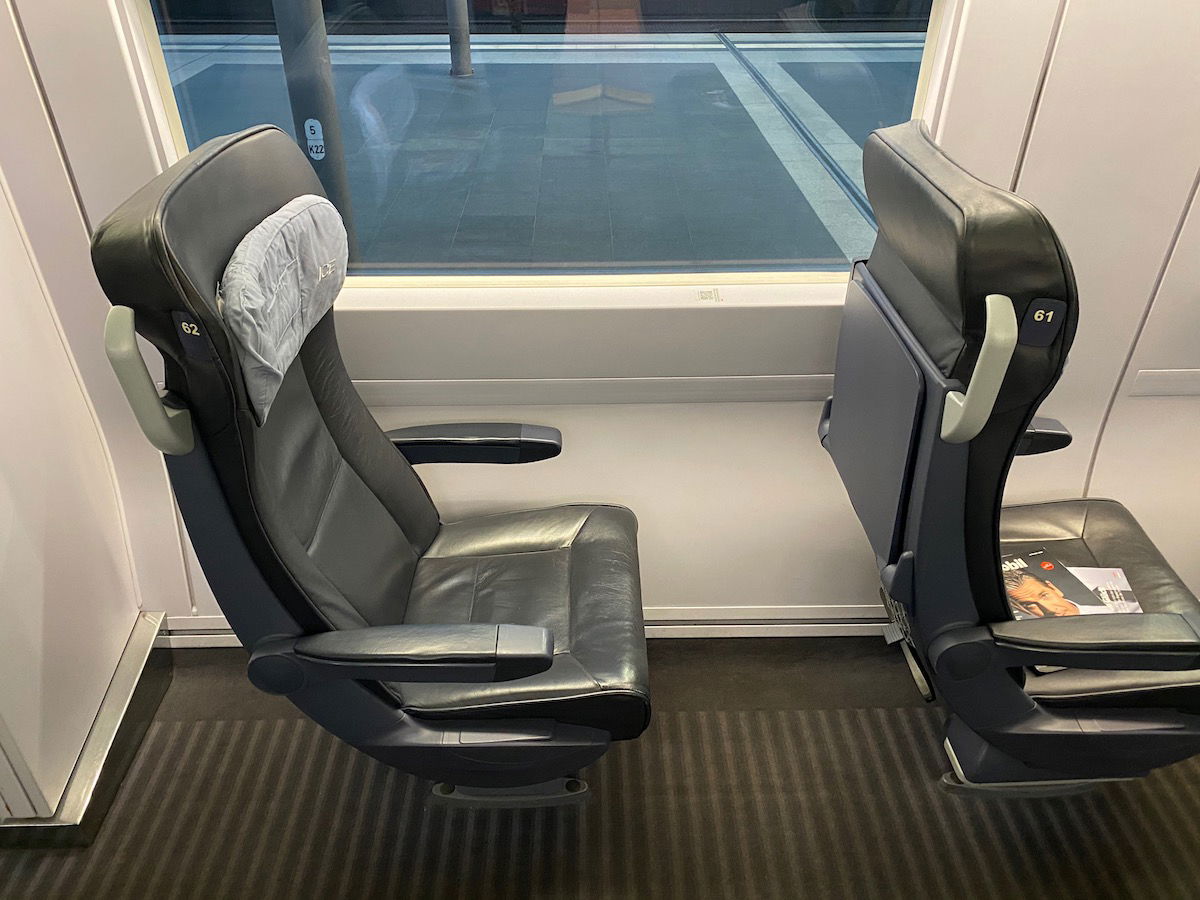 ICE first class seating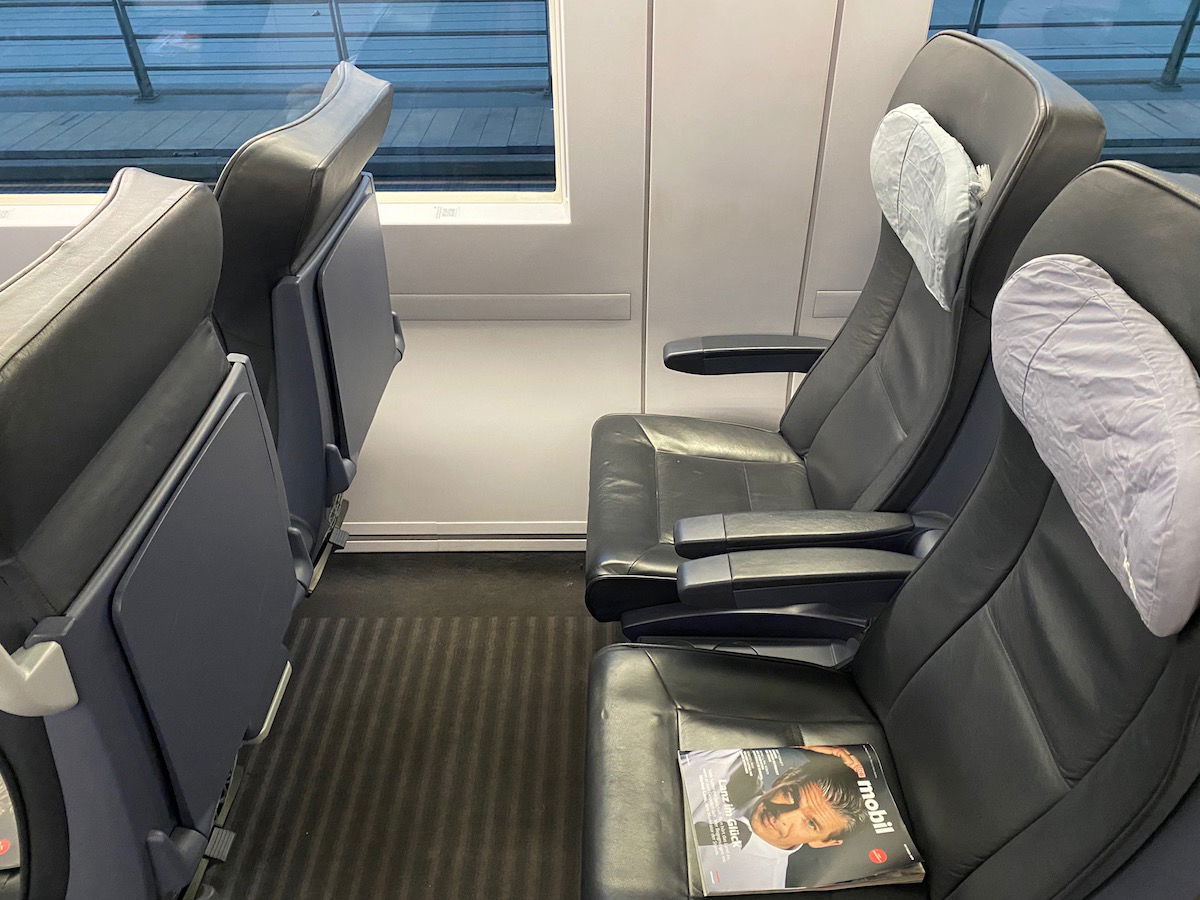 ICE first class seating
Then there were also two and four person conference tables. This train was rather empty, so we ended up reserving one of these, since we figured Winston would be happiest resting underneath a table.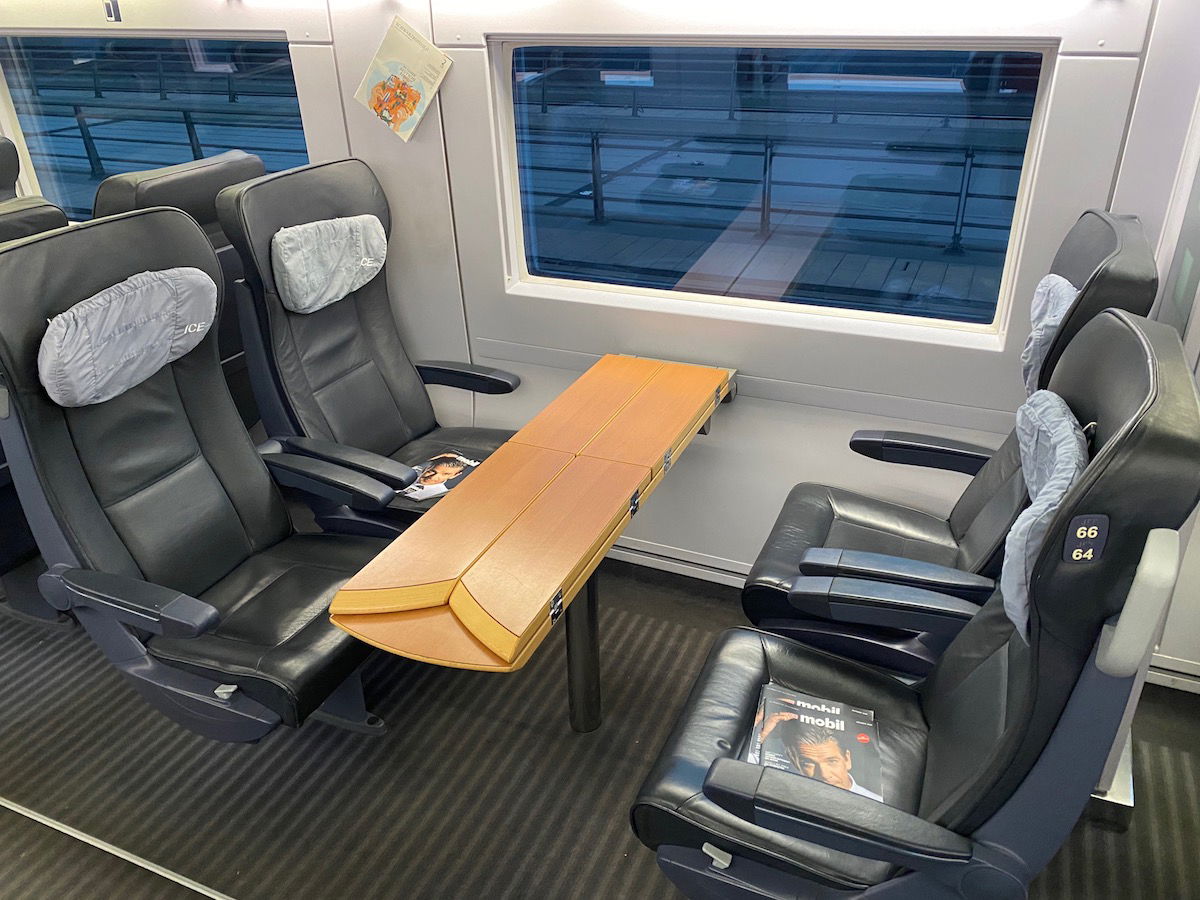 ICE first class table seating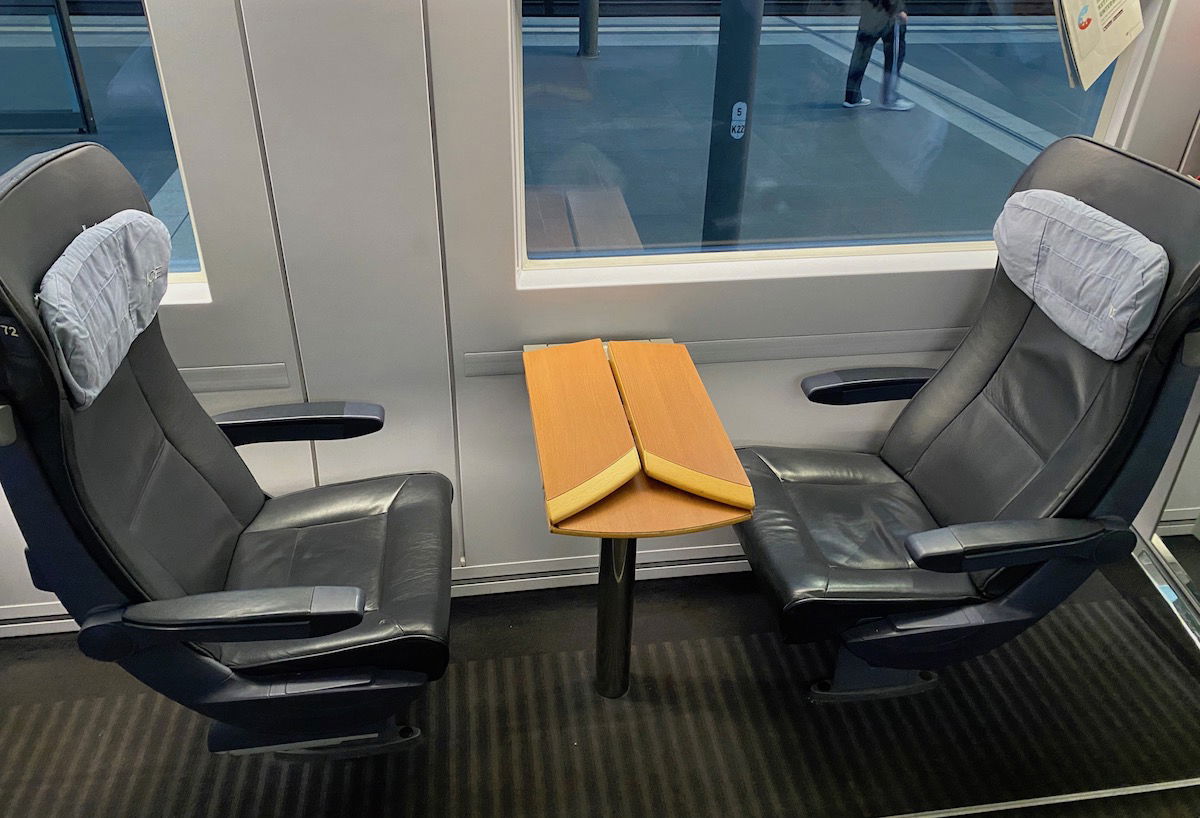 ICE first class table seating
I'm not sure they did a particularly good job cleaning trains, though…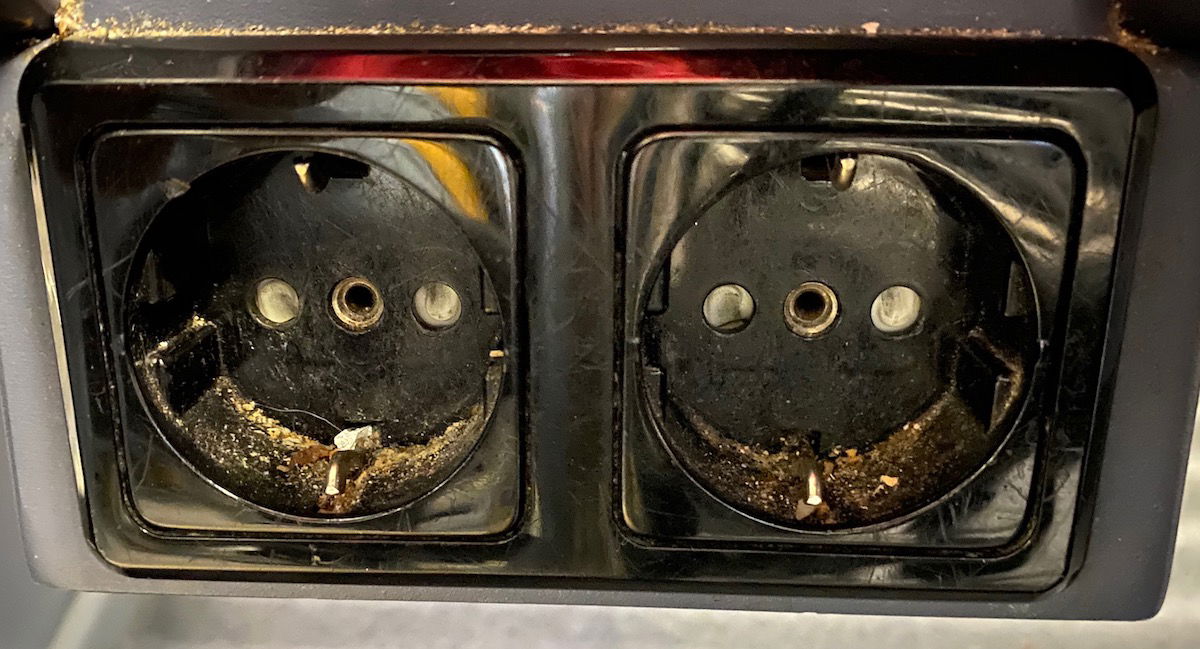 ICE first class power outlets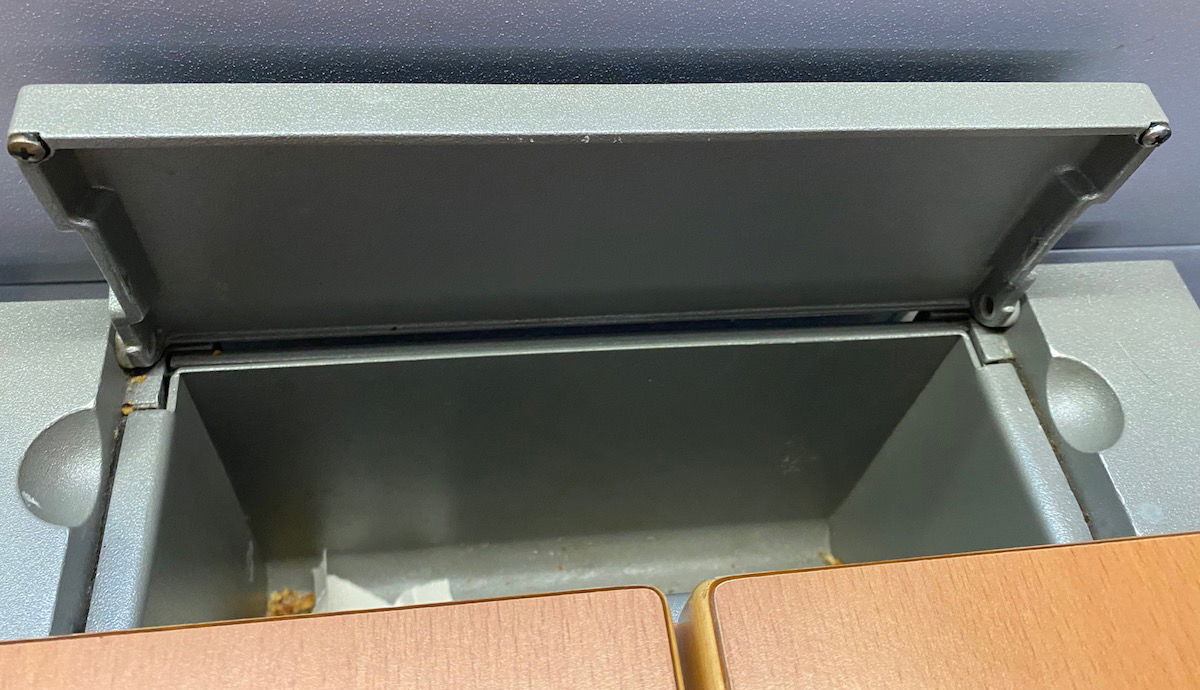 ICE first class garbage bin… or something?
Each car also had a lavatory, which was surprisingly spacious, and better than what you'd typically find on a plane.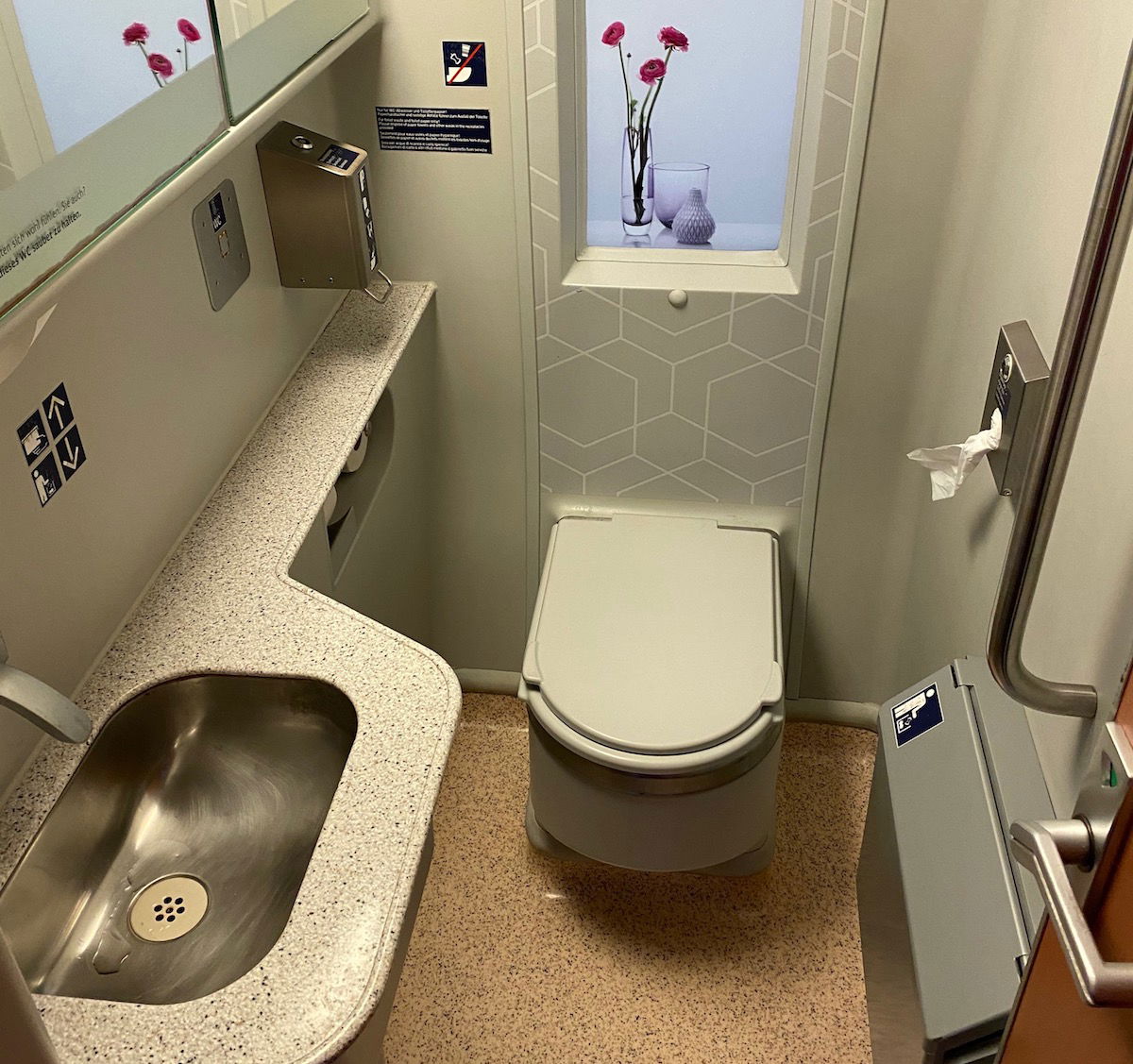 ICE first class bathroom
ICE dining car & cafe
ICE trains have dining cars, which are available to all passengers, including those in first and second class. In our case the dining car was just one back from where we were seated.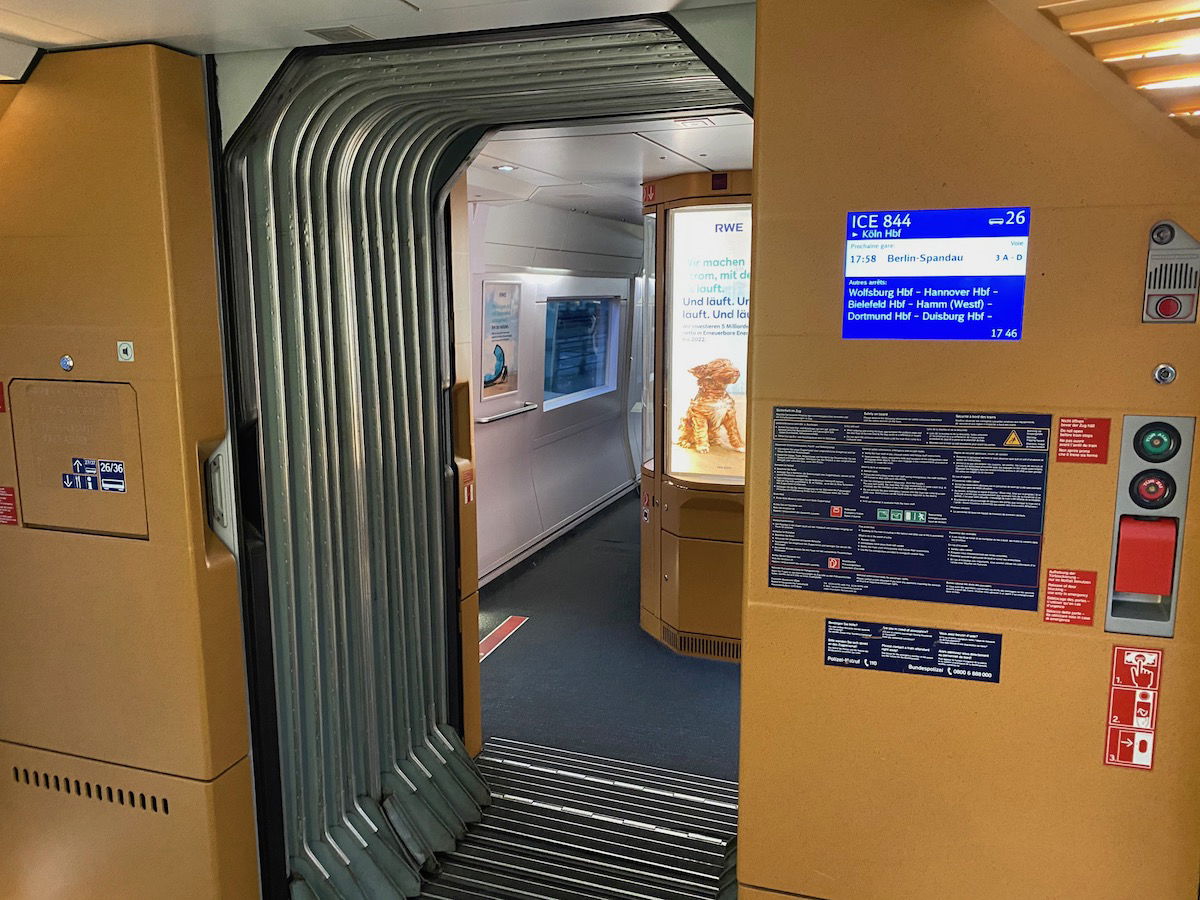 ICE dining car
The dining car had seven tables, including four that could seat four people, and three that could seat two people.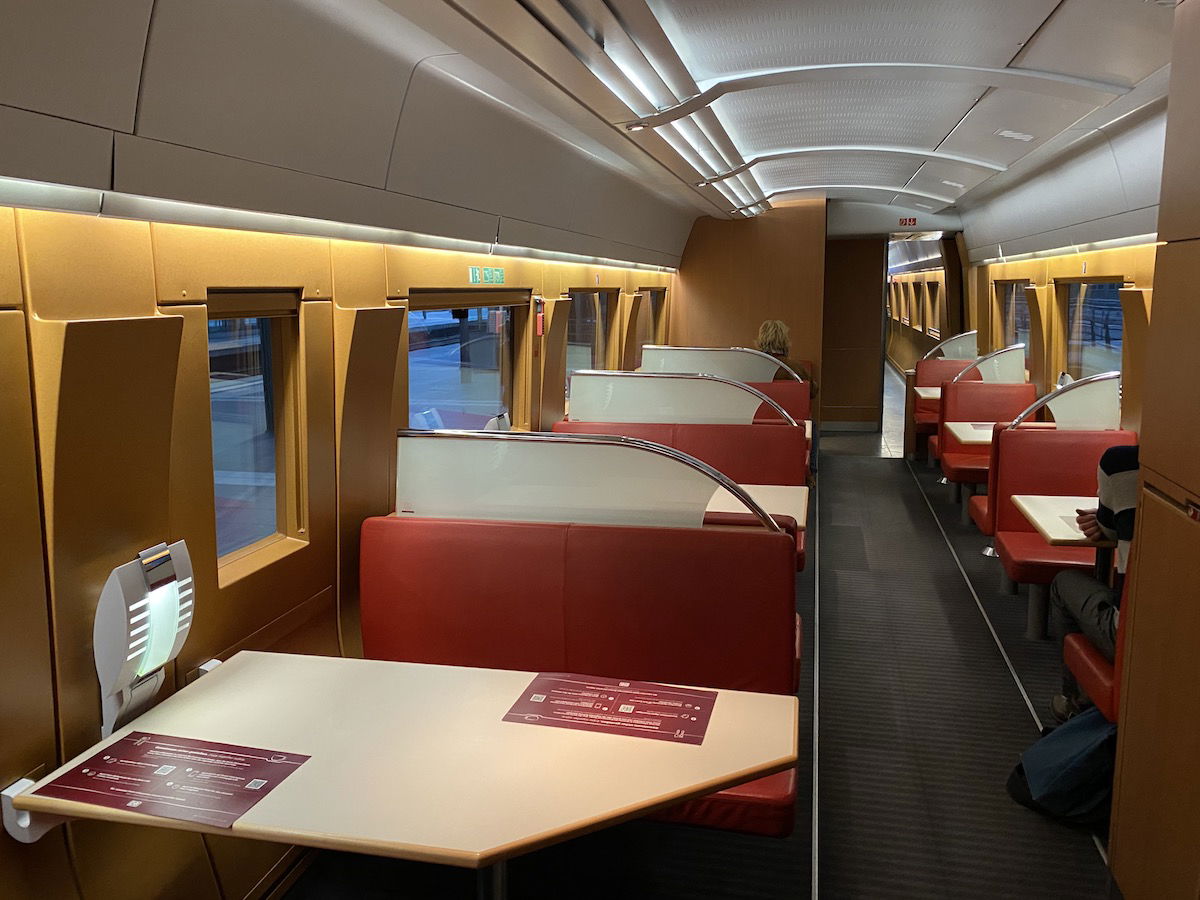 ICE dining car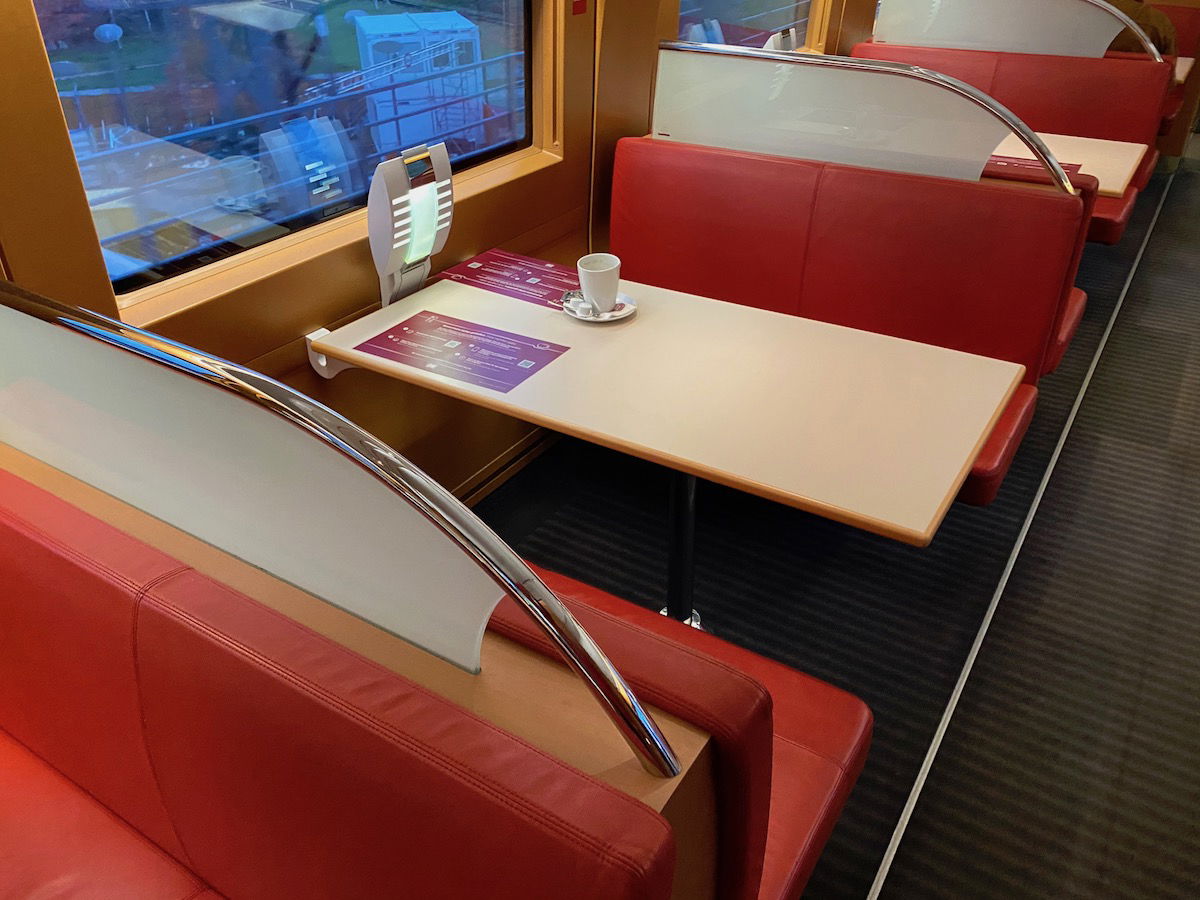 ICE dining car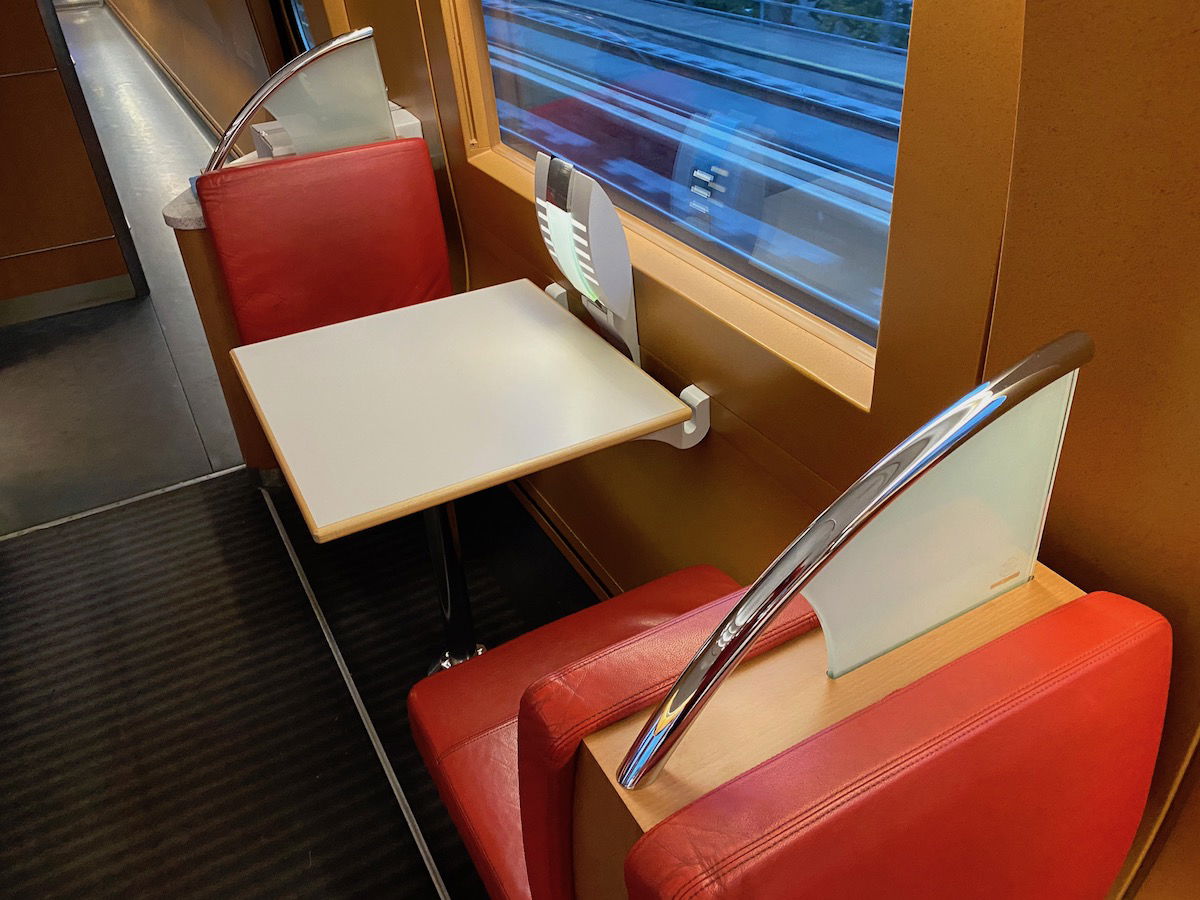 ICE dining car
If you didn't want to sit in the dining car you could instead just pick up something at the cafe window. There was some L-shaped high-top seating across from that.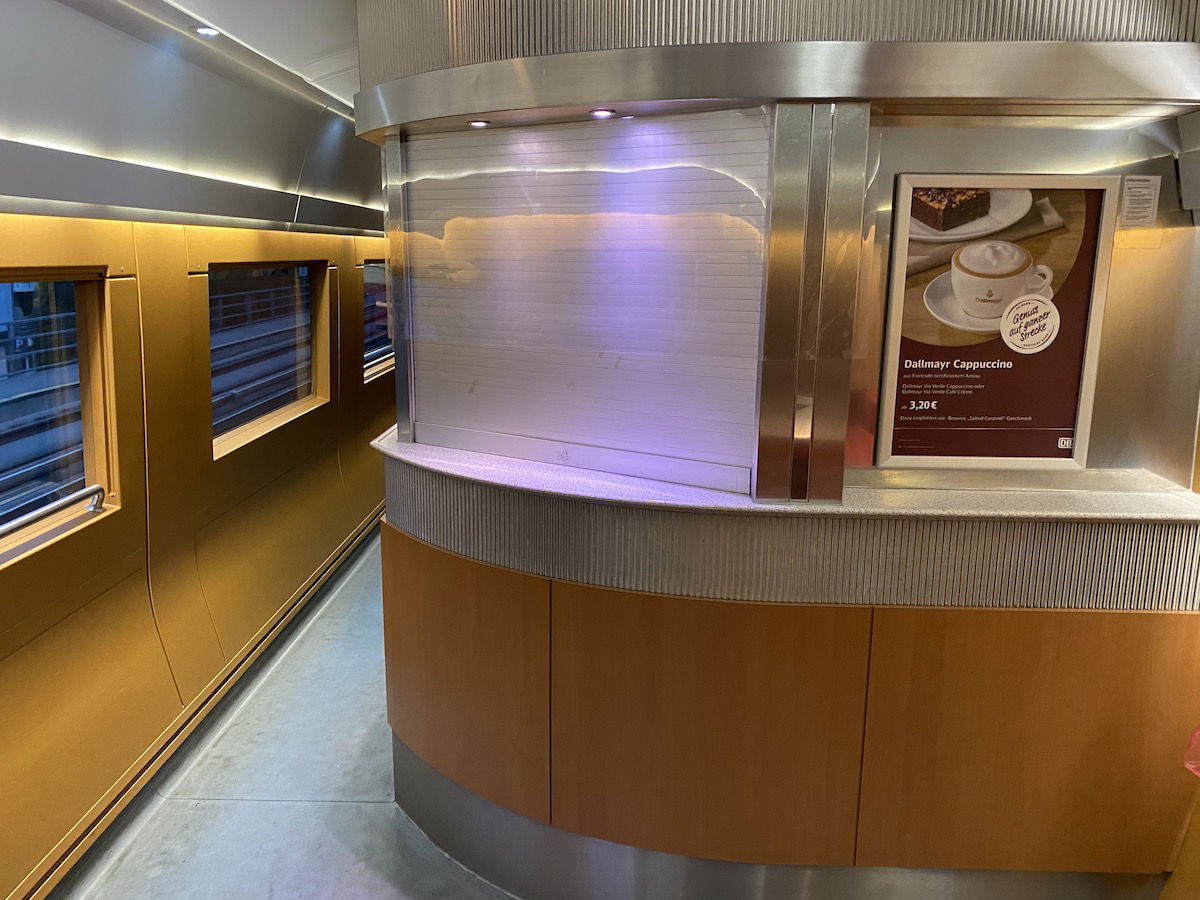 Intercity Express train cafe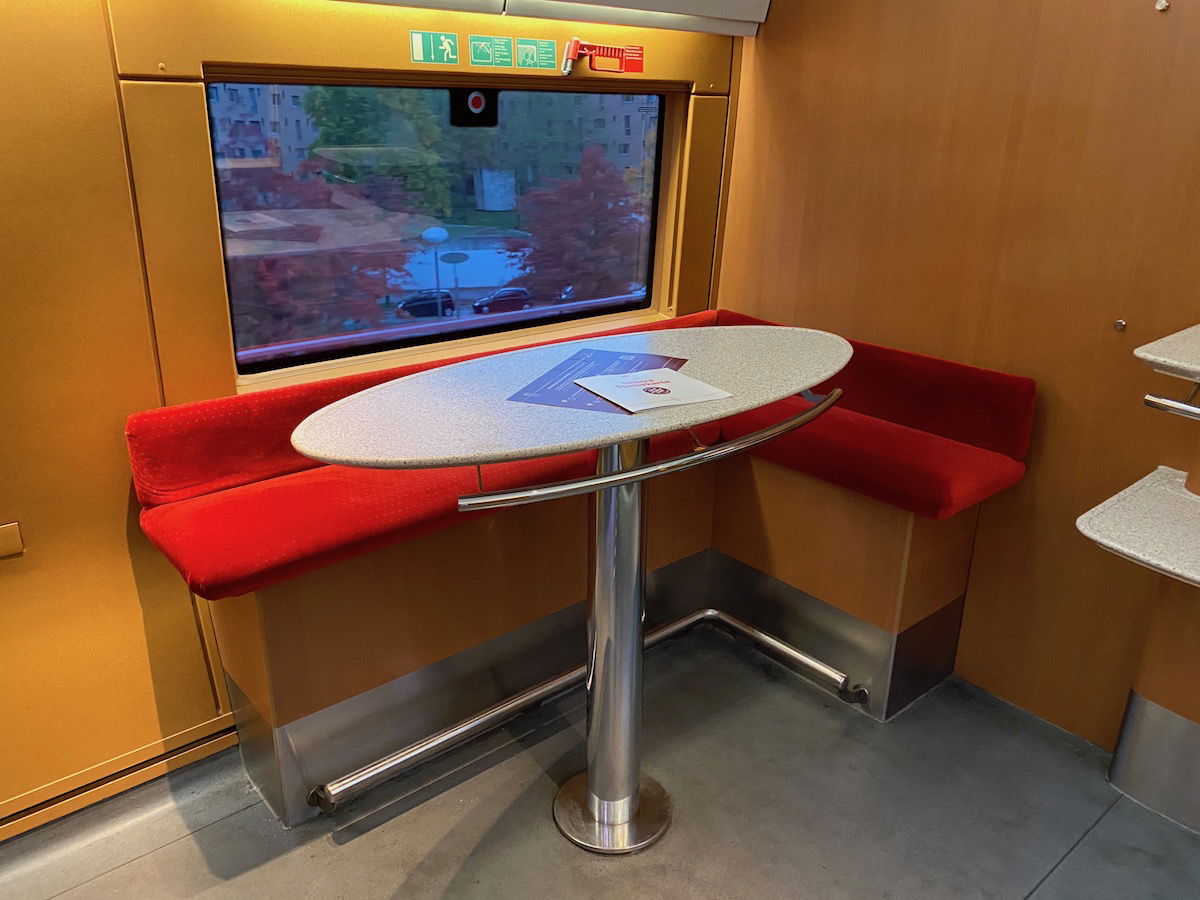 Intercity Express dining car cafe
ICE free wifi
All Intercity Express trains have free wifi, and to my surprise speeds were really good, to the point that it was possible to stream. That was a pleasant surprise, since I was expecting to have to tether. It also made for a productive several hours.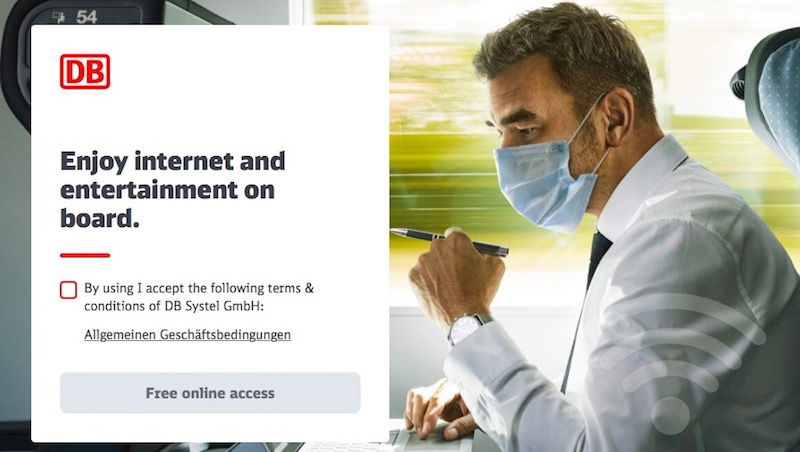 Intercity Express free wifi
ICE first class service
As I said above, ICE first class is like flying a low cost carrier. Absolutely nothing is included, except they do sometimes hand out chocolates or cookies (they did on the outbound, but not on the return).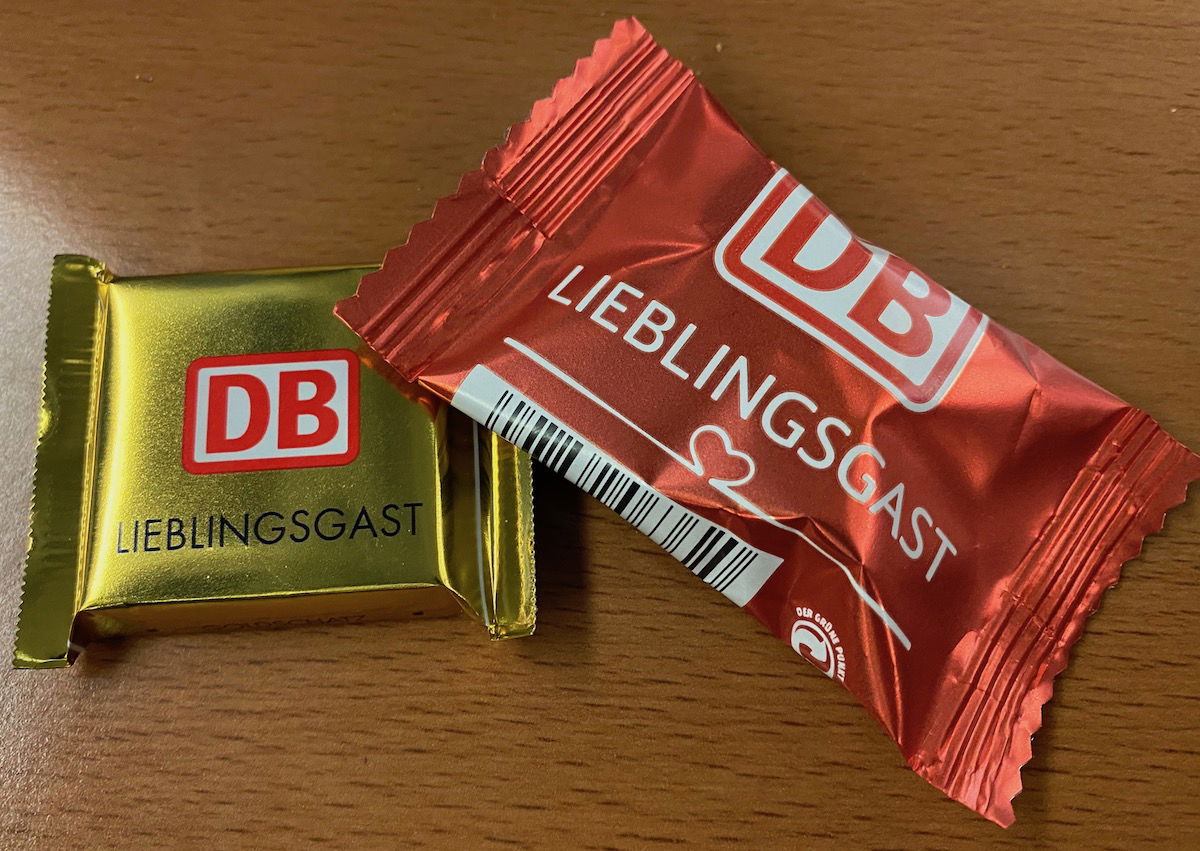 ICE first class chocolates & cookies
The one other difference seems to be that in first class they come from the dining car to ask if you want anything to eat or drink, and they'll bring it to your seat. There's not a trolley or anything, but rather they just run back and forth to see if you want anything.
They were much more proactive about this on our return journey compared to our outbound, though by the return we learned that we shouldn't rely on Deutsche Bahn catering for anything.
ICE food & drink options
The dining experience on ICE was… not great. Apparently there's a scaled back menu due to coronavirus, which is fair enough. That doesn't explain why all the drinks were room temperature, though.
Here's what the menu looked like: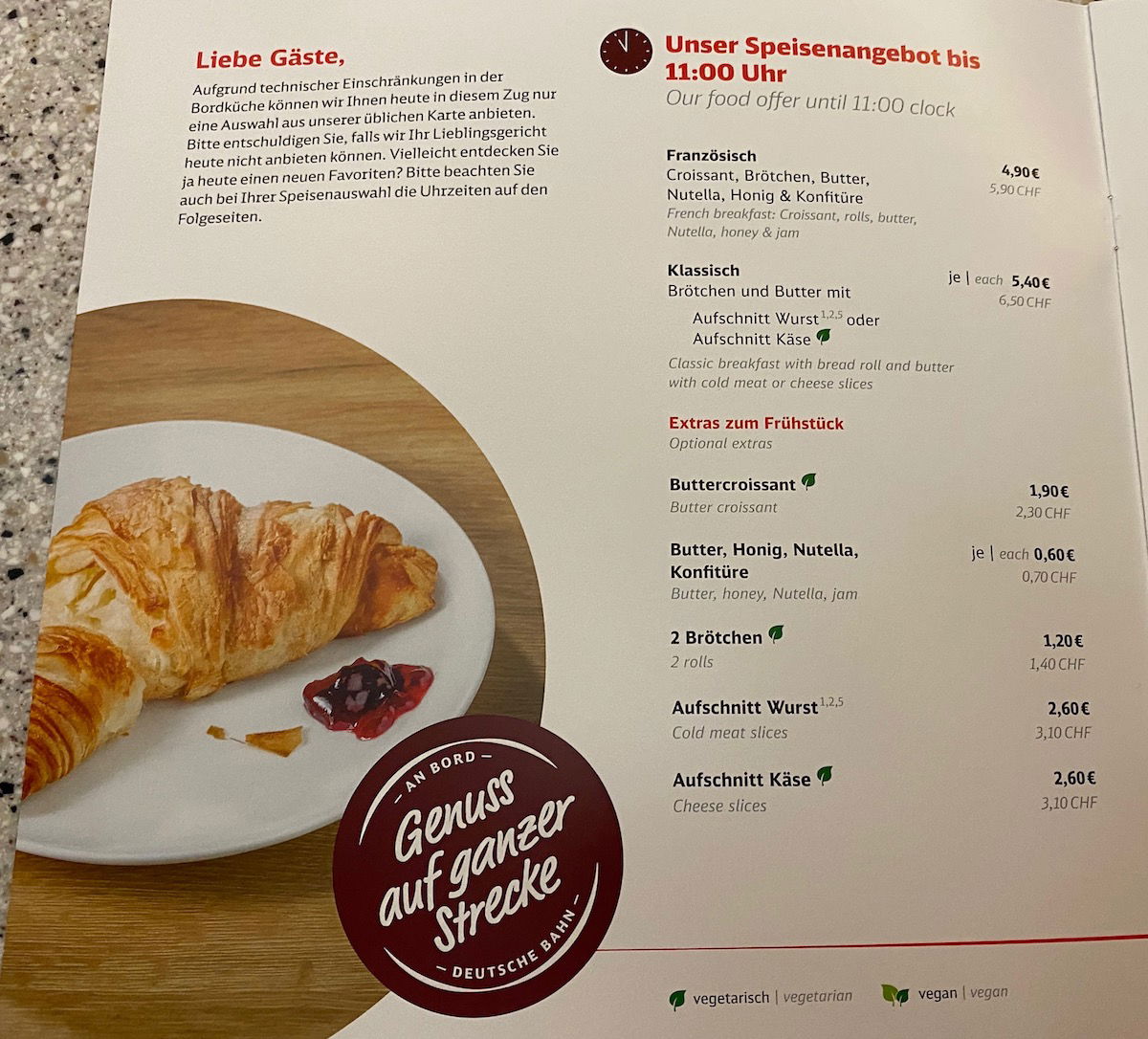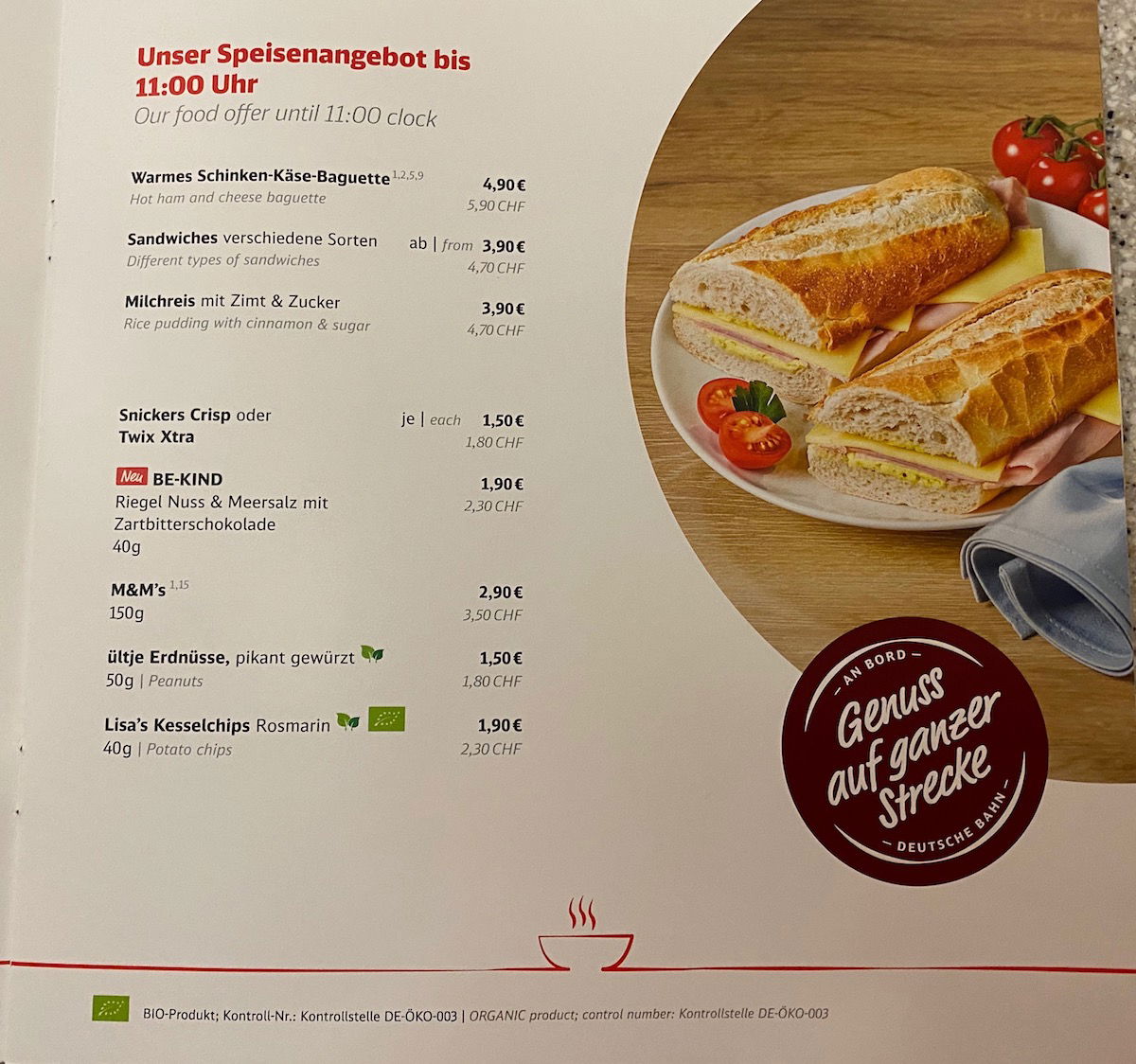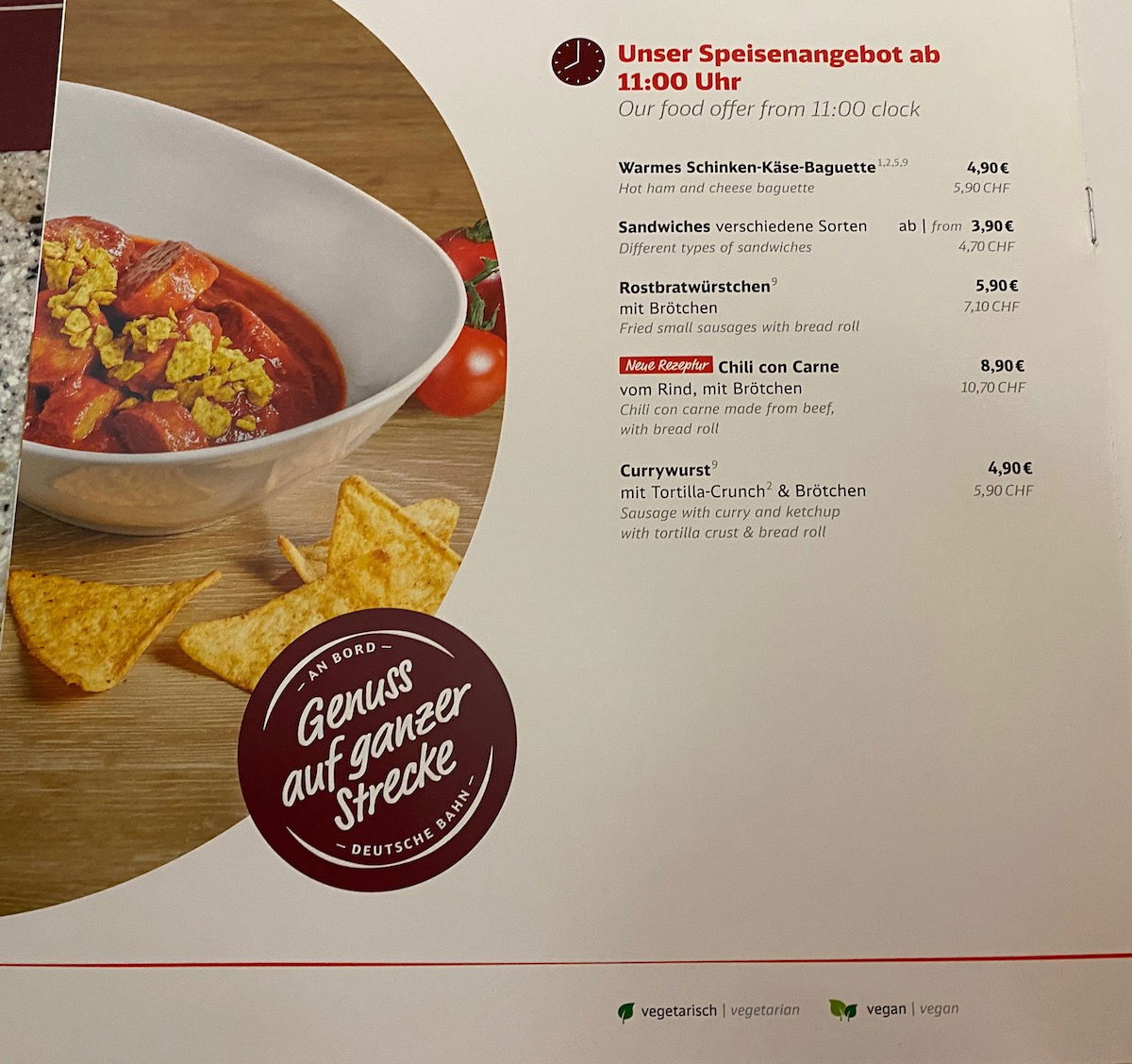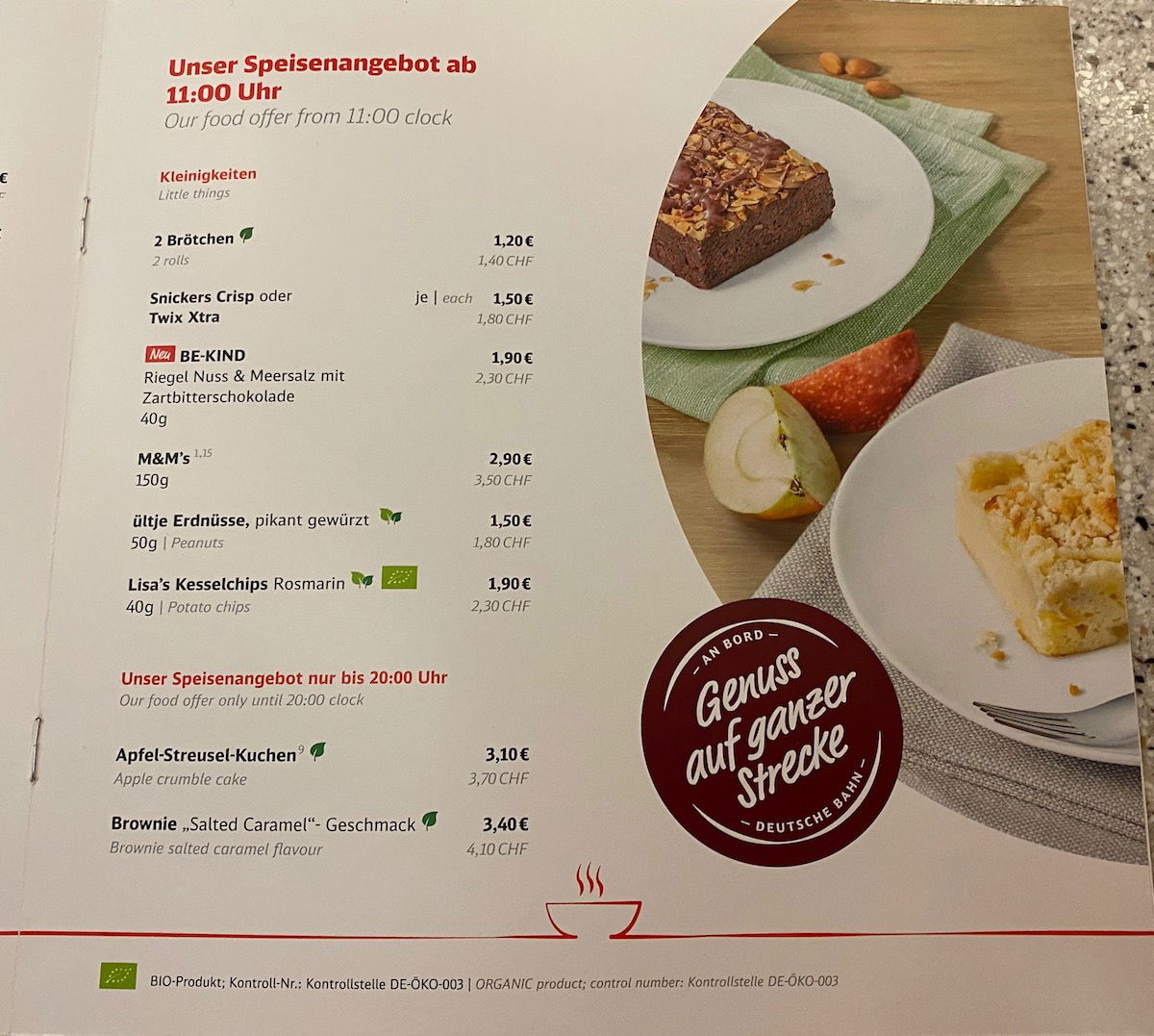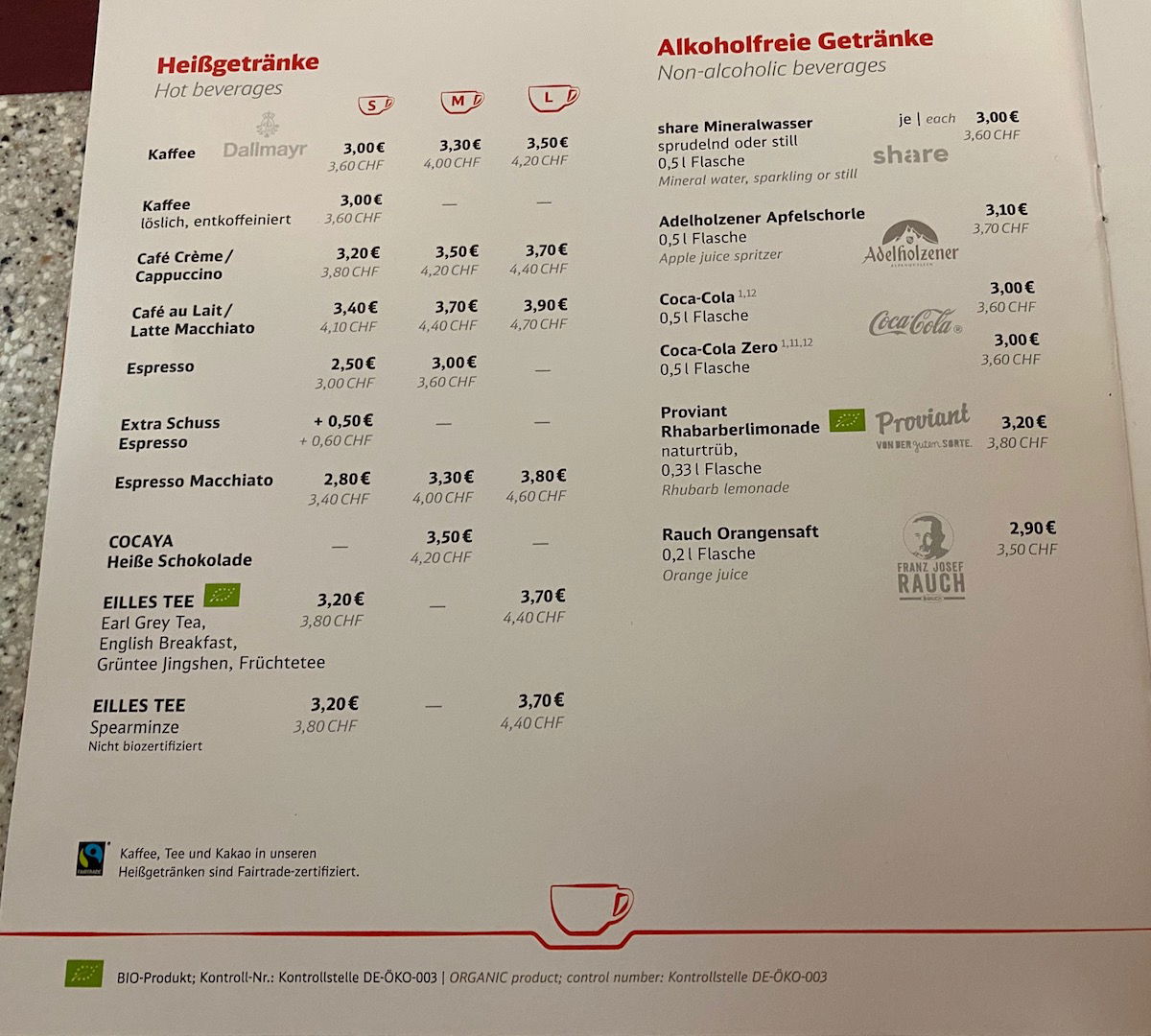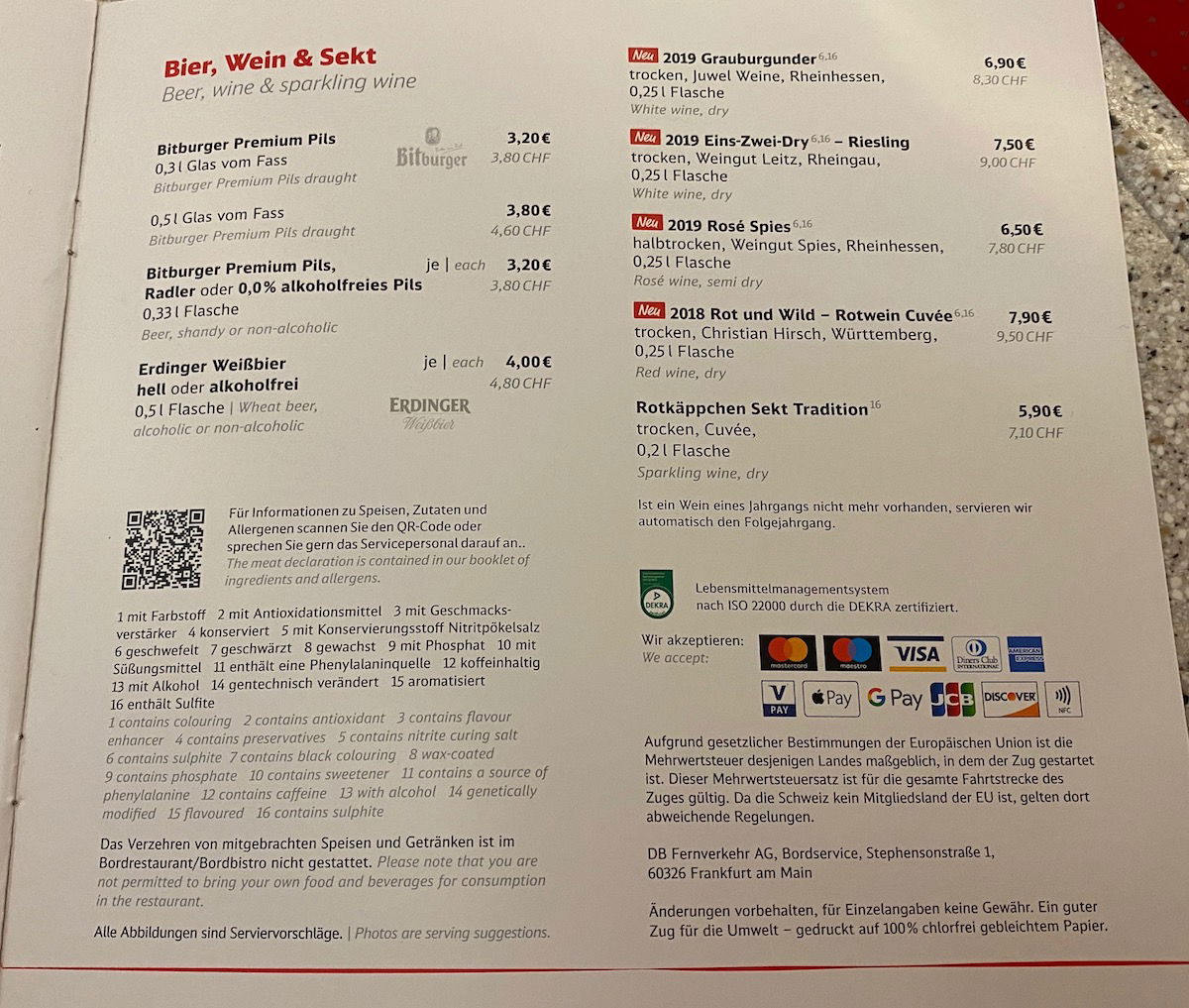 I think the ordering process roughly sums up our dining experience (translated):
"Could we have two white wines?
"You really don't want that."
"Why?"
"It's warm. Everything is warm."
"Ummm. I know it's not better, but let's do one beer one and one wine."
"You sure?"
"Yes."
The experience was similar with ordering food, where he more than once suggested not ordering anything because the food isn't good. But we went against his advice, just to be able to review the dining experience, if nothing else. 😉
Suffice to say that on the return journey we just bought a pretzel at the train station and called it a day.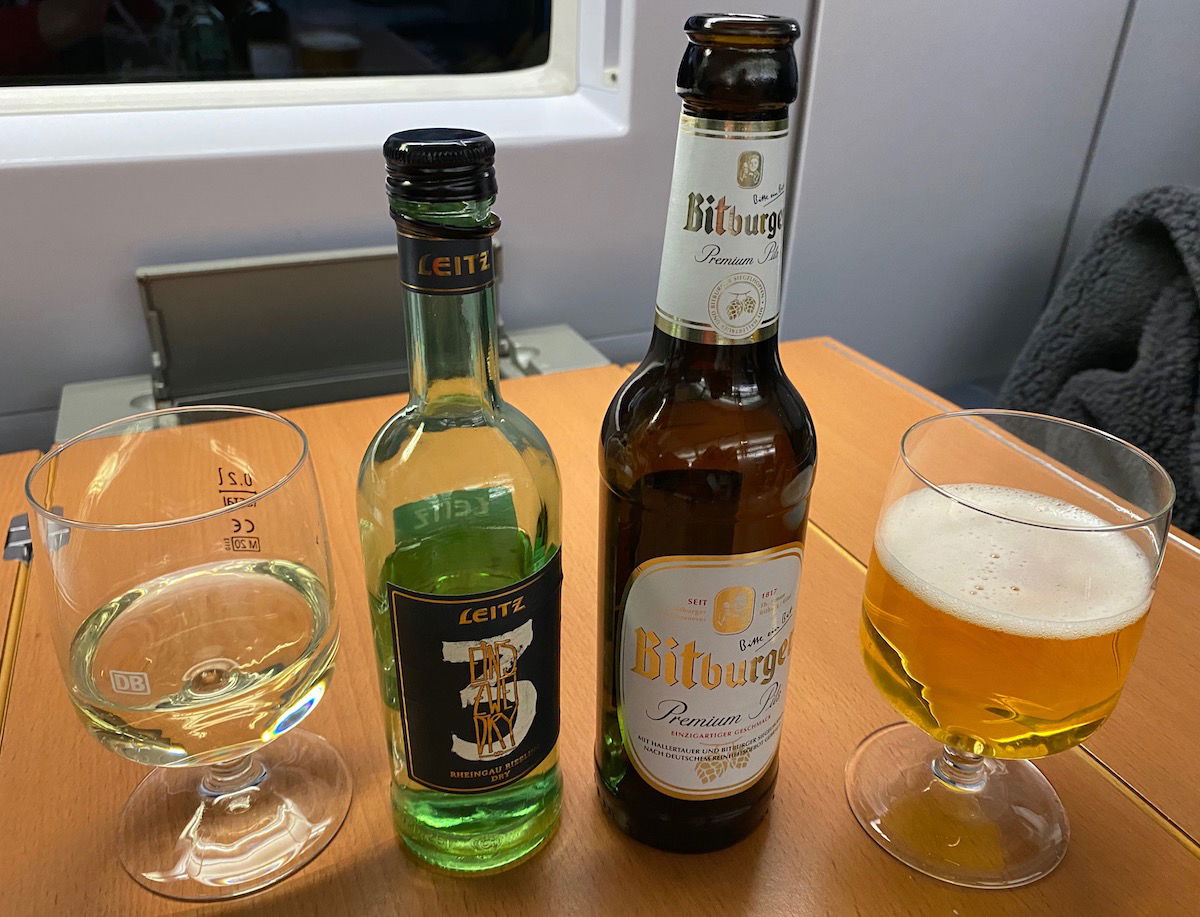 Intercity Express drinks
They weren't for me, but aren't those the saddest Rostbratwürstchen you've ever seen?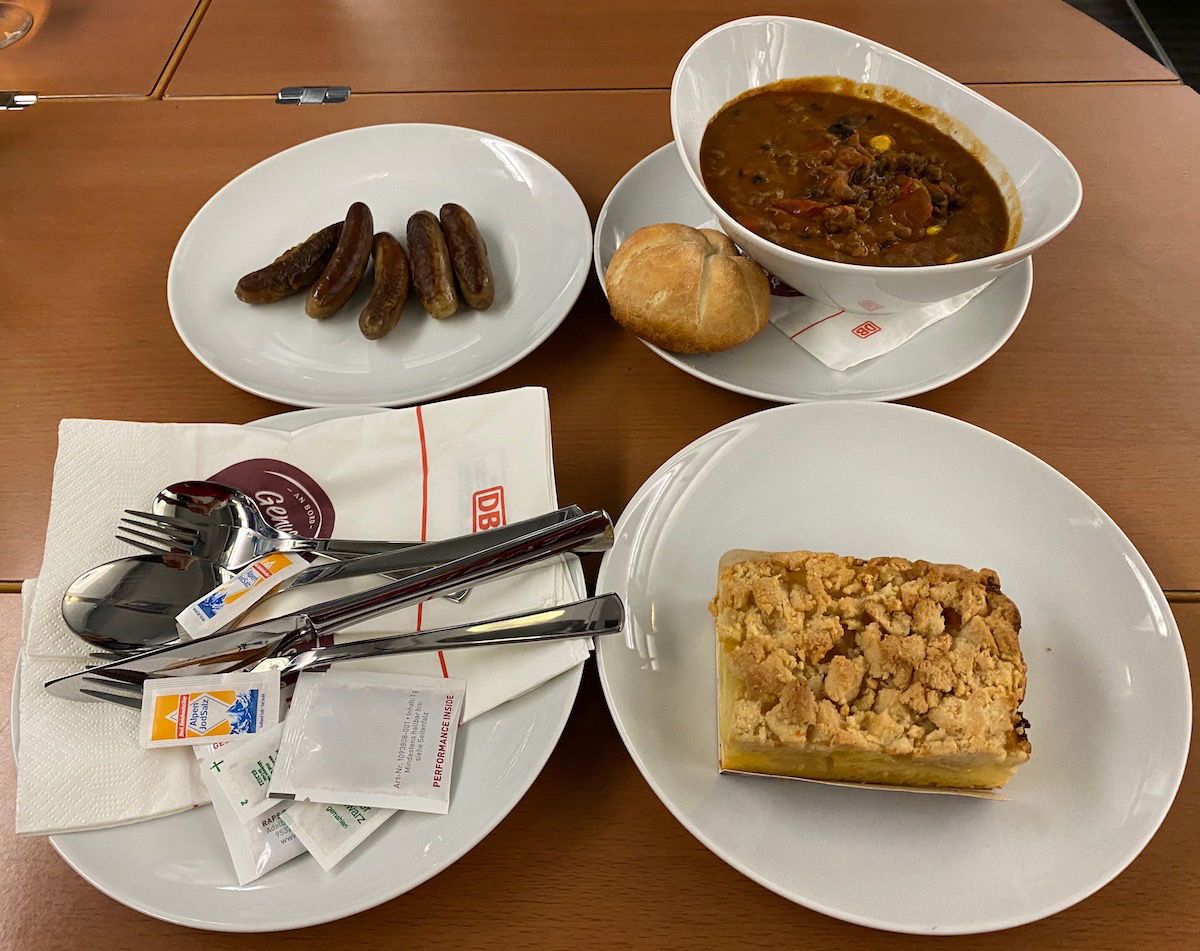 Intercity Express food
Taking a dog on Deutsche Bahn
Winston was a very good boy on our train journey, and he just slept most of the time. Dogs are technically supposed to wear muzzles onboard trains if they're not in carriers (we were never informed of this, but I saw it on the DB website). I'd note that:
While he has never worn one before, we purchased one for this trip
I had talked to several people about how this requirements is enforced, and everyone (including the person at the pet store) said it's rarely actually enforced, especially for smaller dogs
Our experience was that no one in either direction asked us to put a muzzle on him. We had one on us, though, and we were of course very careful and kept him far from the aisle, and for that matter there were no other dogs.
For anyone who was like me and was wondering how enforced this policy is, my very limited data points suggest that it's not. Of course two data points aren't conclusive, and Winston also doesn't "look" very scary.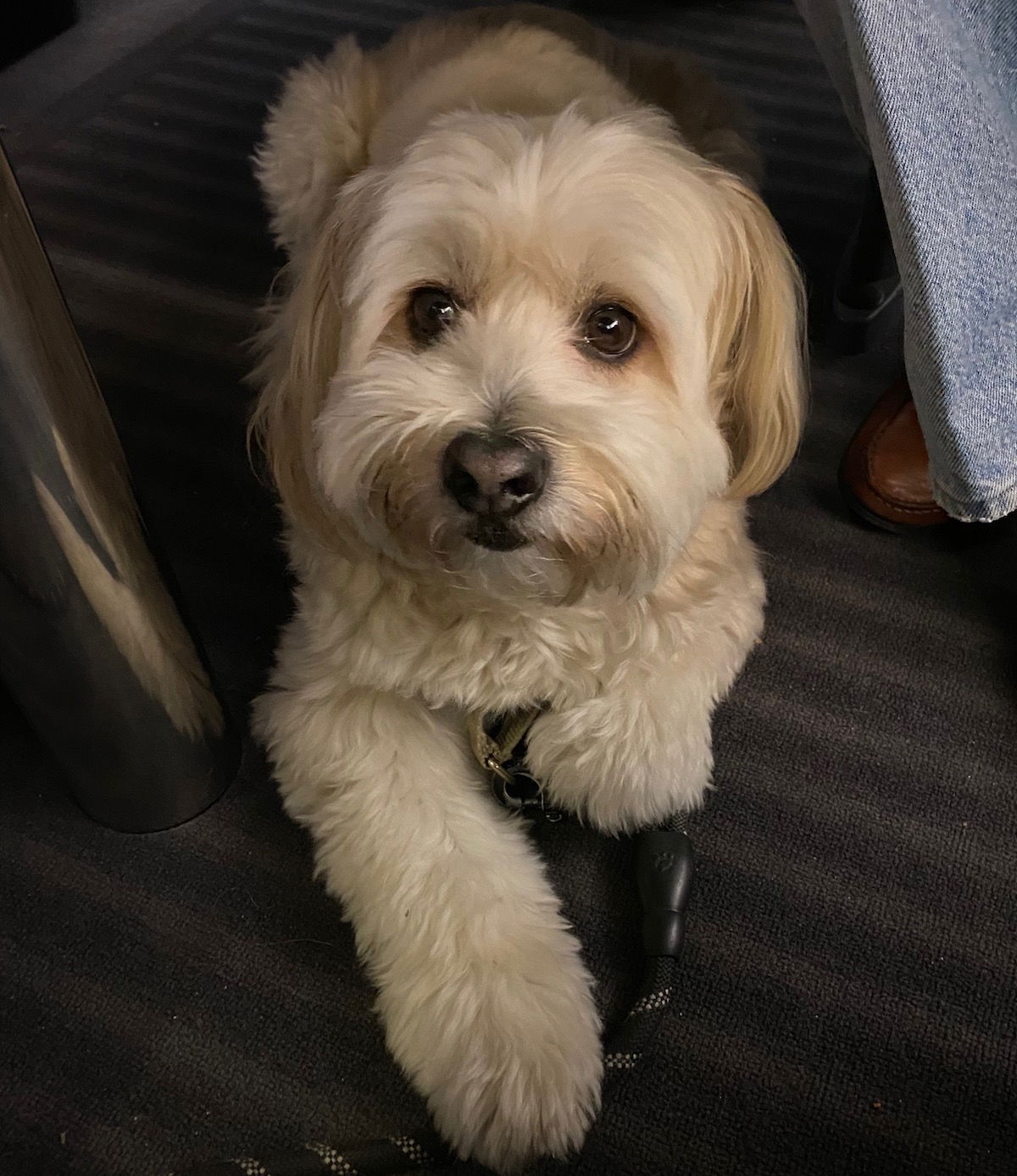 Winston enjoying the ICE experience
Would we take Intercity Express again?
There are three practical ways to get around Germany:
You can rent a car
You can take the train
You can fly
Personally we're not flying within Germany because we have Winston and want to take him with us when we go places (he has anxiety, especially since he senses we're transient right now), and also because flying within Germany doesn't really save you much time.
That leaves the option between renting a car and taking the train. There are some advantages to renting a car:
You can rent some really nice cars in Germany for the same amount you'd pay for a very basic car in the US; in the past few months in Germany I've rented an S Class Mercedes and a BMW X3 M
I'm not going to lie, I love driving on the Autobahn, because it's not often you can drive 150mph in the US
You have a lot more flexibility to leave when you want, and can also explore your destination more easily
German train tickets aren't actually cheap, so in many cases it's not more expensive to rent a car vs. taking a train, especially if multiple people are traveling, and you get free parking at hotels
If you're traveling with a lot of stuff, it's much easier to load it into a car, rather than lugging it to the train station at both ends of your journey
I'm not sure what air filtration is like on trains, but in general I would assume that a private car offers a bit more coronavirus protection than being on a train for hours, even if everyone is wearing a mask and the train isn't full
But there are also advantages to taking the train:
I can work and be productive while on a train, which isn't possible when driving
In many cases it's faster; the Autobahn is great when there is no speed limit, no traffic, and no construction, but in my experience that's only the case for a small percentage of the time
It's better for the environment; I recognize that driving at high speeds isn't great for the environment, and it's my only driving vice, as we had an electric car in the US
Bottom line
Deutsche Bahn's Intercity Express service is an easy way to get around Germany. The trains are quiet, punctual, and have free wifi.
I do think first class is worth the modest premium for the extra space (especially if traveling alone, given the ability to get a single seat), though don't get excited about the onboard service. First class doesn't include any food & drinks, but rather there's just service from the dining cart.
Maybe the food and drinks were better in the pre-coronavirus era, though personally I'd plan on packing a snack and bringing your own drinks on ICE.
If you've taken ICE first class, what was your experience like?