Delta is pretty good about letting you book travel on their partner airlines online. Awards on almost all SkyMiles partners can be booked through delta.com, though the search functionality as such isn't great. Delta.com constantly returns error messages when searching award availability and the pricing often doesn't make sense (and since Delta doesn't publish award costs, there's no easy way to get incorrect pricing fixed).
While it's common for airlines to have temporary outages when it comes to searching and booking tickets online, delta.com has been having some serious issues the past couple of days. Since Friday afternoon (eastern time) delta.com hasn't displayed any partner award availability. We're not just talking about some partners, but rather none of their partners are bookable online.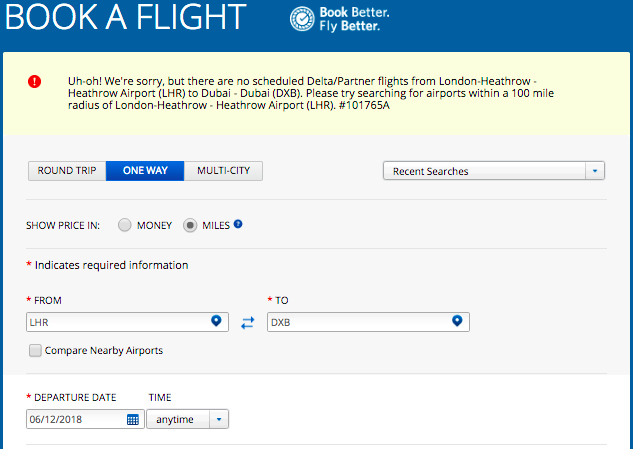 While I'm told Delta is aware of this, it has now been over 60 hours since the issue first happened, and it's still not fixed.
With any other airline I'd be annoyed by an outage lasting for so long, but in the case of Delta I'm just hoping that this isn't part of a significant IT "upgrade" that's leading to their next "enhancement."
Anyway, I'm writing about this because I've received several messages from readers about the outage. You're not alone in not seeing any Delta partner award availability online, and hopefully it's resolved soon. Nearly three days is a long time for an outage for such a big program. I'm just hoping there aren't bigger implications here.
In the meantime partner awards should still be bookable as usual by phone, and Delta doesn't charge phone ticketing fees for awards.