Whether you're trying to grab a few extra hours of sleep, extend a meeting, or getting home to loved ones earlier, the ability to change a flight is arguably one of the biggest perks that airlines offer to frequent flyers.
Each domestic airline program has its own policy around this, and most of them sound something like this: mid to upper-tier elites can elect to change a flight within 24 hours of departure, and the change fee will be waived.
That said, the similarities end there, as each program comes with its own specific nuances around everything from connection cities to how to go about changing your flight.
Using Delta's Same-Day Confirmed Flight Changes
Without a doubt, Delta's same-day confirmed policy is one of my favorite Medallion perks. In addition to the obvious benefits of getting home earlier or changing a meeting, it's saved my you-know-what on a few less obvious occasions. For example:
I've preemptively changed flights when I knew that there might be weather delays, but before a travel waiver was issued.
I've called while sitting in traffic, as a flight was boarding, because I realized that I had a better shot of piloting the next plane than making the original flight.
Most recently, I got halfway to the airport (about an hour's drive), before realizing that my laptop was still at my friend's apartment. (Sometimes, I'm amazed that my frequent flyer numbers and blogging powers haven't been revoked.)
So, as someone who has been accused of "changing my flights more often than I change my clothes" (not true), I thought it might be helpful to take a deeper dive into Delta's flight change and Same Day Confirm policies.
The Basics
Normally, when you change a Delta flight outright, you're required to pay a $200 fee, as well as any difference in fare costs. However, if you're looking to change a flight on the day of departure, you may be able to get the change fee reduced or waived completely – provided there are eligible seats available.
We'll get to the eligibility rules in a minute, but same-day change prices are as follows:
Silver Medallions and non-elite members can pay a $75 fee to get their flight changed if it is same-day confirm eligible.
Diamond, Platinum, and Gold Medallions get the $75 fee waived, and other change fees may be waived as well.
It's also important to note that these rules only apply to flights in the U.S., Canada, Puerto Rico and the U.S. Virgin Islands.
So, which flights are eligible?
There are all sorts of restrictions and caveats here, so let's look at a couple of the criteria that determine whether or not your flight is eligible for a same-day confirmed change.
Date of departure
The first piece is fairly straightforward – you can change your flight to any other eligible flight that has the same calendar departure date – whether it leaves at 12:01 AM or 11:59 PM. Note that the arrival date does not have to be the same – I've changed plenty of morning flights to evening flights that have had me arrive on the following day.
Easy enough – until you introduce redeyes into the equation. I often fly out of SFO, which typically offers a 10:45 PM flight to Atlanta, and a 12:30 AM flight to Minneapolis.
When I'm booking my flight, if I know I'll probably want to get out of dodge earlier, I'll go for the 10:45 PM flight. If I anticipate that I might want to stay an extra day, I'll go for the 12:30 AM flight that leaves on the next calendar date, and change to a later flight accordingly if I decide to stick around.
It is worth noting that Delta won't allow you to change to an earlier flight if it's a different calendar date – so in the above example, I couldn't change the 12:30 AM flight on the 27th to a 10:45 PM flight on the 26th, or vice versa.
And I've asked really nicely.
Eligible fare class
This is where things start to get a little tricky. According to Delta's policy:
If you have an Economy fare, you can only be rebooked in the same fare class as your original flight.
And that's true…sort of. Many of us are probably purchasing lower-to-mid-range U, X, V or other discounted economy fares, particularly if we are buying tickets more than two weeks out.
In practice, what I have found is that any flight that prices the same as your original flight is eligible.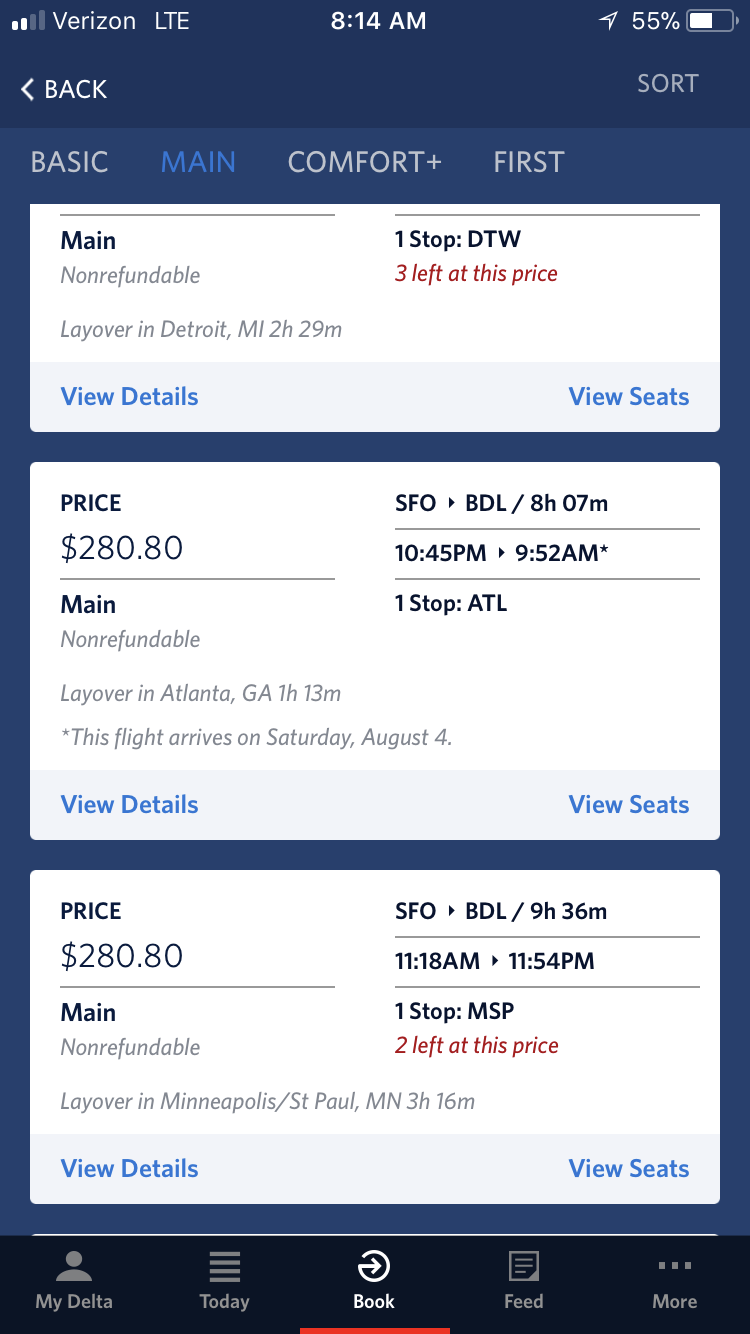 So if your original flight now shows up as $280.80 and your desired flight is also $280.80, you should be good to go.
When can you call to change your flight?
While flights can only be changed to the same date of departure, you can call in to have your flight changed up to 24 hours in advance of your original flight.
In practice, I'll often call 2-3 days ahead to check availability, and the furthest out I've been able to change a flight is about 30 hours. While I've had several agents throw that number around, I'm not sure if it's specific to Diamond Medallions or if that extends to Gold and Platinum Medallions as well.
On the flip side of the equation, I've also changed my flight on the way to the airport, after boarding has started, when traffic has looked like this: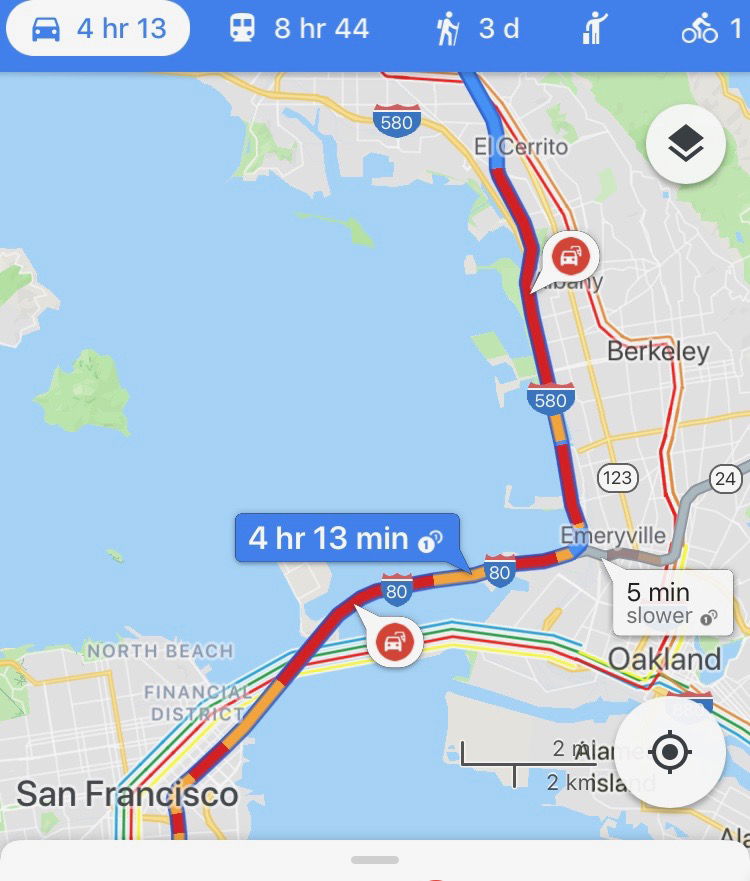 I should also mention that just because a flight isn't initially available doesn't mean that it will never be available. I recently had a brief lapse of judgment where I thought that a 5:40 AM flight would be a good idea. Naturally, I was having some buyers' remorse the day before, and my first phone call was futile.
I decided, on a whim, to call a few hours later, and my patience was handsomely rewarded with a 10 AM flight (and a few extra hours of sleep).
Like many things in the travel and points and miles world, persistence is your friend here.
What steps do you need to take?
Theoretically, not too many – I'll typically research which flights I might want, call the Medallion line to see what's available, and ask them to change the flight. The whole process usually takes under five minutes.
Now, notice I said "call," and not "log into the app." Sadly, this is one area where Delta lags behind United – you can only make same-day flight changes by calling in. On the one hand, I guess it's kind of nice that the barrier to entry is somewhat limited, because it probably keeps more space available.
On the other hand, this is really a functionality that should be doable without having to tie up agents, and as much as I'm an extravert and love talking to people, the process seems somewhat cumbersome. It can be especially when there's a power outage in Atlanta or a storm in Detroit and things go sideways.
I have to give due credit to the phone agents though – they typically do a great job and keep the process easy. Just this past week, I called to change my flight while driving through rural Idaho. Unsurprisingly, my call dropped shortly after I had asked to make the change. When I was finally near a Verizon tower again, I called back, only to learn that the agent had already proactively changed the flight for me.
Say what you want about SkyMiles redemptions – there's a reason Delta still has a rabid fan base.
What types of tickets are eligible?
According to the official program terms, most tickets are eligible for Same Day Confirm, including discounted economy fares and award tickets. Basic Economy fares are not eligible, which probably isn't shocking, but I've had luck with even the most bargain basement-level discounted Main Cabin tickets.
I haven't seen Delta publish anything about their policy regarding companion certificates, but in practice, I've had success with same-day ticket changes that were booked with a companion certificate.
Travel Companions
While this isn't explicitly addressed in their program terms, I've had no problem same-day confirming onto a new flight with my husband – although he happens to be a Platinum Medallion. I think that this policy applies to non-Medallion companions as well, although it's been a few years since I've tried this so I'm hesitant to post this with absolute certainty (if you have recent experience here, please weigh in!)
First Class/Delta One Tickets
The general rule here is that you can confirm to an equivalent cabin or a downgrade, but not up. Here are a couple of examples of scenarios:
If you are traveling on a paid Delta One ticket, you can confirm to any first class or Delta One Cabin.
If you are traveling on a paid First Class ticket, you can confirm into any other flight with first class seats available. You can also "voluntarily downgrade" to a Main Cabin or Comfort+ ticket, although I can imagine there are only a limited amount of scenarios where you would want to do this.
If you're traveling on a paid Comfort + ticket, you can confirm into any cabin that has available Comfort + seats, or voluntarily downgrade into Main Cabin seats.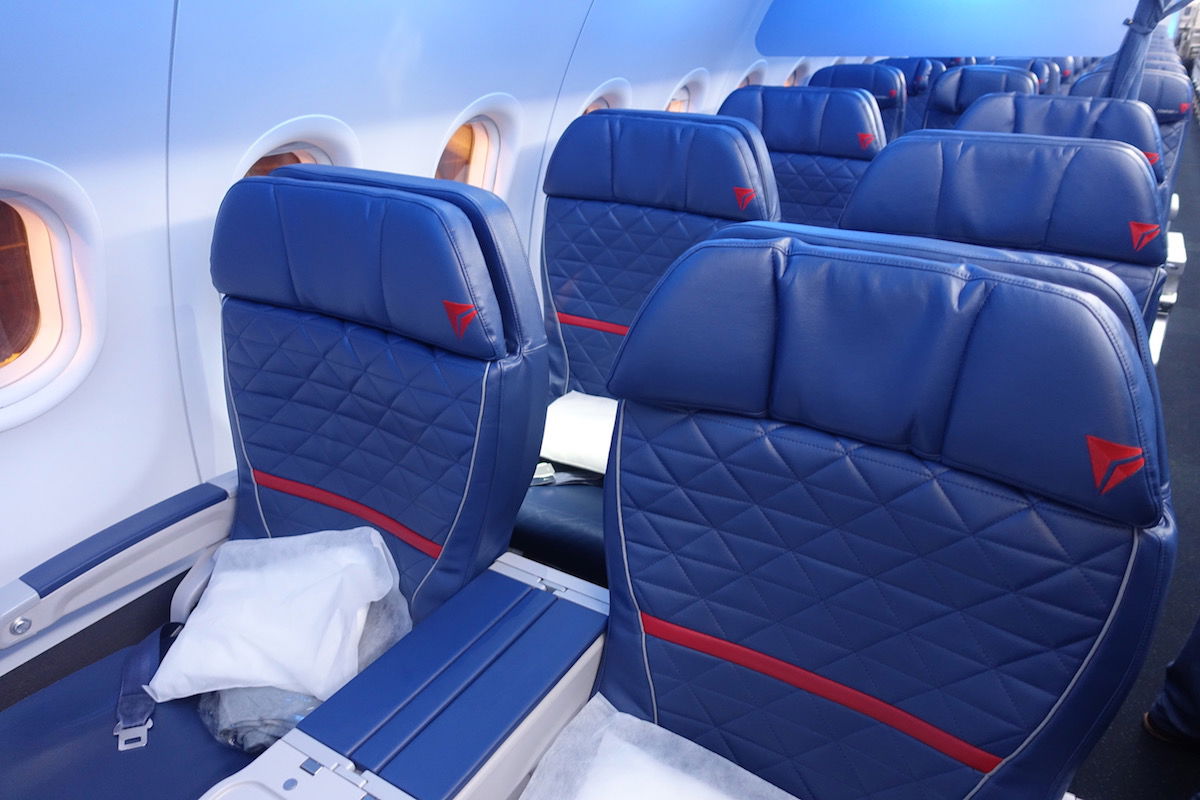 And as you can probably imagine, you can kiss that complimentary upgrade goodbye if you're same day confirming to another flight. I've found that as a Diamond Medallion, I still usually get upgraded to First Class about 50% of the time if I make a same-day change, and as a Platinum Medallion, I would typically still usually get Comfort +.
And if I same-day confirmed when I was a Gold Medallion…I made sure to carry an extra sweatshirt and noise-canceling headphones.
That said, upgrades are pretty time-and-route-dependent, so don't necessarily take that experience as gospel.
Airport Eligibility
Many of us who are based in smaller cities are likely booking flights with connections, and a lot of largely traveled routes go out of major cities with multiple airport. Of course, this introduces a myriad of possible scenarios about routing rules. Here is what you need to know:
Connection cities are allowed to change – so if you're flying from LAX to LGA via DTW, you can switch to a flight from LAX to LGA via ATL. This is certainly more generous than some other comparable airline programs (hi, American Airlines)
You cannot change from a connecting flight to a direct flight.
You cannot change your arrival or destination city.
Delta officially publishes that you cannot make co-terminal changes under same day confirmed ticket rules. This means that you can't, for example, change your arrival airport from New York's JFK to nearby Newark or LaGuardia. That said, this restriction is typically waived for Diamond Medallions, but they don't necessarily go out of their way to broadcast that information.
Other Ways to Change Tickets
Standby
If you can't get onto your desired flight via a same-day confirmed change, you may still be able to go standby. The big difference here is that Diamond, Platinum and Gold Medallion members can standby for any flight that day, while Silver Medallions and below can standby only for flights before their ticketed flight.
The same $75 fee applies and is waived for Diamonds, Platinums and Golds, but Silver Medallions and non-elite members (thankfully) only have to pay the fee if they are able to get onto that flight.
The big difference here is that you can't make any itinerary changes, so you have to connect via the same city that your original flight was booked through.
While this does limit things more, it can be nice if your first leg arrives early and you can hop an earlier flight from your connecting city to your destination.
Paid flight changes
If there's nothing available in your class of service but you need to change your flight and your hands are tied, you can always pay the fare difference. Typically, this is accompanied with the standard Delta-issued $200 change fee, but in practice, I've been lucky having the phone agents waive change fees – even if I've had to go so far as to change my date of departure.
Again, I'm not sure if this is specific to Diamonds or extends to all higher-level Medallions, but it doesn't hurt to ask.
Distressed Traveler Waiver
One other great, and someone unknown, benefit of flying Delta is their sympathy if you have a medical or other emergency. If you need to change a flight for medical reasons, agents are empowered to waive the change fee at their discretion, thanks to a non-publicized policy called a "distressed traveler waiver."
I haven't personally had to request this, but Tiffany experienced this earlier this year and the outcome was positive. I imagine there is probably some discretion exercised here, but I did learn about this policy from an agent on the general member line, which leads me to believe that it's not necessarily exclusive to elites.
Now, I do think that this policy could easily get abused, and there's a small part of me that's hesitant to even post about it for that very reason. Ultimately, though, it's a really nice policy to have in place, and kudos to Delta for having empathy in emergency situations.
Bottom line
While there are plenty of perks to holding elite status with different airlines, flexibility is certainly one that is tough to beat. With a little bit of prep and know-how, same-day confirmed flights can provide tremendous value, whether you're booking that last meeting or getting home early to loved ones.
Or even if you just forgot your laptop or got stuck in traffic.