Yesterday the US Department of Transportation opened a 60 day public commenting period regarding new restrictions that would allow airlines to stop accepting emotional support animals onboard.
On the same day, Delta announced what they're calling an industry first, claiming that they're launching "an innovative solution for pet travel," which they claim is a "best-in-class travel experience for pets and their owners."
I'm sure the timing of this announcement wasn't a coincidence, so what exactly are they introducing?
Delta's new CarePod partnership
The way I see it, unfortunately Delta isn't really innovating pet travel. Rather they're just trying to make the cruel process of transporting pets in the cargo hold a bit less cruel, and a bit safer.
This is part of an exclusive partnership between Delta and CarePod, where they're introducing a new pet travel carrier that provides many new features.
Delta claims that it took five years of research, development, and testing, to get to this point. Furthermore, the airline has successfully tested this for a two month period.
CarePod will initially be offered on flights from eight US locations — Atlanta, Boston, Los Angeles, Minneapolis, New York (JFK and LaGuardia), San Francisco, and West Palm Beach. On top of that there will be a phased approach to rolling this out across Delta's entire US network.
What makes the Delta CarePod pet travel carrier so different? It has several safety features, which Delta describes as follows:
Stronger, industrial strength walls that are insulated to protect your pet against potential temperature fluctuations when moving between different climates and travel conditions
Multi-layered windows and doors with specially angled blinds to help create a calming environment for pets by blocking out visual stress from unfamiliar environments
The world's first built-in hydration system for pet travel carriers, holding up to a liter of water that will auto replenish the spill-proof water bowl to ensure pets always have easy access to fresh water
A powerful, enterprise level GPS tracking and monitoring system that connects your pet's journey directly to the specialized Delta Cargo Control Center; the Center is managed 24/7/365 by trained experts who supervise and digitally monitor every CarePod pet journey from beginning to end, with the expertise and authority to send out the right staff on the ground to check on the pet if needed
Seamless connectivity that enables you to use your mobile phone to view your pet's key travel updates throughout their entire journey via deltacargo.com
CarePod pet travel carriers are made to the highest quality and standard, with human grade materials that are non-toxic, UV and antibacterial treated for longer lasting strength and protection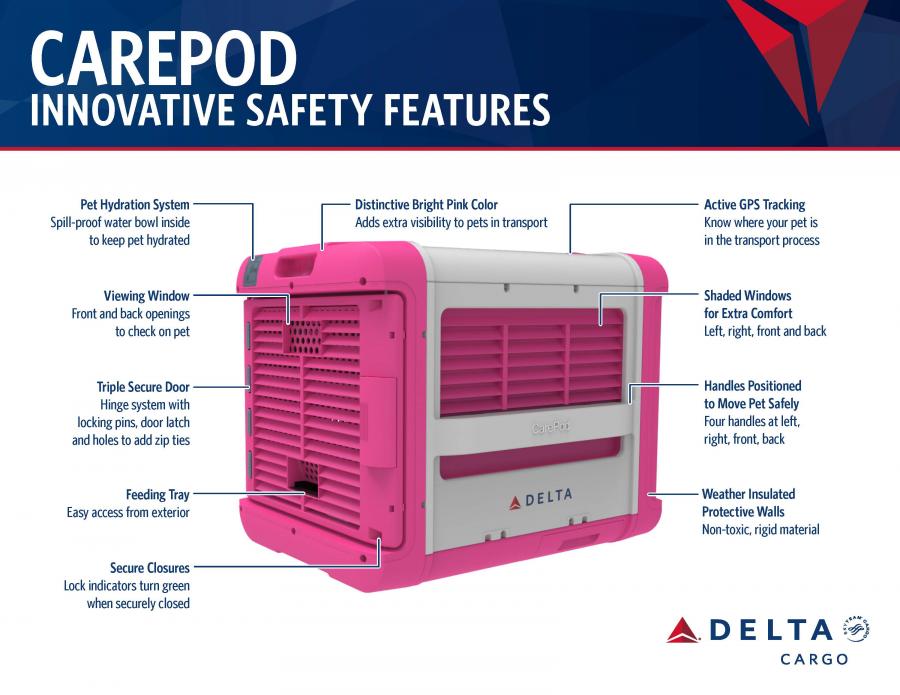 How about some real pet travel innovation?
As I said yesterday, I'd love to see an airline actually innovate when it comes to pet travel. I totally understand people don't want a 100 pound slobbering dog right next to them in an economy seat that already has no room. But there has to be a better option than what airlines are currently offering.
I fully acknowledge that:
The current emotional support animal system is widely abused, and that it's not practical to have animals just walked onto planes and squeezed into the foot area of tight seats when they're way too big
Some people get emotional support animal certifications for their pets so they can get out of paying the pet fee for flying with their dogs
Some people are allergic to pets, and that needs to be addressed
But I think others also need to acknowledge that:
Putting pets in a cargo hold is incredibly cruel, and carries a non-insignificant risk
There are situations where air transport is the only practical way to travel with pets (driving cross country, or crossing the Atlantic on a ship, simply isn't practical sometimes)
Two thirds of American families have pets, and most consider them part of the family
While I don't think airlines are wrong for wanting to crack down, I wish we'd see them introduce some other option rather than just putting your pet over 20 pounds in the cargo hold. Airlines love generating ancillary revenue, so where is the innovation?!
How about authorizing certain pet carriers in the cabin, in conjunction with buying a seat (or two) for that dog? Airlines would limit the total number of pets allowed on a flight, and could mark the seatmap to indicate where pets are "assigned," so that people can choose to avoid that area if they'd like.
That's just one small idea, though I'm sure there are much better potential systems out there.
While I totally get some people are in favor of the DOT changing the rules here, I also think some compassion would go a long way. Many simply argue "well you're an idiot for being emotionally attached to your pet." We've gotta be able to do better than that…
Bottom line
I commend Delta for working to make flying safer for pets. The casualty rate for pets in cargo holds is still too high, and this is a step in the right direction, both in terms of safety features, and in terms of keeping humans in the loop about the whereabouts of their four-legged family members.
However, it's also really sad that this is considered best-in-class, and is the best concept that an airline can come up with for traveling with pets.