For a while I've been looking to try the only flight with a fully-flat bed out of DCA. Delta does a once-daily rotation between Washington Reagan National and Los Angeles on a 757-200, which offers a Delta One cabin in the front. (Several other domestic routes, including JFK-LAX, JFK-SEA, BOS-LAX, and more, also offer Delta One.)
Delta notes that domestic Delta One flights offer "flat-bed seats, elevated amenities and a refined dining experience," differentiating them from the typical domestic first class experience you'd get on other flights. So in theory, this should be the most "elevated" and "refined" service out of DCA.
Booking Delta One from DCA
As an award redemption, the DCA-LAX flight in Delta One is typically very pricey under Delta's variable pricing scheme. The cheapest it seems to go for is 50,000 miles, but it can be much more than that. In my opinion, there are better ways to spend your SkyMiles.
I had an annual companion certificate through my Delta Platinum American Express. In addition, I had four regional upgrade Choice Benefits certificates thanks to my Platinum status on Delta.
Thankfully, these two benefits can be combined: I purchased two round-trip economy tickets, one for me and one for my boyfriend — and with the companion certificate, they came to about $160 per person. Then I called Delta and asked them to apply my Choice Benefits certificates to those flights. They applied them, but were unable to immediately confirm the upgrades.
About a month before the trip, I received an email saying we had been upgraded to Delta One on our outbound flight. Hooray! (On the return flight, we were upgraded too — but the upgrades didn't clear until the day of our outbound flight. For simplicity's sake, I'll focus this review on the outbound trip, since the return was similar aside from a different meal service.)
The Delta One domestic flight
When you're upgraded to Delta One, you get access to Delta Sky Clubs. (I normally have access for myself through my American Express Platinum card, but it doesn't allow me to bring a guest for free.) So we spent a few minutes in the lounge before heading over to the gate.
The flight began boarding right on time. We boarded through the second door on the left side of the plane, in between the Delta One and Comfort+ cabins.
The seats are arranged in a 2×2 configuration, with a single aisle in the middle. They are angled slightly toward the windows. I don't love the blue and red color scheme — it's a better palette for an elementary school than a premium cabin, in my opinion. But I really like everything else about the cabin.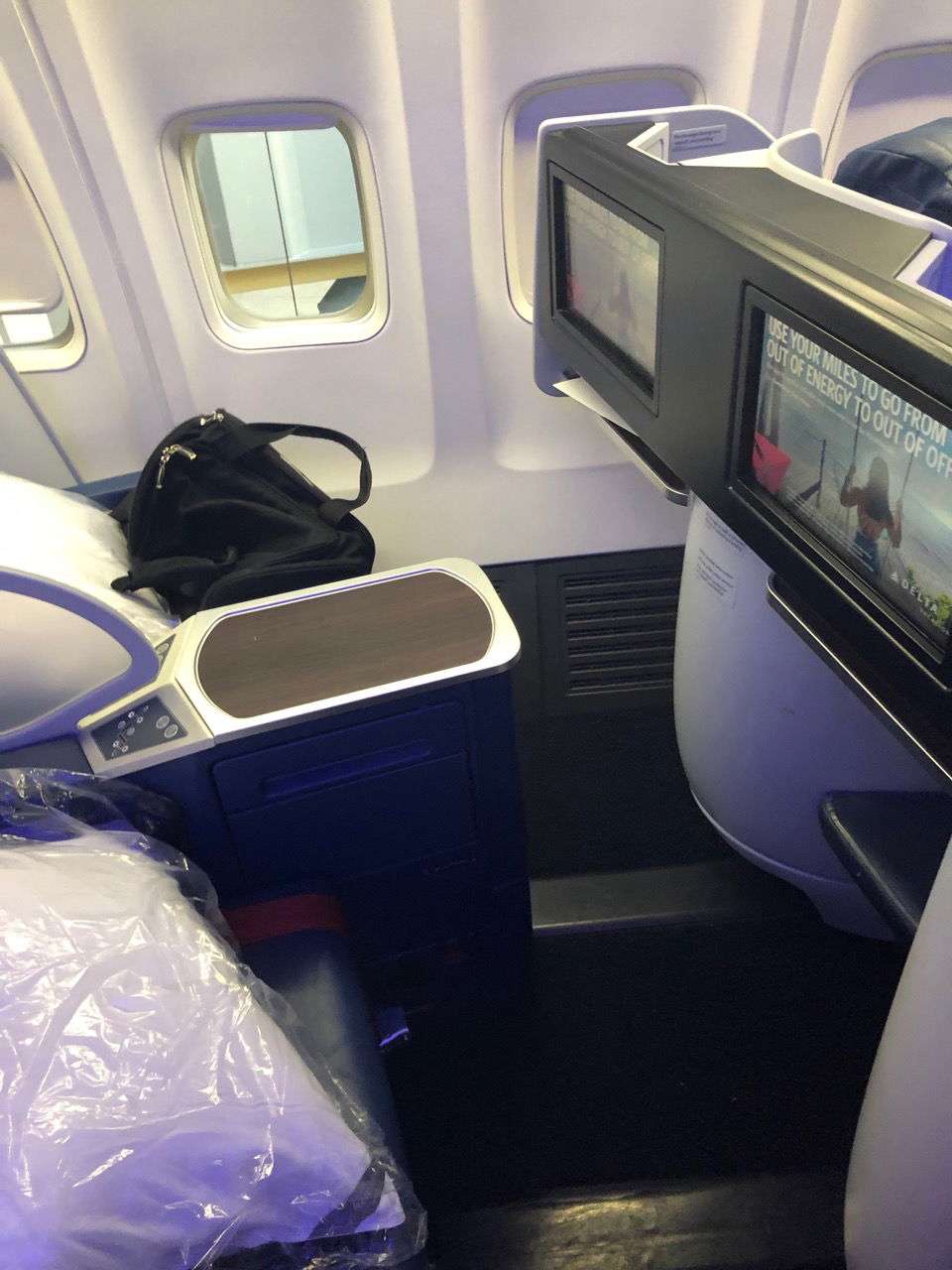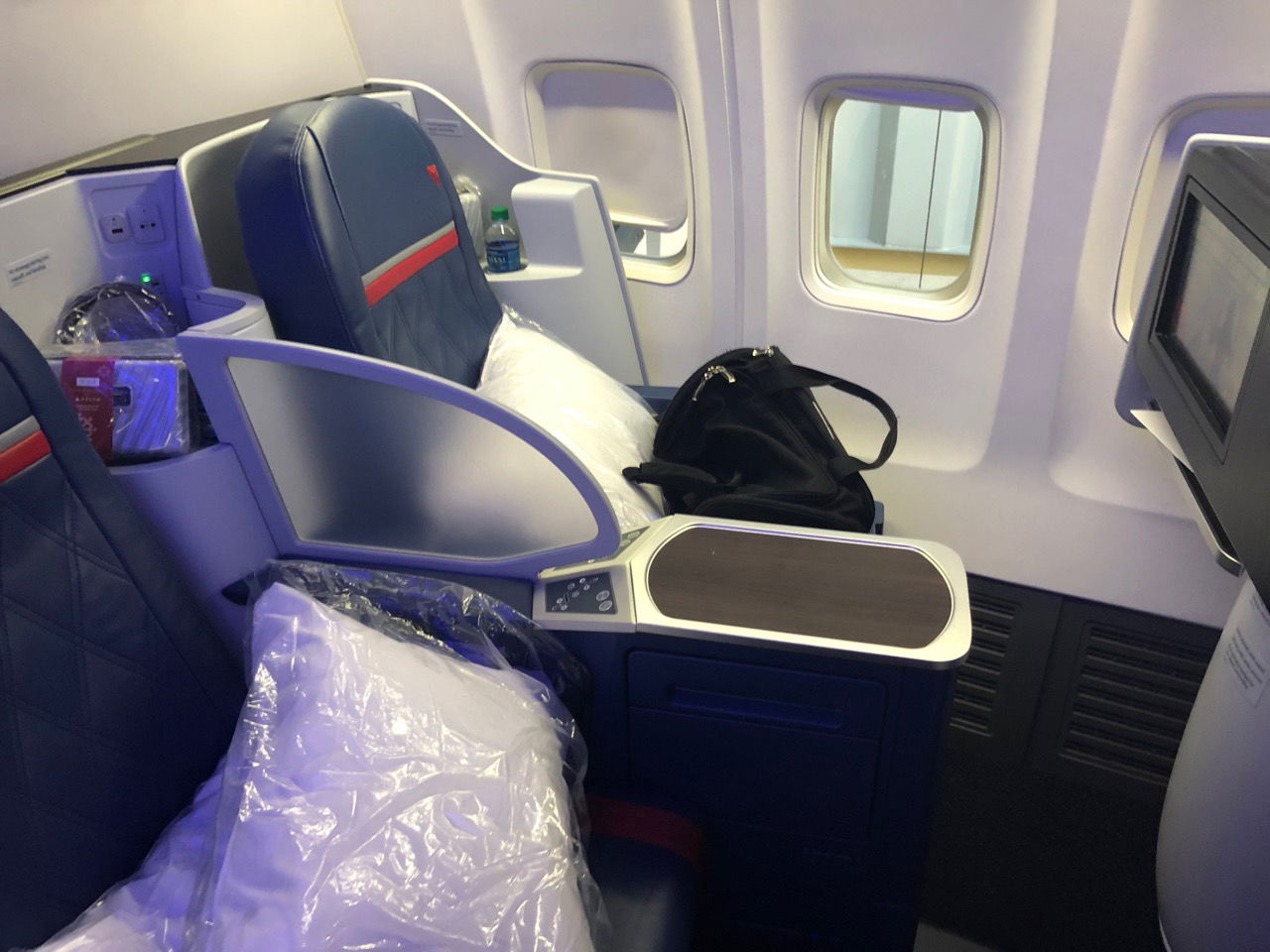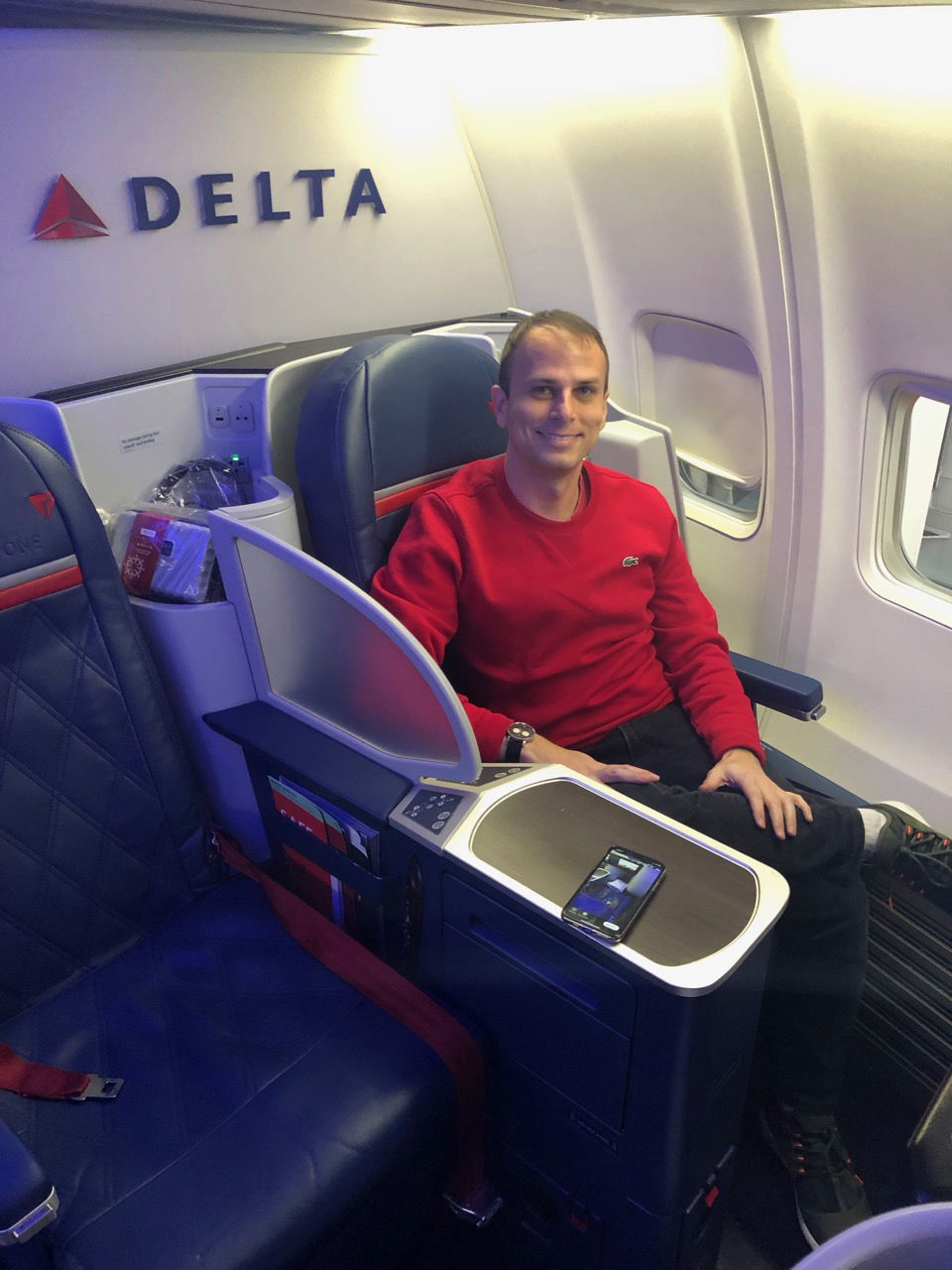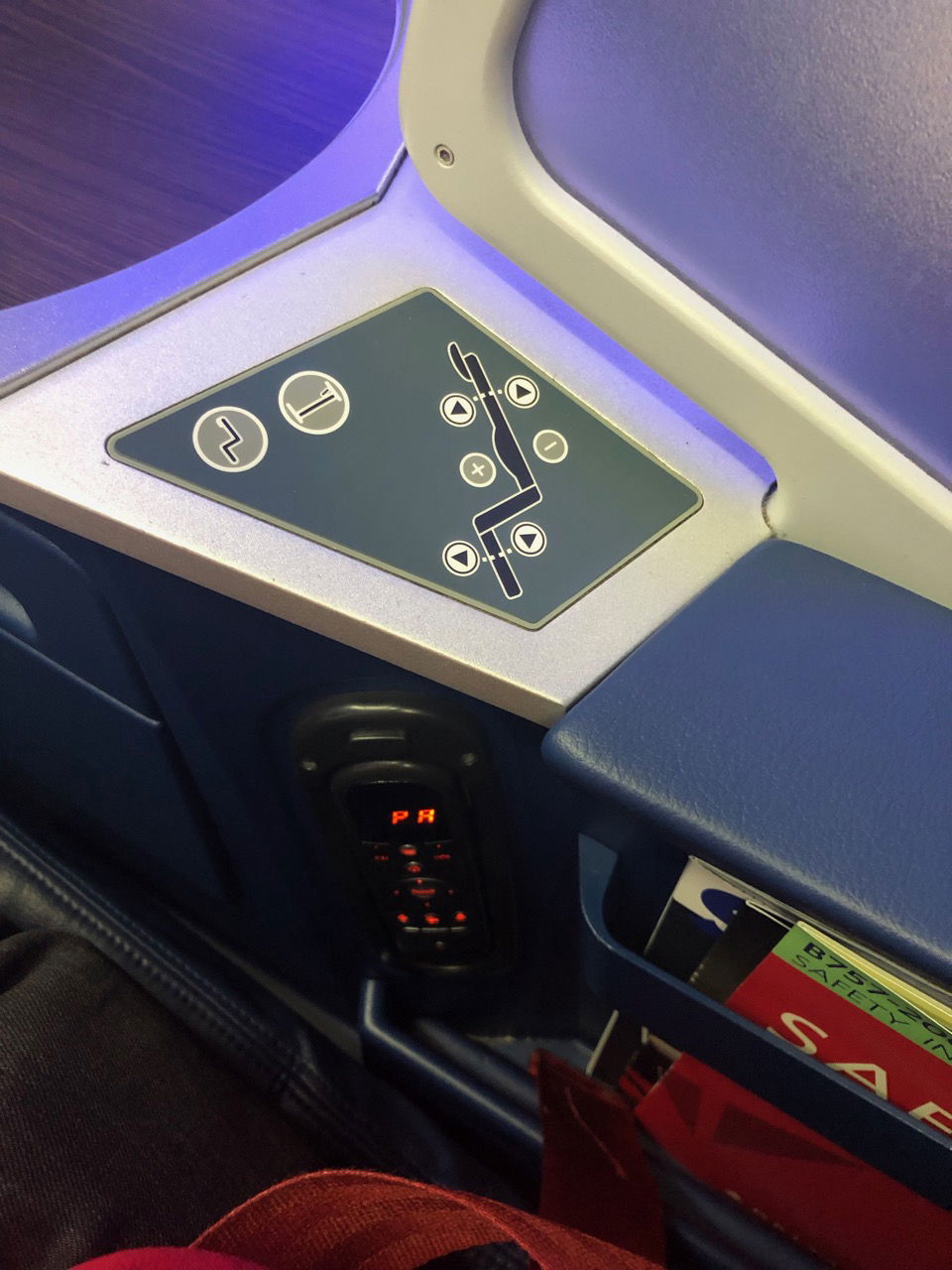 Waiting at the seat were a Tumi amenity kit, headphones, bottled water, bedding, and a menu.
The menu didn't seem to be for this flight, since it was a breakfast menu and this was a dinner flight. (I had preordered my meal, so I didn't really need a menu anyway.)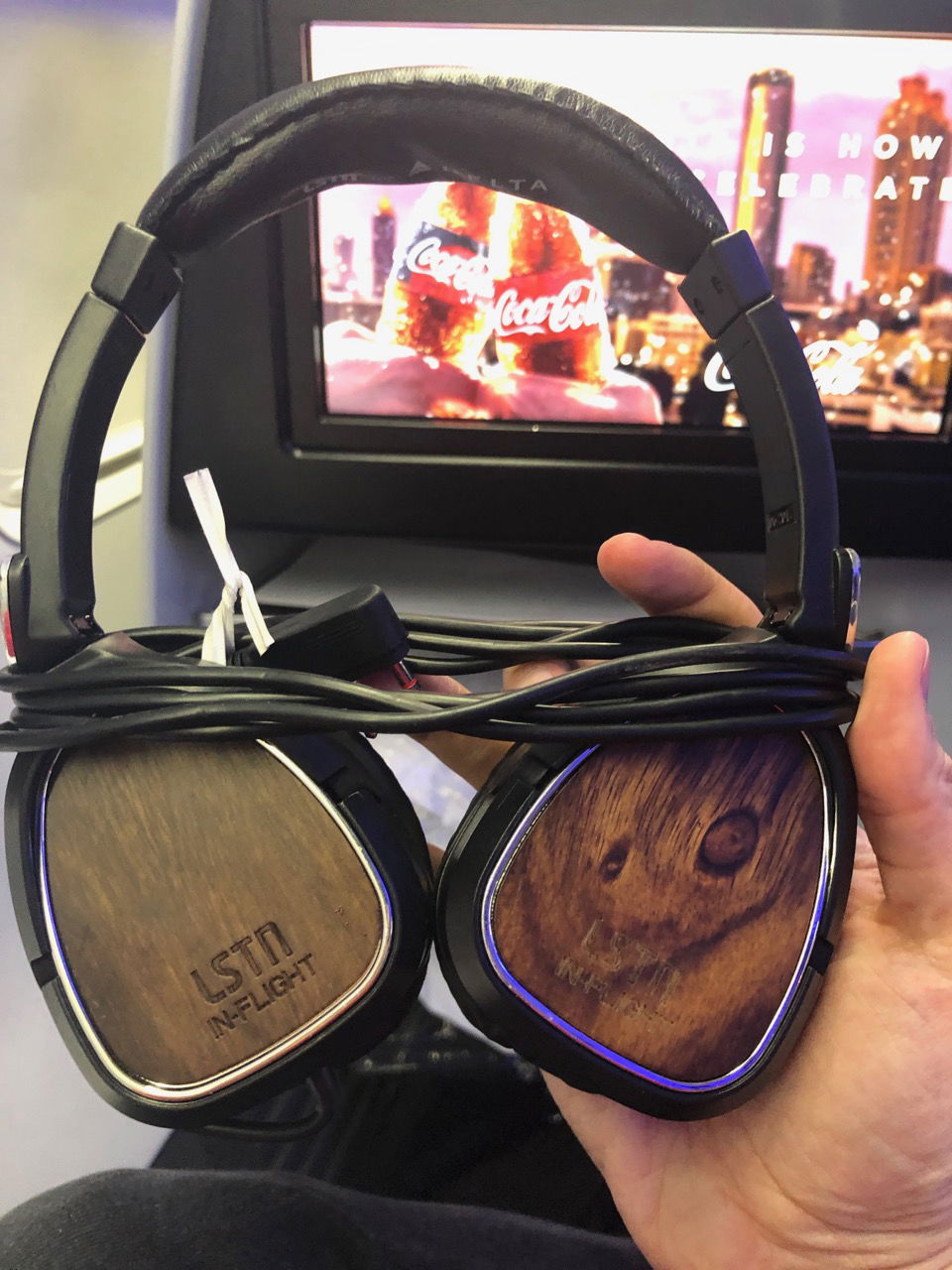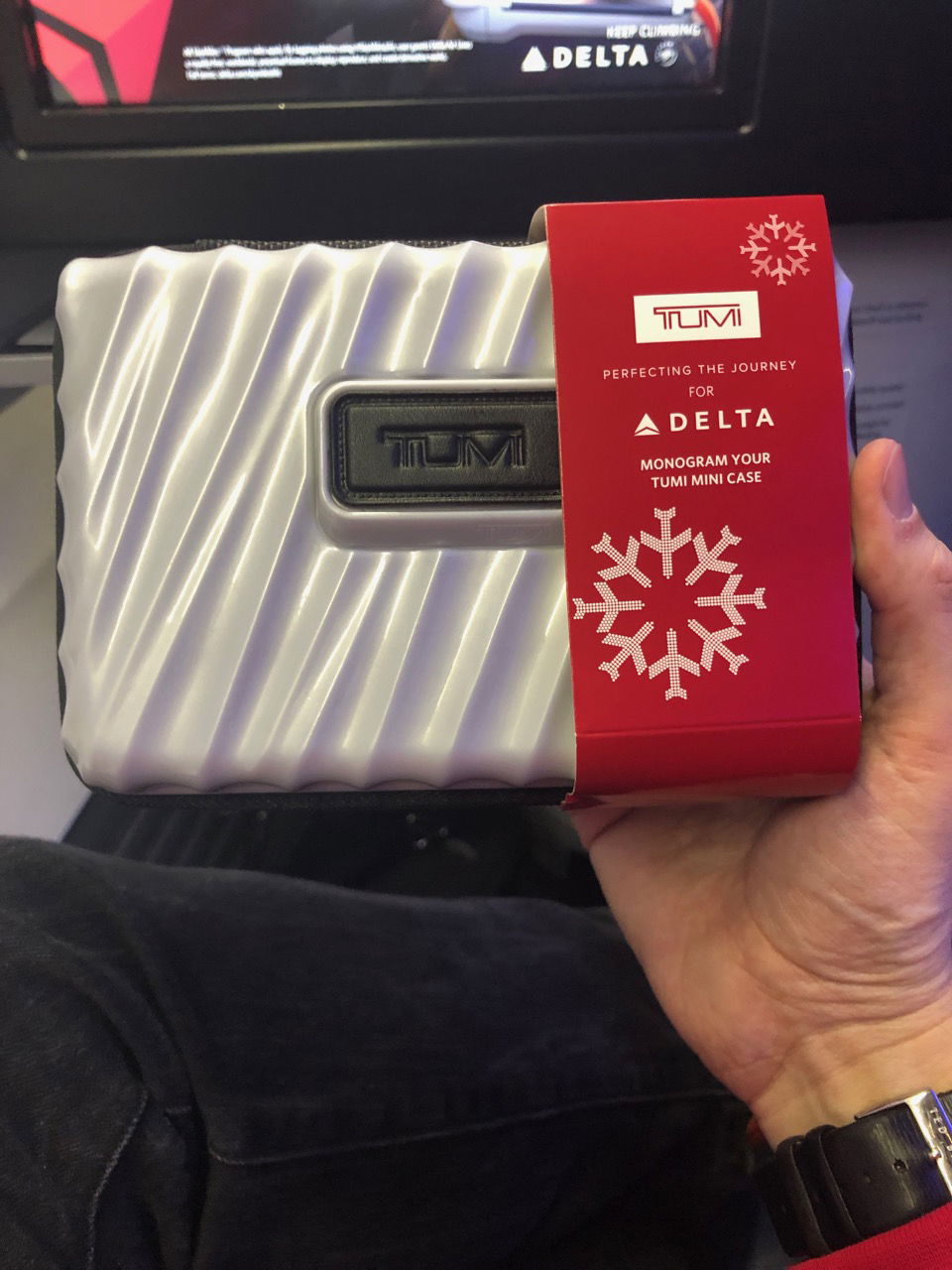 Unfortunately also waiting at my seat was a used Q-Tip, which is a little gross.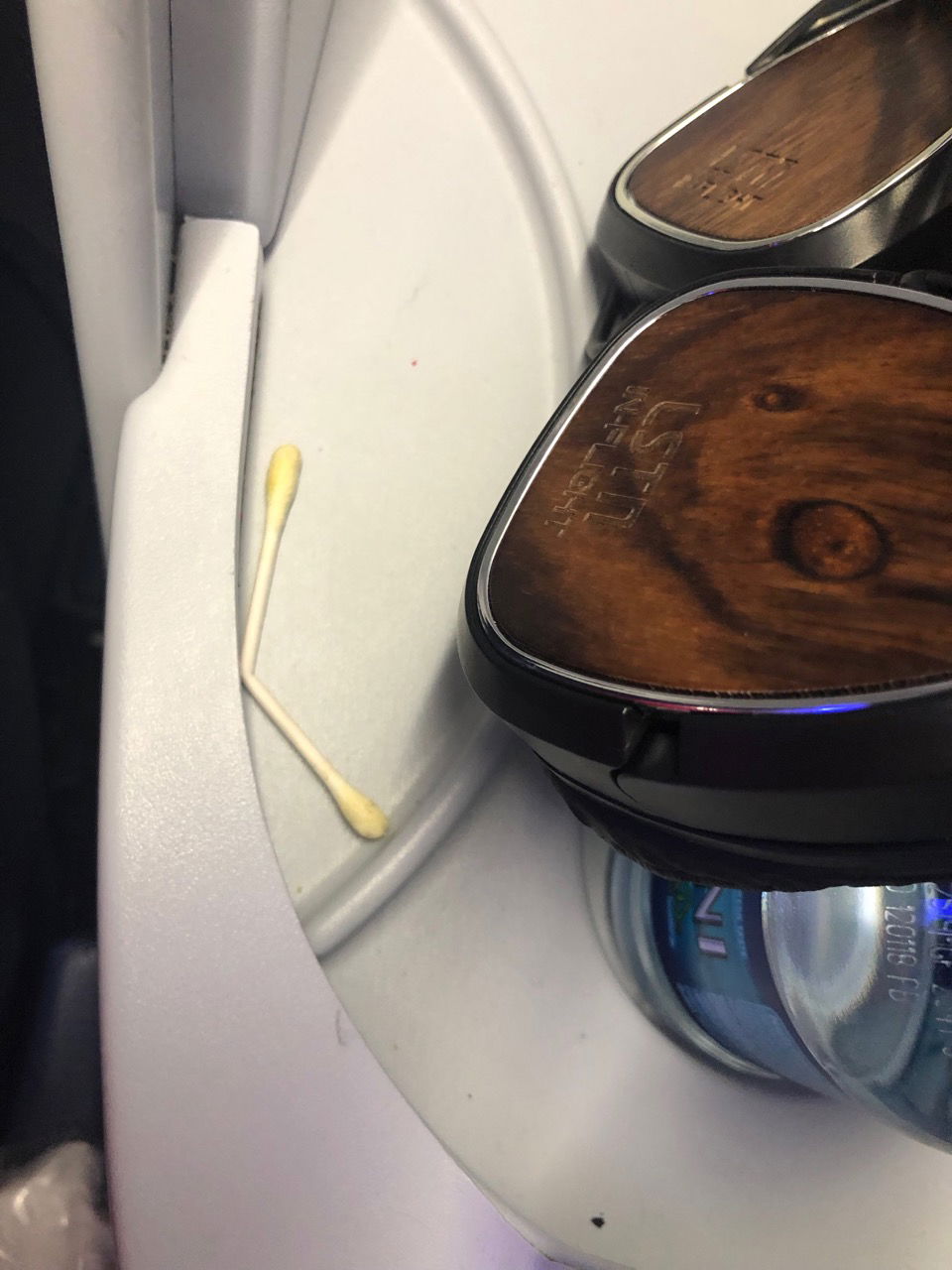 The Tumi amenity kit is nice, with some Kiehl's lip balm and body lotion, toothbrush, Crest toothpaste (the normal travel size as opposed to those tiny ones you sometimes get), tissues, earplugs, an eye mask, and hand sanitizer. I love that hand sanitizer was included (I used it after I picked up that used Q-Tip!).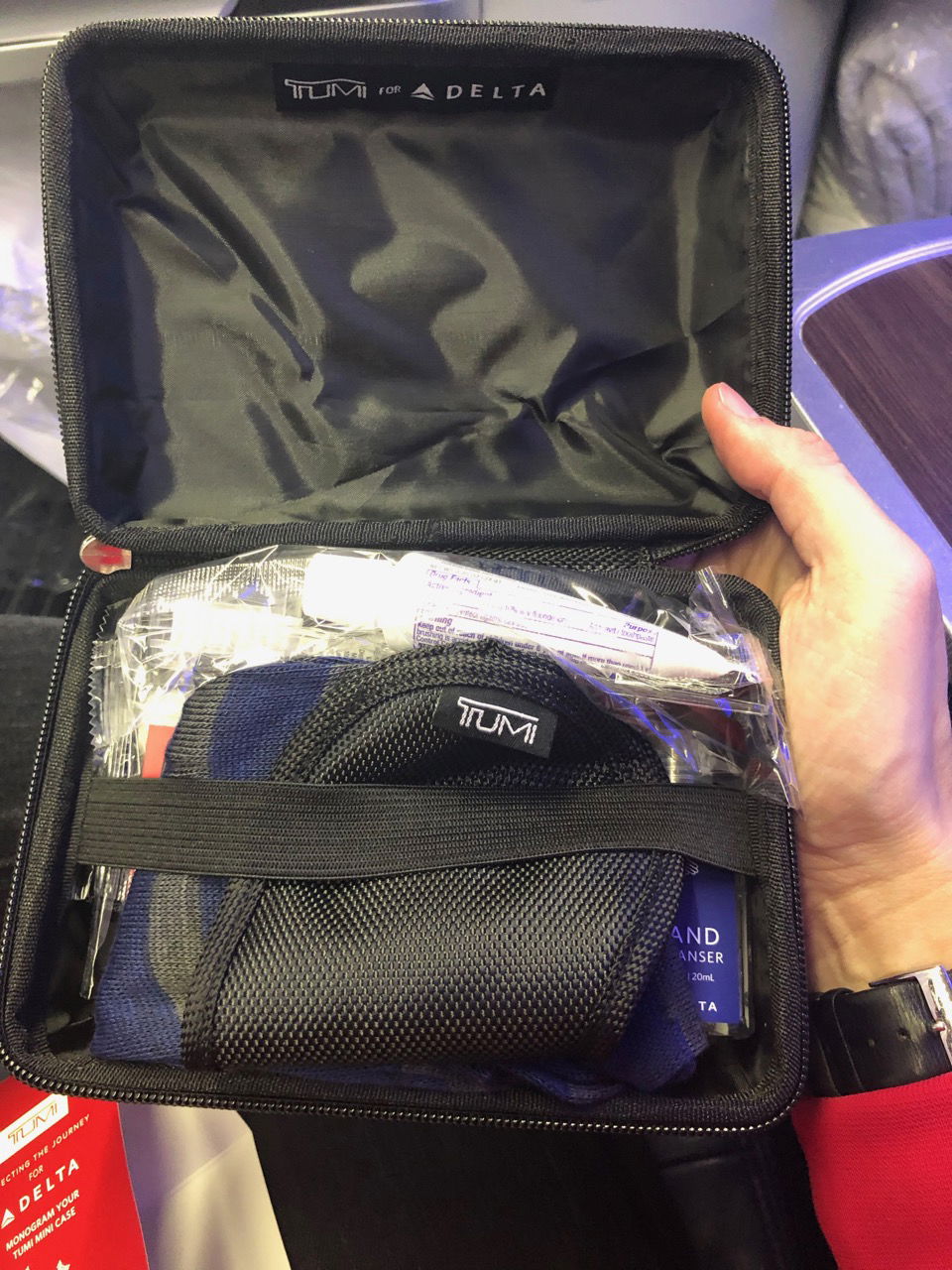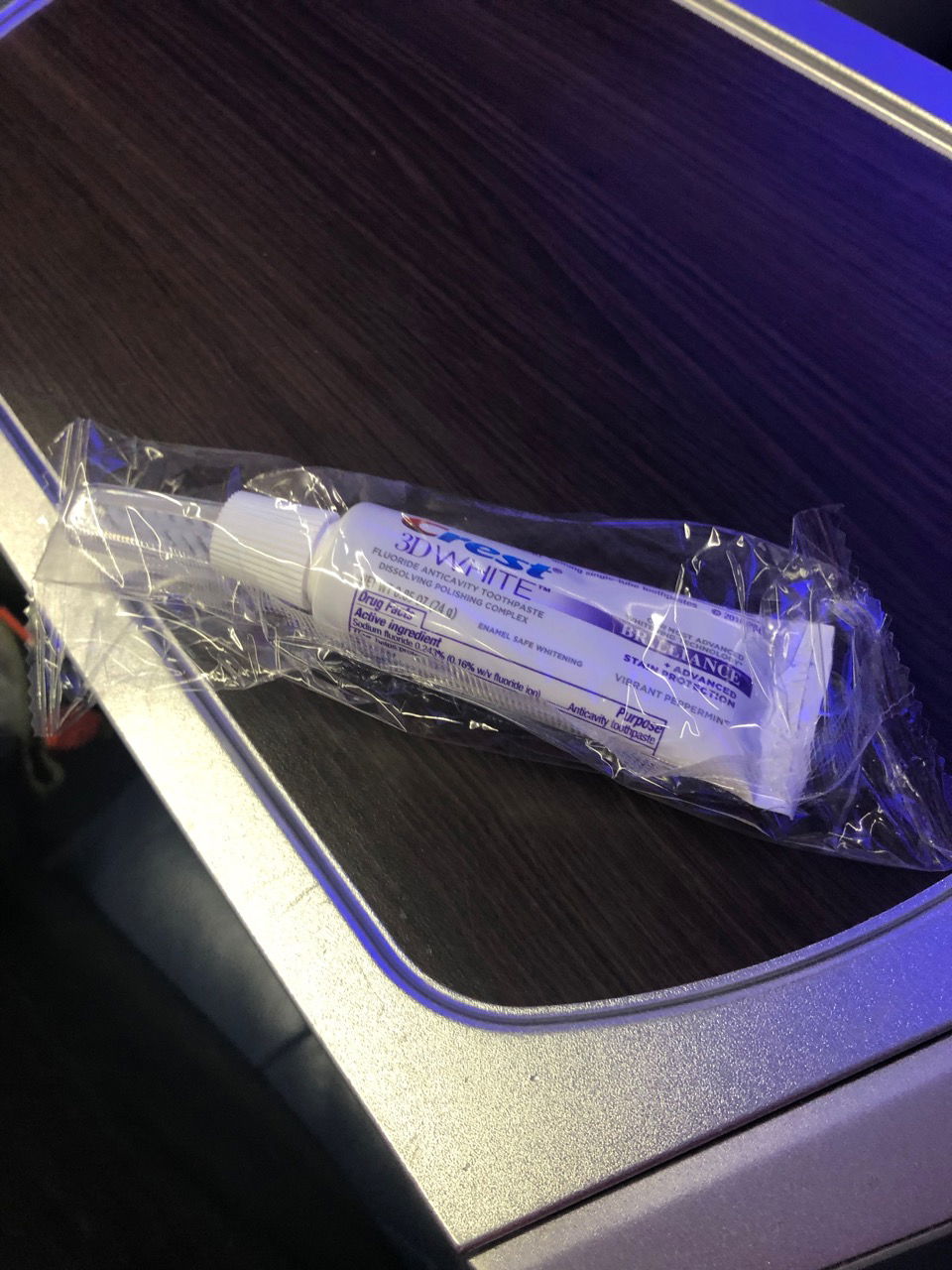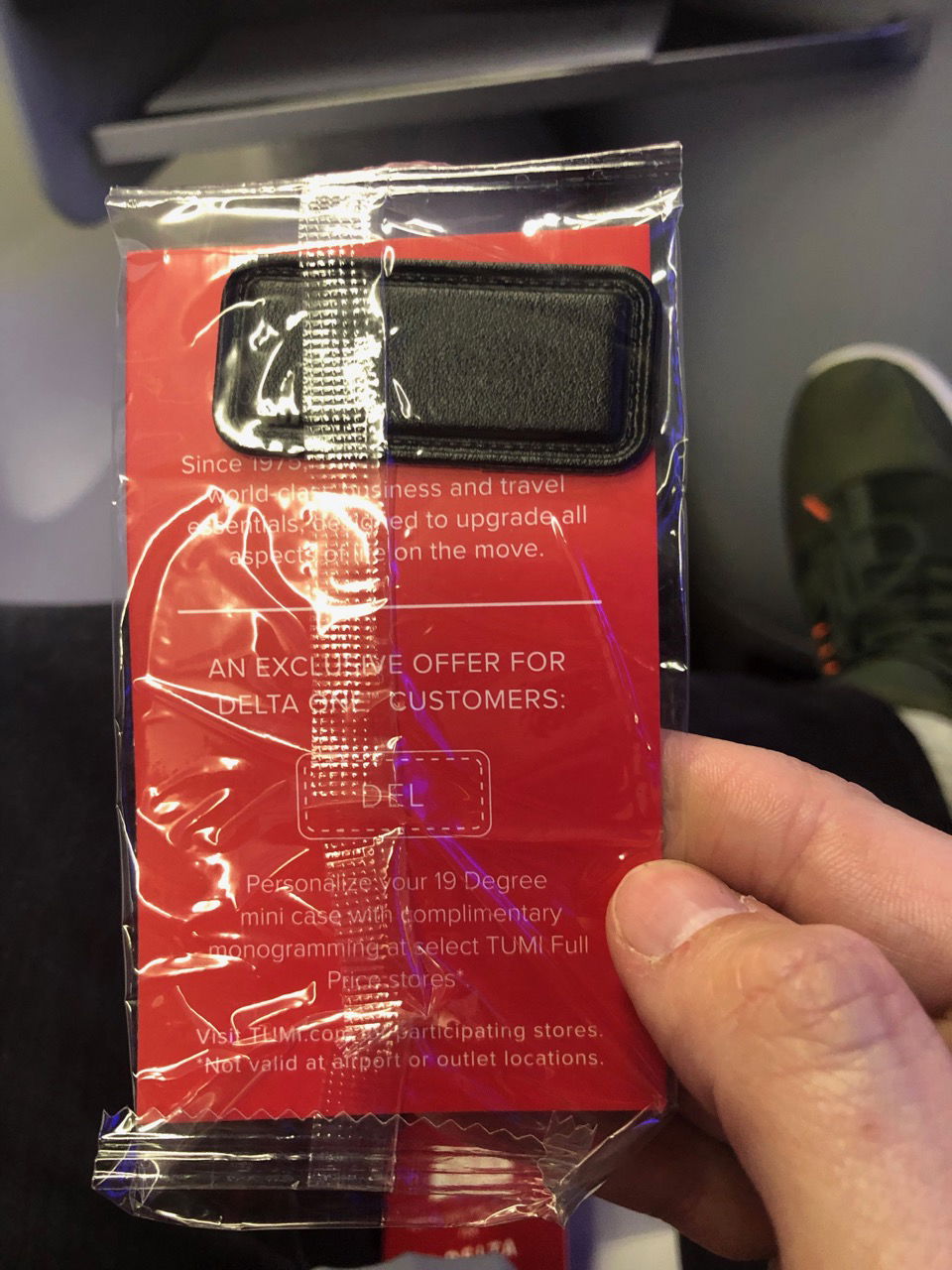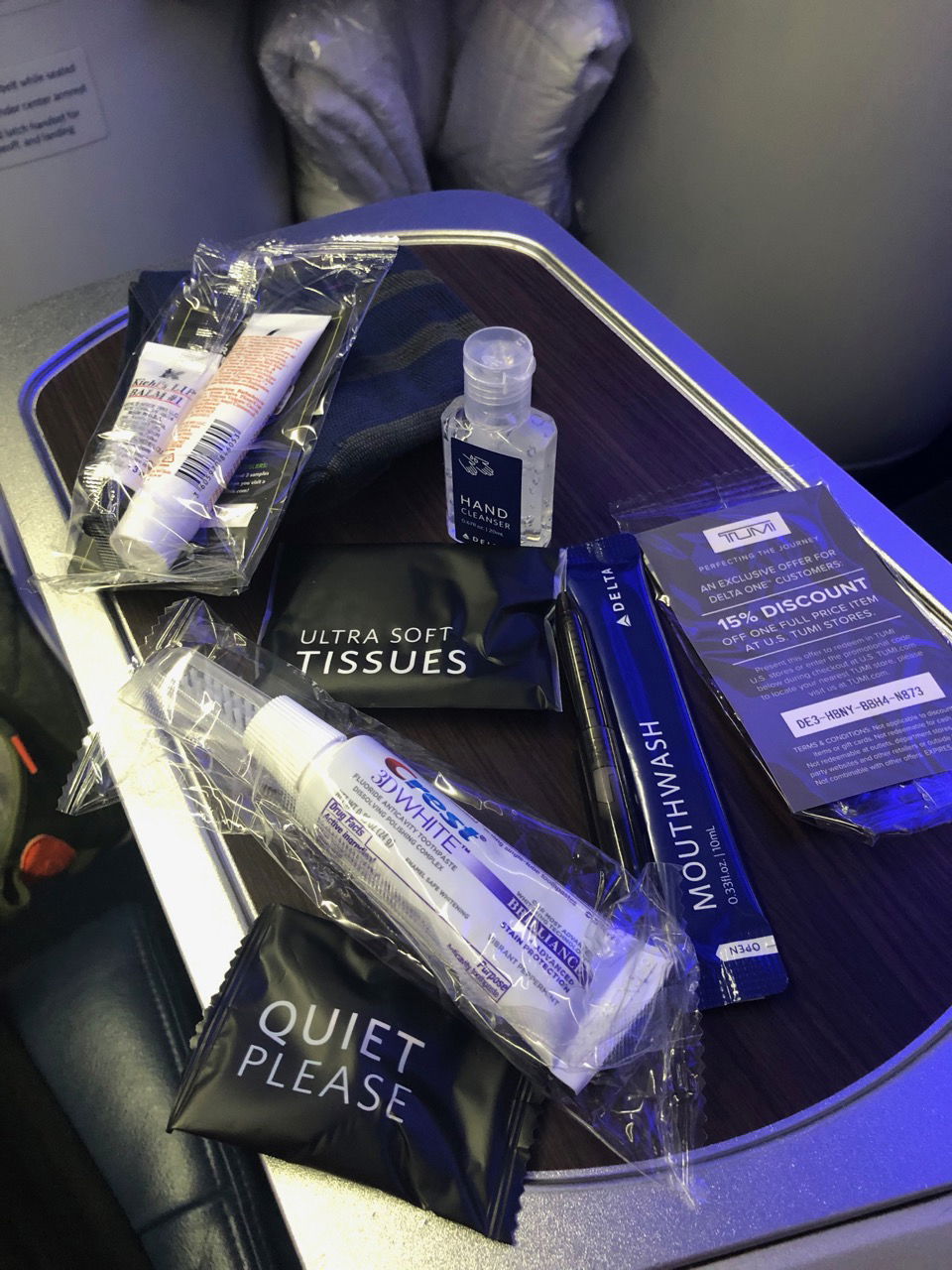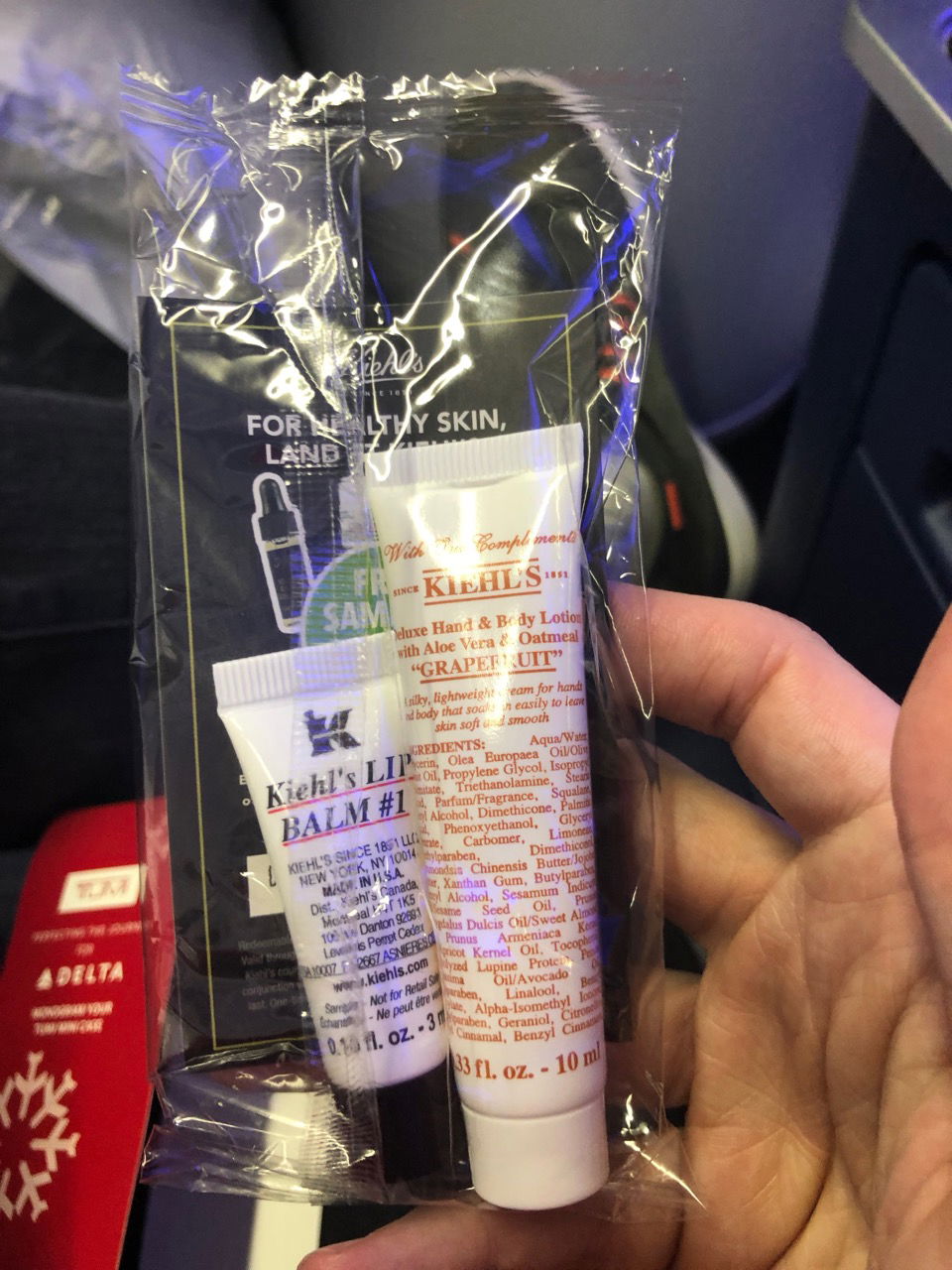 Shortly after we were seated, a flight attendant came over to welcome us aboard and offer us a beverage. We both chose champagne (or, more accurately, sparkling wine).
We pushed back from the gate about two minutes early, and were in the air shortly thereafter. Not long after we took off, flight attendants came around with hot towels. (Sometimes the towels are so hot I feel like they're going to burn my skin off — does anyone else have that issue, or is it just me?)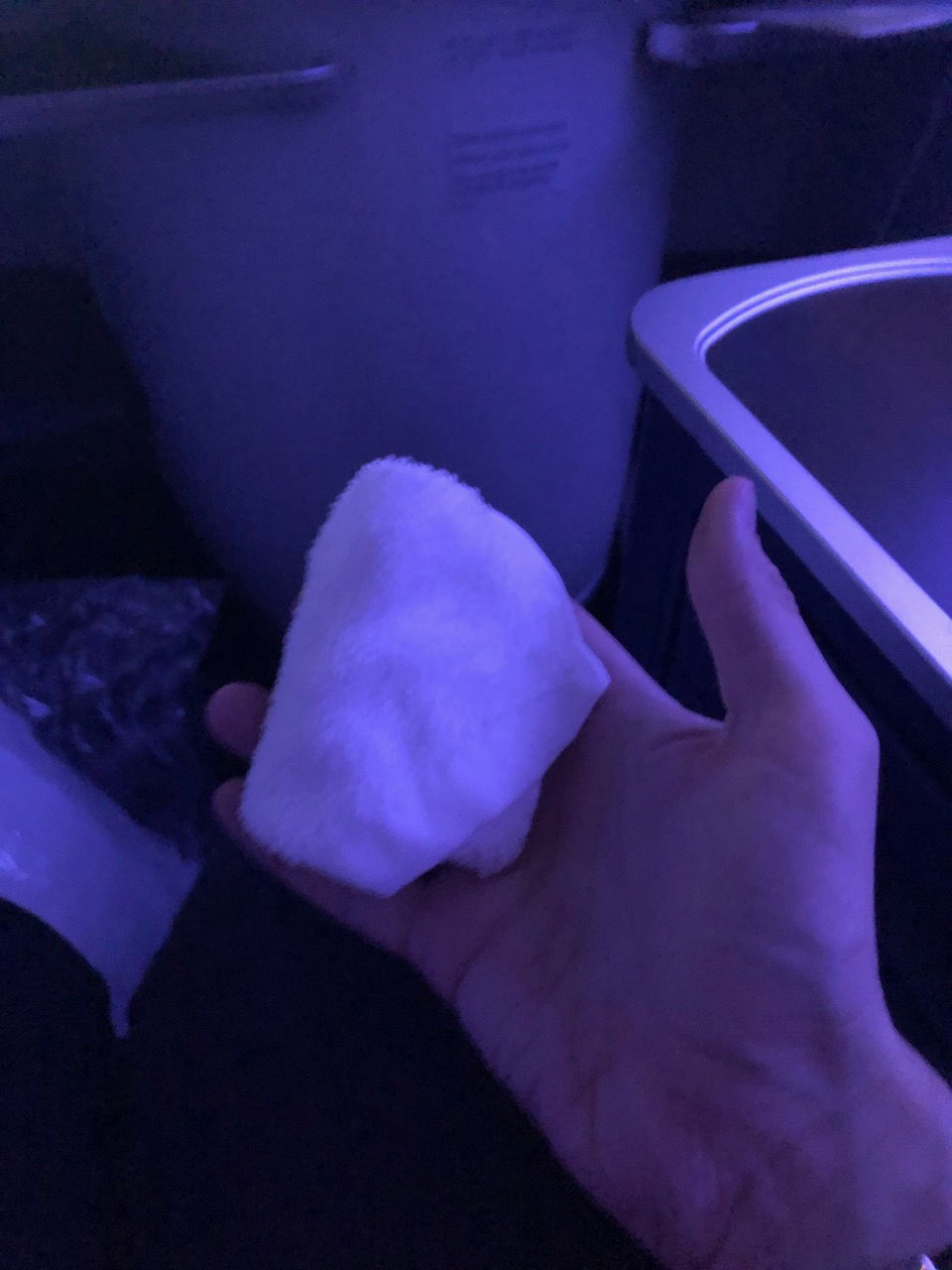 They took beverage orders, and few minutes later they came by with a ramekin of nuts and our drinks.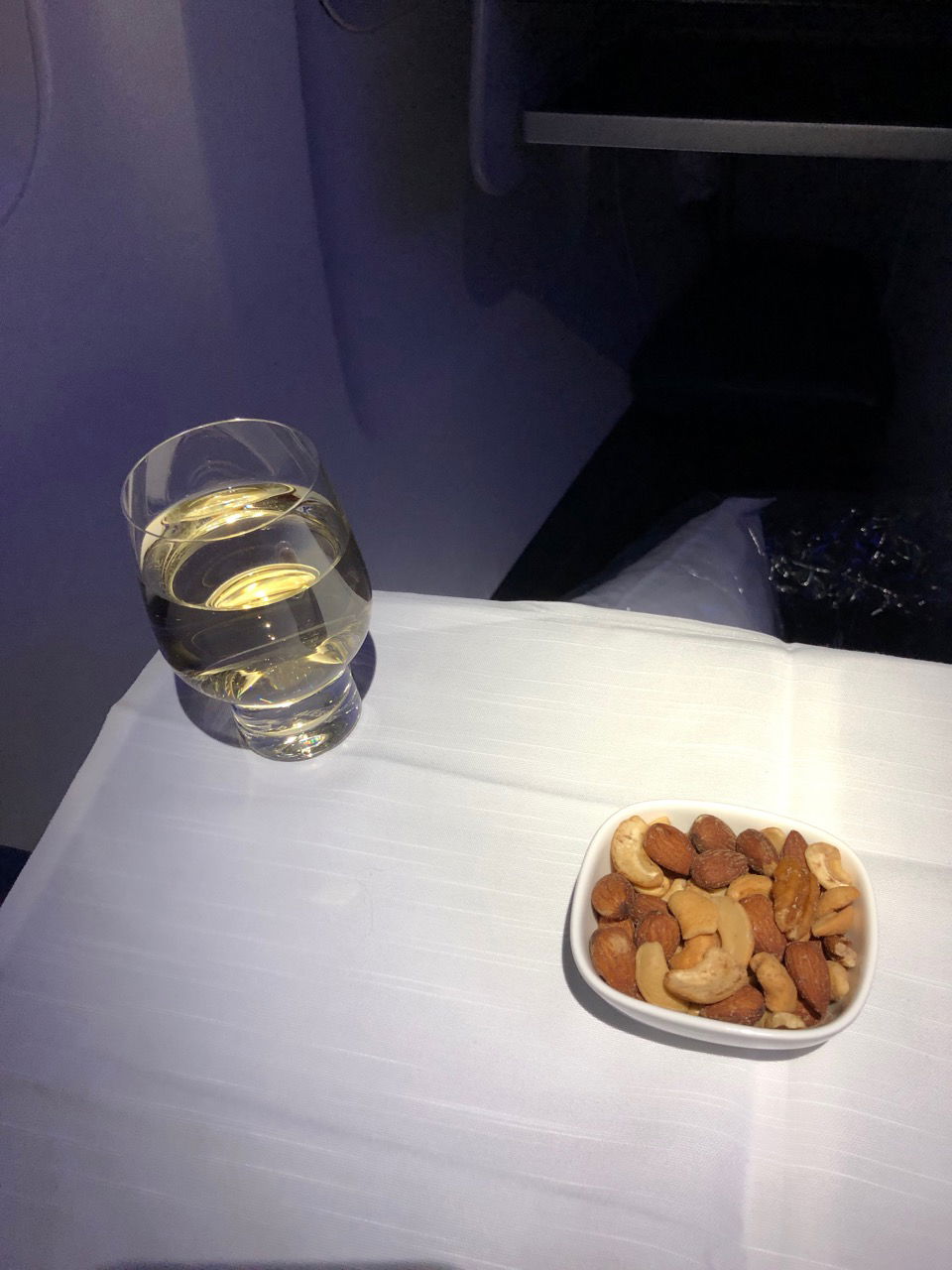 For dinner I had pre-ordered the chicken. It came with mashed potatoes and green beans, and was covered in a red sauce with veggies. My past experience with Delta domestic meals hasn't left me too impressed, but this was actually very good.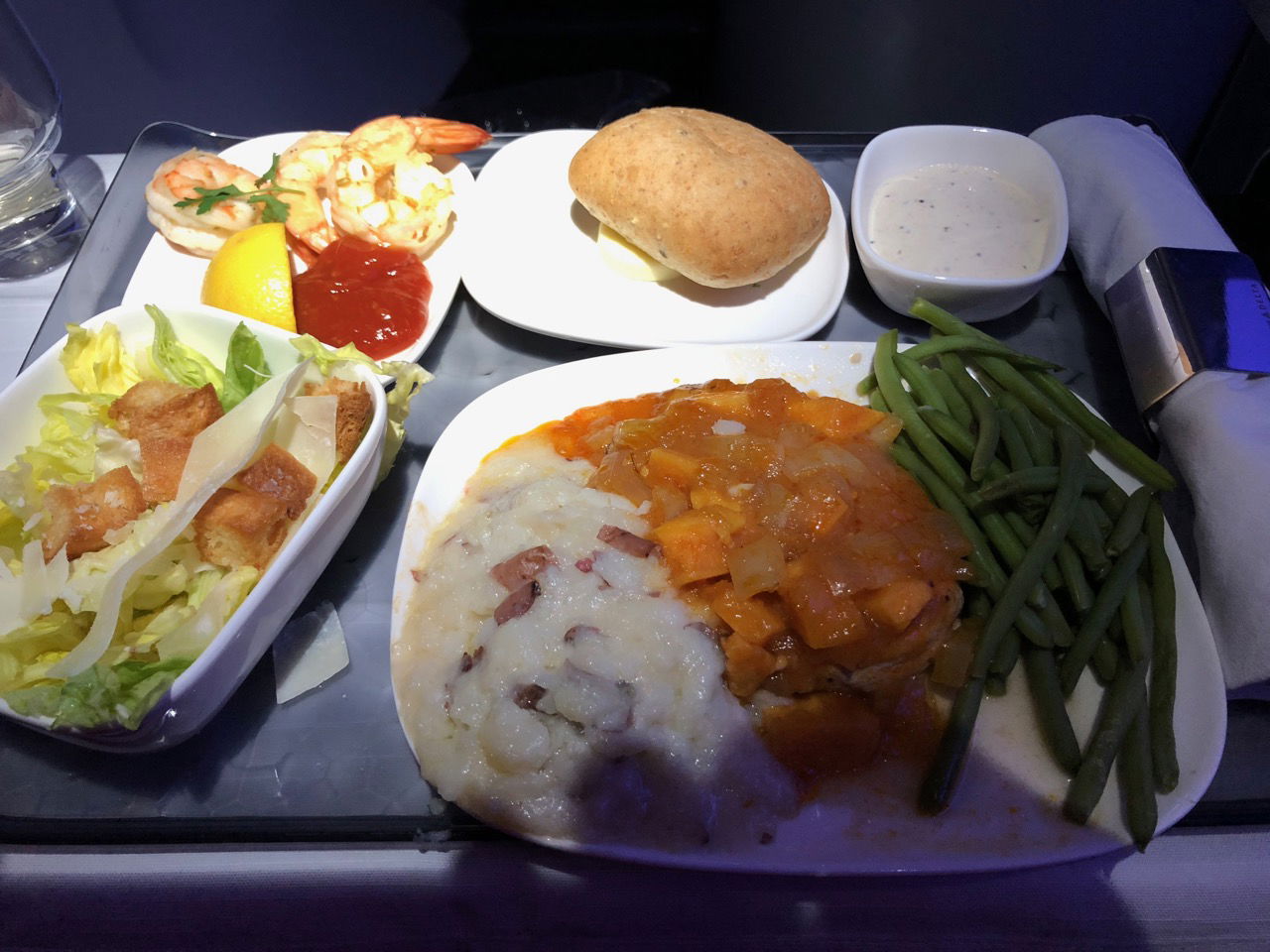 The salad, shrimp, and bread that came with it were also really good.
My boyfriend pre-ordered the steak for his meal, which came with broccolini and potatoes. He really enjoyed it.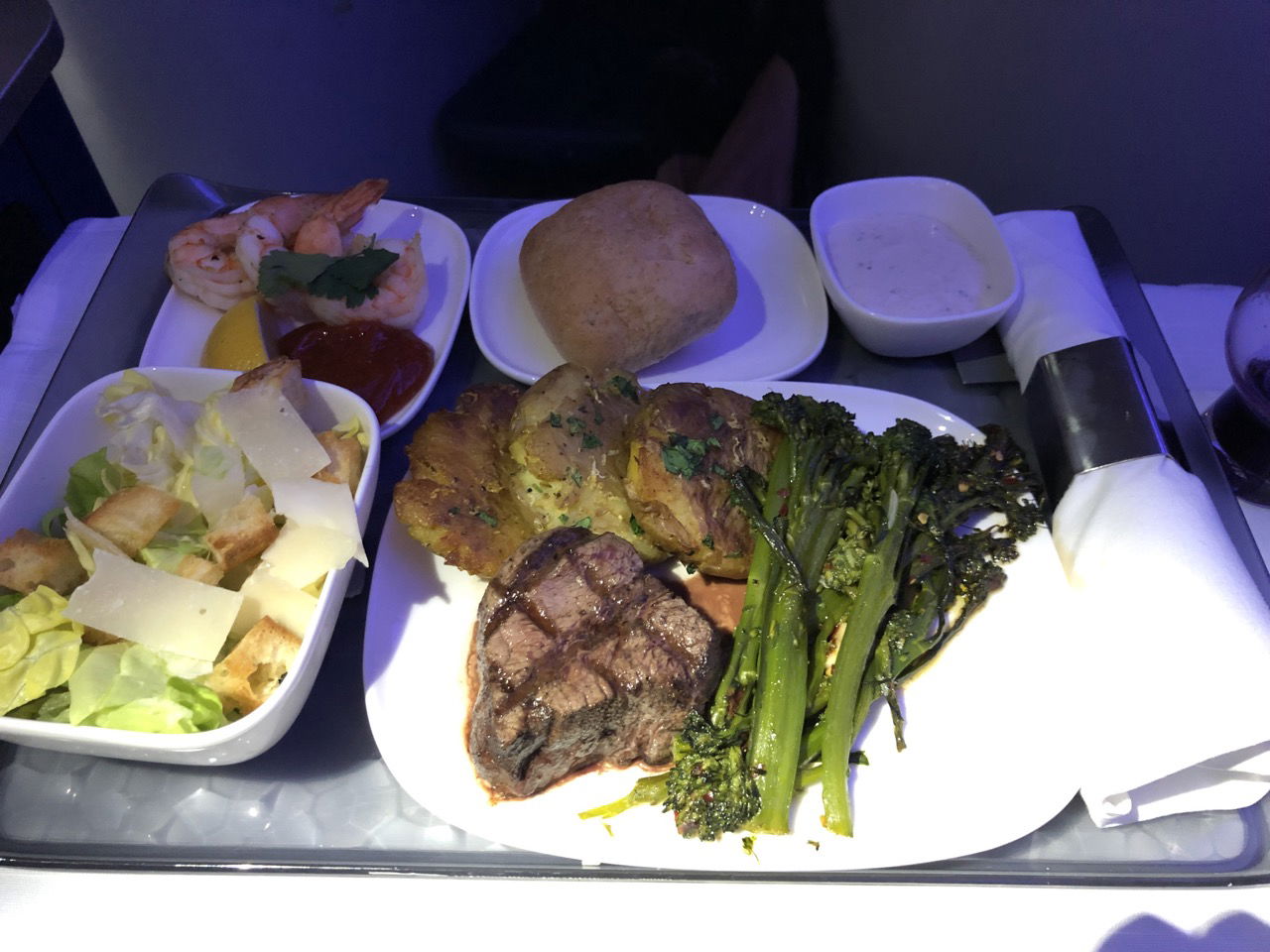 For dessert they offered either fruit (as if!) or a fudge sundae (that's more like it). It also had a tasty crumbly crust on top.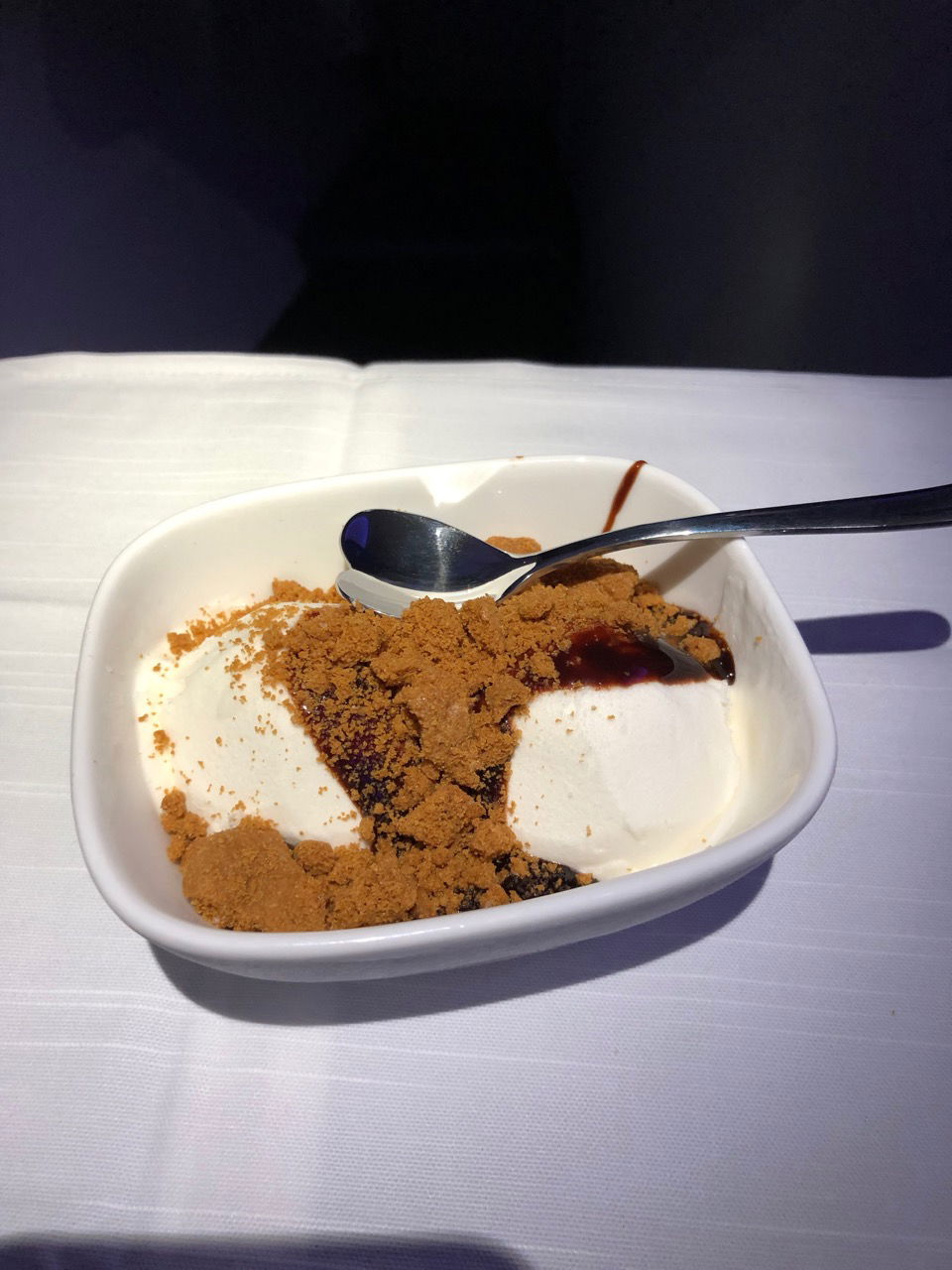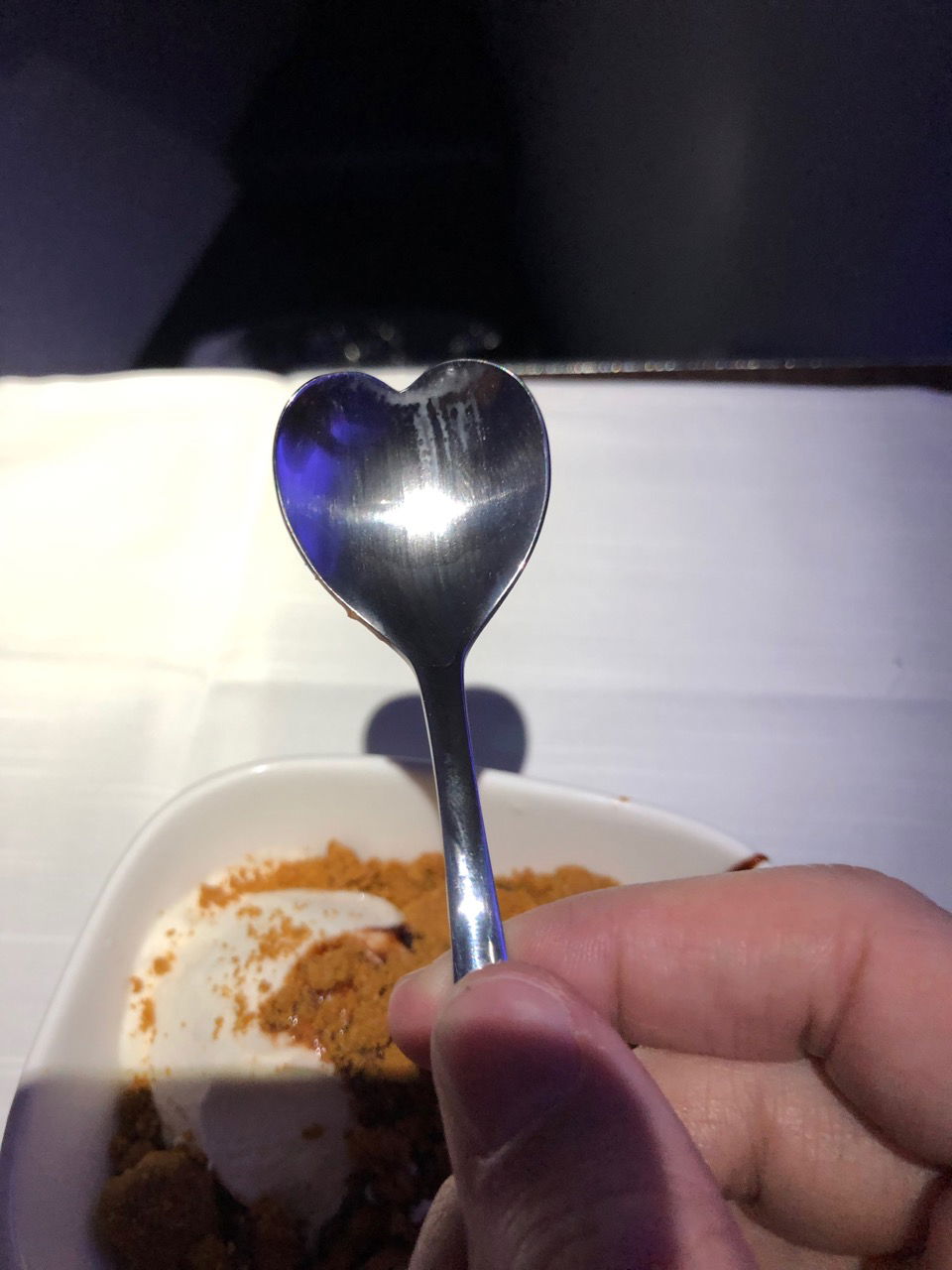 The TVs all had Delta Studio featuring Delta's free suite of entertainment options, including on-demand TV shows and movies, as well as some live TV.
I watched a documentary called Pick of the Litter, about Labrador retrievers being raised to help visually impaired people. The puppies were so damn cute.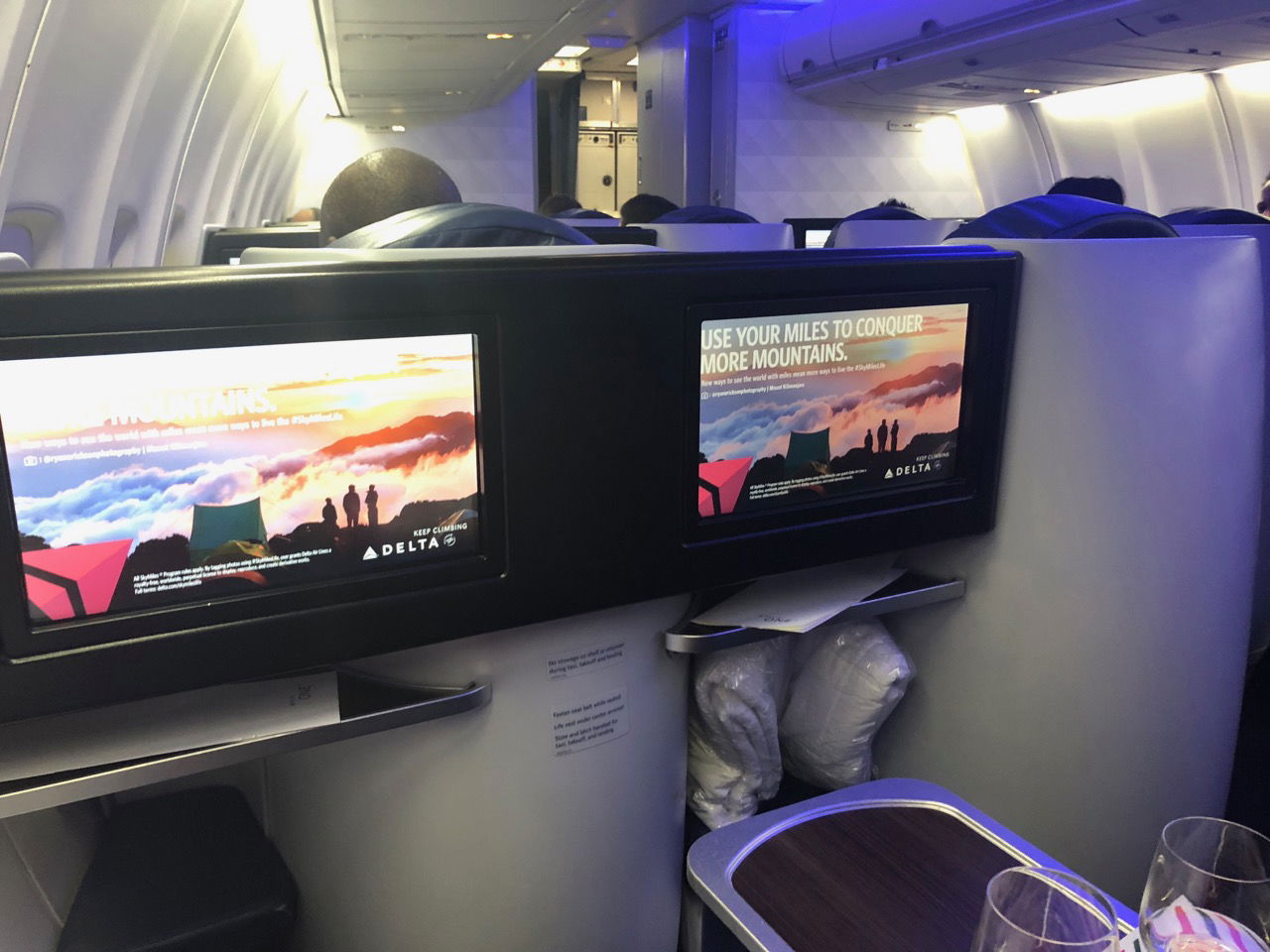 After dinner I made a quick visit to the lavatory, which isn't super exciting (though I appreciated the touch-free flush option).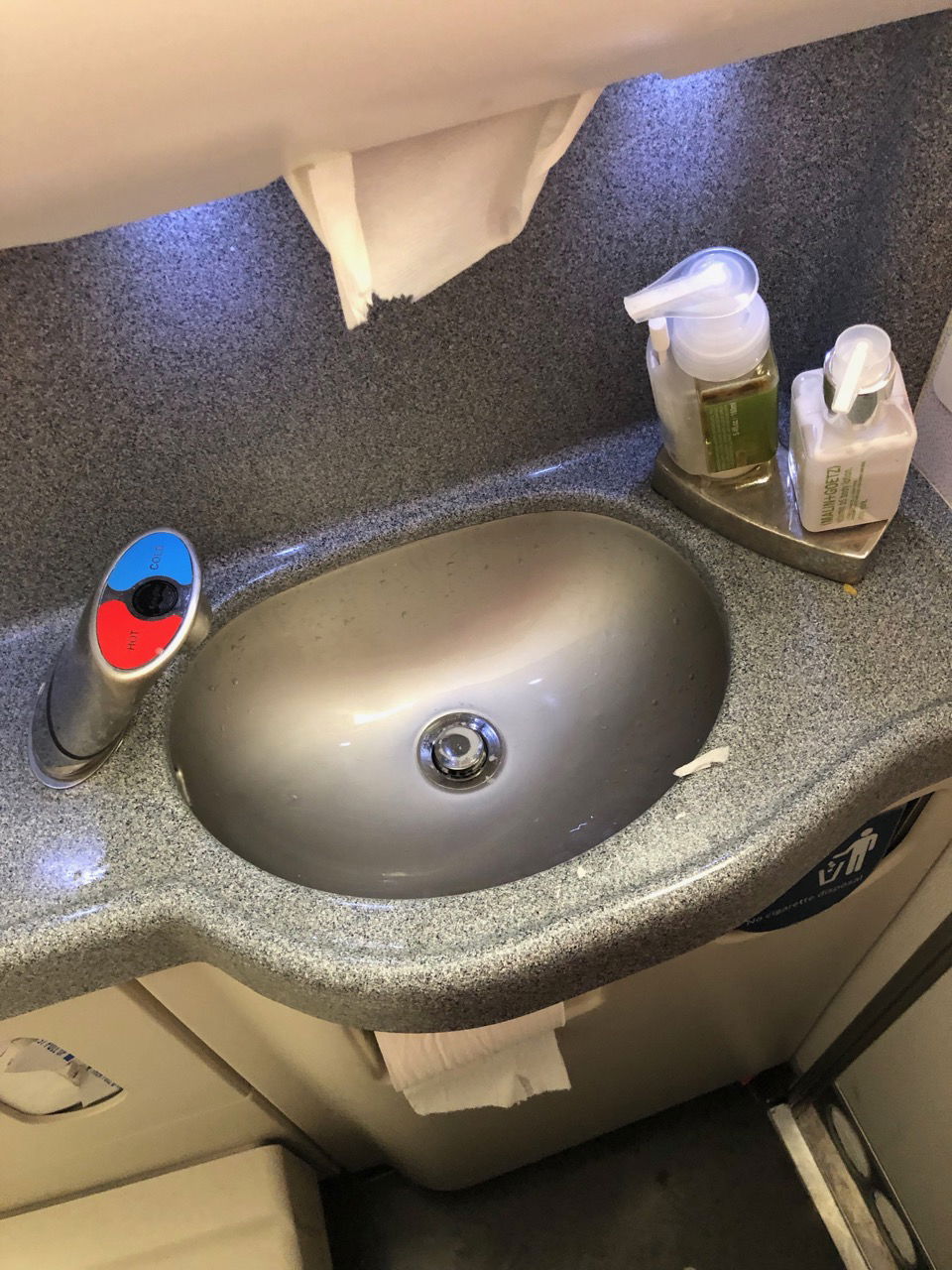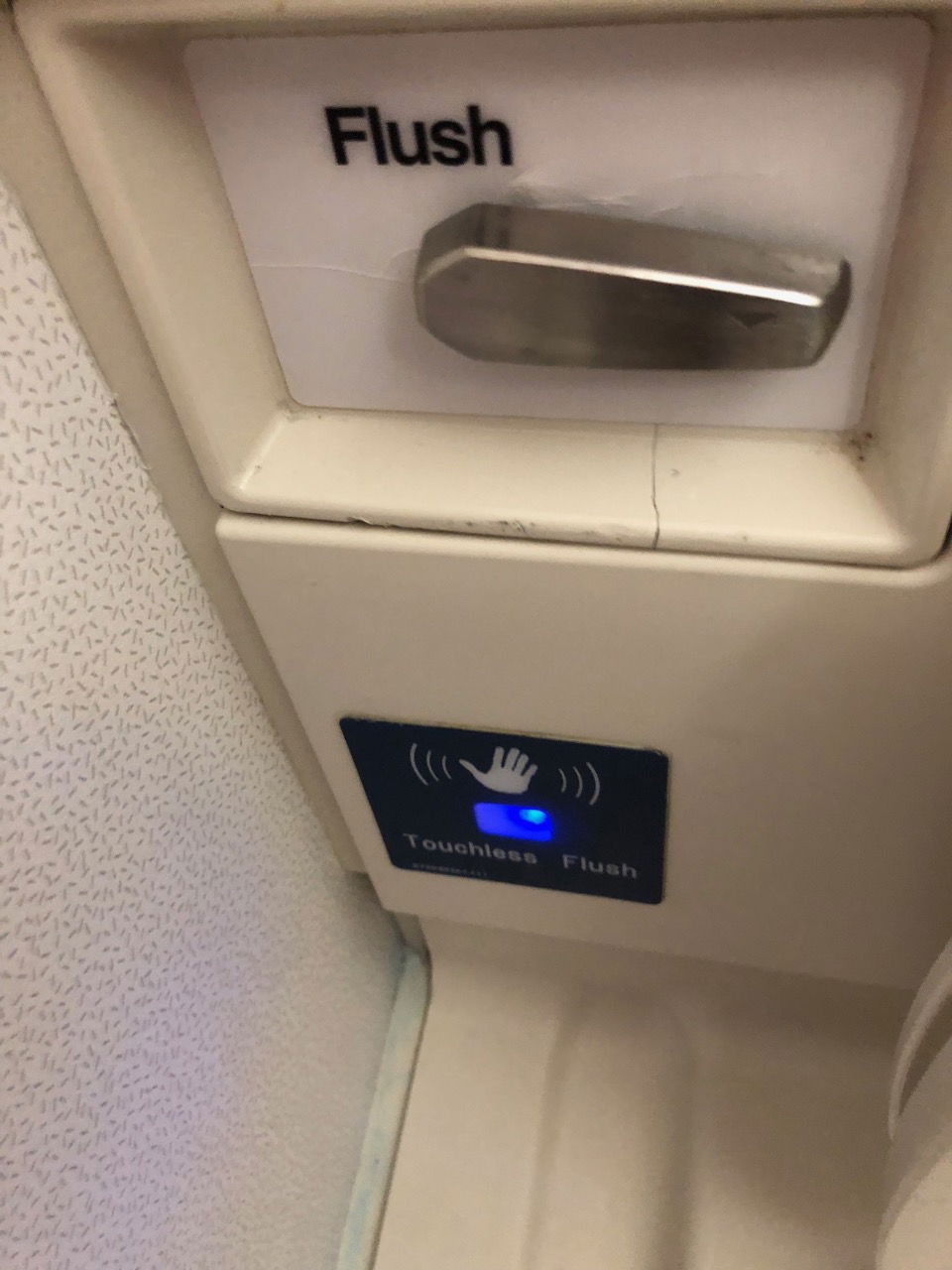 Finally, I settled in for a nap. The Westin Heavenly-branded bedding they provide is exceptional. It's soft and plush and all-around amazing. I slept for over 2 hours. (I am told that flight attendants frequently passed through the cabin offering drinks and snacks, but I was totally unconscious for that.)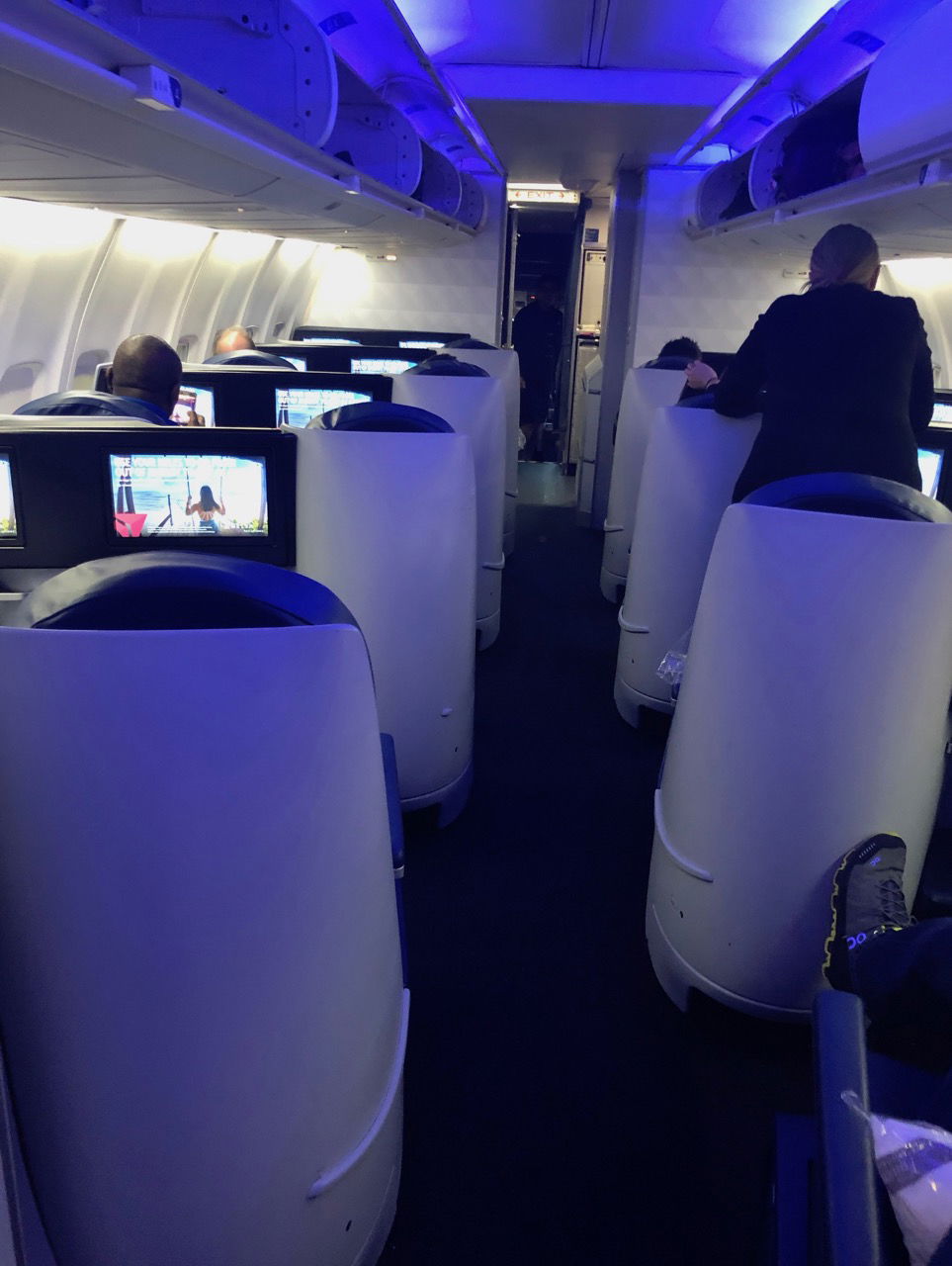 About an hour before landing we were served warm chocolate chip cookies. Mine was delicious. We landed in Los Angeles around 8 pm local time and had a fairly long taxi to the gate.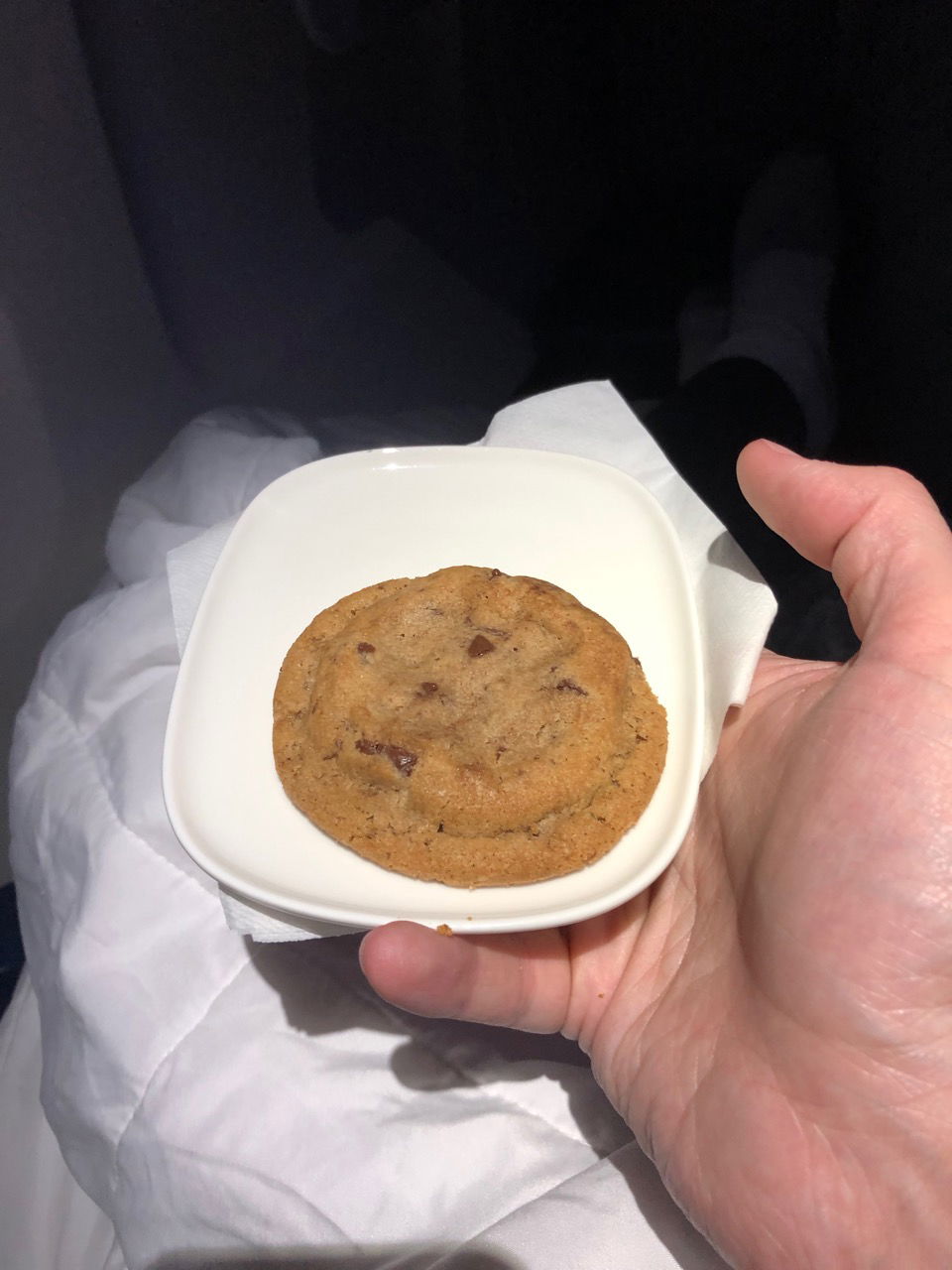 Return flight from Los Angeles
Our flight from LAX to DCA was on the same aircraft type (a 757-200) and I even sat in the same seat (4A). It's a daytime flight, leaving LA shortly after 8 am and arriving in DC around 4 pm.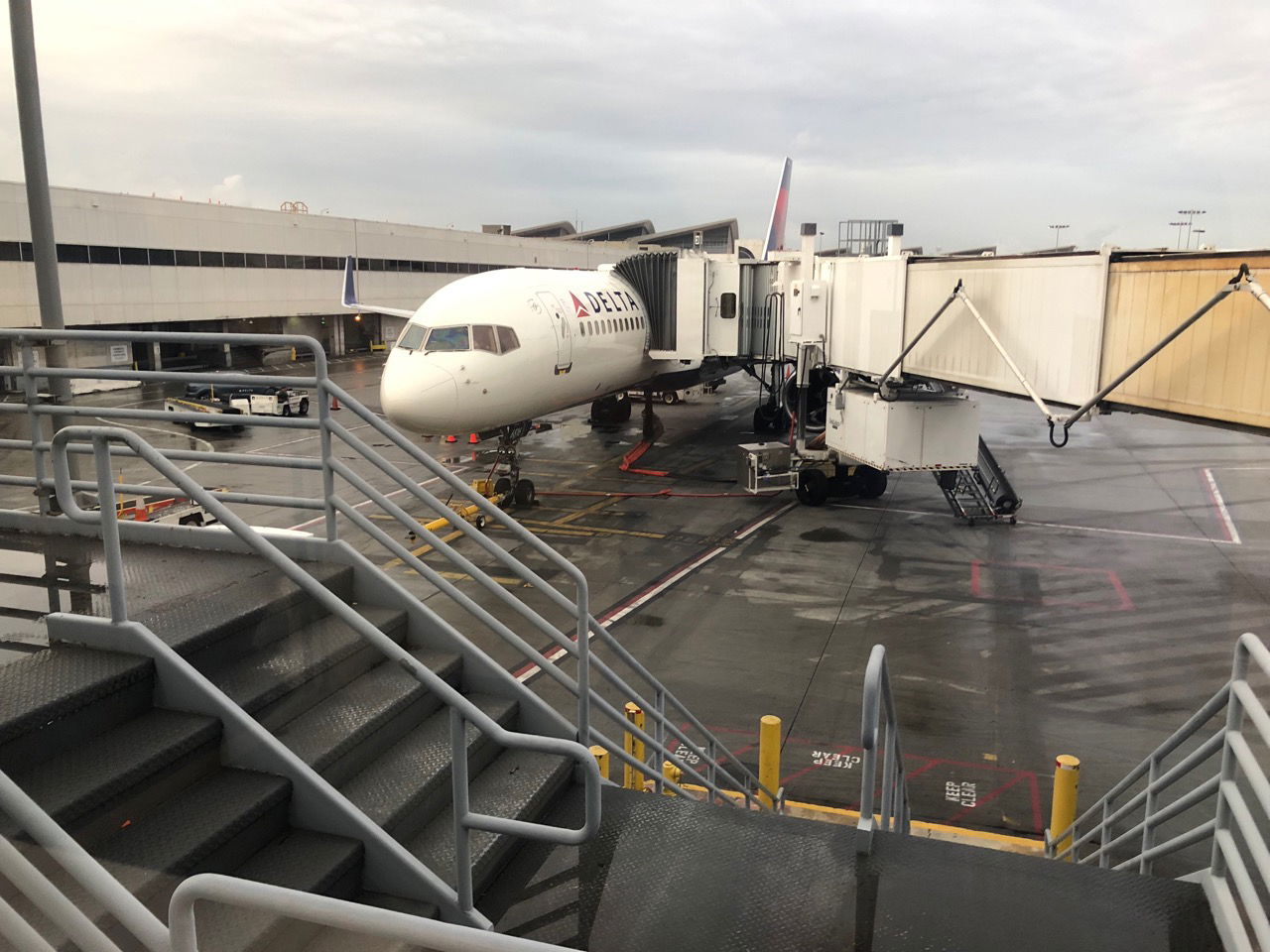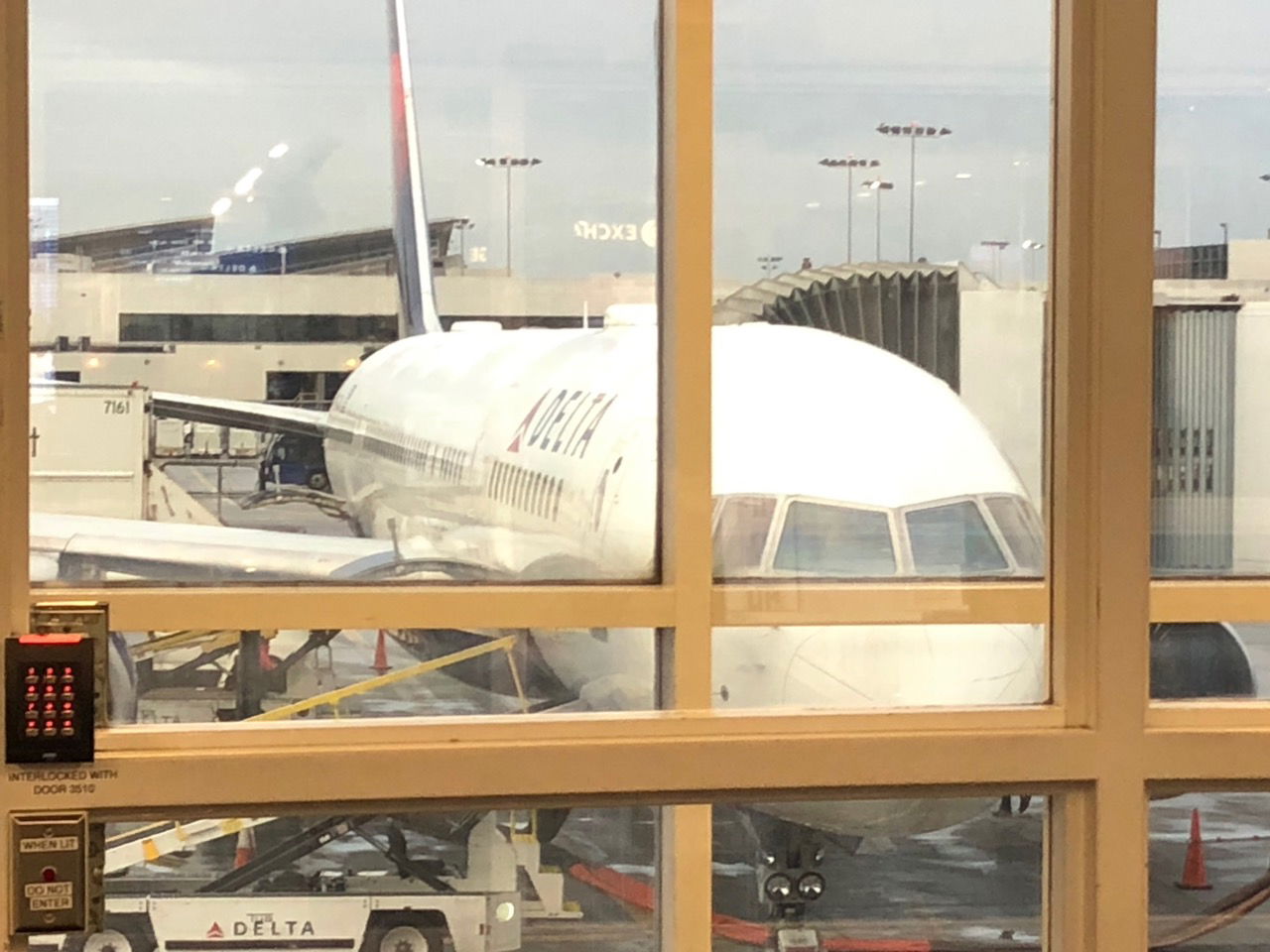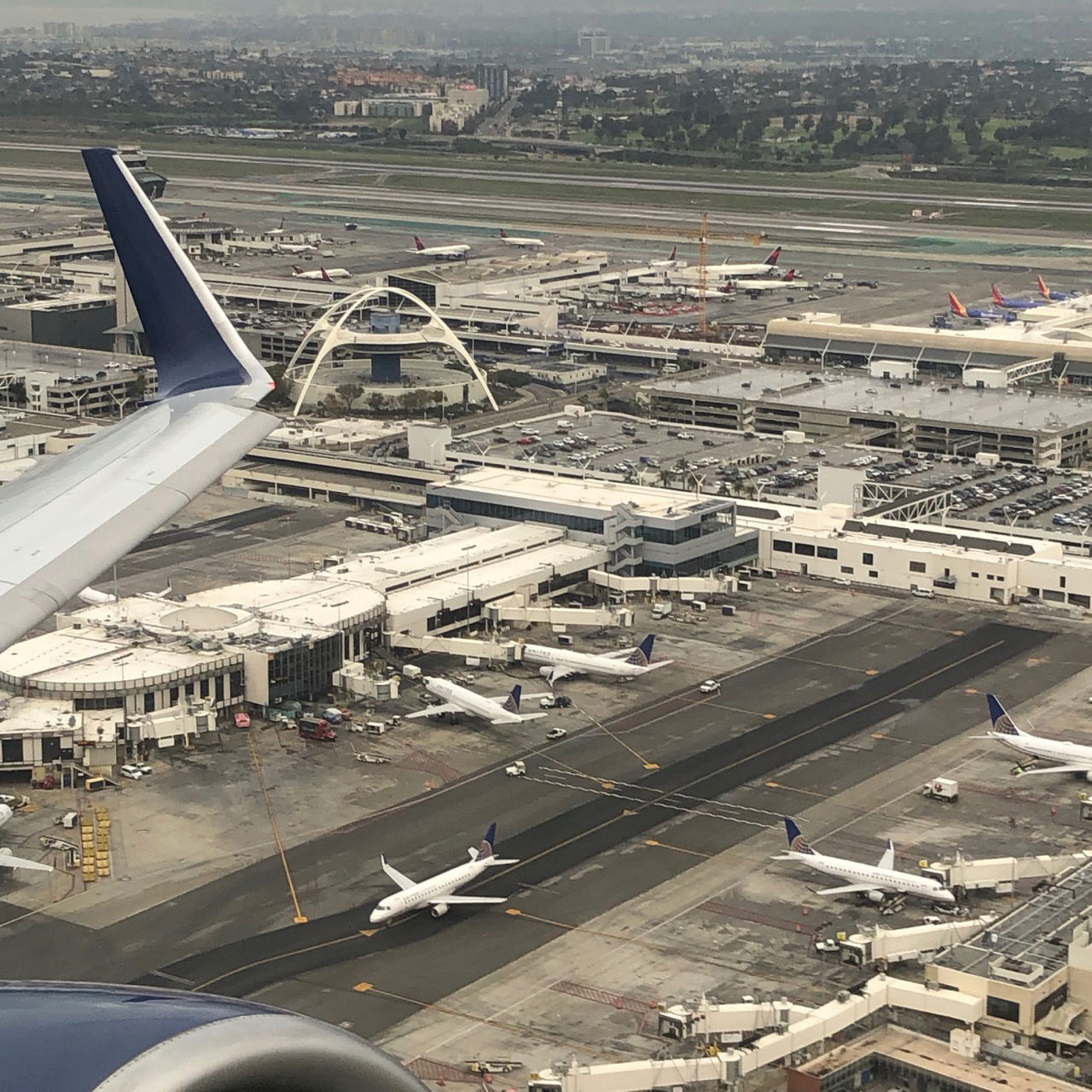 Shortly after takeoff they served candied nuts.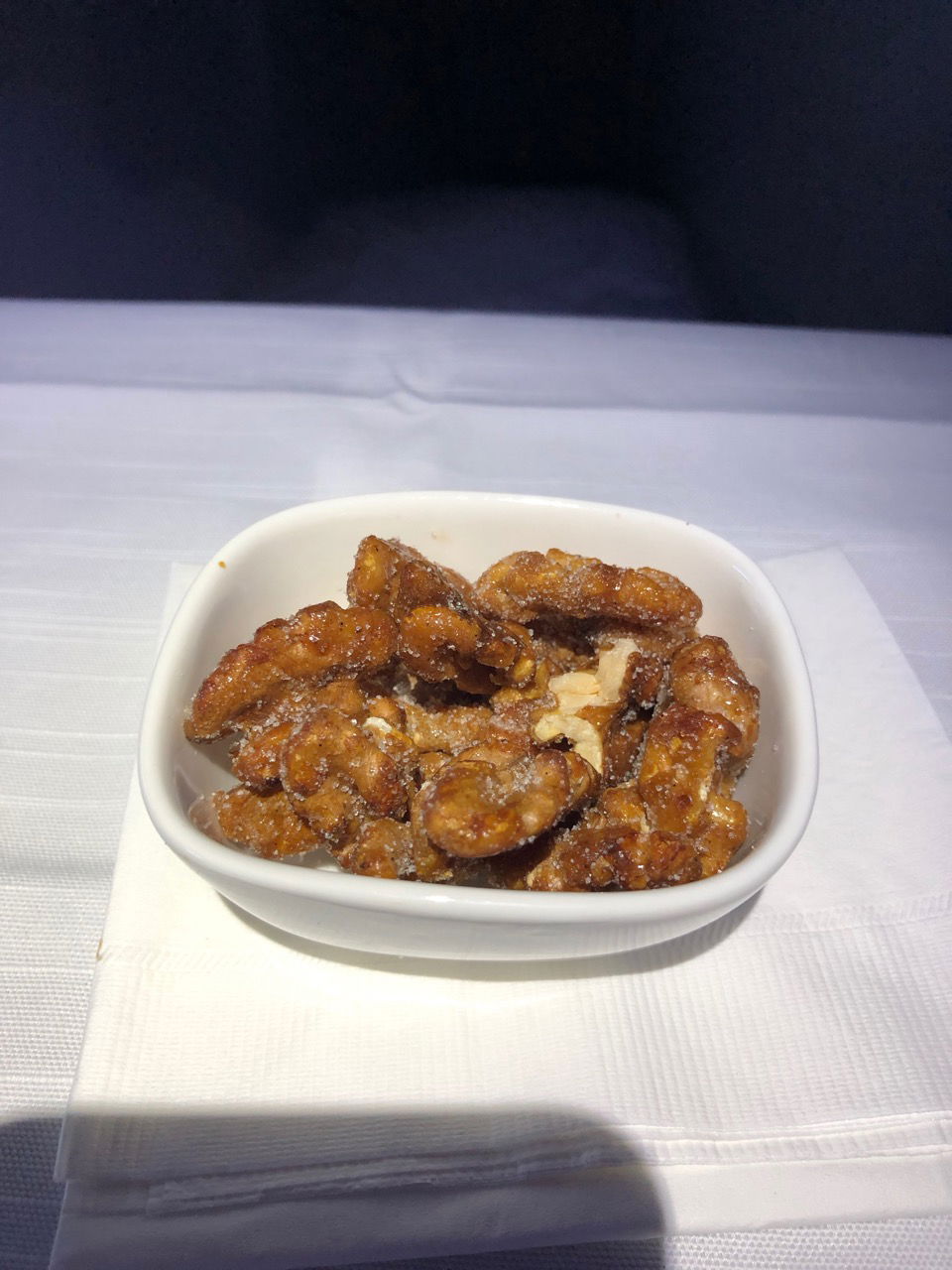 The meal served on this flight was breakfast. My boyfriend and I both pre-ordered the French toast.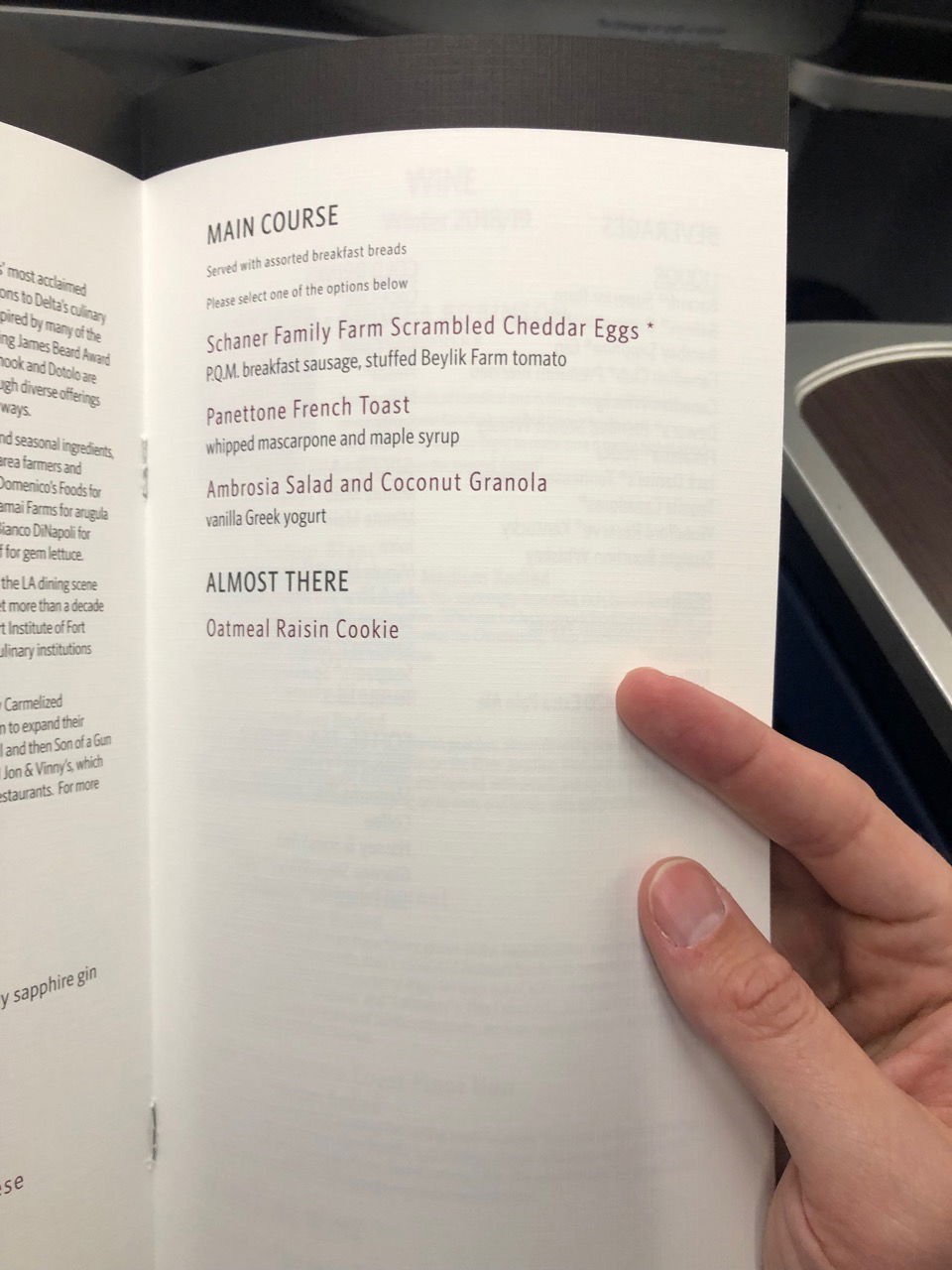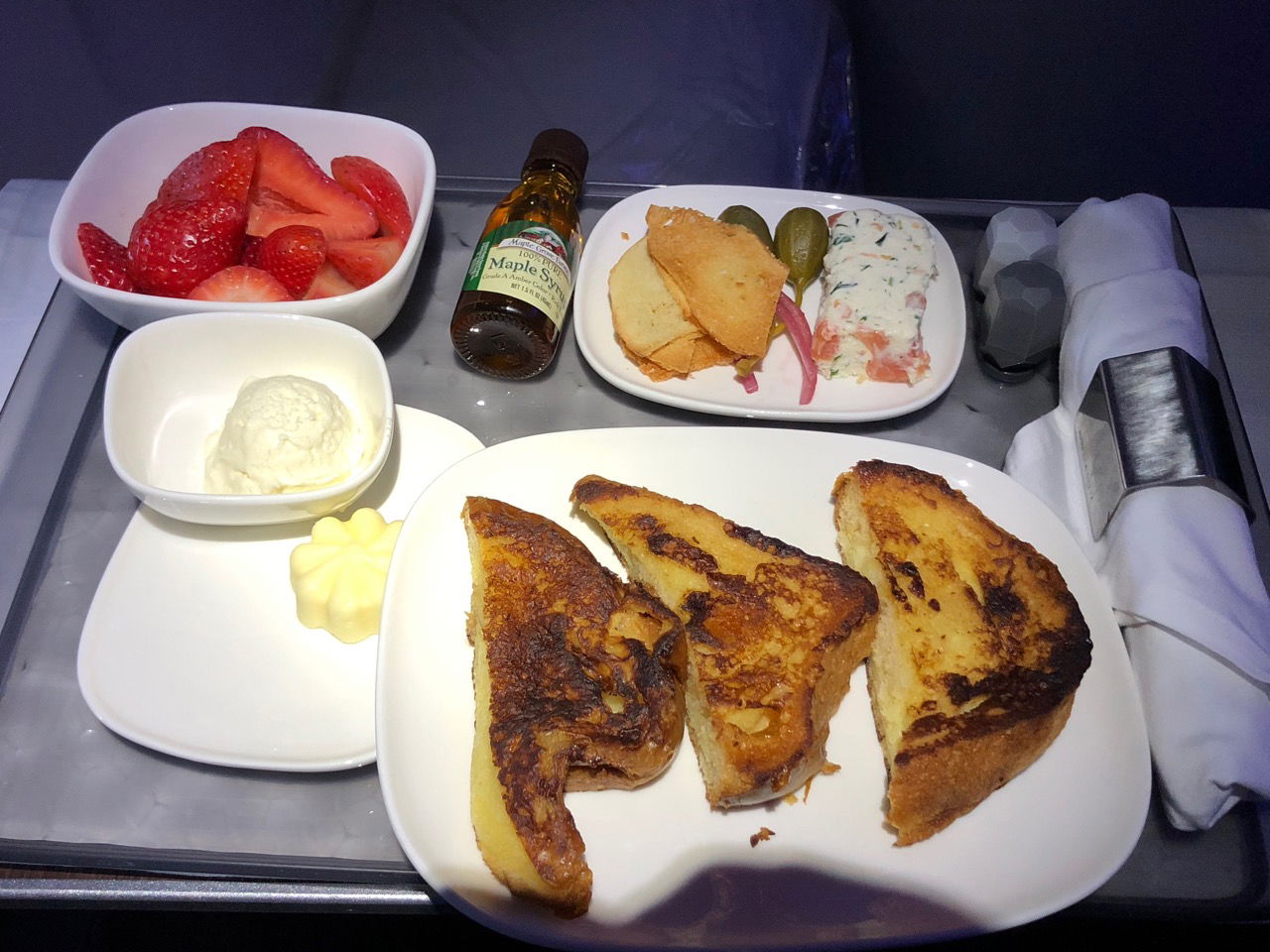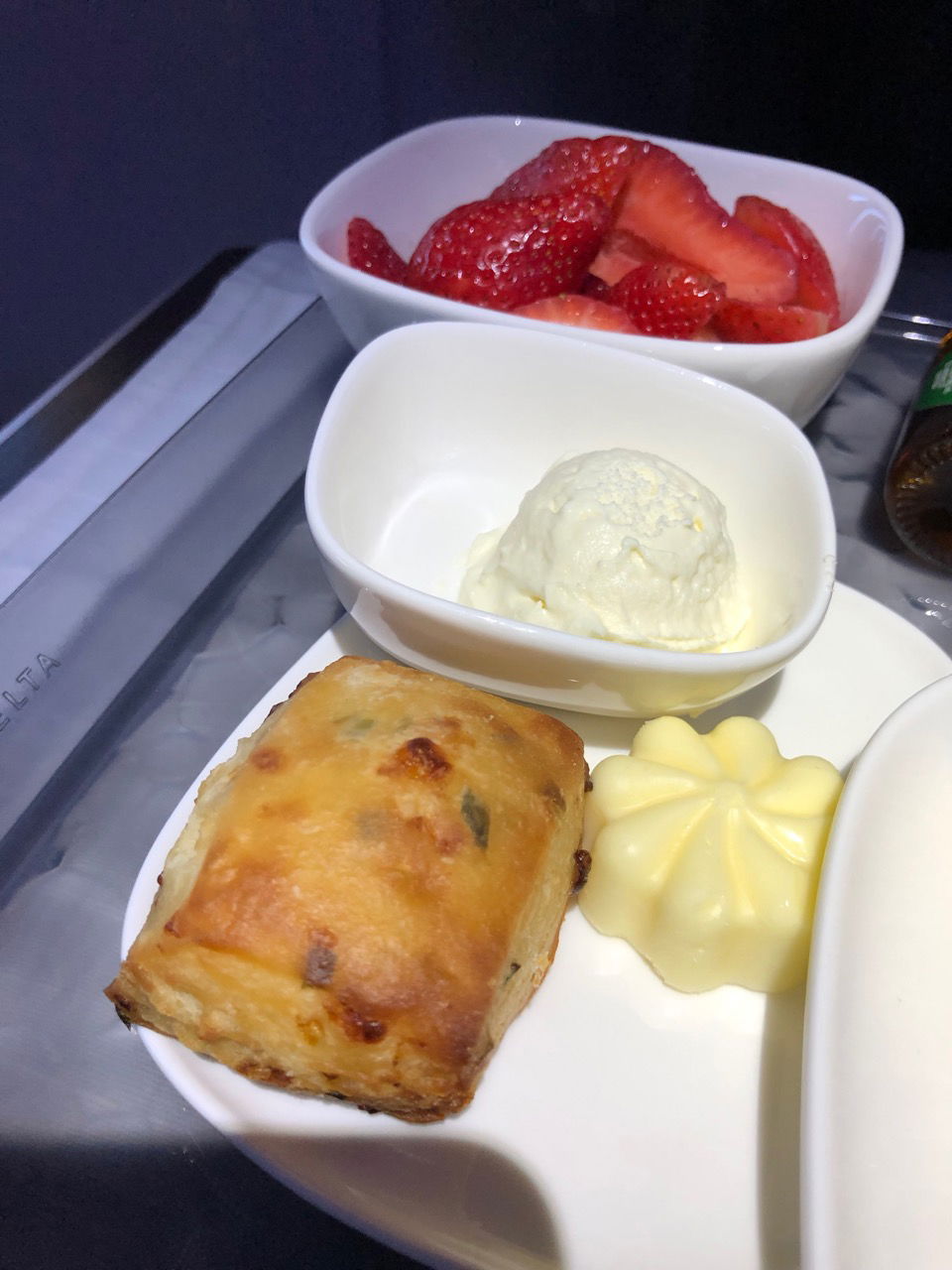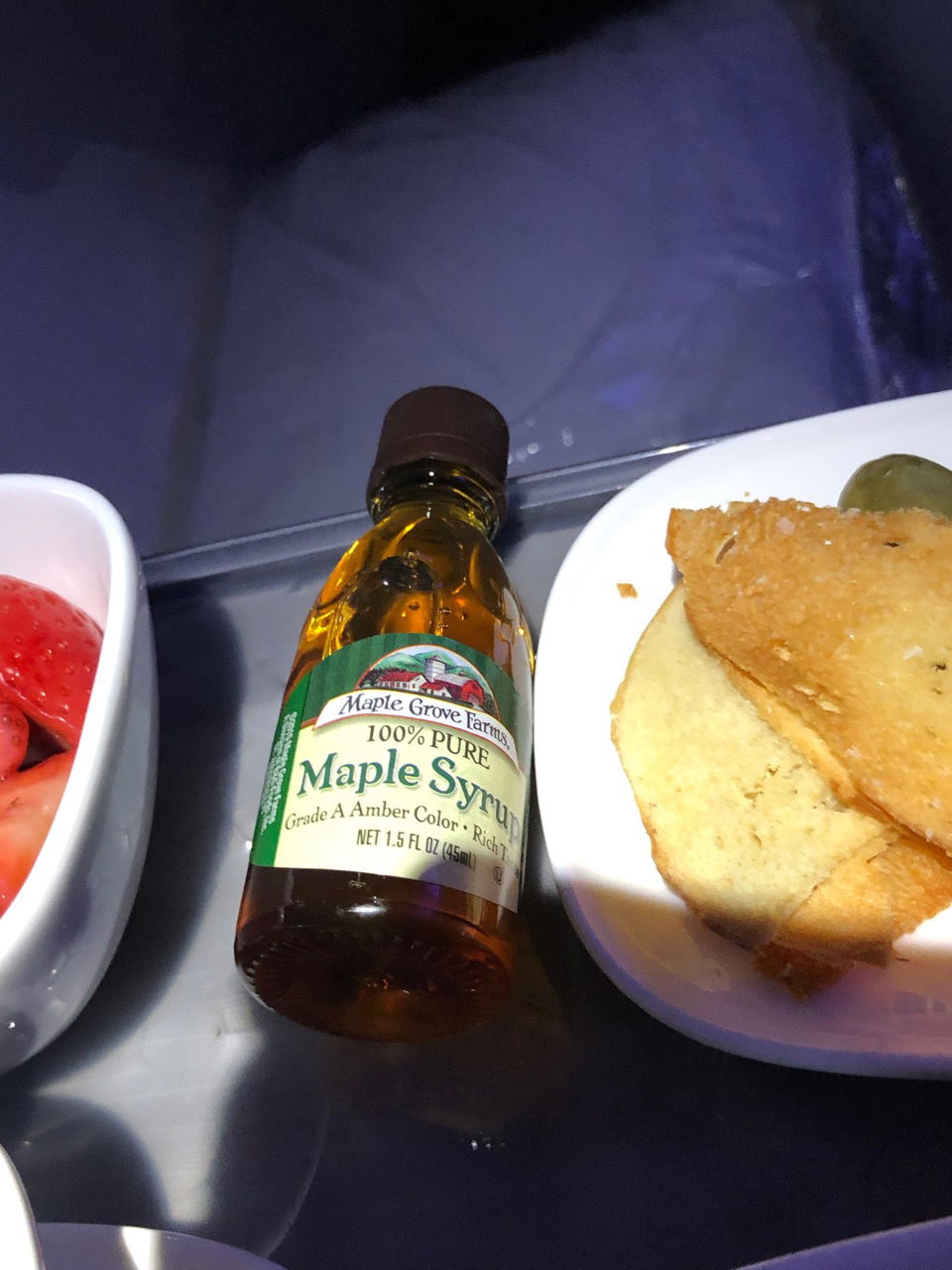 It was very tasty, but obviously not a great choice if you're on a diet. They did have an egg option on the menu, as well as an ambrosia salad. (I'm not a fan of ambrosia salads — blech.)
About an hour before landing they offered hot oatmeal raisin cookies. I didn't have one because to me oatmeal raisin cookies are just chocolate chip cookie wannabes.
Then as we were descending they came around with Ghirardelli chocolates. There are very few situations in which I would turn one of those down. And then in an act of true selflessness, my boyfriend gave me his too!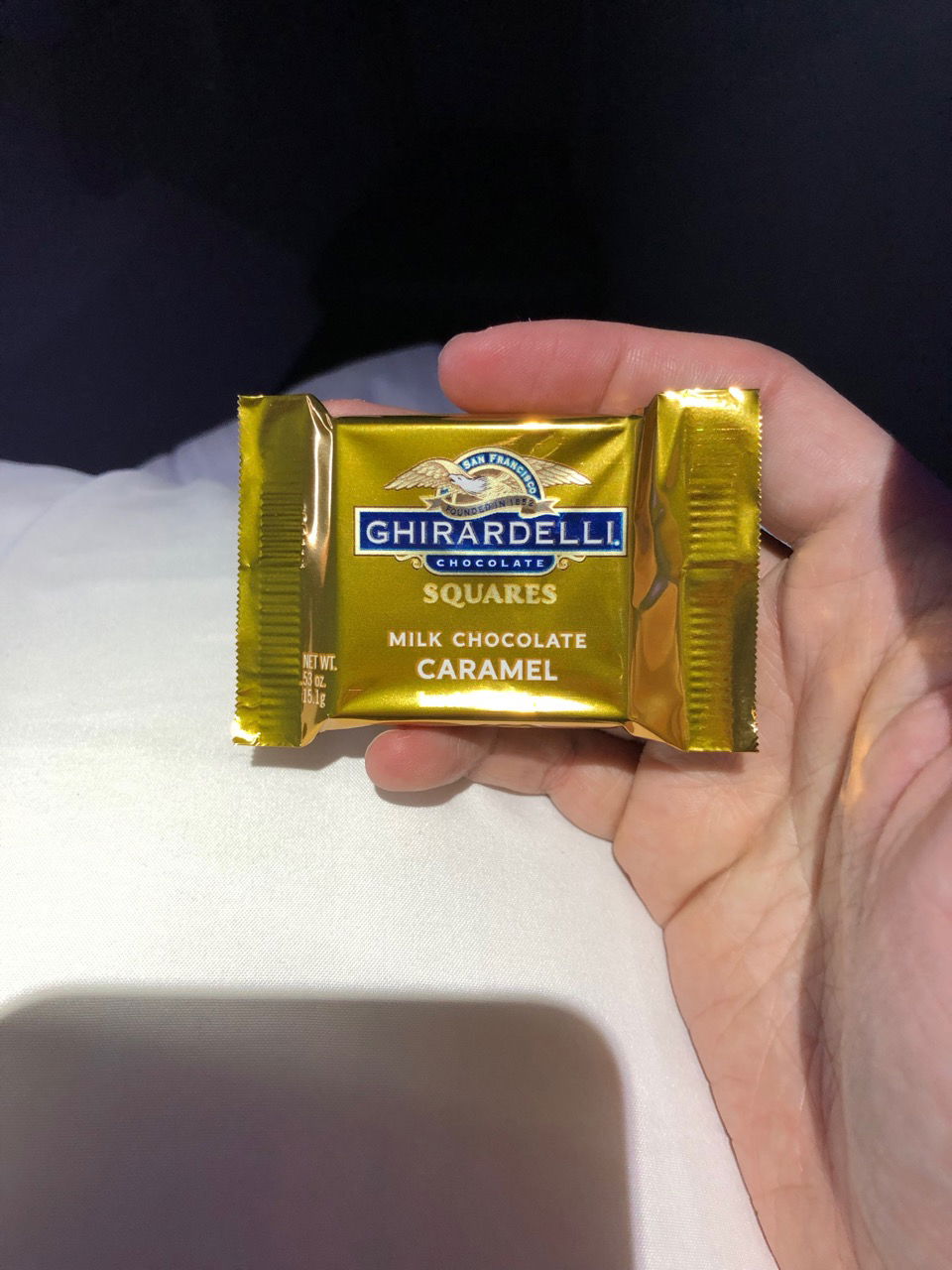 Service on the return flight was even better than on the outbound. One of the flight attendants was on both flights, and she recognized us on the return and welcomed us back.
Bottom line
This was a really solid flight.
In my opinion, there's no better way to fly out of DCA, and I wish Delta or one of its competitors would open a few more regular routes with fully-flat seats and premium service out of DC. (JetBlue, we could really use some Mint love!)
Even better, combining a companion certificate with a Choice Benefits upgrade made this an amazing deal.