Superstar reader Mac points to this FlyerTalk thread, which suggests that Delta is now imposing fuel surcharges for award redemptions on Korean Air.
I tend to think that Korean Air is actually a hidden gem of SkyTeam, given that they have excellent business class award availability to Asia. While they have blackout dates for nearly six months of the year, award space is wide open during any other time period. And they also serve lots of US destinations, I think more so than any other Asian airline, so they're a great option for redeeming otherwise not-so-valuable SkyMiles.
Up until now Delta only imposed fuel surcharges for travel originating in Europe and also for travel on select partner airlines, like Virgin Australia and Air Tahiti Nui), though not for travel originating in the US on any SkyTeam partners .
Unfortunately it appears as if they have just recently added fuel surcharges for redemptions on Korean Air. I just called to price out an award ticket in business class, and it was just under $400 roundtrip, as opposed to the previous cost of under $100.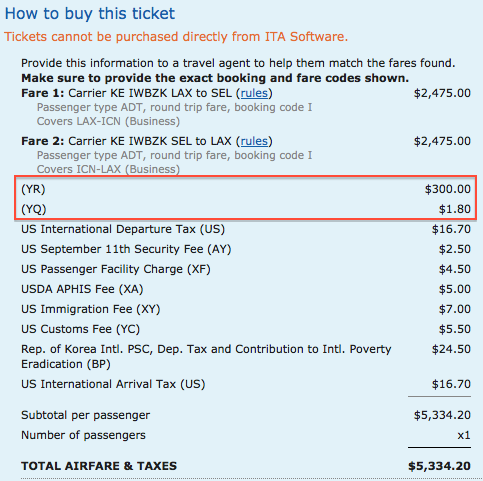 This seems to suggest they're now adding on the YR/YQ surcharges, which are the fuel surcharges.
So I'm not sure if this is intentional or a glitch. If this is actually the new policy I'd say it's a huge blow to the SkyMiles program, since this was just about the best use of SkyMiles.
If anyone has any data points with this, please share them in the comments section!
I've gone ahead and Tweeted Delta to ask, so feel free to retweet or ask them as well so we can hopefully put some pressure on them and get an answer.