This past week Delta announced that they'll be launching flights to India as of December 2019. I was skeptical as to whether or not they'd actually put these flights on sale, given that Delta has largely played games when it comes to their press surrounding this service. Well, there's good news on that front.
Delta's flight to India now on sale
Delta's New York to Mumbai flight is now bookable for travel as of December 22, 2019. As a reminder, the flight will operate with the following schedule:
DL24 New York to Mumbai departing 9:15PM arriving 10:50PM (+1 day)
DL25 Mumbai to New York departing 12:50AM arriving 6:35AM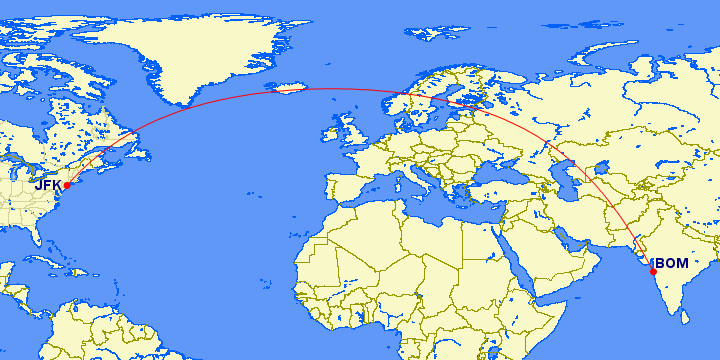 This ~7,800 mile flight is blocked at 15hr5min eastbound and 16hr15min westbound, so it's quite a long haul.
Delta didn't initially announce the frequency of this flight, though the flight operates anywhere from daily (in the peak winter season) to 5x weekly (in spring).
Delta is using a Boeing 777-200LR for the route, which is their longest range plane. The airline is currently in the process of reconfiguring these planes. They'll feature a total of 296 seats, including 220 economy seats, 48 premium economy seats, and 28 business class seats, which will be the new Delta One Suites.
What about award seats on Delta's India service?
Mileage tickets are now available on the Mumbai flights, and in business class prices range from 135,000 to 465,000 miles one-way.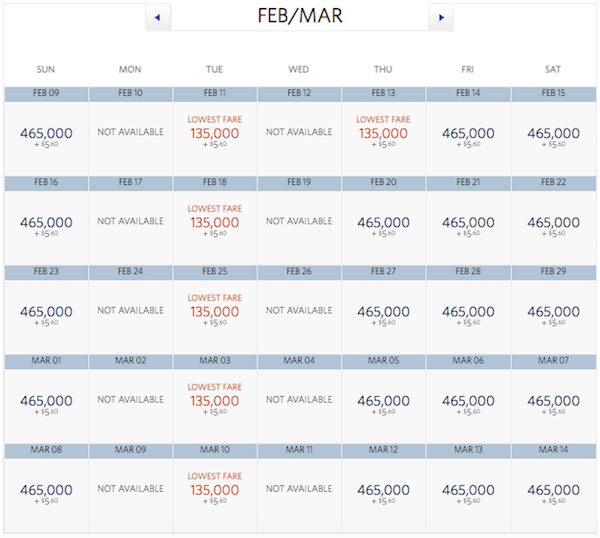 135,000 miles seems to be Delta's saver level equivalent award cost here (Delta doesn't publish award prices, though). So while that's a high cost in most programs, for Delta that's as good as it gets, it seems.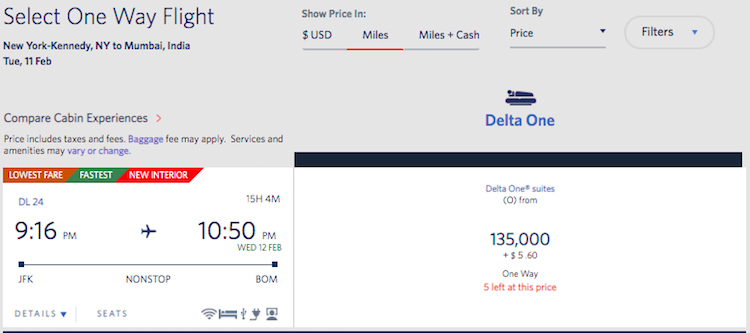 In theory those flights bookable for 135,000 SkyMiles should also be bookable through partner airline frequent flyer programs, and in many cases that could represent a better value, since they may have lower award rates. For example, you can see these seats through Korean Air SkyPass.

In theory this should also be bookable through Virgin Atlantic Flying Club, and that's likely to be the best value, given that they have excellent award costs for travel on Delta, especially when you factor in that Amex has a 30% bonus on Virgin Atlantic points transfers.
I phoned up Virgin Atlantic. The good news is that they see the award seats. The bad news is that they can't price them, and they said they'd get back to me on Tuesday with the correct pricing. That's because they have different award pricing for all of their partners, and I guess for Delta they didn't yet have pricing for this region, since they're just restoring India service.
So it may be a couple of days until we know how much that costs, though I'm betting it will be the best value for booking this flight.
Bottom line
I'm happy to see Delta put their India flight on sale so quickly. I've been skeptical as to whether or not the airline actually intended to operate this route, even after they initially announced it.
It looks like Delta is in fact serious about the route, so I take back what I said. Well done, Delta!
Anyone plan on booking Delta's new flight to Mumbai?