Of the "big three" US airlines, Delta has by far the fewest unionized employees, as only their pilots are unionized, while none of their other work groups are.
Well, the Association of Flight Attendants (AFA) is now trying to unionize Delta flight attendants.
AFA Trying To Unionize Delta Flight Attendants
AFA has announced that they are launching a campaign to try and unionize Delta flight attendants. Delta's flight attendants are the largest non-union flight attendant group in the country, so obviously AFA sees a lot of potential there.
AFA says this comes as "thousands of flight attendants at Delta Airlines have asked AFA to join them in efforts to become full members" of their union.
With this, AFA leadership will be at Delta hubs talking to Delta flight attendants, and they'll also be holding informational calls.
Sara Nelson is the President of the AFA, and she makes some interesting claims in a video:
Delta pays $100 million less a year than United for flight attendant costs for the same size operation
An MIT study shows that Delta flight attendants made an average of $14,000 less last year than United flight attendants
Each Delta employee generates 12% more revenue
While each Delta employee no doubt generates more revenue than an American or United employee, I'm not sure I'd buy those other numbers, unless they have another source. The MIT study that they reference specifically points out the following:
The labor cost measures presented here are based on data as reported by each airline to the US DOT. Given that different airlines may include different elements of total labor expense in their reports, direct comparisons of total labor remuneration across airlines can be misleading. For example, the inclusion of profit-sharing payments in these data reports can and does differ across airlines.
Past Efforts To Unionize Have Failed
In the past 20 years there have been three separate efforts to get Delta flight attendants unionized. For example, there were major campaigns to unionize flight attendants in 2002, 2008, and 2010.
In 2010, employees voted by a very narrow margin not to unionize. Of roughly 20,000 flight attendants, 9,544 voted against unionizing, while 9,216 voted in favor of unionizing.
I'd note that Delta management runs very strong campaigns against employees unionizing. For example, recently mechanics were looking at the possibility of unionizing, and Delta put out these tone-deaf flyers, suggesting that union dues cost $700, and mechanics could instead buy video games with that money.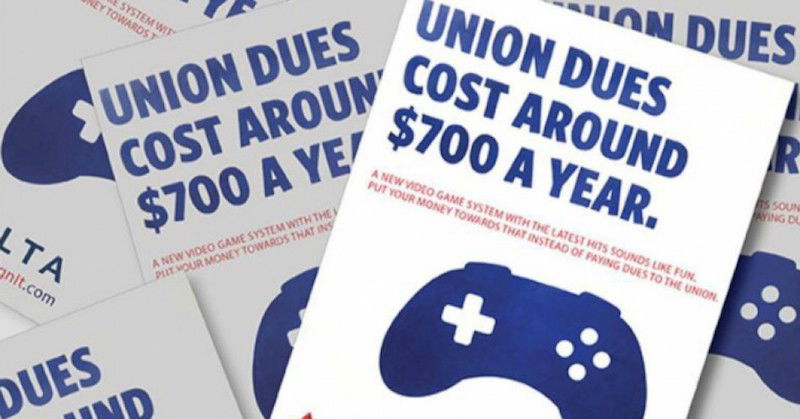 Delta Management Treats Employees Better
Before I share my thoughts on the odds of success of this, I think it's worth mentioning that Delta management and employees have a significantly better relationship than what you'll find at American and United:
Delta employees and management are on the same page about the mission of the company
Delta offers their employees among the highest profit sharing in the industry, which is a way to align them with Delta's mission
As a passenger it's a pleasure to fly with Delta, because Delta employees are simply happier and actually seem to understand the concept of taking care of customers
None of this is intended to suggest they should or shouldn't unionize, but rather just to point out that both Delta employees and Delta management operate with more purpose than their competitors.
In the US I'd say that if employees at an airline choose not to be unionized then we can assume the employees have a fairly good relationship with management. Conversely, though, I wouldn't assume that a heavily unionized airline means that relations aren't good.
For example, Southwest flight attendants are among the best out there, and they're unionized.
Will This Effort To Unionize Succeed?
Overall the percent of unionized workers in the US has been in steady decline over the past several decades. However, I tend to think there are some things working both for and against the prospects of this being successful.
First of all, about 40% of Delta flight attendants have been hired in the past nine years, so the people voting here will be completely different than in the past:
On the one hand, these employees probably view unions a bit differently than Delta's senior employees, since they didn't deal with bankruptcy, 9/11, and everything that went along with that
On the other hand, with the popularity of people like Bernie Sanders, the concept of unionizing is making somewhat of a comeback (among some base of the population)
Another thing at play here is that Sara Nelson is President of the AFA, and she's quite a well known figure. While in the past these airlines unions have largely been faceless organizations, Sara Nelson has been called the most powerful flight attendant in America, and it will be interesting to see how that impacts the desire to belong to the AFA.
Bottom Line
I actually don't have a strong take here one way or another. Delta has a superior corporate culture, and all I care about is that this continues, and that management and employees work together to build a great airline.
I'd say overall that has worked well without unions, but at the same time it could also work with unions, as we see at Southwest.
If this effort by the AFA comes to a vote, it will be very interesting to see how that goes, especially since so many Delta flight attendants have been hired within the past nine years.
Do you think the AFA will be successful in unionizing Delta flight attendants?