While Delta SkyMiles is typically leading the way as far as devaluing US frequent flyer programs goes, as an airline they're also typically leading the way in terms of their onboard product, at least among the "big three" US legacy airlines.
While by no means a game changer, Delta will be adding complimentary slippers in economy on flights to and from Japan. Not only are they beating US carriers in this regard, but they're the only airline offering slippers to all passengers on flights between Japan and the US.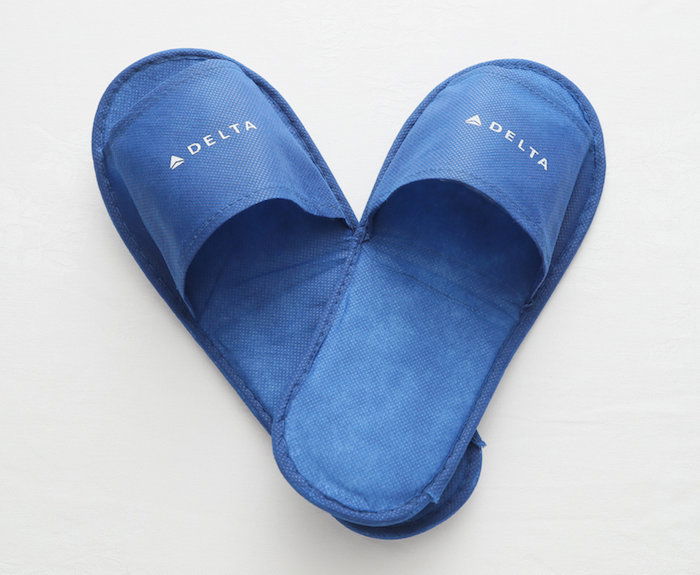 Together with the existing Delta Comfort+ and Main Cabin amenities, which includes an eye mask, a pair of earplugs and a full-size bottle of water following meal service, the newly-added slippers will further improve the comfort for customers seated in Delta Comfort+ and Main Cabin.

The complimentary slippers are offered for Delta Comfort+ and Main Cabin customers on all flights to the U.S. from Narita, Nagoya, Osaka, Fukuoka and Haneda, including new daytime services from Haneda to Minneapolis-St. Paul and Los Angeles starting on Oct. 29.

In addition to the slippers, Delta began serving Häagen-Dazs ice cream, one of the most popular ice cream brands for Japanese customers, on flights from Japan in July as part of its Delta Comfort+ and Main Cabin enhancements. On return flights to Japan, Ben & Jerry's or Magnum ice creams are served, depending on the origin cities in the U.S.
As I said above, I don't think any passenger will choose Delta specifically because of this, though it is nice to see Delta leading the way in improving the experience, in hopes of making them an airline people would choose to fly. I'm still not sure they can compete with the quality of food and level of service offered by Japanese airlines, though it's a nice effort, at least.
I think slippers are a great amenity, especially on planes. I like to take off my shoes on longhaul flights, and I'd rather not walk around the cabin or into a lavatory with just my socks in, given that the liquid on the floor typically isn't water. 😉
Kudos to Delta on this move!