A bit over a month ago I wrote about how I was helping my dad book a flight between Tampa and Los Angeles, and was trying to decide between booking him on Delta and Spirit. As I explained at the time, it was hard to justify not booking Spirit, given that he could book a "Big Front Seat" with a carry-on for about the same price as an economy ticket on Delta.
Many of you pointed out that the issue with airlines like Spirit is their bad operational performance, and that when things go wrong, you don't have nearly the number of options that you'd have if flying Delta. All of that is true, though unfortunately luck wasn't on my dad's side yesterday.
I've had some bad delays in my life, though I don't think I've ever had a delay on a domestic flight that's as bad as what my dad experienced yesterday. That's a real shame, because I try to book travel for my parents in a way that makes it as easy for them as possible. After all, my dad is in his 70s, and while he's generally in good health, I don't want him to be stuck at the airport forever, and try to make sure he's flying at times where he can drive home at reasonable hours.
Well, my dad's Delta flight from Los Angeles to Tampa yesterday was delayed by over eight hours. The plane had a mechanical issue, and it turned into a rolling delay. It's one thing if they right away delayed the flight by eight hours, but rather they kept pushing it back, so he kept hanging on, rather than "ditching" the trip. I encouraged him to just book a hotel and try again the next day, but he said he needed to get home.
The flight was supposed to leave at 10:15AM but ended up leaving at 6:20PM. Instead of arriving at 5:43PM he landed at 1:28AM.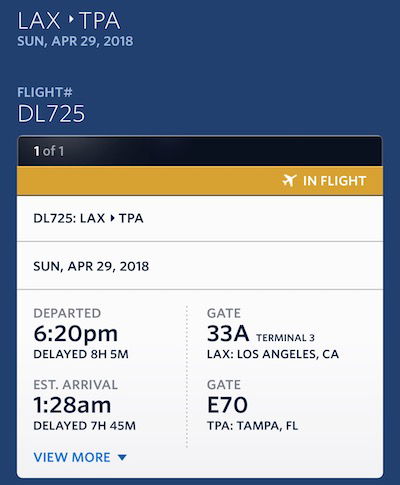 That's a horrible delay, though stuff happens. What's even worse (to me) is what Delta offered him for the delay.
Delta's "gesture of goodwill"
On one hand I commend Delta for proactively offering something to passengers on the flight. At the same time, I can't help but feel like it's an insulting offer. Here's the email they sent him after his flight:
We know we disappointed you today with the delay of Flight 725 to Tampa. An unexpected technical issue with the plane had to be addressed before the flight could depart Los Angeles. After troubleshooting the issue it was determined that a replacement plane was needed. Unfortunately, the replacement had to be flown in from another city adding to the delay. This wasn't the experience we wanted you to have with us and I'm sorry for any inconvenience this has caused.

We Appreciate Your Business
As a goodwill gesture, I've deposited 5000 bonus miles into your account. Please allow three business days for the mileage to be posted.

Thanks for Flying Delta
We look forward to seeing you on another Delta flight.
Delta offered my dad 5,000 miles for an eight hour delay. Delta likes to peg the value of a mile at about a penny, so they're basically offering him $50 for an eight hour delay, which is $6.25 per hour… in miles. Seriously, Delta? Would it have killed them to offer 10,000, or even 15,000 miles for this awful delay?
To me this raises a much bigger issue with US airlines.
US airlines need to be more heavily regulated when it comes to delays
In general I'm not someone who thinks the government is the solution when it comes to making air travel better. However, I do think there needs to be some government regulation when it comes to the way that airlines treat passengers in the case of irregular operations.
If I book a Delta ticket a year in advance and need to make a change 30 hours after booking, Delta will charge me $200 for the privilege.
If Delta changes the schedule on my flight, or delays my flight by eight hours on the day of departure, they owe me nothing.
That doesn't seem fair, does it? Simply put, US airlines have almost zero obligation under the law when it comes to how they have to compensate passengers in the event that things go wrong.
On the other end of the spectrum you have Europe, where the government regulates that passengers receive 200-600EUR of compensation in the event of delays, depending on the length of the delay and the length of the trip. If EU261 laws applied in the US, everyone on this flight would have been owed 400EUR. For a full flight, that means the airline would owe passengers about $100,000. While that's perhaps extreme compensation, you can bet airlines would approach things differently if they were subjected to such regulations.
Some will say "well, mechanical delays can happen on any airline." That's totally true, but the issue is the lack of incentives that airlines have to prevent these, and to minimize delays when these do happen. Safety should always be the top priority, but you can bet airlines would handle things differently if they'd be held accountable more:
They'd be more likely to have a spare plane at an airport, or at least not to schedule flights as tightly, so that there's more room to fix things when they go wrong
They'd be more likely to have spare parts at an airport, so they don't have to be flown in from elsewhere
They'd be more incentivized to rebook passengers on other routings, and even on other airlines
They'd be more encouraged to offer an agreeable amount of compensation proactively, based on the agreement that passengers won't file a claim requesting cash compensation
But right now there's zero regulation. An airline can literally delay a flight by days and owe passengers no compensation. To me that's ridiculous.
Some will say "well government regulations would just lead to higher airfare." Yes and no. The cost of airfare isn't heavily correlated to the cost airlines incur from providing transport, but rather is based on supply and demand. That wouldn't change here.
Hopefully the primary thing airlines would take away from more regulation is to do what they can to mitigate major delays, which they don't currently have an incentive to do.
Fortunately my dad was a great sport about the delay, despite the fact that he says it was handled poorly. But for them to offer 5,000 miles as a "gesture of goodwill" seems like more of an insult than a genuine customer service gesture. You can bet I'll be responding to the email on his behalf and requesting that they do better than that.
What do you think — is 5,000 miles fair compensation for an issue like this? Does the government need to step in and provide some sort of regulation when it comes to delays?