It's fascinating to see Delta's big new focus on Boston. Just a couple of weeks ago the airline announced a new route between Boston and Lisbon, while now the airline is announcing yet another transatlantic route out of Boston.
Delta's new Boston to Edinburgh flight
Delta will be adding seasonal daily nonstop flights between Boston and Edinburgh as of May 23, 2019. The route will operate with the following schedule:
Boston to Edinburgh departing 10:15PM arriving 9:25AM (+1 day)
Edinburgh to Boston departing 10:55AM arriving 1:02PM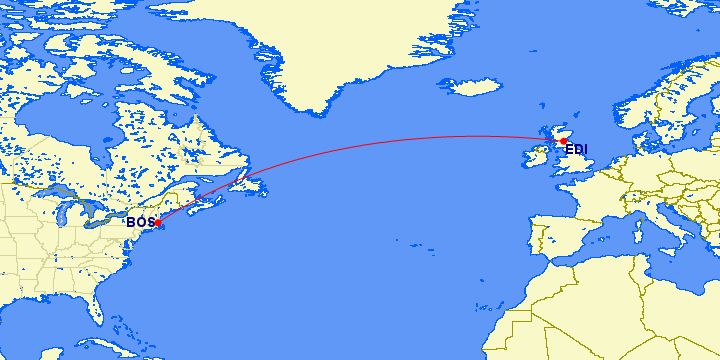 Delta will be using a Boeing 757-200 for the route, featuring 16 fully flat business class seats, 44 extra legroom economy seats, 108 economy seats. Every seat will have Wi-Fi, seatback entertainment, and power ports.
The aircraft choice is interesting given that on their recently announced Lisbon route, Delta is using a 757-200 in a domestic configuration, featuring domestic first class seats that will be sold as premium economy.
So while this is also a leisure route (given that it's a seasonal summer service), clearly they see more premium demand here, or else they'd also use a domestically configured plane.
This will be Delta's second flight to Edinburgh, as the airline also operates a flight between New York JFK and Edinburgh.
The exact flight times haven't yet been published for this flight, and as of the time of this post, the flight isn't yet ons ale.
Is Boston Delta's new Seattle?
For years Delta was building up Seattle as a hub, though the growth there has slowed down a bit. It sure seems to me like Delta's new focus is Boston.
In their summer 2019 schedule, the airline will have transatlantic flights from Boston to six cities — Amsterdam, Dublin, Edinburgh, Lisbon, London, and Paris.
Boston in general is a logical transatlantic gateway. It's one of the closest major US cities to Europe, Boston doesn't have quite the level of congestion that JFK has, and it's also a hub out of which they can fly 757s, which are easier to fill than some of their bigger planes.
One has to wonder if another motivating factor here is fighting off any JetBlue transatlantic flights. For years JetBlue has been considering transatlantic flights, and if they do so, I think it's almost certain that they would choose to operate these out of Boston to major business cities in Europe.
So while there's merit to transatlantic flights out of Boston in general, it sure seems to me like this might be a strategic move on Delta's part to try and protect the market from JetBlue.
Then again, I question how serious JetBlue even is about transatlantic flights, since they've been talking about it for years…
Bottom line
This transatlantic growth for Delta out of Boston is great news for those in the Northeast. Previously they just operated flights to Amsterdam, London, and Paris, so seeing this expansion to other cities is pretty cool.
What do you make of Delta's new route between Boston and Edinburgh?