As an airline product geek, this is a very exciting year, as we're seeing four great new premium cabin products introduced — Delta and Qatar Airways are introducing business class suites that are fully enclosed, while Emirates and Singapore are introducing new first class suites.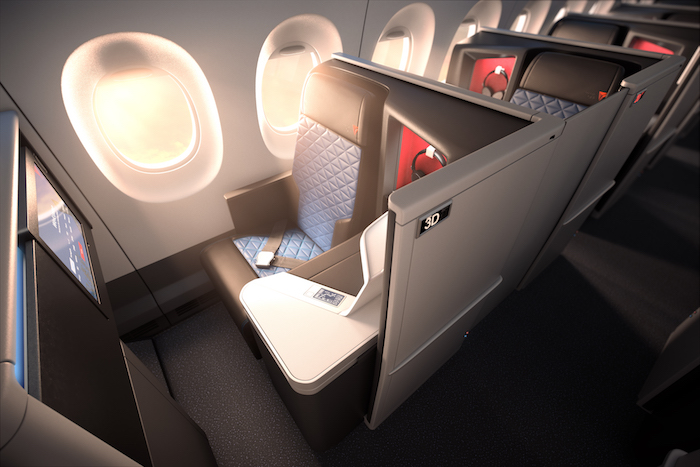 With that in mind, you can bet I'm trying to review all four of them shortly after they're put into service. Over the past few days Delta formally added the A350 to their schedule, and it will be flying between Detroit and Tokyo Narita as of October 30, 2017, with the next two destinations being Seoul Incheon and Beijing.
Naturally I want to fly the plane as soon as it's available, given the new business class product it features. So I've been trying to find the best options for doing so. As you might expect, there's a very limited amount of saver level business class award availability — as of now the best one-way business class price I see in the first month between Detroit and Tokyo is 160,000 miles.
So I've been trying to look at the best options for a discounted business class ticket, given how reasonably priced business class often is.
For travel originating in North America, you'll almost always find the best fares out of Canada, which let you route via the US. For example, it's not unusual to see ~$1,800-2,200 business class tickets from Toronto or Vancouver to Asia, and I've written about these deals many times before.
Unfortunately these are often only available closer to departure, or otherwise during off peak periods, so I'm not seeing an abundance of great fares on the A350 at the moment. As of now I see ~$2,200 business class fares from Toronto to Tokyo via Detroit on Delta's A350, though only if you're willing to travel over Thanksgiving (I imagine we'll eventually see similar fares for other dates as well).
Otherwise I see wide open fares from Toronto to Beijing on the A350 for ~$2,650, but that's a bit pricier, and also only applies starting in 2018.
However, it looks like there are some much better options for those who are based in Asia, or otherwise willing to position to Asia. 😉
Per zoqfotpik on FlyerTalk, Delta has published ~$2,300 roundtrip business class fares from Hong Kong to Dallas, which let you route via Tokyo and Detroit on the A350. Dates are wide open,
You're best off using ITA Matrix to look up these fares. To search the specific routing, just enter the below routing code, which will get you flights that connect in Tokyo and Detroit.
While there's positioning involved, this does seem like the best value for booking one of Delta's new A350 suites, at least as of now. I'm trying to decide whether to pull the trigger on this fare, or wait in hopes of a more convenient routing opening up out of Toronto or Vancouver in the coming weeks.
Anyone planning on trying Delta's new A350, and if so, what kind of a ticket did you book?