This promotion has ended.
There's a pretty awesome new spending bonus on Marriott Amex cards, which could be worth taking advantage of.
Earn 10x points with PayPal on Marriott Amex cards
Personal Marriott American Express cards like the Marriott Bonvoy Brilliant American Express Card (review) are offering 10x points on eligible purchases with PayPal:
You earn a total of 8x bonus points, in addition to the 2x base points that you usually earn
You need to enroll by December 17, 2021, and complete spending by December 31, 2021
You can earn a total of up to 50,000 Bonvoy bonus points, which you'd reach after $6,250 worth of spending
For a purchase to be eligible, you need to checkout with PayPal, enter your credit card number into your PayPal account, and then select PayPal checkout; it needs to be a PayPal account registered in the United States, and the purchase needs to be in USD
Eligible purchases do not include fees or interest charges, cash advances, purchases of traveler's checks, person-to-person payments, the purchase or reloading of prepaid cards, and purchases of other cash equivalents
Bonus points will be posted within 12 weeks of the end of the month where an eligible purchase is made
You should be able to enroll for the offer at this link, using your card number, an RSVP code (if you were emailed about it), or just by logging into your Amex account there.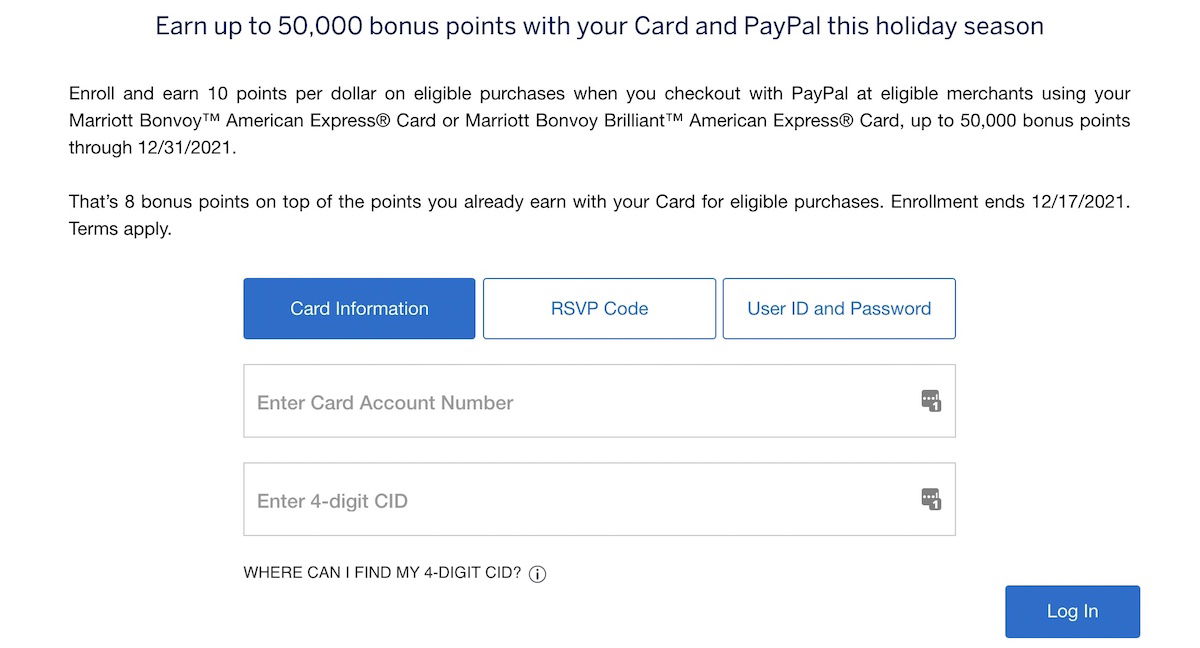 Once you log-in, you should see your eligible card listed. I don't see anything in the terms suggesting that this is targeted, and I was able to enroll successfully even though I wasn't contacted directly about the promotion.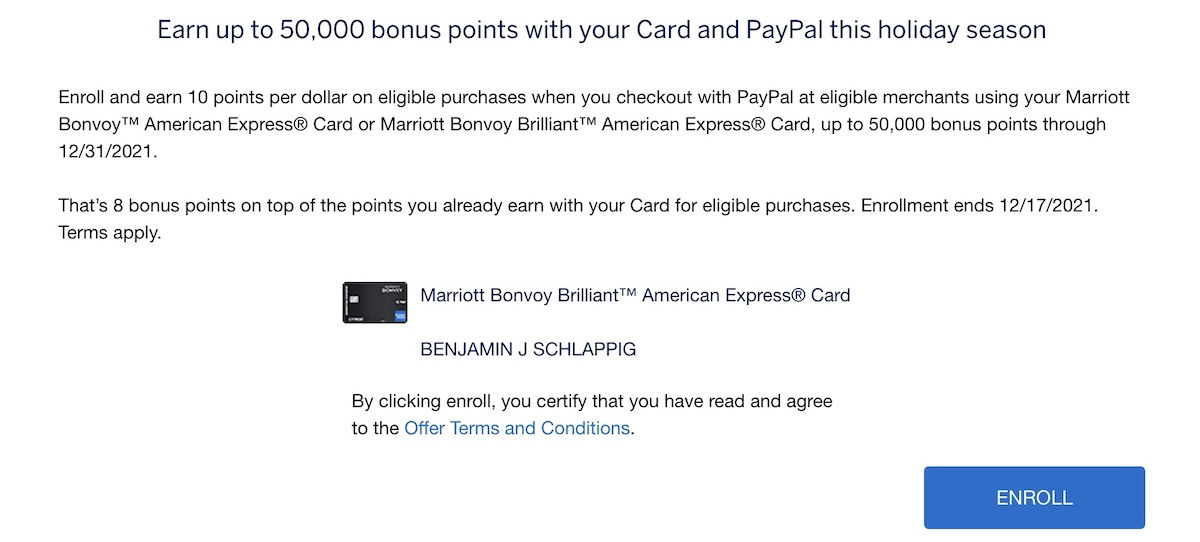 This is an excellent offer, definitely worth it
Personally, I value Marriott Bonvoy points at 0.7 cents each, so to me earning 10x points on PayPal purchases is the equivalent of a 7% return on that spending. That's very good.
Making online purchases through PayPal is for the most part pretty easy, as many online retailers have PayPal as a payment option. On the most basic level, you can pay your federal income taxes with PayPal for a fee of under 2% with payUSAtax. 10 Bonvoy points for under two cents each? I'm in!
You should also be able to stack this with the spending bonus we saw introduced on Marriott Amex cards earlier this year. Most cardmembers seem to be eligible for 7,500 bonus Bonvoy points when spending $7,500+ on the card, so with that, you could potentially be earning up to 11x points per dollar spent (in the right increments).
Also keep in mind that the Chase Freedom Flex Credit Card (review) is offering 5x points on purchases with PayPal for the fourth quarter of 2021, on up to $1,500 worth of spending. So there are quite some opportunities to be rewarded for PayPal purchases this quarter.
Bottom line
Personal Marriott Amex cards seem to be offering bonuses on PayPal purchases. Specifically, you can earn a total of 10x points (8x bonus points) for purchases with PayPal through December 31, 2021. I value Bonvoy points at 0.7 cents each, so to me that's like a 7% return.
If you're eligible and frequently make online purchases, taking advantage of this should be a no-brainer. Personally, I plan to pay my federal income taxes with the card using this offer.
Do you plan on taking advantage of this Amex Marriott PayPal offer?
(Tip of the hat to Doctor Of Credit)