Italia Trasporto Aereo (ITA Airways), Italy's new national airline, launched operations as of October 15, 2021. For the last few months of 2021, the airline offered a status match promotion. That was then brought back a couple of weeks ago, for anyone who is interested but didn't take advantage of the last offer.
I wanted to provide an update on this, since the number of airlines that ITA Airways will match from has been decreased (ITA will no longer match from most SkyTeam airlines). Furthermore, some people might find this useful if considering a Royal Air Maroc status match for oneworld status.
ITA Volare status match details
Through Friday, April 15, 2022, ITA's Volare frequent flyer program is running a status match campaign. Specifically, the airline is offering status matches from 15 different airline loyalty programs.
How does the status match work? To start, if you're not yet a member of the ITA Volare program, you should first register. Once you've done that, log into your account, and you should see a button for requesting a status match. If your status match is approved, your status will be updated by May 15, 2022, and will then be valid for 12 months.
Here are the 15 airline frequent flyer programs that ITA Volare is matching (and obviously you'd need to have some status in order to match — just being a member isn't enough):
Alitalia – Millemiglia
American Airlines – AAdvantage
ANA – Mileage Club
British Airways – Executive Club
Emirates – Skywards
EL AL – Matmid
Iberia – Iberia Plus
Lufthansa – Miles & More
Qatar Airways – Privilege Club
Royal Jordanian – Royal Club
Singapore Airlines – KrisFlyer
Swiss – Miles & More
TAP Air Portugal – Miles & Go
Turkish Airlines – Miles & Smiles
United Airlines – MileagePlus
Should you request an ITA Volare status match?
Is it worth status matching to ITA Volare? The first thing that's interesting is that ITA has joined the SkyTeam alliance, which means you'll have access to some reciprocal elite perks. In other words, there could be benefits like a free checked bag or priority boarding when flying with other airlines, like Delta.
Furthermore, ITA Airways is matching elite status all the way up to the top tier. What are the benefits of status in the program, though? While the details are somewhat vague, here's what we know:
ITA Volare Plus is the entry level elite tier, and offers priority waitlisting, free ancillary services, dedicated customer service, and business class check-in
ITA Volare Premium is the middle elite tier, and offers lounge access, 24/7 dedicated customer service, priority boarding, and a dedicated onboard reception
ITA Volare Executive is the top elite tier, and offers free checked golf equipment, lounge access (including with a guest), food & drinks free of charge, invitations to exclusive events, and a dedicated reception
I think it's worth taking a few minutes to match status with ITA Volare, because why not? This is a new(ish) airline, and it belongs to SkyTeam, so I imagine opportunities this generous won't always be around. What's frustrating is that there doesn't seem to be any way to redeem miles with other SkyTeam partners for travel on ITA Airways, so right now the only way to fly ITA is to… *gasp* pay cash for a ticket!
There's also the angle of Royal Air Maroc offering to match ITA Airways status right now, so you could essentially match your ITA Airways status to Royal Air Maroc, assuming the timing works out.
My ITA Volare status match experience
During the 2021 promotion I decided to request an ITA Volare status match just for fun, and wanted to share my experience. I first had to register for the ITA Volare program, which was a straightforward process.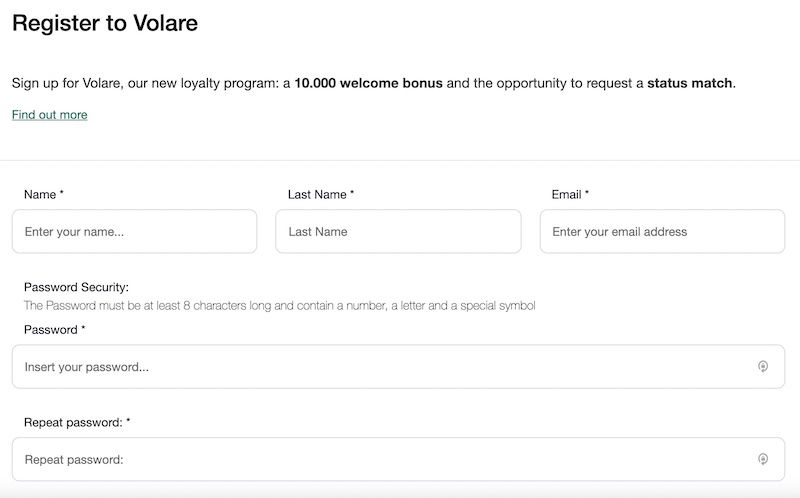 After entering some basic information I was signed up, and just had to click a link in an email to complete the registration.

The next confirmation email contained a link directly to the status match page.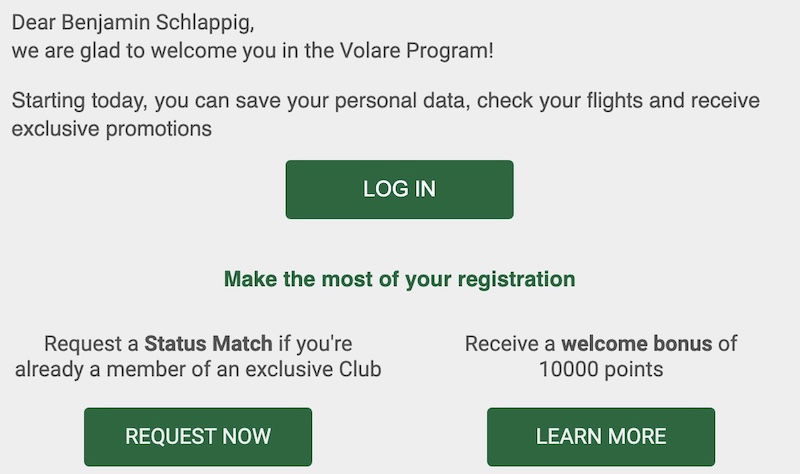 Note that when you register for the ITA Volare program you aren't initially issued a frequent flyer number. That's not an issue, as that's not even needed to request a status match. At that point I emailed [email protected] with this very basic info:
Email subject: "program of origin" – "status of origin"
Body text: name; surname; "program of origin"; "status of origin"
Attach a legible copy of your current valid frequent flyer card (digital or physical) and a copy of your ID card (pdf format, jpg)
At first I screwed up because I just sent a screenshot of my American AAdvantage Executive Platinum account. My physical Executive Platinum card is expired, so I figured that wouldn't work. That was rejected, but then I remembered that I could access a digital elite card through the American Airlines app, so I sent a screenshot of that. A day later I received confirmation that I had been matched all the way to the Executive tier.
Bottom line
ITA Airways is offering a status match campaign for elite members of other frequent flyer programs. This is valid through April 15, 2022, and then status should be matched by May 15, 2022. I found the process of requesting a status match to be pretty straightforward. I'm not sure the status match will come in handy for actually flying with ITA Airways, but I've already had luck matching this status to Royal Air Maroc, so that's awesome.
Do you plan on requesting an ITA Volare status match?