Best Western Rewards isn't the most generous loyalty program out there, and for that matter, Best Western doesn't have that many aspirational properties. However, the program does pretty consistently offer promotions. Best Western has just launched its new promotion for stays this fall, and this is something that members might find to be valuable.
Best Western Rewards fall 2023 promo
Best Western Rewards' fall promotion is live, valid for stays between September 18 and November 20, 2023, at any Best Western branded property in the United States, Canada, or the Caribbean. With this promotion, you can earn 5,000 bonus points after every two nights (whether separate or consecutive), up to a total of 20,000 bonus points (which you'd earn after completing eight eligible nights).
Registration is available at this link, by logging into your Best Western Rewards account.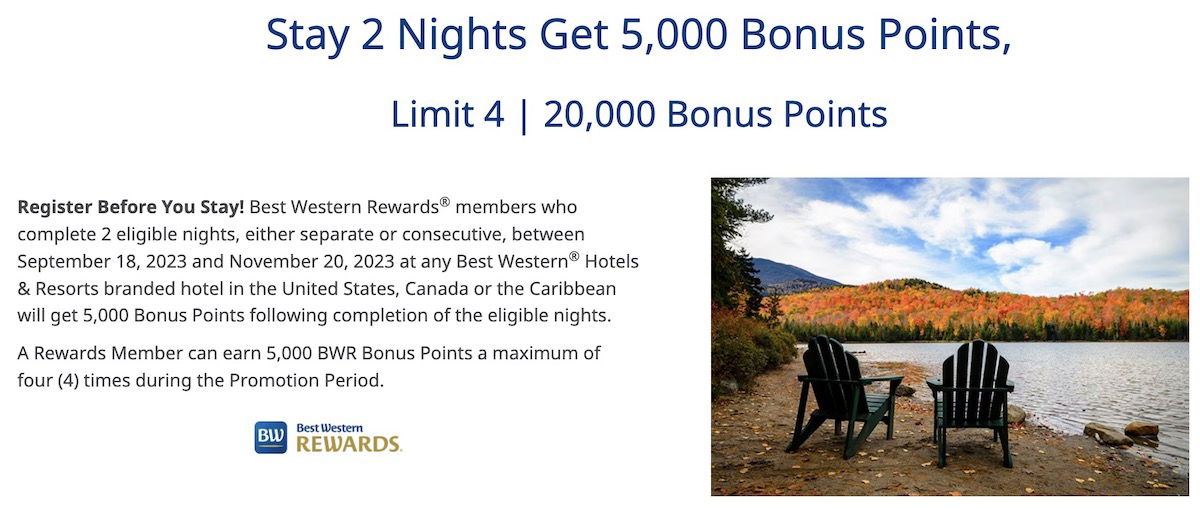 There are some more things to be aware of:
Registration is required prior to your first eligible stay (though it's fine if you booked before registering)
While this promotion is open to Best Western Rewards members regardless of where they live, hotel stays must take place in the United States, Canada, and/or the Caribbean, to be eligible for this offer
Eligible stays include those booked directly with Best Western at non-special discounted rates
You're rewarded for every two nights, regardless of whether they're separate or consecutive, up to the limit of 20,000 bonus points
Bonus points will post to your Best Western Rewards account within two weeks of an eligible stay
How rewarding is this Best Western promotion?
Best Western Rewards ordinarily offers 10x points per dollar spent. Personally I value Best Western points at somewhere around 0.5 cents each, meaning you ordinarily earn a 5% return on your Best Western spending. This doesn't include the rewards you'd earn for credit card spending, plus any bonus rewards you'd earn if you have elite status with Best Western Rewards.
With this offer, you essentially earn an average of 2,500 bonus points per night for your first eight nights during the promotion period, in increments of two nights. This is like an incremental return of $12.50 per night, which is pretty good, given how reasonably priced many Best Western properties are.
On the redemption side, Best Western generally requires anywhere from 8,000 to 36,000 points per night for a free night redemption, depending on the property.
Bottom line
Best Western has launched its fall 2023 promotion. Members can earn 5,000 bonus points for every two nights they stay, for a maximum of 20,000 bonus points (which you'd unlock after eight nights). Based on my valuation of Best Western Rewards points, that's like an incremental return of up to $12.50 per night, which is quite good.
Do you plan on taking advantage of Best Western's new promotion?