The hotel industry has been doing quite well overall, with pretty high occupancy and room rates across most regions. Of course they're always aiming to do better, and earlier this year we saw some of the major chains implement new policies to deal with room cancellations.
Changes in hotel cancellation policies
It started with Marriott, which earlier this year implemented a new global cancellation policy, whereby you have to cancel your stay by 11:59PM the day before arrival in order to avoid a cancellation fee. At the time, ~75% of Marriott hotels let you cancel stays until the day of arrival, so it was a pretty negative change for many members.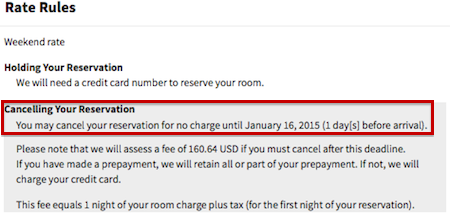 Hilton followed with a similar policy shortly thereafter, and then Starwood followed as well.
I do sort of get the reasoning of what they were doing. On one hand they don't want to be risky and oversell the hotel by too much, but at the same time when people are consistently canceling day of arrival and they can't resell the room, it's costing the hotels quite a bit of revenue.
Hilton trying to generate more in cancellation fees?
It's always interesting to look at the ways in which the hotel chains are innovating. A policy change on the part of one hotel chain can quickly lead to industry wide-change, as we've seen with Delta, United, and American all copying one another (or really just United and American copying Delta).
It looks like Hilton is experimenting with changing their cancellation fees in quite a drastic way,whereby they're charging $50 for any changes after booking, even on flexible rates.
Via Skift:
Hilton Worldwide is testing a new cancellation policy at approximately 20 of its properties across the U.S., including at its Hilton, DoubleTree, and Embassy Suites brands.

"We are testing, in a small set of hotels, a $50 cancellation charge. In this particular test, Hilton Honors members are exempt from the cancellation fee," says Chris Silcock, chief commercial officer, Hilton Worldwide.

The test is a $50 charge when a reservation is cancelled any time after booking; however, if a cancellation is made after 11:59 p.m. the night before the stay begins, then the current policy of a charge of one night's room rate and tax will still be in effect for all guests.
That's quite a bold move. Hotels typically have both pre-paid/non-refundable and flexible rates, so this will sort of narrow the gap between the two in terms of benefits. That makes you wonder if Hilton is aiming for three tiered pricing long term:
Pre-paid rates (non-refundable from the time of booking)
Flexible rates (can be cancelled until day before arrival)
Quasi-flexible rates (there's a fee to cancel after booking, which is less than the pre-paid rate and more than the flexible rate)
So why is Hilton pursuing this, specifically?
"With record occupancies, many rooms are being held, then not used, meaning other customers who want those rooms cannot book them," Silcock says. "This is problematic for our customers because they do not always get access to rooms they want, because they are being held but are ultimately canceled."

"But that's for a whole bunch of reasons," Nassetta said. "It's not because we are seeing any short-term cancellation activities that's outside of what we've been seeing. Obviously with all these new technologies and things over the last couple of years, there has been lots of different sort of ways people are trying to game all our systems with cancel and rebook. And when there is no cost to it, the system has risk of gaming."
The point about new technology making it easier to book, and thereby leading to more cancellations, is an interesting one.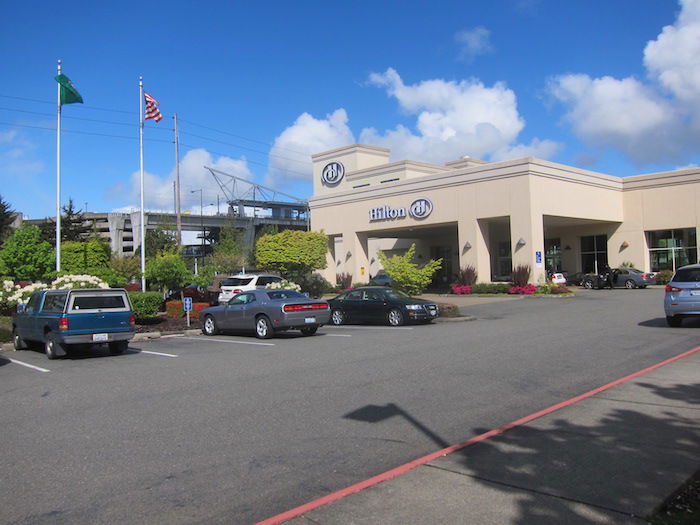 Bottom line
I'm not opposed to airlines or hotels charging fees which reflect the costs they incur. I think everyone hates when they book an airline award ticket 11 months out and then need to cancel it two days later, but are charged $150 to do so. It's tough to justify that cost of $150.
I think Alaska Airlines has the right approach when it comes to change and cancellation fees. They charge nothing more than 60 days out, since they can likely resell the inventory, while they do charge fees within 60 days.

I wouldn't be surprised to see similar trends for hotels soon, which is also hinted at in this article:
"I believe a tiered scale is most effective, and inside of 30-45 days including cancellation on catered F&B (food and beverage) in addition to rooms revenue is a smart thing to do," Plank says.
As of now it's just a market test, and can be avoided just by being an Honors member. I'll certainly be keeping an eye on it to see if this "test" spreads.
What do you make of hotels potentially increasing cancellation fees more than a day out, even on flexible bookings?