Last October, Marriott announced that they would be changing their global cancellation policy as of January 1, 2015. Not surprisingly, Hilton matched within a month, also for stays starting January 1, 2015.
They were changing the cancellation policy on the most flexible kinds of rates, which previously mostly allowed cancellations until the day of arrival. With this change, cancellations now have to be made prior to arrival in order to avoid any fees. Of course as a business traveler this sucks, since you paid a premium for the flexibility of being able to cancel until the last minute.
So why would hotel chains make cancellations more restrictive?
Because they can. Hotel rooms are full, so hotels don't have to be as generous with promotions, benefits, and policies.
Given how full hotel rooms are, the opportunity cost of an empty room is as high as it gets.
Anyway, not surprisingly, Starwood is following the lead of Marriott and Hilton, and being even more restrictive on top of that. As of January 15, 2015, Starwood will require cancellations by 6PM local time the day prior to arrival.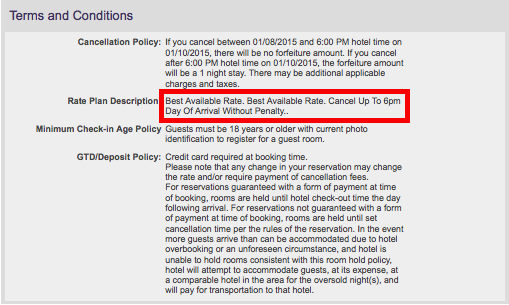 Meanwhile Hilton and Marriott let you cancel until 11:59PM local time the day prior to arrival.
Here's the explanation from Starwood Lurker on FlyerTalk:
Effective January 15, 2015, Starwood will implement a change to our room cancellation policy, which will be implemented at all Starwood hotels globally that currently offers a same-day-cancellation policy. After this change takes effect, guests must cancel a reservation as of 6:00 pm local time the day before arrival. This change will impact about 35% of our hotels, which currently allow for same day cancellation without penalty. The majority of Starwood hotels already have a cancellation policy of at least one day prior to arrival or greater.

The minimum room cancellation policy will apply to all new reservations made after January 15, 2015.

Starwood will be honoring any negotiated contractual rates. Reservations made under contracts will be governed by their negotiated terms.
Oh well!