My family does a decent amount of our shopping at Costco. I've never really convinced myself that the prices are that much better than buying stuff on sale at the grocery store, but my wife says it's convenient to buy a gigantic box of granola bars all at once. So that's what we do.
As part of our annual membership, we get a print subscription to Costco Connections delivered to our house each month. (Though anyone can read it on the website.) It's basically a lifestyle magazine that seems like a cross between Reader's Digest and the IKEA catalog. While it's not exactly Pulitzer Prize winning literature, I'll read pretty much anything, especially if it's on the table next to my bowl of cereal.
Sometimes the fake debate between two so-called experts can be rather amusing too — like this months "Is Artificial Intelligence a Good Thing?" where they have the CEO and Director of the X-Prize arguing in favor, and a filmmaker arguing against. How is that a fair fight?
Anyway, the July edition has a feature called "The Global Warehouse" and it goes on to talk about how many Costco stores there are around the world. The number might surprise you. It also got me to think about how Costco's international footprint compares to Sam's Club, and which one is better for international travelers.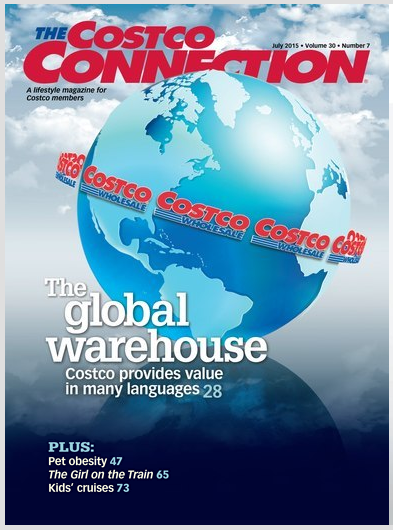 The Global Warehouse
Costco has 679 stores, of which 200 are outside the US. Those 200 are spread across 8 countries, including:
Spain (1 store)
Australia (7)
Japan (20)
Taiwan (10)
South Korea (11)
the United Kingdom (26)
Canada (89)
Mexico (36)
In total, 30% of Costco stores are international and that is expected to grow to 35% in the next decade.
The article describes in general the items that those stores carry and that "65% of international merchandise is specific to a given country — mostly foods that cater to local taste preferences. The remaining 35% comprises mostly non-food items you'd see in a US Costco."
Then there is a short write-up on each of the countries, including the most popular item sold there and one unique item found there that you can't get in the US. In South Korea, for example, the most popular item is Bulgogi Beef, and they have Sea Cucumbers. Australians, meanwhile, go to Costco for hearing aids. It's kind of interesting, especially if you're into learning about how other cultures embrace the American way of buying crap-tons of stuff all at once.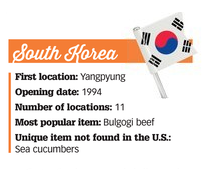 Costco vs. Sam's Club Outside The US
I then wondered how the international presence of Costco compares to Sam's Club, their Walmart-derived competitor. As best as I can figure, Sam's Club, has 848 locations, of which 198 are outside the US. Those stores are in Mexico (160), China (11), Brazil (27), and do not include the 11 in Puerto Rico. (Apparently they closed the Canadian Sam's Clubs in 2009.) That means their international footprint is about 23%, which I'm sure is also growing.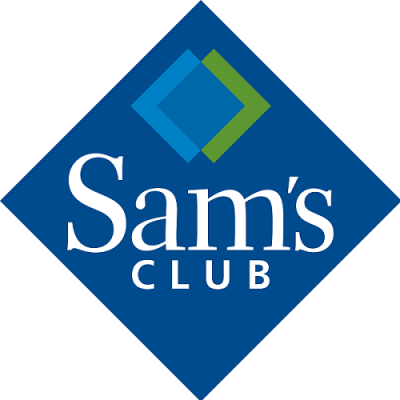 The numbers show that both Sam's Club and Costco have about the same number of stores (200) outside the US. In the case of Sam's Club, however, a vast majority of those are in Mexico. Costco is much more diversified, even though they do have a strong emphasis on our neighbor to the north.
Our (sort of) Experience
Even though we shop at Costco about semi-weekly, I've never been to a store outside the US even though my family travels internationally multiple times per year.
We also enjoy grocery shopping in foreign countries — for the cultural experience, the cost savings, and the sanity of not having to eat every meal out with the kiddos. Yet, the most exotic Costco stores I recall going to were on the islands of Hawaii and Kauai, and one of those I think we just ducked in for a couple of hot dogs at lunch. We actually got our first Costco membership on Kona specifically to save on groceries while staying with my folks in a VRBO apartment. To this day, our membership renews in March and reminds us of that trip.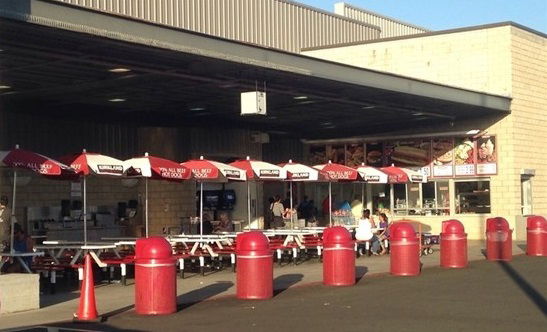 On our recent Korean trip, we rented places on AirBnB in both Seoul and Jeju, South Korea, that had full kitchens. Since we found groceries to be relatively expensive, a visit to Costco could have resulted in some decent savings, especially given that we had four adults and four kiddos on the trip.
Although I did check, the Costco stores around Seoul were just too far outside the city to justify a trip, given the limited number of days we had there (without a car). Had there been one on Jeju, I can easily imagine we would have made a visit.
Other Considerations
Of course, the presence of a lot of international locations isn't the only factor in determining which warehouse club is best for travelers. Both Sam's Club and Costco have travel deals, though I've never used either. I have read of some folks getting good discounts, however, using the Costco car rental code.
And let's not forget that back in the Great Recession, Costco sold Hyatt vouchers at a 20% discount. I bought a bunch, maybe $1000 worth, but my stash is long gone. Costco still has some useful travel related gift cards from time to time, but it's more hit or miss.
Bottom Line
I expect that most people choose Sam's or Costco based on some combination of the goods they sell, the prices, and maybe most importantly, the proximity to their house — I doubt that the international presence ever factors into the equation.
But if you are spending an extended period of time in a foreign country, it might be worth thinking about, especially if you have a crew to feed.
Have you ever shopped at a foreign Sam's Club or Costco? What was your experience?