Update: Read my full China Southern Business Class A380 Los Angeles To Guangzhou review.
Hello from Guangzhou! I just flew China Southern's A380 business class on the 15hr10min flight from Los Angeles. I was curious to see how this flight would turn out, given the, ahem, interesting experience I had when I took this exact flight in first class a few years back.
How was China Southern business class? The cabin was comfortable, the bedding was good, and the service was possibly the most bizarrely incompetent that I've ever experienced. I just don't get it.
Let's start with the seats. China Southern has a comfortable staggered business class configuration on the upper deck of the A380. Along the side of the cabin are lockers, which are great for storing things. I managed to snag a "true" window seat, so I found the seat to be great in terms of the privacy and comfort.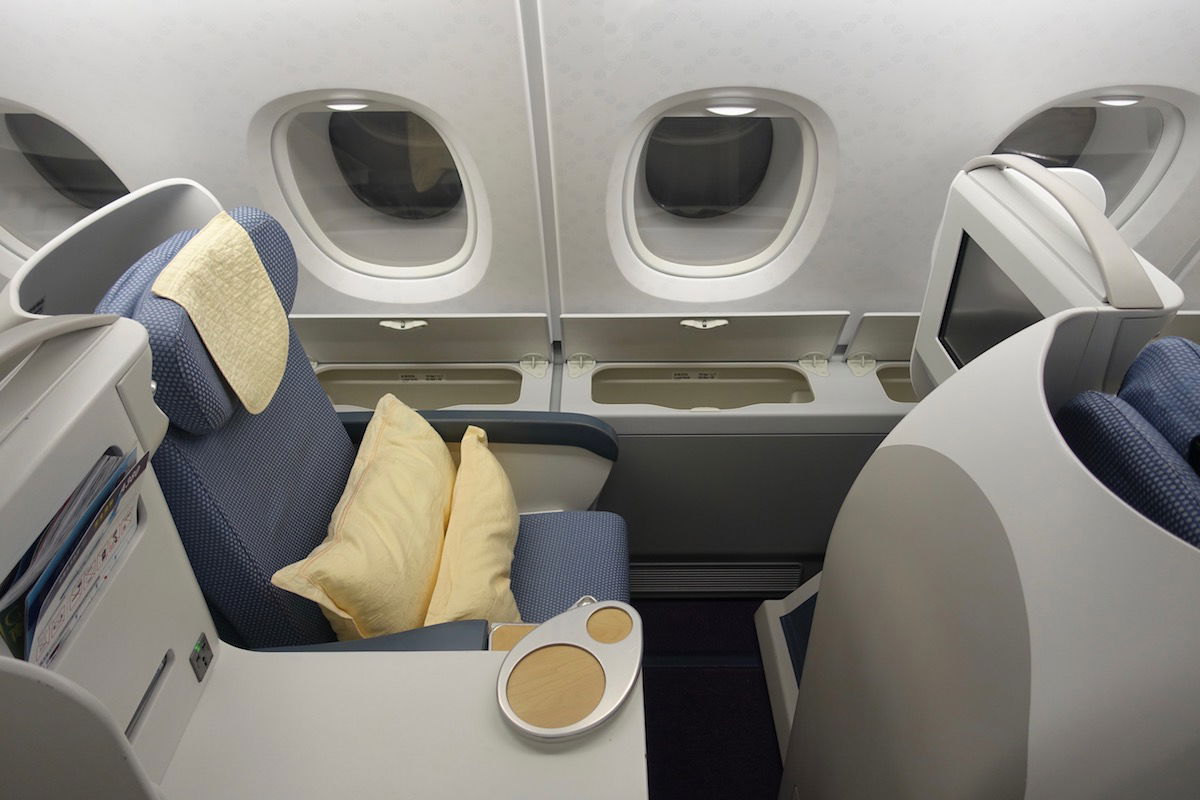 The amenities were good for the most part as well. There was a comfortable duvet, a mattress sheet, and each passenger got two pillows. The pillows were really thin, but I was able to sleep comfortably by using both of them and then getting two more from an empty seat to cuddle with.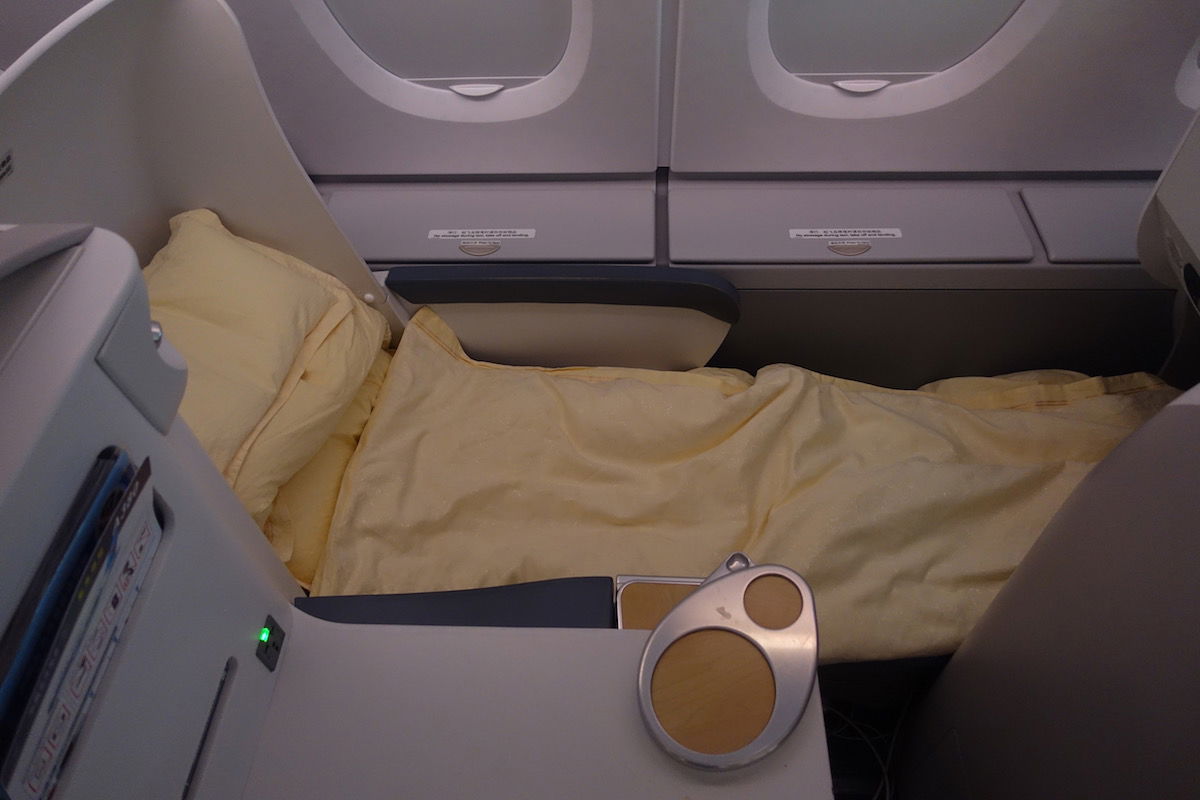 There was also an amenity kit, slippers, and some fairly good headphones, though there were no pajamas.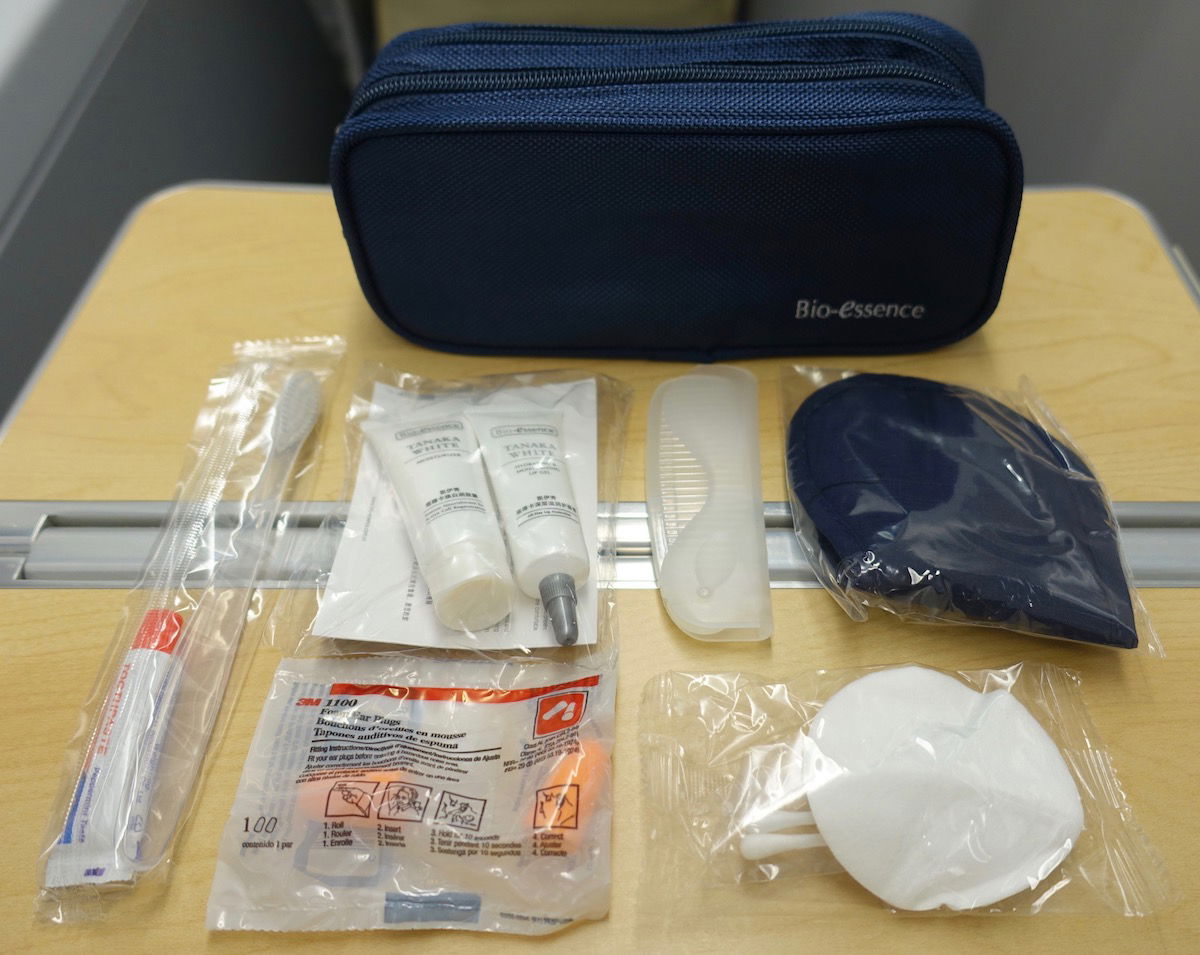 The food itself wasn't bad, but the problem is how poorly executed the service was, despite the crew being well intentioned. First let's talk about the actual food. There were some nuts and drinks prior to the meal.
Then there was an appetizer of shrimp, scallops, and crab leg.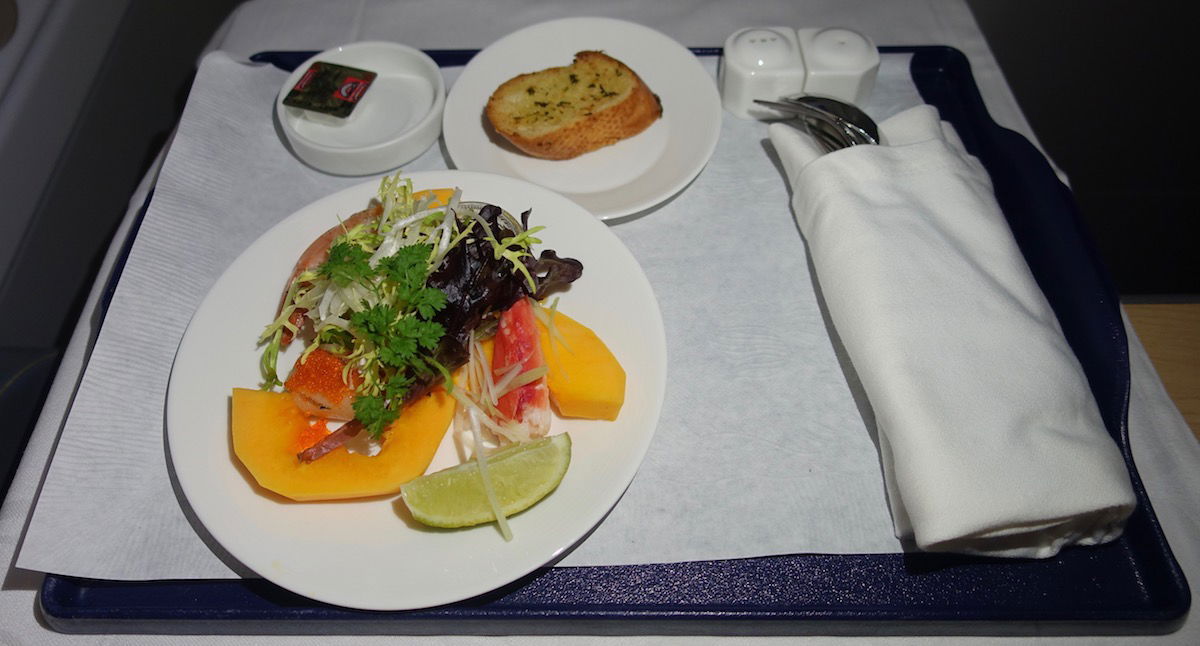 Then there was clam chowder with bacon curls.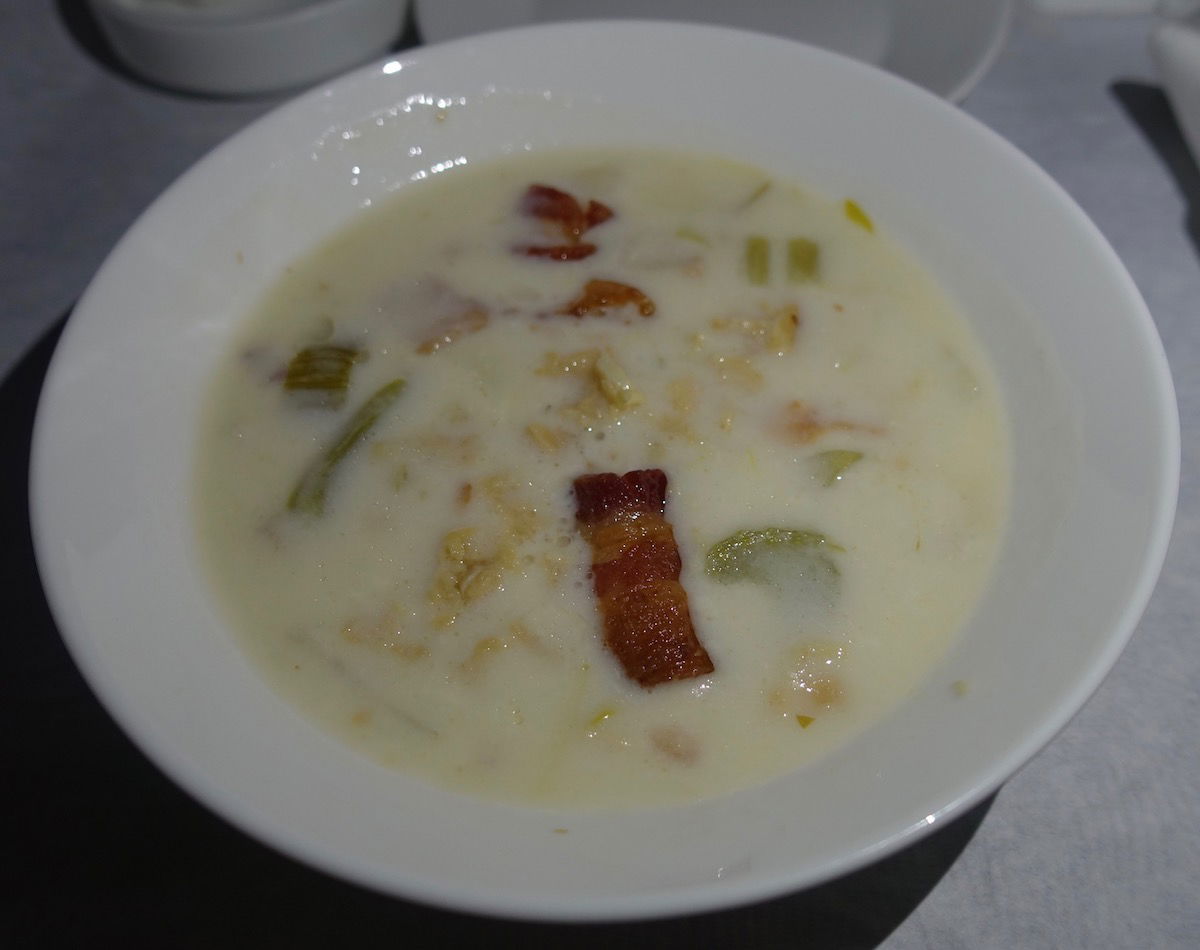 For the main course I ordered the stir fried lobster in ginger garlic sauce, with seasonal vegetables and steamed rice. This was quite good.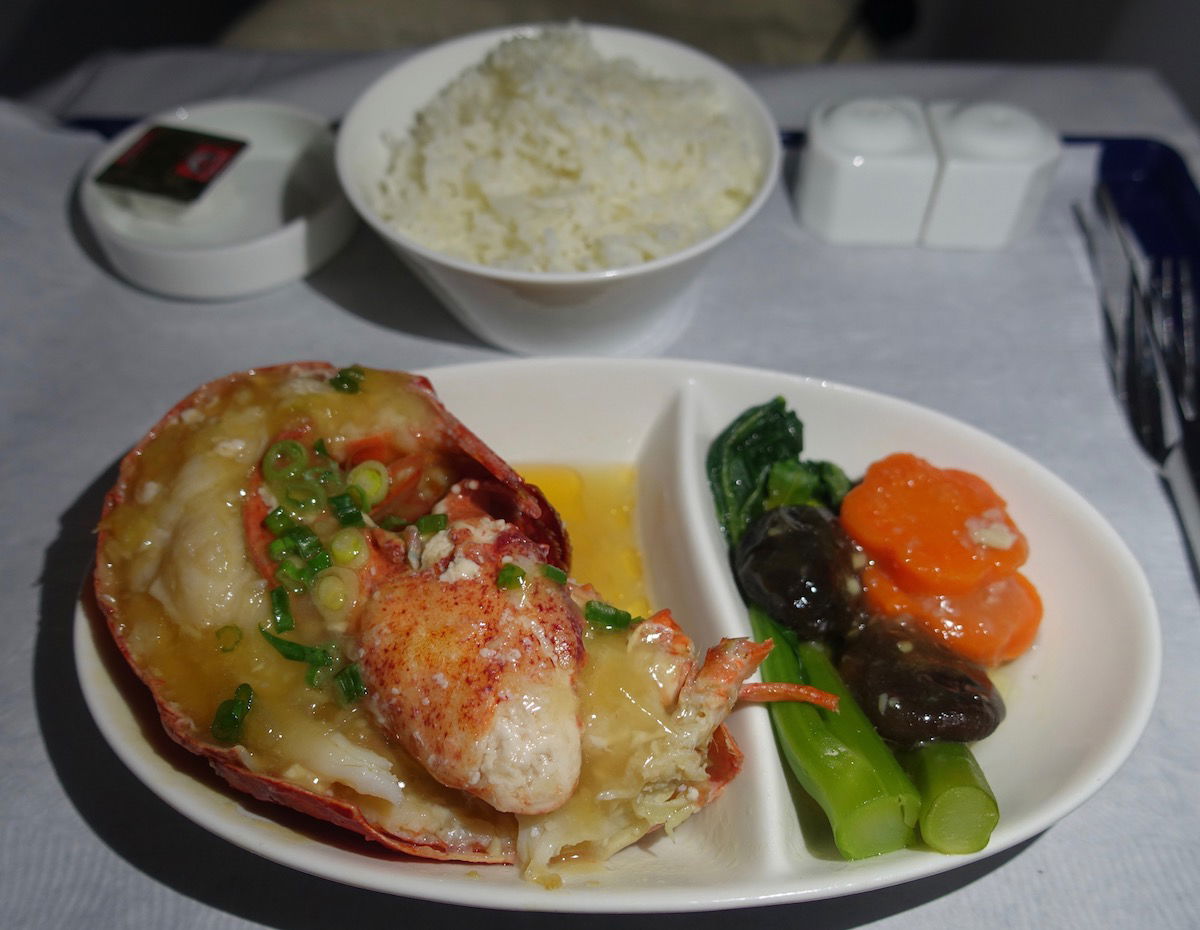 Then there was a fruit plate and cake for dessert.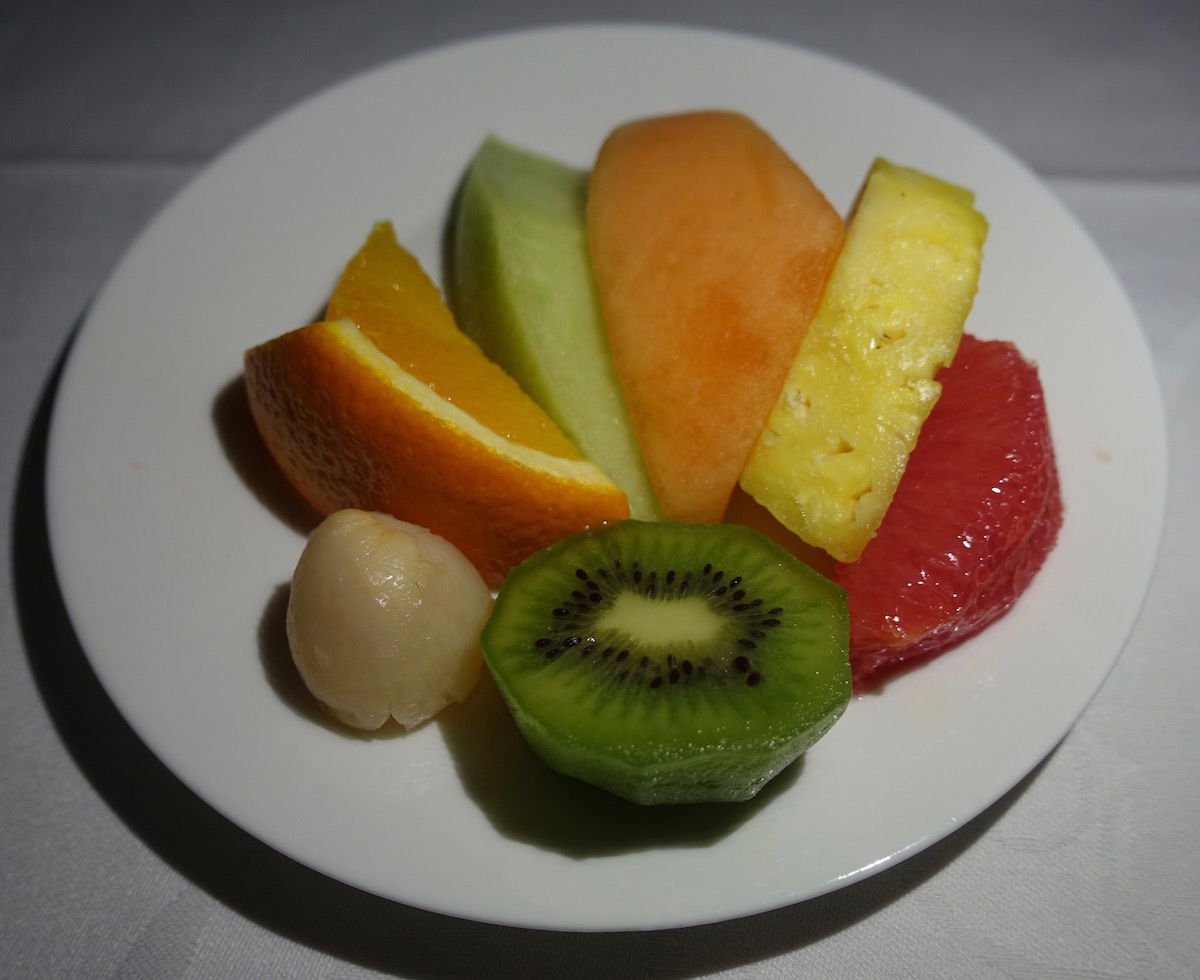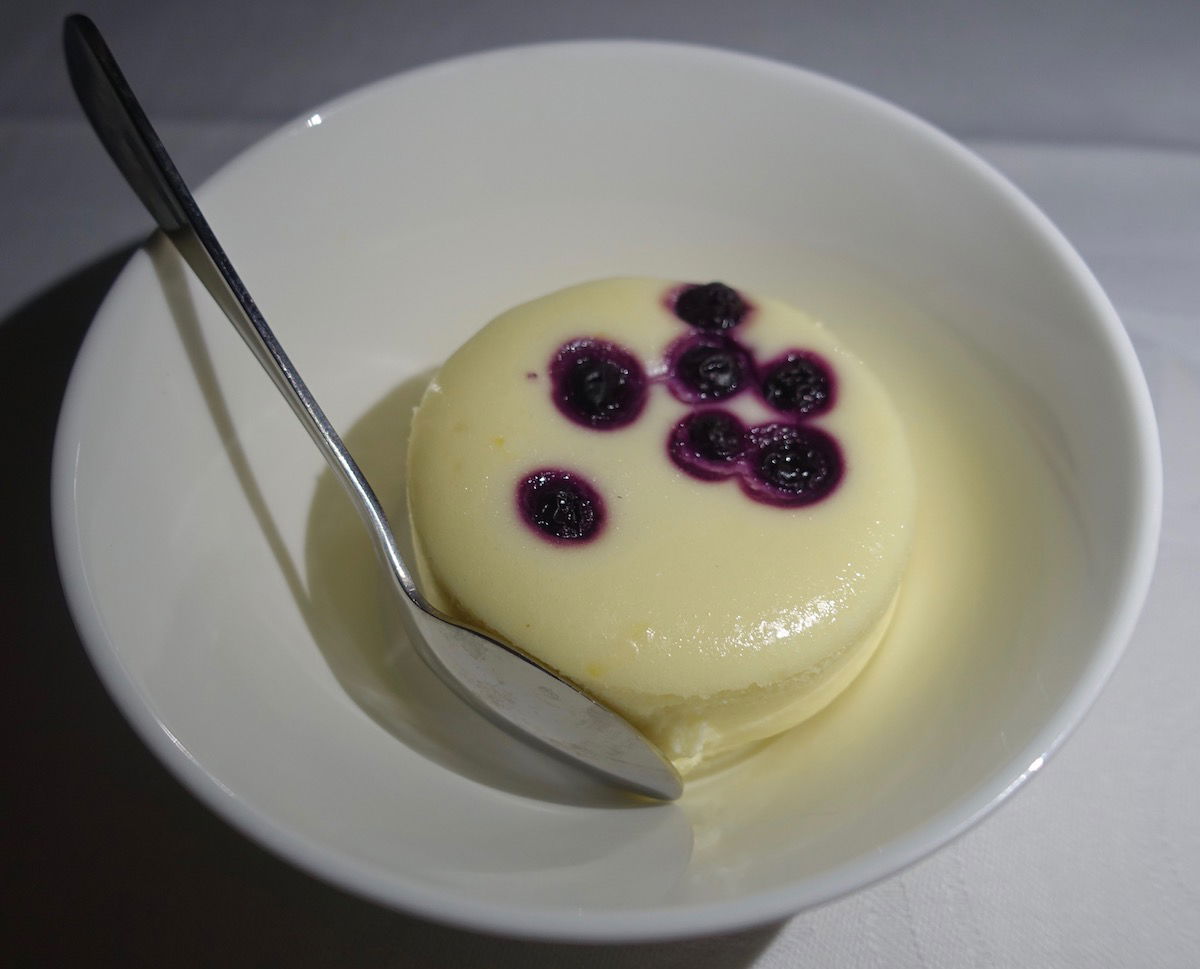 The problem was that for both meals, the crew didn't clear a single plate or glass until the entire meal service was finished. They just kept giving me more and more food, even though there was nowhere to put it on the tray anymore. How can you see a tray like this and say "hey, let me serve this guy some more food before I clear anything?" BUT THEY DID. Craziest of all, they asked "where do you want me to put this?"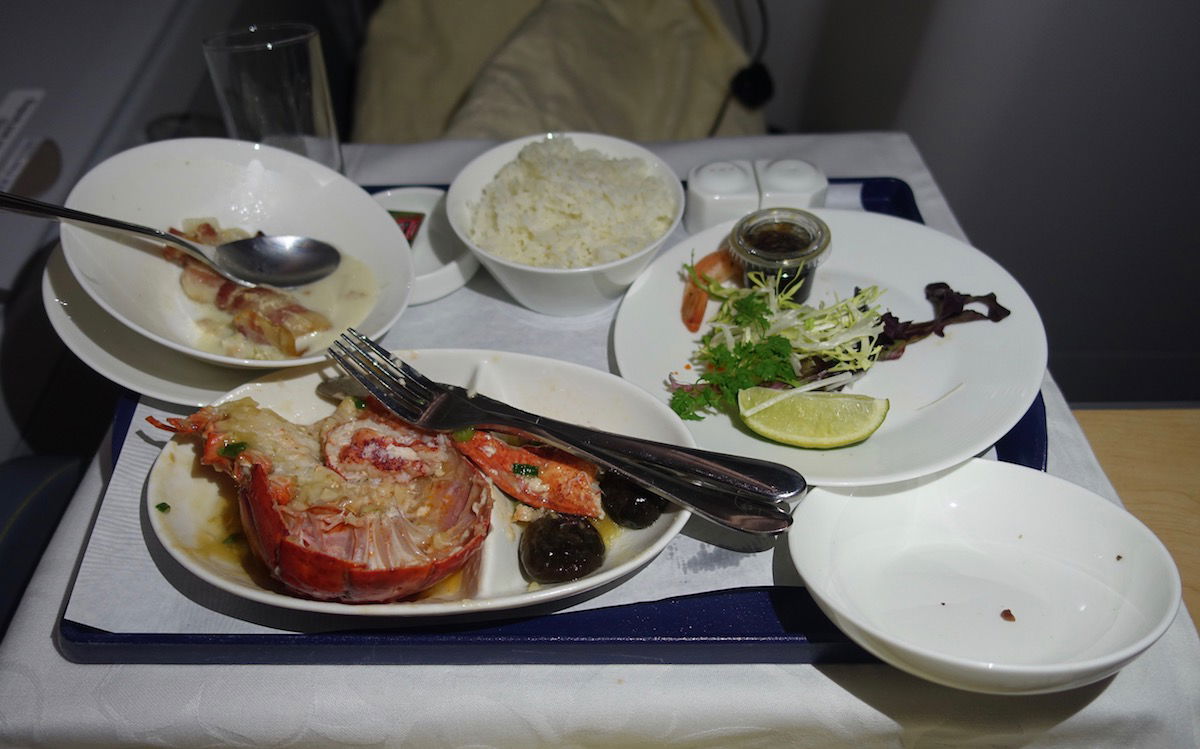 I couldn't believe myself, and this wasn't a fluke. I saw the same happen to everyone, and the same also happened at breakfast.
Drink refills were also non-existent, and getting any sort of a special request during the meal was impossible. For example, for breakfast there was cereal and yogurt, though I wasn't offered a spoon. I asked twice for a spoon, but it never arrived, so I just used a fork. They also offered a single fork and knife for the whole service. You'd think they could offer a different fork for a garlic lobster course than they do for a fruit plate.
During the flight the crew only responded to call buttons and never passed through the cabin, which I don't necessarily mind, since it minimizes noise. They were quick to respond to call buttons, though between meals cold drinks were served in plastic cups. This was a flight of over 15 hours, so I asked mid-flight if they had any snacks, and the flight attendant offered me a "sandwich," which was a tiny, disgusting wrapped vegetable sandwich. That's not exactly substantial.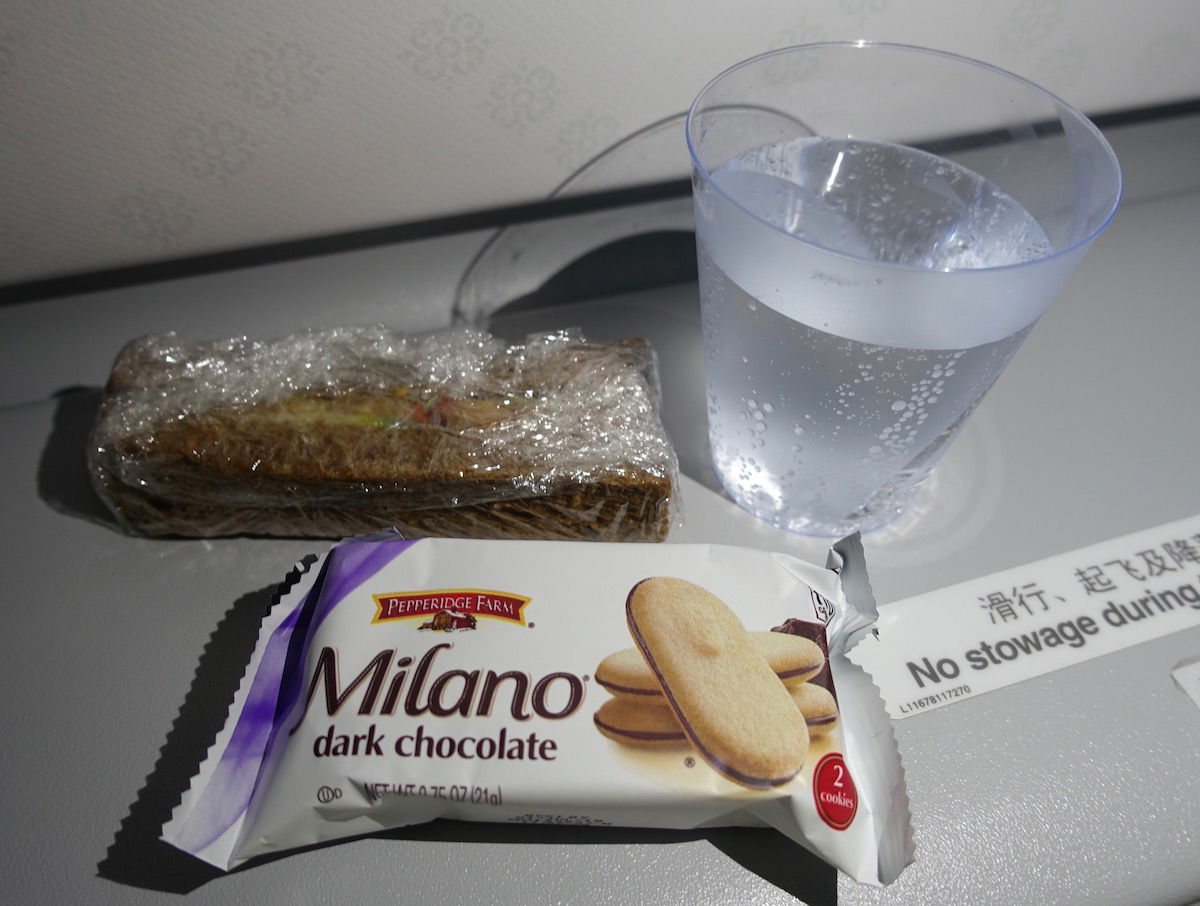 That's only the beginning, so I'll save the rest of the trip report.
The one area where China Southern deserves tons of credit is for their champagne. When I flew them a few years ago in first class they served Duc De Paris, the most disgusting $5 per bottle cat urine I've ever tasted. Now they serve Taittinger in business class. That's possibly the single biggest sparkling wine quality upgrade any airline has ever made (in fairness, I'd probably say the same if they had gone from Duc De Paris to Korbel, so…).
On the plus side, the cabin was kept relatively cool, there mostly weren't smoke odors, and I slept extremely well. Still, China Southern's soft product leaves a lot to be desired. Crazy as it may sound, I wouldn't necessarily recommend avoiding them, though. I slept great, so just come in with the right mindset and the flight can be pleasant.
In terms of the transpacific business class products offered by Asian SkyTeam airlines, I'd probably rank China Airlines as best, followed by Korean Air, followed by Xiamen Air, followed by China Southern, followed by China Eastern. But perhaps that's a fun topic for a more in-depth post.
If you've flown China Southern business class, what was your experience like?