Both American Express and Chase have awesome programs (known as Amex Offers and Chase Offers) that offer savings when making purchases with select retailers.
Chase Offers is much newer, and the number of good offers from them has increased significantly over the past few months, in particular for hotel stays.
If you only have Chase personal cards then you can see these through the regular Chase website (at the bottom left of your account summary page), while if you have a mix of personal and business cards, you may only be able to see these through the Chase mobile app.
While I've written about quite a few Chase Offers for hotel stays, there's now a non-hotel offer that I plan on taking advantage of, and I figure I'm not the only one.
With the latest targeted Chase Offers deal you can save up to 25% on a Staples purchase.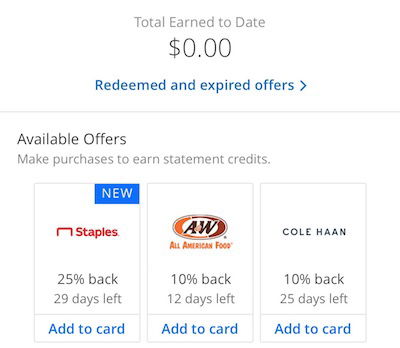 There seem to be different versions of the offer, with the following things to be aware of:
The offers are all valid through July 20, 2019
There are offers for 5%, 10%, 15%, 20%, and 25% back
The way the deal works out, you can max out this offer with a $70 purchase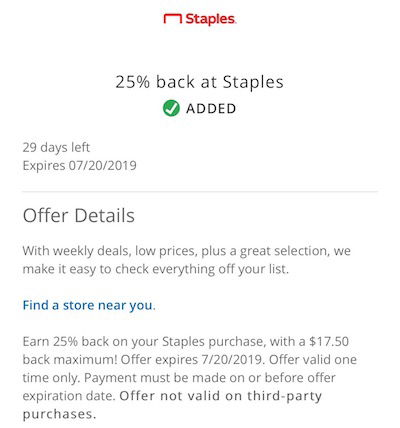 In the case of my Chase cards, I see both the 25% offer and 20% offer, so those have maximums of $17.50 and $14, respectively.
Now you might be saying "I don't need any office supplies," though keep in mind that Staples sells all kinds of other things. Most interesting to many is that they (typically) sell gift cards, including to Amazon, Starbucks, etc.
So getting $31.50 back on a $140 Staples purchase is good as cash to me. There's actually an Amex Offers deal for Staples as well right now, where you can get 2,500 bonus Membership Rewards points if you spend $100. I haven't taken advantage of that either yet, so I might as well go to Staples and buy $240 worth of stuff and get $31.50 back plus 2,500 Membership Rewards points.
On second thought, I might have a fun time at a register trying to use three different credits to make my purchase.
Anyway, check your cards for this offer, and if you live near a Staples, this could be an excellent deal to take advantage of.
Do you have this offer on your account, and if so, do you plan on taking advantage of it?
(Tip of the hat to Doctor Of Credit)