Cathay Pacific has been making quite a few changes to their premium cabin catering lately, which is positive news on the whole. A couple of weeks ago they announced changes to their appetizer service:
On the plus side they started serving individual tins of caviar and offering a caviar spoon
Unfortunately it came at the expense of the balik salmon, which I really enjoyed.

Old starter: balik salmon and caviar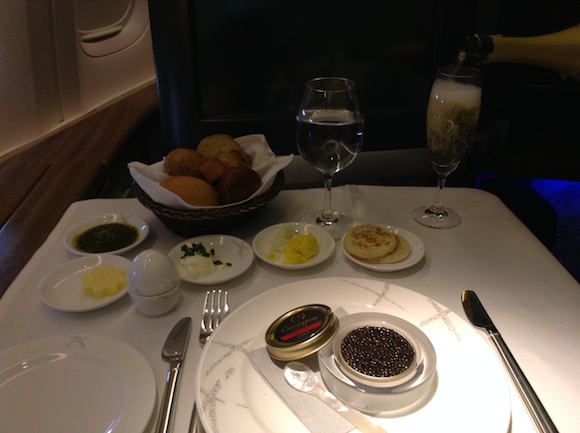 New starter: caviar (courtesy of reader Adrien)
It seems that Cathay Pacific is also offering a limited time menu in cooperation with Tosca, the Italian restaurant at the Ritz-Carlton Hong Kong. The menu will be available in first and business class on select routes departing Hong Kong through July 31, 2014:
Hong Kong's home carrier Cathay Pacific Airways has joined hands with Tosca, the fine-dining Italian restaurant at The Ritz-Carlton, Hong Kong, to launch an exciting inflight menu promotion.

From 1 May to 31 July 2014, the promotional menu will be served to passengers in First Class and Business Class onboard selected long-haul and regional Cathay Pacific flights departing from Hong Kong.

Cathay Pacific General Manager Inflight Services James Ginns said: "We are committed to providing the best inflight experience to our passengers and the food we serve on our aircraft is an integral part of that experience. Being creative with our menus gives us an opportunity to bring different tastes of the world to our passengers.

"We are delighted to be working with The Ritz-Carlton, Hong Kong and their Michelin-starred restaurant Tosca to bring modern interpretations of classic Italian dishes onto our flights. The partnership with the Ritz-Carlton optimises our menu options in providing quality cuisine that matches the high expectations of our passengers."

Tosca's Michelin-starred Chef, Pino Lavarra, has designed a delicious menu for the airline comprising starters, pastas, entrées and desserts that are authentic Italian dishes at heart but with added elements of sophistication. The unique flavors of ingredients such as Senise pepper and n'duja salami are reflected in the pasta dish Garganelli with n'duja salami, bread sfritto and Senise pepper. For Beef seared carpaccio with Parmesan crisp, the traditional Italian antipasto has been given a modern twist with tender slices of beef carpaccio combined with Parmesan crisp for an intense array of flavors.

Chef Pino said: "In the sky, there are no limits to your imagination. When working with Cathay Pacific, I was particularly intrigued by the approach of creating intense flavor pairings that can offset the impact flying at high altitude has on the sensitivity of our taste buds. I therefore crafted a special menu that combines a set of interesting dishes and flavors which I hope will enliven the gustatory senses of passengers, enabling them to enjoy something that's uniquely delicious in the open skies."
Now, typically when airlines hook up with restaurants or celebrity chefs it's style over substance, though I'm kind of excited about this one.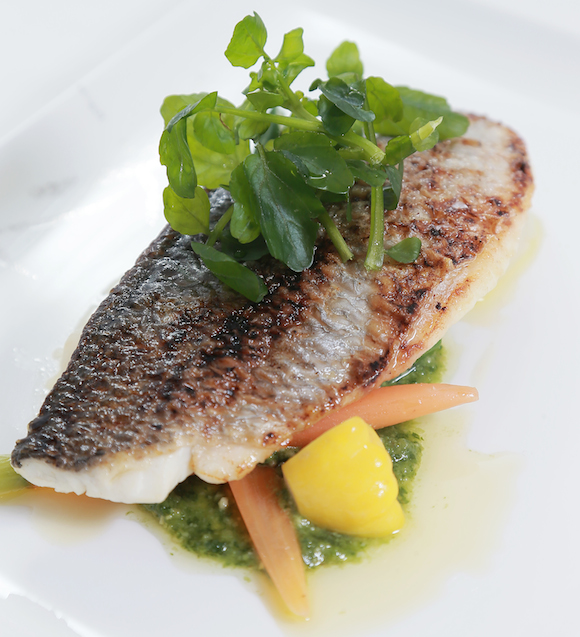 New Tosca menu: fillet of sea bass, spring vegetables and pesto dressing sauce
Why? Because there are some airlines on which I consistently skip the main courses, and Cathay Pacific is one of them. I find Cathay Pacific does a phenomenal job with the caviar, salad, and soup courses, while I rarely find their main courses interesting.
My "beef" with Cathay Pacific's main courses is that you almost consistently have the choice between:
Pasta that tastes like it came out of a Lean Cuisine box (and yes, some airlines actually can do pasta well)
A massive piece of meat that's not at all lean (Asiana knows how to prepare a steak)
A Chinese entree with a non-lean cut of meat
Ultimately it's a blessing when the main course isn't interesting, since I really shouldn't be eating an eleven course meal on an airplane anyway.
But this actually sounds pretty decent, and I'll give the main course a try on my next Cathay Pacific flight. Here's to hoping my next flight on Cathay Pacific is one of the "select" routes out of Hong Kong.
Has anyone experienced the new catering in cooperation with Tosca, and if so, what did you think?