Last weekend I wrote about how Cathay Pacific was considering auctioning off upgrades for cash in advance of flights.
Well, it looks like Cathay Pacific has finally launched this offering. Cathay Pacific's new "Enhance" program allows you to place a cash bid on upgrades to premium economy and business class.
Here are the basic details of the program:
Enhance – make an offer for an upgrade to the next higher cabin class.

During the trial period, we invite passengers booked on Economy Class and Premium Economy Class to place an offer for a chance to upgrade, with the following criteria:

Passengers traveling on 1 of our 9 selected routes: Perth, Toronto, Newark, Moscow, Paris, London, Surabaya, Cebu or Seoul.
Enhance is only available for selected flights and applicable fare classes on these routes where tickets are issued at specific countries/regions.
Bookings made after 12 May 2014, for travel between 20 June and 12 November 2014, on cathaypacific.com or dragonair.com, or with our local reservations office and hotlines.
Bookings must be confirmed.
Bookings with infant fares, waitlisted, redemption and prize tickets are not eligible.

Please also refer to other terms and conditions that apply and read our Frequently Asked Questions for a list of all our guidelines.After you book your Economy Class or Premium Economy Class ticket, you may be invited to participate in Enhance, based on various factors, including seat availability.

How to make an offer

Book your ticket.

Book on our official website, and if you're eligible you'll receive an instant invitation on the booking confirmation page.
Book with your local reservations office, and if you're eligible you'll receive an email invitation 7 days before departure of the first sector of your flight booking.

Follow the steps on the invitation, submit your personal information, and make an offer.
If your offer was accepted, we will contact you 2-3 days before your flight to confirm the upgrade.

Alternatively, if your booking fulfils the above requirements, you can always check your eligibility by inputting your details in the fields below.
So as of now the offering is only available on nine routes, and can only be used to upgrade one cabin, from economy to premium economy, or premium economy to business class.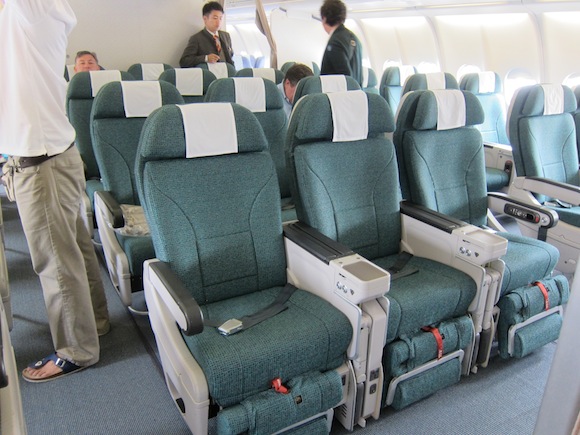 Cathay Pacific premium economy
I'd suggest reading all the frequently asked questions, though here are some tidbits I found especially interesting:
If you upgrade with cash, you'll be awarded miles based on the upgraded class of service
You'll be informed at least two days prior to departure whether your upgrade was successful or not
You can modify your upgrade offer up to five days prior to departure (assuming it hasn't been accepted)
If you need to cancel a flight on which you purchased a cash upgrade, you won't get a refund on the upgrade cost (assuming it was accepted)
What's interesting is that apparently elite members will have priority with their cash upgrades (bolding mine):
What criteria determine the success of an offer?
The success of an offer depends on a combination of factors including but not limited to:

The amount offered for the upgrade,
Competing offers
The original fare class at which the ticket has been purchased
Your Marco Polo Club tier
The number of passengers in the same booking
Success history on past offers
The number of seats available for upgrades

To improve your chances of success, we recommend putting forward your best offer. If you are a Diamond, Gold or Silver member of The Marco Polo, we will recognise your status by up-weighting your Enhance offer.
The big question — which still isn't being addressed — is whether these upgrades will clear after mileage upgrades or not. I would hope that this new program doesn't impact the priority of mileage upgrades, as that would be a disappointing change.

Cathay Pacific business class

Bottom line
I certainly can't blame Cathay Pacific for trying this, and I think it's smart that they're doing it as a test on select routes first. I do hope that these truly are upgrades to seats that would otherwise go out empty, and that they won't prioritize these ahead of mileage upgrades.
What do you think of Cathay Pacific's new "Enhance" upgrade offering (aside from the horrible name)?
(Tip of the hat to @brianhkchan)