Via The South China Morning Post:
In a move to boost earnings, the Hong Kong carrier – whose net profits tripled to HK$2.62 billion last year – is exploring a pilot project to sell premium economy and business class seats at cheaper prices, allowing it to fly fully booked more often.The plan would open up all available premium seat upgrades to all passengers. "Customers would be invited to place an offer for their booked flights via a website prior to their departure date. If their offer was successful they would be advised around four days prior to departure and the offer payment collected," said a spokesperson from International Customer Loyalty Programmes representing Cathay Pacific on Flyer Talk, a popular aviation forum.
The fact that Cathay Pacific is exploring this isn't new. Last September they even sent out a survey to Marco Polo Club members asking them for their thoughts on the idea. Via @JALPak on Twitter, here's one of the questions:
So this isn't new, and Cathay Pacific is still just "considering" the idea, so it's not happening just yet.
If Cathay Pacific sells upgrades, what impact would it have on us?
It would decrease the number of operational upgrades
If a flight is oversold in economy, airlines will often upgrade elite members to a higher cabin to make room in the back. So if Cathay Pacific has a bidding system, they're more likely to accept all bids (even if they're extremely low) for upgrades in cases where economy class is oversold. Since they'd have to upgrade someone for free otherwise, I don't really blame them. So while it would be frustrating as an elite member, at the end of the day being operationally upgraded isn't a right or published benefit.
It might decrease the amount of last minute award space
I wouldn't expect this to have a big impact on the amount of award space Cathay Pacific releases in advance, since ultimately inventory management and revenue management are two different departments. At the same time, Cathay Pacific is an airline that's great about releasing last minute award space, and frequently releases space just a few days before departure.
While I don't think it will have a huge impact even on last minute award availability, it could have some. Do keep in mind that they're apparently only considering this for upgrades to premium economy and business class, so it shouldn't impact first class.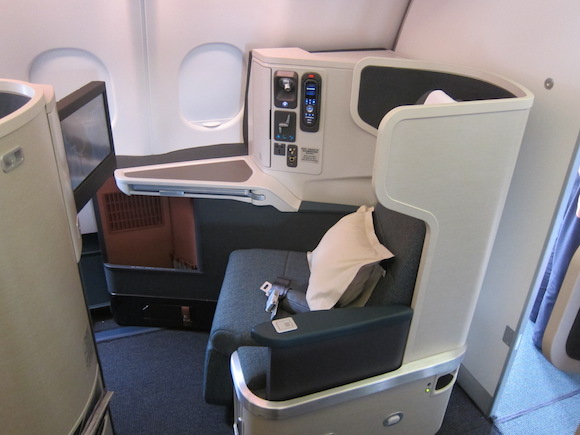 Cathay Pacific business class
Bottom line
While I do think this would decrease the number of operational upgrades, I don't think it would have a big impact on the amount of award space that's released. If Cathay Pacific goes with this program, hopefully they do so the "right" way. That's to say that they clear mileage upgrades before the auction style paid upgrades, so that they're truly only filling premium cabin seats that would otherwise go out empty.
How do you feel about an auction style upgrade program?