Arguably the single most comfortable flight within North America is Cathay Pacific's flight from New York to Vancouver. The airline operates this as a fifth freedom flight, with the flight continuing onwards to Hong Kong.
Cathay Pacific Cutting New York To Vancouver Flight
In September 2019 we learned that Cathay Pacific would be discontinuing their New York to Vancouver flight in spring 2020.
At the time the route was supposed to end as of March 28, 2020. Well, for anyone who was looking to take this flight before it ended (or who has been booked on this flight), it's worth noting that the airline will be ending this route early.
Cathay Pacific is significantly cutting capacity across the board in light of reduced demand for travel through Asia. Cathay Pacific will now discontinue their New York to Vancouver route as of February 18, 2020, meaning the route will end in less than two weeks.
This route is operated by a Boeing 777-300ER, and has been flying since 1996, so it will have operated for about 24 years when cut.
This has always been such a fun way to fly between New York and Vancouver, though the timing of the flights has clearly been focused on connections rather than on those traveling between the two markets. Cathay Pacific operates this flight daily with the following schedule:
CX889 New York to Vancouver departing 9:50PM arriving 12:50AM (+1 day)
CX888 Vancouver to New York departing 11:05PM arriving 7:05AM (+1 day)
Why Is Cathay Pacific Cutting This Route?
Cathay Pacific's SVP of the Americas has said that the route is being cut because it has been losing money for years — I guess that's not too much of a surprise.
This route made sense prior to 2004 — until then, Cathay Pacific's only service to New York was via Vancouver.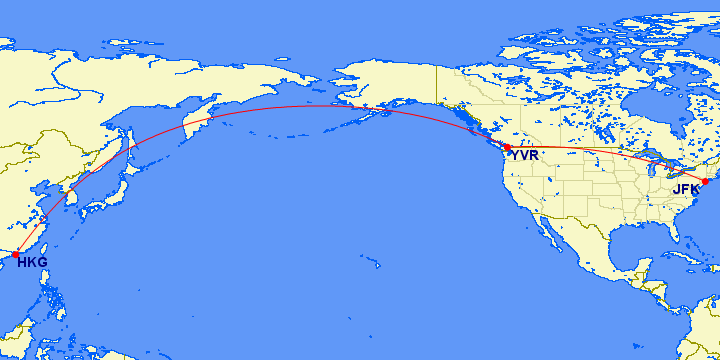 However, with better aircraft technology and increased demand, Cathay Pacific has been significantly ramping up service from Hong Kong to both New York and Vancouver:
Cathay Pacific operates 3x daily nonstop New York to Hong Kong flights, in addition to the daily New York to Vancouver to Hong Kong flight; they also operate a daily Newark to Hong Kong flight
Cathay Pacific operates up to 3x daily nonstop Vancouver to Hong Kong flights
Cathay Pacific will maintain the Vancouver to Hong Kong flights as is, and on top of that plans on adding an extra 4x weekly frequencies between New York and Hong Kong.
In the short term we're seeing some reduced capacity due to the impact the coronavirus is having on demand for air travel, but at least that's the long term plan.
I can see why this route wouldn't be profitable anymore. Unless there's enough demand in the New York to Vancouver market to justify this route there's otherwise not much value, since the airline can easily fly nonstop to both destinations from Hong Kong.
Cathay Pacific also goes head-to-head with Air Canada on the route, as they fly from Newark to Vancouver. While they don't operate the route anymore, Philippine Airlines also used to fly nonstop from New York to Vancouver.
Interesting market, eh?
Bottom Line
It's sad to see Cathay Pacific cutting this very fun fifth freedom flight between New York and Vancouver, though it's also not surprising. The route made perfect sense up until 2004, when Cathay Pacific's only service to New York was via Vancouver.
But at this point the airline has multiple daily nonstop flights from Hong Kong to the New York area, so there's no reason for this tag flight anymore unless it's profitable in and of itself, which clearly it's not.
Will you miss Cathay Pacific's New York to Vancouver flight?