While most people don't realize this, some airlines will let you order a birthday cake if you're traveling on or around your birthday. It's something I've taken advantage of a few times for loved ones, because it always catches them off guard and puts a smile on their face.
Ford got a cake when he flew Emirates first class from Dallas to Dubai (I'm not sure why they put my name on there rather than his, but…).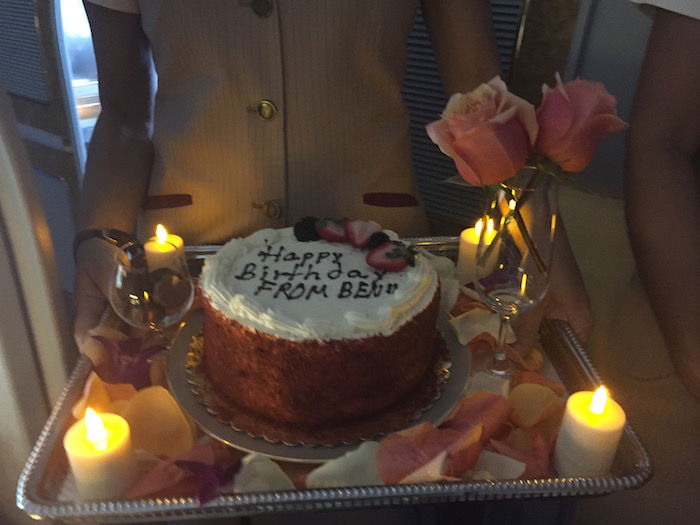 Meanwhile my dad got a cake when he flew Singapore first class from Singapore to Melbourne.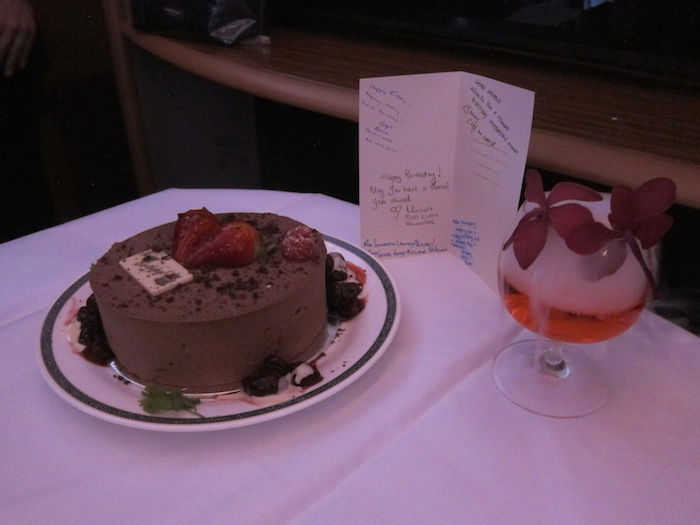 They even sang happy birthday to him.
As I said above, it's just something that can make a loved one smile, since most people don't realize this is a possibility (and on many airlines it isn't). In both the case of Emirates and Singapore, the cakes are complimentary, and you just have to phone up the call center to request them.
For another data point, reader Alok shared his experience with me by email of getting a birthday cake on Cathay Pacific. Cathay Pacific does offer birthday cakes on demand, but you have to pay for them — they cost 300HKD.

Here's what he had to say about the experience:
I wanted to share with you the birthday experience on CX. I flew from LAX-HKG on Jun. 22 in business class and I pre-ordered the birthday cake in advance. It cost $39 USD on the CX website.

On the flight, the purser asked my wife when they could bring out the cake. My wife suggested probably in the middle of the flight when my son would be awake. The purser then brought out the cake and a glass of champagne. I am surprised it was only the purser who brought the cake — no other flight attendants joined in. Also, there was no candle on the birthday cake. However, the cake tasted great — it was coffee flavored. It was more than one person can eat so I shared it with the cabin crew.

At the end of the flight, the cabin crew (about 10 people) came by and gave me a birthday card signed by the entire cabin crew. It was very thoughtful.

Anyway, I have attached some pictures from the flight. It seems your Singapore and Emirates birthday experience for your dad would probably be better than Cathay Pacific but I am sure it dependent on the specific cabin crew.

I would consider doing this again for a special occasion (i.e. milestone birthday) or to impress someone who has never experienced anything like this.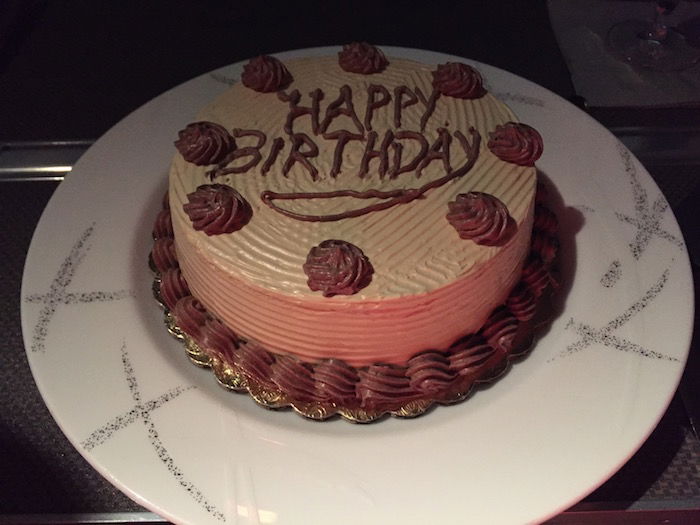 Bottom line
You can add Cathay Pacific to the list of airlines that offer birthday cakes, though unlike Emirates and Singapore, they charge. For a special occasion, it seems like a nice way to surprise someone, even if it's an expensive cake.