Cathay Pacific announced some additional frequencies on a couple of their US routes today, which is especially exciting for those looking to redeem miles.
Los Angeles gets a fourth daily flight
As of June 1, 2014, Cathay Pacific will be adding a fourth daily flight between Hong Kong and Los Angeles, which will operate with the following schedule:
CX892 Hong Kong to Los Angeles departing 9:30AM arriving 7:55AM
CX893 Los Angeles to Hong Kong departing 9:40AM arriving 3:25PM (+1 day)
This flight will be operated by a four cabin aircraft featuring first, business, premium economy, and economy, the same configuration as the other three daily frequencies to Los Angeles.
Award space on the route is excellent so far, and best I can tell Cathay Pacific is releasing two first class, five business class, and two economy class award seats on most dates for the new frequency. That's more valuable than ever before, given that Cathay Pacific is cutting back on first class award space.


Chicago gets an additional 3x weekly frequencies
Even though they just introduced this route a couple of years ago it must be doing well for them, since they're adding an additional three frequencies per week as of August 2, 2014. The schedule on this one is awesome since it's a redeye ex-Chicago, and will operate as follows:
CX800 Hong Kong to Chicago departing 6:25PM arriving 8:20PM
CX801 Chicago to Hong Kong departing 1:15AM arriving 5:50AM (+1 day)
The Hong Kong to Chicago flight will operate Tuesdays, Thursdays, and Saturdays, while the Chicago to Hong Kong flight will operate Wednesdays, Fridays, and Sundays.
This route will be operated by a three cabin aircraft featuring business, premium economy, and economy, though for what it's worth Cathay Pacific does have a top notch business class product, so I don't mind that one bit.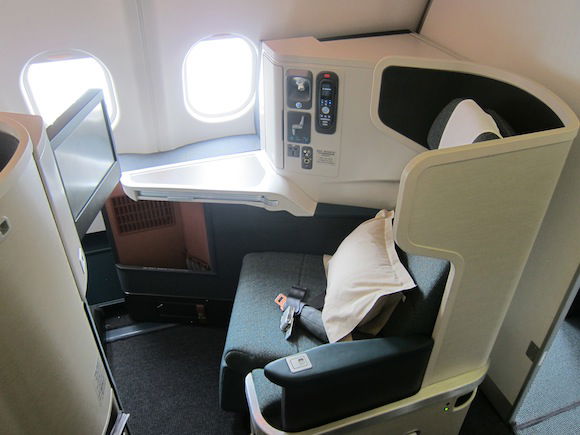 Cathay Pacific business class
Award availability on the route is also good, with five business class award seats and two economy class award seats available on most flights.


Very exciting additions, in my opinion! If you're looking for first class award space on Cathay Pacific the second half of next year, snag those seats out of Los Angeles while they're still available!