Yesterday I wrote a post entitled "How Stingy Is American With First Class Award Space?" I was trying to get from London to New York, and American had two flights without a single seat sold in first class, yet they didn't have any saver level award availability. There has been a trend over the past several years whereby American is releasing less and less award space, and to me this is the epitome of the situation.

Those seats would literally otherwise go empty, which they'd apparently prefer to getting mileage liability off the books, and more importantly, making a frequent flyer happy. It's amazing how quickly the airlines forget why they're in business. In this case, specifically, American wouldn't be in business if it weren't for Citi (they pre-purchased a billion dollars worth of miles from American when they were in bankruptcy and and on the verge of going out of business).
Anyway, as an experiment I thought it would be fun to see if I could get anyone at American to actually apply logic to the situation and open up some award space. Gary has written in the past about the ability to request American award space under certain situations when it's not otherwise possible. The circumstances under which you can normally make the request for AAdvantage award space are:
When you're trying to complete an itinerary (for example, one segment of a larger itinerary doesn't have award space)
When you're trying to complete a party (for example, you have three seats but need a fourth)
Let's keep in mind this is merely a request. They can easily say no, so don't expect this to be a secret weapon to opening up award space ("I know how I'll trick them — I found award space from Tampa to Dallas, and I'll ask them to 'complete my itinerary' with a Dallas to Hong Kong segment."). 😉
But I figured I'd call the Executive Platinum desk and see if they could put in a similar request for a saver first class award seat on one of those flights. I wasn't actually sure if they could make the request or not, but figured I might as well try, since it would make an interesting data point.
The first time I called I decided to play "clueless," and the call went something like this:
Me: Hi Sandy, I'm trying to book an award ticket from London to New York today, and it seems like American doesn't any saver level award availability, even though first class looks wide open.
Agent: Hold on a second, let me check. Yeah, it looks like they only have first class availability for 175,000 miles.
Me: Since the cabin is wide open, is there any way you could maybe put in a request for a first class saver seat on that flight?
Agent: Sorry, there's no way we can do that since there is award space, it's just more expensive.
Me: Okay, thanks for your help, I appreciate it.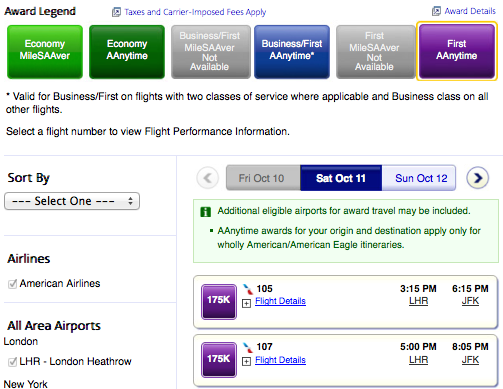 Rather than playing the "clueless" card I decided to take a more direct approach with the next call:
Me: Hi Rhonda, I have a bit of a complicated request I was hoping you could help me with.
Agent: I have 25 minutes left in my shift, so bring it on.
Me: Perfect. So basically I'm trying to redeem miles for a flight between Heathrow and Kennedy for today, and both AA105 and AA107 are wide open in first class. Best I can tell they don't have a single seat sold and are F7. Is there any chance you could put in a request with RM for 'Z' space on those flights?
Agent: Wow, you know all the lingo. Let me take a quick look for you.

*30 second pause*

Agent: This is very strange. You're right, there's not a single seat sold on 105 or 107, and I double checked and economy and business aren't oversold either, so that's not the reason. I've never seen that before. Let me create a record and put the request in for you.
Me: Thanks so much Rhonda, I really appreciate you trying.

*30 second pause*

Agent: Okay, let me give you the PNR, it's ******. The request is in there, and if you wait on the phone for a minute or two I should get a response back pretty quickly.

*two minute pause*

Agent: "So I got a message back saying that the request was received and not to re-queue it. It's in the priority queue, so give us a call back in a couple of hours and I'm sure you'll have an answer one way or another by then."
I should note that I made this request at 5AM on a Saturday morning in London, which is 11PM on a Friday night in Dallas. If something were to manually be reviewed, I don't think there's a worse time to make a request.
I called back a couple of hours later and the agent said there still wasn't a response. She actually said RM isn't even in on weekends, so it wouldn't clear.
Then I reached out to the American Twitter team, who said the following:
Ben, we're very sorry RM is not in the office on the weekends, the EP agent is correct. We do however have a few agents that'll look at requests that have been sent in. You're request has been looked at and we're not able to clear.
So there ya have it…
Bottom line
Would the request have manually been looked at and would I have cleared if I made it when RM was in the office? It's anyone's guess. But at least I learned that it is possible to request a specific award fare class and have it sent to revenue management. I might have to give this another shot at some point under similar circumstances, except during US business hours.
And for those of you wondering how I got back to the US, I did manage to book a backup option for travel on US Airways in business class (stay tuned to find out whether that ended up like my last US Airways flight or not).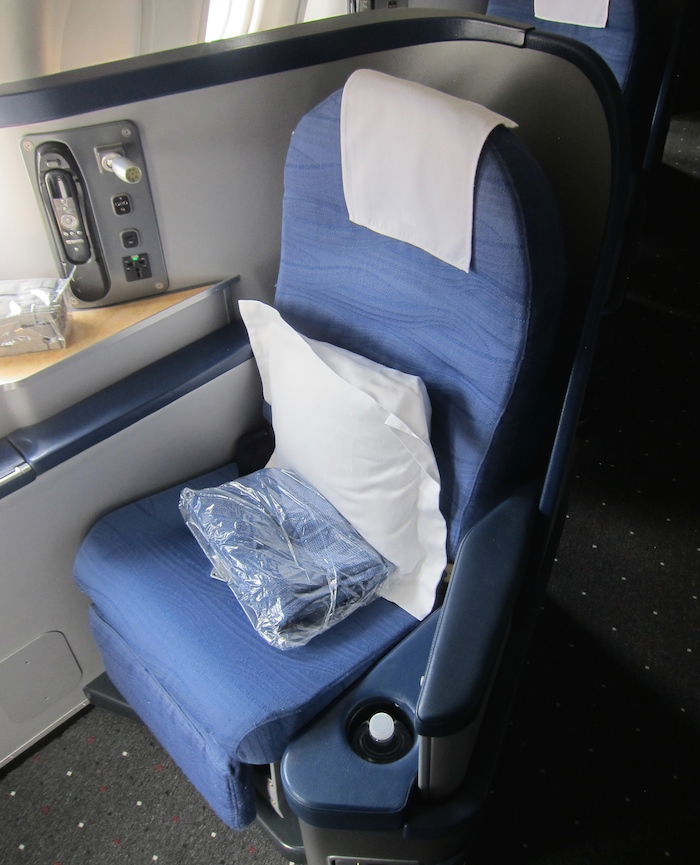 Has anyone had a similar experience with requesting award space from American?