In the interest of full disclosure, OMAAT earns a referral bonus for anyone that's approved through some of the below links. These are the best publicly available offers that we have found for each card. Opinions expressed here are the author's alone, not those of the bank, credit card issuer, airlines or hotel chain, and have not been reviewed, approved or otherwise endorsed by any of these entities. Please check out my advertiser policy for further details about our partners, and thanks for your support!
IHG has just rolled out their latest promotion on purchased points, which is valid through August 23, 2019 (that's nearly two months!).
This is being marketed as a "mystery bonus," so you'll have to log into your IHG Rewards Club account to see what you're eligible for. For example, my account is eligible for a 100% bonus, which is as good as bonuses on purchased IHG points get.
With my version of the promotion you get a 100% bonus as long as you purchase at least 5,000 points in one transaction.
If you maxed out the promotion and purchased 100,000 points, you'd end up paying $1,000 and would get a total of 200,000 IHG Rewards Club points. That's 0.5 cents per point.
A 100% bonus is as good as it gets when buying IHG points, so this promotion is definitely worth considering if that's what you're seeing on your account.
Last year IHG changed two things to make buying points more interesting:
IHG Rewards Club increased the maximum number of points you can buy per year from 60,000 to 100,000 (pre-bonus)
IHG Rewards Club lowered the cost per purchased point from 1.15 cents to 1.0 cents (pre-bonus)
Note that while the IHG® Rewards Club Premier Credit Card offers a 20% discount on purchased points, that benefit only applies when buying points at the normal cost, and wouldn't be applicable here.
However, one huge benefit of the IHG® Rewards Club Premier Credit Card is that it offers a fourth night free on award redemptions, so you can book four nights and only pay for three. So if you are staying somewhere for four nights, think of it as a further 25% discount.
IHG Rewards Club points purchases are processed by points.com, meaning they don't count as a hotel purchase for the purposes of credit card spend.
Therefore I'd recommend using a card on which you're trying to reach minimum spend, or otherwise a credit card that maximizes your return on everyday spend, like the Chase Freedom Unlimited® or Citi® Double Cash Card.
See this post for more on which credit cards are best for buying points.
Cards for everyday purchases
Here are the full terms of the promotion:
Offer available for purchases made between 12:00 AM ET June 27, 2019 and 11:59 PM ET August 23, 2019 inclusive. This is an exclusive, non-transferable offer for intended recipient only and may not be forwarded. Bonus points will be awarded upon completion of the transaction. Bonus points will be awarded to the recipient of the points purchase. Offer is subject to change. Offer cannot be combined with any other offer.

Price includes all applicable fees. Purchased Points are not refundable and are applicable toward all IHG® Rewards Club awards. Members may purchase a maximum of 100,000 points per calendar year and receive as a gift a maximum of 100,000 points per calendar year. Please allow 72 hours for points to post and appear in the recipient's account. All other IHG® Rewards Club Terms and Conditions apply.
Is it worth buying IHG points with a 100% bonus?
Over the years IHG Rewards Club has devalued their redemption rates quite a few times, though for people buying points, it hasn't necessarily been bad news. IHG has lowered the cost to purchase points, with many promotions they've increased the cap on how many points you can buy, and the IHG® Rewards Club Premier Credit Card has a great fourth night free benefit.
For example, at a rate of 0.5 cents per point, you could acquire 210,000 IHG Rewards Club points for $1,050 (the maximum you can buy is 200,000 with the bonus, but let's apply the same value to the other 10,000 points).
IHG's most expensive hotels typically go for 70,000 points per night, so if you had the IHG® Rewards Club Premier Credit Card, you could get four nights at that rate. That's like paying just $262.50 per night including taxes and fees at some of IHG's best properties.
This represents significant savings over what many of these hotels usually charge.
I wouldn't speculatively buy points, but there's value to be had under the right circumstances. Sometimes this can be a deal on IHG's highest end hotels, and other times there's value to be had with their mid-range properties as well.
IHG also has their excellent PointBreaks promotion, where you can redeem 5,000-15,000 points per night at select hotels. That's like paying $25-75 per night at a hotel, which can be a great deal (assuming you're eligible for a 100% bonus).
Example: Why I recently bought IHG points
There are circumstances under which I personally buy points speculatively, though I only recommend doing so if you really have a sense of your general travel patterns, and understand the program well.
Recently I shared that I purchased IHG points with a 75% bonus — this isn't the lowest cost we've seen on purchased IHG points — it's worth noting that they sometimes offer up to a 100% bonus.
On that post, Gene commented the following:
Horrible deal, which no one should be buying or promoting. "Just" 0.57 cents? I'm selling dollars for "just" $1.01. Anyone interested?
See, this is the funny thing about promotions for buying points. I actually took advantage of this promotion, and it wasn't a horrible deal… at all. And I think most people would agree if they were in my situation.
Saving 50% on a luxury hotel stay
I'm headed to Beirut in a couple of months, and I was trying to decide where to stay. I'm usually a Marriott or Hyatt loyalist, and neither of them have nice-looking properties in Beirut.
However, the best points hotel in the city seems to be the InterContinental Phoenicia Beirut. It's generally regarded as one of the top five hotels in the city, and several people recommended I stay here.
It's actually a very good use of points. For my three night stay the absolute lowest cost is $868 including taxes and fees.
Though in reality that's the pre-paid rate, while the flexible rate would be over $1,000 for the three nights (and that's likely what I'd book, since I'd hope that the rate drops as the stay approaches, so I can rebook).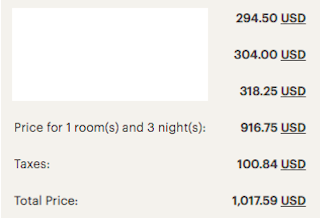 Meanwhile this hotel costs just 30,000 IHG Rewards Club points per night.
I don't have a lot of IHG Rewards Club points, and I also never speculatively bought them in the past (which I'm kicking myself for, since I wish I had bought them with a 100% bonus).
I could buy 91,000 points (more than enough for three nights) for $510, which is about half off the flexible rate.
On top of that:
Since I bought points with the Ink Business Preferred℠ Credit Card, I'll be earning three Ultimate Rewards points per dollar spent on the purchase (for whatever reason purchases through points.com trigger triple points on the card)
Because I have the old IHG Rewards Club Select Card, I get a 10% refund on redeemed points, meaning I'll get 9,000 points back
If I had the IHG® Rewards Club Premier Credit Card and were staying four nights (which I don't, and I'm not), I'd even get a fourth night free, so it would be an even better deal
Sometimes I think it's useful to share circumstances where I buy points, and explain why. I don't promote deals on purchased points because I think everyone should always buy them. Rather I think it's all about buying points with the right use in mind.
That's also why I take issue with suggesting that these promotions are horrible deals and that no one should be taking advantage of them. It's absolutely not a good deal for some, while it can be an excellent deal for others. Buying points here allowed me to get about half off a hotel stay with a chain I don't stay at much, and that's great.
In the end I'm spending ~27,000 points per night, which I'd say is the equivalent of spending under $150 per night here. You won't find any other five star hotel in Beirut for that price.
Bottom line
Assuming your account is eligible for a 100% bonus on purchased points, then this promotion can represent a good deal, especially in conjunction with the IHG® Rewards Club Premier Credit Card, which can get you a fourth night for free on award redemptions.
While this isn't for everyone, with a specific use in mind it could make sense to buy points.
What kind of a bonus is your account targeted for?