The end of the year is quickly approaching, which means that many of us are looking at our frequent flyer accounts and trying to figure out how to squeeze a few extra miles out of our travels so we can qualify (or requalify) for status.
Towards the end of the year it's pretty normal for airlines to let you "buy up" to the next elite tier, should you be just a bit short of their requirements for earning status.
Well, Delta has just brought back their promotion to buy up to the next elite tier, and this year they're launching the promotion a bit earlier than in the past (last year they launched in early December).
Let's take a look at the details.
Delta's Elevate Your Status Promotion
Delta has now rolled out their end of the year promotion for buying up to status, called "Elevate Your Status."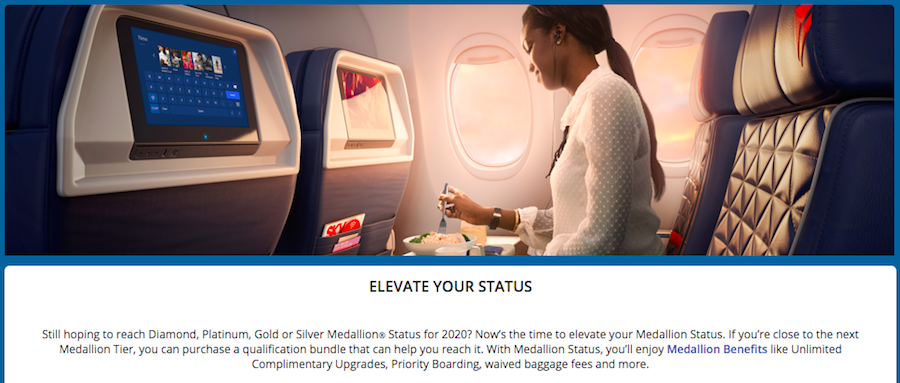 Who Is Eligible For Delta's Elevate Your Status Promo?
So, who can take advantage of this promotion to buy up to a higher elite tier?
If you are a Platinum, Gold or Silver Medallion member, you are eligible for the promotion unless you received complimentary status for a tier above the tier you earned status for (like if you received complimentary Gold status, but only earned Silver status through published requirements)
If you are a non-elite member, you must be within range to reach Silver Medallion status by purchasing the maximum bundle of MQMs, MQSs, and MQDs (for example, for Silver the most MQMs you can buy is 12,500, so if you were at just 12,000 you wouldn't be eligible, since you need 25,000 to earn the status)
If you are Diamond Medallion you aren't eligible, since you've already reached the highest published tier
How To Buy Delta Status
The process of taking advantage of this is pretty easy. Through February 29, 2020, you can purchase a bundle consisting of Medallion Qualifying Miles (MQMs), Medallion Qualifying Dollars (MQDs), and Medallion Qualifying Segments (MQSs). This will count towards your 2020 status.
Here's how Delta describes what this means for your status:
The dollar amount you spend on MQMs and MQSs will then be credited to your 2019 MQDs balance and will apply towards your 2020 status
Any MQMs purchased that exceed the amount needed to achieve Medallion status for 2020 will roll over and count towards your 2021 status
MQMs, MQSs and MQDs will post to your SkyMiles account within 24 hours of purchase
Keep in mind that MQMs, MQSs and MQDs purchased through this offer are non-refundable
You can get started with the process by logging in at this link.
My Delta Status Offer
I'm a Delta Silver member at the moment, and here's what my qualifying activity looks like for the year (though I should already be Gold, but my miles haven't posted for my most recent trip):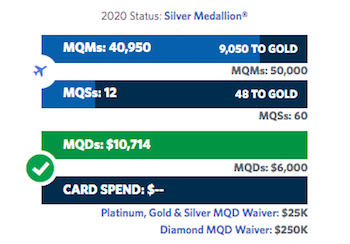 Then here's the offer I received for a status buy-up:

So based on my current situation if I wanted to buy enough to earn Gold status, I'd need to buy the bundle with 10,000 MQMs, 15 MQSs, and 1,399 MQDs, for $1,399. That's about 14 cents per MQM.
That's expensive in absolute terms and not something I'd take advantage of, though for what it's worth I've seen programs try to charge 25+ cents per elite mile, so by comparison the amount isn't that nuts.
The pricing is variable, so I imagine it depends on how close you are to status, and also which status tier you're close to. In other words, I imagine the last 10,000 MQMs to get to Diamond status would be much more costly than the last 10,000 MQMs to get to Silver status.
Bottom Line
Towards the end of the year it's normal to see airlines offer promotions to buy your way to the next elite tier. In general you're almost always going to find it cheaper to get on a plane to earn those miles than outright buying them, but of course that's also significantly less convenient.
In the past I'd say elite status was pretty consistently worth going for as a frequent flyer, though over the years the benefits have been cut a lot. So overall I think there's less value than ever before in buying elite status.
If you're eligible for Delta's "Elevate Your Status" deal, what does your offer look like?