Yesterday I wrote about how Hyatt will be eliminating single-use toiletries globally in the coming months, following the lead of IHG and Marriott. This topic is incredibly controversial. Personally it's a topic on which I've evolved, and I'm in favor of this — it seems like an easy way to eliminate the use of millions of plastic bottles per year.
In this post I wanted to talk a bit about the defense used by some in favor of single-use toiletries. I think some of the reasons are legitimate, and some of the reasons leave me scratching my head.
A Lot Of People Love Single-Use Toiletries
I think there are lots of legitimate reasons for people to be in favor of single-use toiletries, or at a minimum to miss them when they're gone. I don't blame you if:
You're worried the quality of products will worsen
You like to take to take toiletries home with you
You think this is a cost saving measure, and is being blamed on the environment
You thought this was a great branding opportunity for hotels, and that's going out the window
Strange Concerns Of Bulk Toiletries
In this post I wanted to address some of the defenses that I see of single-use toiletries, which I just can't wrap my head around.
When View from the Wing wrote about these changes he called them "disgusting," and provides four supporting arguments. Let's go through each of them.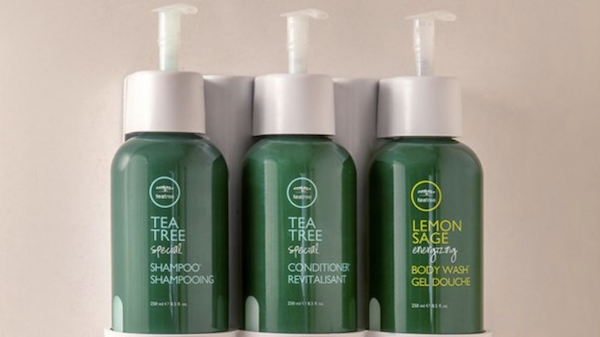 Bulk Toiletries Are Unhygienic
Gary argues that bulk toiletries are rarely cleaned properly and thoroughly by housekeeping. To support that he links to a post showing one poorly cleaned bulk toiletry dispenser.
Is that the basis on which these are "rarely cleaned properly?" Look, I'm a selective germaphobe as well, but this concerns me no more than anything else. I'm not going to stop washing my hands on planes, or in public bathrooms, or using the airplane tray table, or anything else, even though arguably that's way more "disgusting."
I'd love to be proven wrong on this, by the way. There are all kinds of studies of housekeeping not doing a great job cleaning, but does anyone have any data to support that bulk dispensers in particular aren't cleaned well?
Bulk Toiletries Are More Likely To Be Tampered With
This is the argument that I hear constantly, and that I find strangest of all. People argue that bulk toiletries are more likely to be tampered with, though I don't follow the logic of this:
You can also tamper with single-use toiletries
Bulk toiletries in theory have locks, so should actually be less likely to be tampered with
I live in fear of a lot of things (ghosts under my bed, the future of Shawn Mendes' and Camila Cabello's relationship, and many other pressing issues), but oddly in my day-to-day life I don't ever wonder if the soap I'm using was tampered with… and I wash my hands constantly, in restaurants, planes, hotels, and just about everywhere else
Is the argument here that people would tamper with something with bad intent? If so, wouldn't they want to tamper with a dispenser in a public area that a lot more people would use?
Bulk Toiletries Encourage Use Of Counterfeit Products
Gary asks if we expect that hotels in China will use legitimate branded products when guests don't even see the refill bottle. To that I'd say who needs counterfeit products when hotels are making up their own toiletry brands?
Sheraton uses "Le Grand Bain," which only exists at… Sheraton (and for the record, I actually sorta like it).
I would expect that if I stay at a Park Hyatt or St. Regis or Rosewood in China I would still get proper high end toiletries. And if I'm staying at a mid-range or lower-end hotel, even if there were counterfeit products, how much worse could they be than the usual ones?
Bulk Toiletries Are More Likely To Be Left Empty
Gary says that this has already happened to him on multiple occasions. I don't remember it ever happening to me, but if it does happen, this seems like a training issue, rather than an issue with bulk toiletries as such?
Housekeepers have a process for cleaning rooms, and part of that process, presumably, is checking how full the dispensers are. If they're not doing that, they're not doing their jobs.
I will say that I've been in countless situations where my single-use toiletry bottles were nearly empty and weren't replaced, so I had to call down for more.
Bottom Line
I'm not here to say that we can't be sad about single-use toiletries being eliminated, and I'm not a mouthpiece for hotels who is going to claim that they're doing this for the environment rather than because it represents cost savings.
No matter how you slice it, though, this will eliminate hundreds of millions of toiletry bottles per year, and will eliminate millions of pounds of plastic waste.
I did feel like it was necessary to address some of the stranger concerns that some people have about bulk toiletries, which are in my opinion a stretch at best, and unfounded at worst.
What's your take on all of this?