I'm unsure of how much attention this has received in the US, but in the UK and Australia at least, you would have to be living under a rock for the past few weeks not to have heard about the dramatic rescue situation in a cave in Thailand.
We haven't covered this story here at OMAAT yet, because it didn't really have a travel angle, until now.
Tham Luang Caves
To summarise what happened:
On June 23, 12 young Thai footballers, aged between 11 and 17, went exploring in a cave system in Tham Luang, in the Chang Rai province in Thailand with their 25 year old assistant coach
While they were in the caves, heavy rains partially flooded the entrance, forcing them deeper and deeper into the cave system
Continued strong currents and rising water levels kept the boys and their coach trapped
Their plight attracted worldwide media attention, and a massive rescue effort was launched with the United Kingdom sending eight experienced divers from the British Cave Rescue Council to Thailand to assist
After being trapped for more than a week, two of the British divers, John Volanthen and Richard Stanton, managed to reach the boys, but the difficulty of how to get everyone out remained; Mr. Stanton is a firefighter in the UK, while Mr. Volanthen is an IT Consultant
A massive team including 2,000 soldiers and 200 divers managed to eventually pump sufficient water out of the cave system to enable to boys to escape between July 2 and 3
I did follow the story as it happened, while my mother sent me daily updates from Australia as she was absolutely captivated with the ongoing story. It was headline news for many days.
While all 12 boys and their coach made it out alive, unfortunately a volunteer diver, Lieutenant Commander Saman Gunan, died while installing oxygen tanks, and has been hailed as a hero around the world.
Two of the British divers (John Volanthen and Jason Mallison) have been given a heroes welcome in Bangkok, as they prepared to head back home to the UK. Here's the video of their reception in Bangkok from the Daily Mail:
Both men seem quite overwhelmed with the level of international interest in them, with Mr. Volanthen modestly saying:
We are not heroes. What we do is very calculating, very calm. It's quite the opposite. We were very pleased they were all alive but I think at that point we realised the enormity of the situation and that's perhaps why it took a while to get them all out.
Thailand's tourism minister, Wirasak Kowsoorad, representing the Thai government, said to the pair:
Thank you so much for your effort. It was a great rescue and we appreciate it very much. Now, both of you, you will always be welcome, any time. You have so many friends here.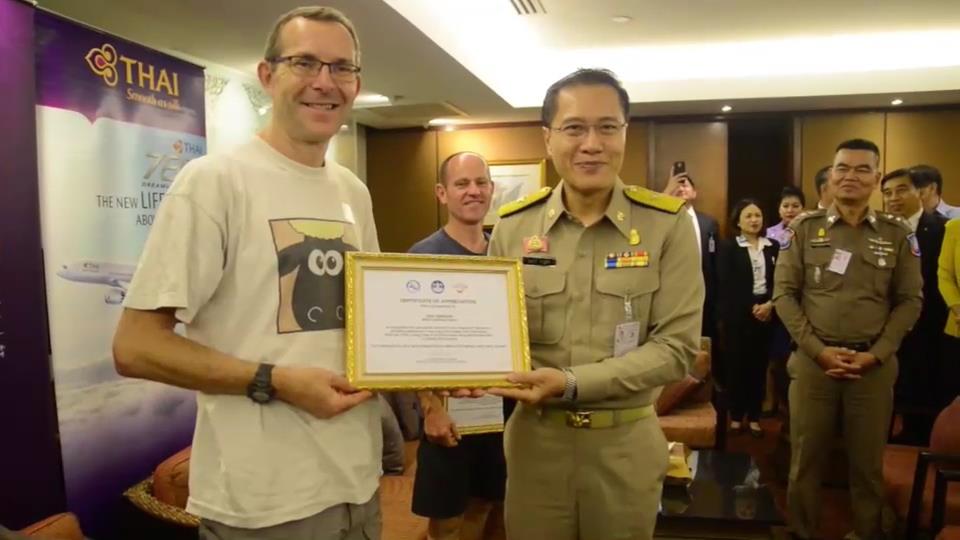 Lifetime free travel
Thailand's transport minister, Arkhom Termpittayapaisith, has promised the British divers free travel to Thailand for life which seems like an awesome way to show gratitude for what was truly a heroic effort. Hopefully all eight of the UK divers receive this gift rather than just the two who walked into the media storm!
Given the reception they received at Bangkok Airport, I can't imagine they would have flown economy back to Heathrow. Thai Airways operates both the Airbus A380 and Boeing 77W, on their twice daily flights to London Heathrow.
I wonder if the travel is just limited to Thai Airways?