In theory British Airways has an extremely generous upgrade program.
For example, you can upgrade from business class to first class for the difference in cost between a first and business class award. A discounted business class ticket between New York and London would only require 20,000 Avios to upgrade one-way, with no co-pay. That's a pretty darn good deal, if you ask me.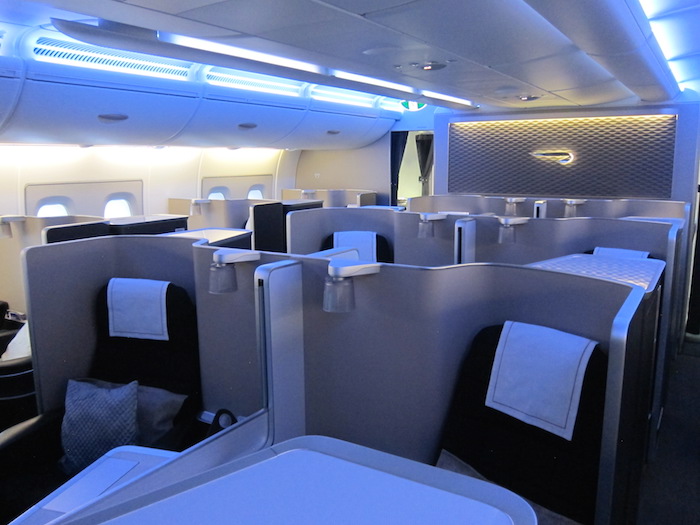 Upgrades to first class from a discounted business class ticket can be a great deal
The catch is that there needs to be award space in the cabin you're trying to upgrade to. And there's no way to waitlist an upgrade. In the past British Airways was great about releasing award space last minute, though they've been getting stingier and stingier lately. In other words, even if 100 people are waitlisted for upgrades, they'll let the premium cabin go out with empty seats if there's no award space.
It's a bit of an odd system, and I feel like they could at least add the ability to waitlist upgrades, or something.
Well, British Airways is running an asinine trial for a new upgrade scheme, to put it mildly.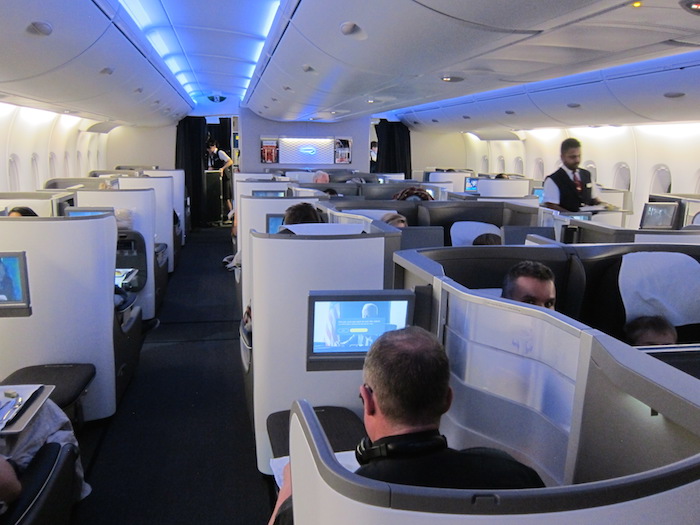 British Airways A380 Club World
Via Business Traveller:
From 1st-16Dec BA is trialling a new upgrade by Avios scheme. 'Targeted members' with bookings will be phoned by the Exec Club call centre with the offer to upgrade to the next cabin for Avios even when there is no reward availability to do so. The catch? It will cost more Avios than the usual redemption.

An example. a W – J upgrade using reward availability on a zone 3 sector is 5,000 Avios. However providing you are one of the selected members, you will be offered to upgrade to a flight with no reward availability for 20,000 Avios. Quite a premium on the usual redemption.
Where do we even begin?
Who uses the phones anymore?!
So British Airways will be phoning targeted members to offer them upgrades to the next cabin. The first issue is that it's 2014. Why on earth would they call members as opposed to emailing them? Especially frequent flyers, who are in all kinds of different time zones.
And second of all, British Airways has abysmal call center hold times. Please don't tell me they're taking Executive Club phone agents away from answering calls so they can instead cold call people.
Four times as many Avios? Really?
This is a trial, so I can't really blame them for testing peoples' price sensitivity. But trying to charge quadruple Avios to upgrade just seems crazy. I can see them charging double Avios, but quadruple? Wow!
If I were a betting man, I'd guess a lot of these upgrades will occur on flights which are oversold in economy, where they'd otherwise have to operationally upgrade passengers. But I could be wrong…
How could British Airways improve their upgrade system?
I'll be the first to admit that I don't really have an answer. What are possible ways British Airways could improve their current upgrade system that would be beneficial to them as well?
British Airways could create separate inventory for upgrades vs. awards (with them obviously releasing more availability to those upgrading as opposed to those outright booking award tickets)
British Airways could allow passengers to waitlist upgrades, so that if there are empty seats day of departure you'd clear into them — that seems like a win-win
Heck, British Airways could even charge double Avios for the ability to waitlist, or something like that — I'd say it would still be a net win for us
Bottom line
Ultimately this is a test so we can't hold it against them too much. But if you want to innovate your upgrade program, this just seems like an odd place to start.
What do you think of this test, and how would you like to see British Airways innovate their upgrade program?