The Tennessean is reporting that British Airways is expected to announce a new service between London and Nashville as early as next week. Neither British Airways nor the airport have confirmed this yet, though this is a reliable source, and Nashville has also been advocating for this route for years. Three years ago there were reports that Nashville was one of five US cities that British Airways was considering.
Apparently the airport is offering some incentives to British Airways to launch this flight, which is pretty normal. We don't yet know the details of what those look like.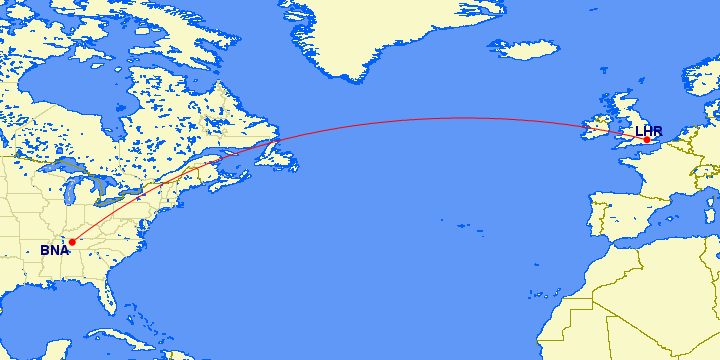 Back in the day American had a hub in Nashville, and at the time they had a nonstop flight to London. However, that route was discontinued in the mid-90s, so it has been over 20 years since Nashville has had a direct link to London. Furthermore, at the moment the airport has no longhaul flights.
We'll have to wait for the official announcement to find out what plane the flight will be operated by, and whether Nashville will be served out of Heathrow or Gatwick. I'd guess that they'll launch the route with a 787-8 out of Heathrow, but I could be mistaken (they don't have any 787s based at Gatwick, so they'd have to operate a 777 if out of Gatwick).
The pace at which British Airways is adding flights to the US is impressive. If I'm not mistaken, they're up to 25 US destinations, which is more longhaul flights than any other non-US airline operates to the US. For example, in California alone they fly to Los Angeles, Oakland, San Diego, San Francisco, and San Jose.
Presumably this growth is partly possible thanks to their fleet of 787s, which makes longhaul routes between more city pairs feasible. I suspect they're also trying to beat Norwegian to new routes, given the pace at which they're adding new flights to the US.
What do you make of British Airways' potential new route between London and Nashville?