Update: As it turns out, the law hasn't changed, and TAP has stopped imposing fuel surcharges. That's great news.
Fuel surcharges, or "carrier imposed surcharges," as they're now commonly referred to, are one of the peskiest fees in the airline industry. Airlines introduces these surcharges when fuel prices were high, but didn't get rid of them when fuel prices plummeted. If booking revenue tickets, there's not really a huge impact on consumers, since most of the fare will simply be the fuel surcharge. These charges don't cause airfare to go up (given how competitive the industry is), but change how the fare is distributed.
For example, take the below British Airways flight between New York and London, where the base fare is $152, and the fuel surcharges are $250: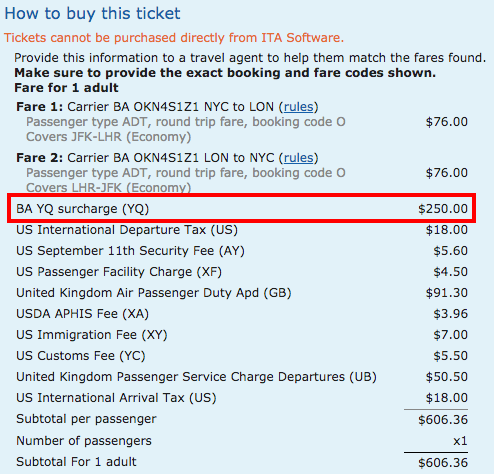 The greatest impact of these surcharges is on award tickets, since many airlines pass on the carrier imposed surcharges when redeeming miles. So if you redeemed miles on the above British Airways flight you'd still have to pay all those fees, including the $250 fuel surcharge. The only thing you wouldn't have to pay is the $152 base fare.
One country that has banned fuel surcharges in the past was Brazil. In 2010 Brazil made it illegal for airlines to impose surcharges on tickets, other than government taxes and airport charges. Here's the rule at the time, using Google Translate:
Only amounts related to the payment of government taxes, taxes, airport charges or any other value that presents transfer characteristics to government entities may be charged as a fee when they are due by the acquirer of the ticket and collected through the carrier.
Well, unfortunately the country has changed their mind on this. Per Meanie.Me, Brazil has rolled back their restriction on airlines imposing fuel surcharges on tickets. As of March 14, 2017, airlines can once again impose fuel surcharges for travel originating in Brazil.
TAP Portugal has already taken advantage of these relaxed restrictions, and is again imposing surcharges for travel originating in Brazil. For example, the below economy itinerary from Sao Paulo to Frankfurt has a $100 surcharge: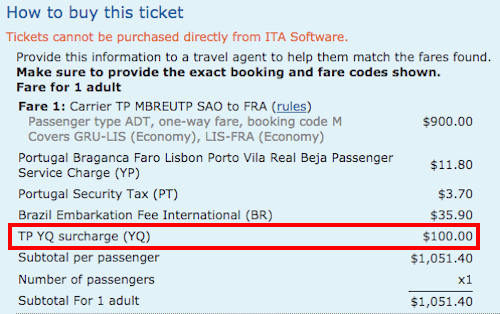 I suspect we'll see other airlines add similar fees soon. I'm shocked that British Airways and Lufthansa didn't add these fees the first minute they were allowed to. 😉