As Richard Branson famously once said, "if you want to be a millionaire, start with a billion dollars and launch a new airline." We've seen a countless number of transatlantic all business class airlines launched over the years, and they've failed without exception (La Compagnie was recently purchased by XL Airways and wasn't breaking even, so I suppose they didn't fail, but as an airline they haven't "succeeded" either).
While not quite a new airline, a private jet charter company is launching a new service that is bound for failure. I actually can't get over what a bad idea it is.
BlissJet will be launching once weekly "shared private jet service" between New York LaGuardia and London Stansted Airport as this month. In the past I would have said that a "shared private jet" sounds like an oxymoron, though I suppose with JetSmarter's popularity growing, it's becoming more common. However, the thing that sets JetSmarter apart is that it can actually represent a great deal.
However, that's where BlissJet's business model falls flat. The service will only operate once weekly (Fridays eastbound and Sundays westbound), and the plane will carry 10-14 passengers.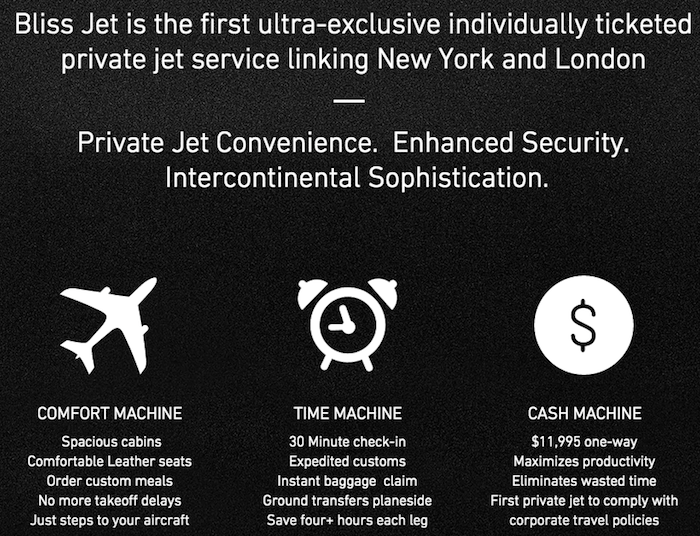 The cost? $11,995 per person, each way.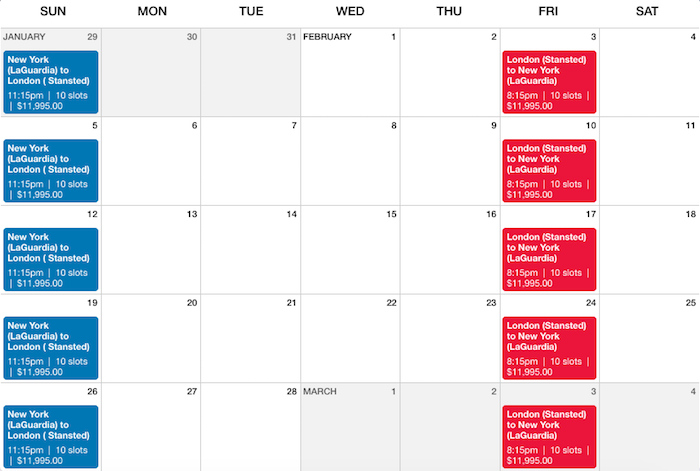 Proportionally that's reasonable enough, in the sense that chartering a jet for a transatlantic flight may very well cost ~$100,000. However, what it fails to consider is that the whole benefit of a private jet is that it's private and you have flexibility.
With BlissJet's once weekly service you have no flexibility and no privacy. Also, while private jets are comfortable for a short flight, this will hardly be a comfortable ride with 10 people, as I doubt they'll even have enough space for everyone to lie flat (and it's not something they're advertising). This will be significantly more cramped than most business class products.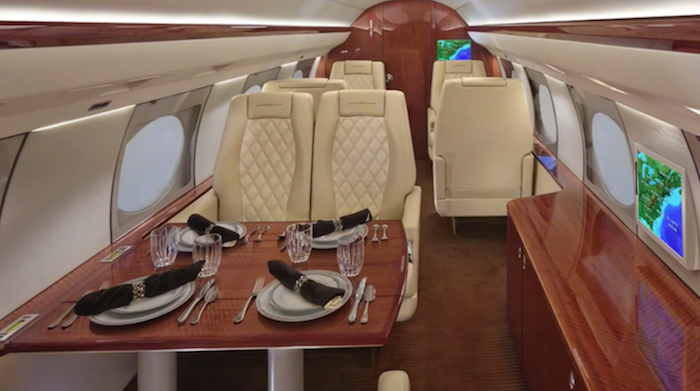 Here's a video about the BlissJet experience:
Take a peek into the Bliss Jet world with our new video! #LuxuryTravel #businesstravel pic.twitter.com/bq1Vk3hWcc

— Bliss Jet (@flyblissjet) December 14, 2016
For ~$24,000 roundtrip you could buy a walk-up fare in first class on any airline between New York and London, have a lot more flexibility, have a lot more personal space, and actually get some rest.
In practice I don't really see people booking this, so perhaps paying $12,000 for a one-way ticket could be worth it if you end up alone. However, something tells me they'll be canceling the service if they only sell one or two seats per flight.
Can anyone make sense of BlissJet's once weekly New York to London flight?