As I've explained many times before, while I work primarily online, I'm pretty bad when it comes to technology. You'd probably be surprised to see how few apps I have on my phone.
A while back I wrote about Flightradar24, which is a fun app for tracking planes nearby. I use the app more for amusement than anything else, as you can see exactly where every plane is. So when I see a plane overhead I'll open the app and see what kind of a plane it is, where it's going, etc.
However, by far the most useful app (and website) for tracking the status of flights is FlightStats. It's an app I use every time I fly, though it just occurred to me that I don't think I've ever written about it.
Why is FlightStats more useful than using an airline's website directly?
It doesn't just show you flight status for your flight, but also shows overall delay patterns at an airport, which can help you predict if your flight will be delayed
It doesn't just show you arrival and departure times, but actually shows you detailed flight information the airline directly won't show you, like the time you're expected to take off from the runway, etc.
A couple of nights ago I had a delayed flight, and it reminded me of how great this app is.
FlightStats is easy to use, and on the main page you can select either "Flights" or "Airports," depending on whether you want the status of your flight, or just want overall information about delays at an airport, etc.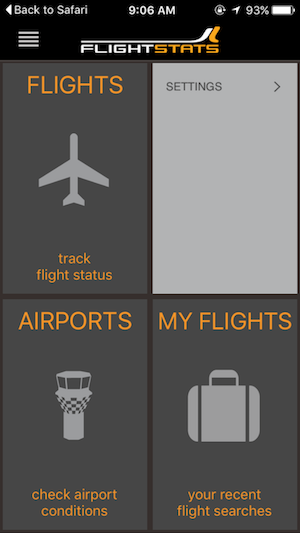 When you select "Airports" you can enter the airport you want to see the status for. Using LAX as an example, the weather is quite nice at the moment, as you can see. The delay status is low, though the trend is increasing (that doesn't mean a whole lot when the delay index is so low, though).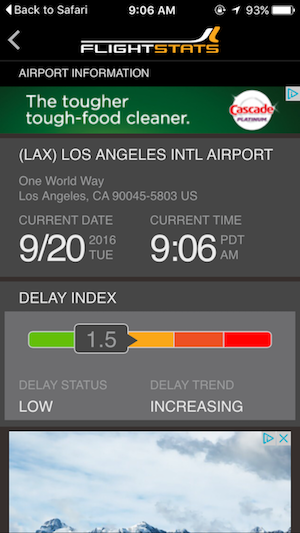 Just to give an example, the other night when I flew San Francisco to Los Angeles, I was really surprised when my flight was delayed due to weather at LAX. By pulling up FlightStats, the app indicated that the airport was experiencing average delays of two hours due to low cloud coverage.
When there are delays, the app gives you the details, which helps give you a better idea of just how bad things will get.
Checking flight status through FlightStats is also significantly more helpful than going through the airline's flight status page directly. For example, take the below flight from Los Angeles to San Francisco, which is scheduled to operate on time.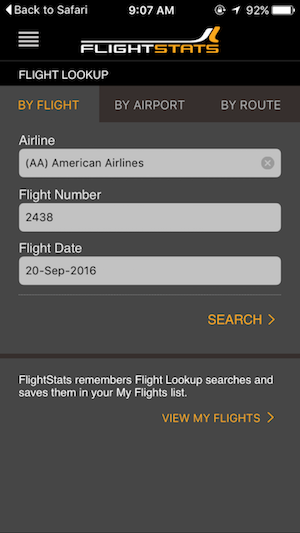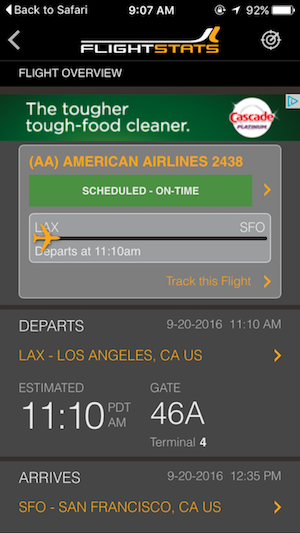 When you click on the detailed flight status you'll not only see when your flight is scheduled to depart from the gate, but also when it's scheduled to take off from the runway. This is especially useful when there's flow control into and out of an airport during weather. Below you can see that the plane is scheduled to leave the gate at 11:10AM, and is scheduled to take off 23 minutes after that, at 11:33AM.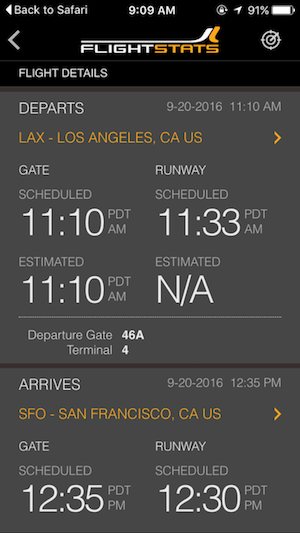 The best part is that you can find out further information about the timeline of a flight, as it shows you all the changes that have been made to the flight on the back end, including gate assignment, a change in expected runway departure time, etc.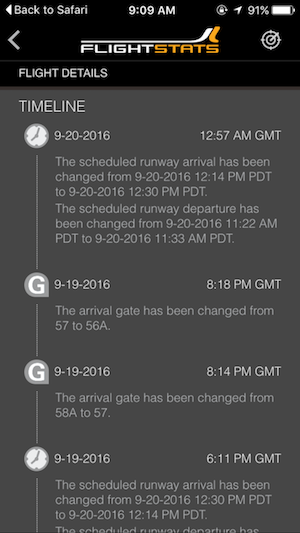 A couple of nights ago I was on the 7:43PM American flight from San Francisco to Los Angeles, and shortly before boarding was scheduled to commence, the flight was delayed until 8PM.
I found that a bit odd. In the Admirals Club they informed me it was due to weather at LAX, though they didn't have any further information. By opening FlightStats, I was able to find out more about the delay trends at LAX, and also found out that our scheduled "wheels up" time was 8:30PM, which would explain the delay.
Bottom line
I'm sure there are more tech savvy resources people can use, but if you're like me and want accurate and quick info, FlightStats is an excellent site and app to use (and it's free). I love it because:
You can see the scheduled takeoff and touchdown time for a flight, and not just the scheduled departure and arrival time (which can often be two very different things)
You can see the timeline of events for a flight, so over time you can see how they're changing gates, changing the scheduled runway departure time, changing the aircraft, etc.
You can find out detailed information about specific airports, including average delays, whether delay times are increasing or decreasing, weather conditions, etc.
Anyone else love FlightStats as much as I do?