Yesterday I flew Emirates' A380 business class for the first time, which was a pretty good experience overall. Given how big Emirates' A380 fleet is, I figured I'd write a post about the best business class seats on the plane, because this is a plane where there's a big difference in quality between seats. To start, here's a link to the SeatGuru page for the Emirates A380, which is a good reference point.
Emirates' A380 business class cabin is located on the upper deck, behind the first class cabin.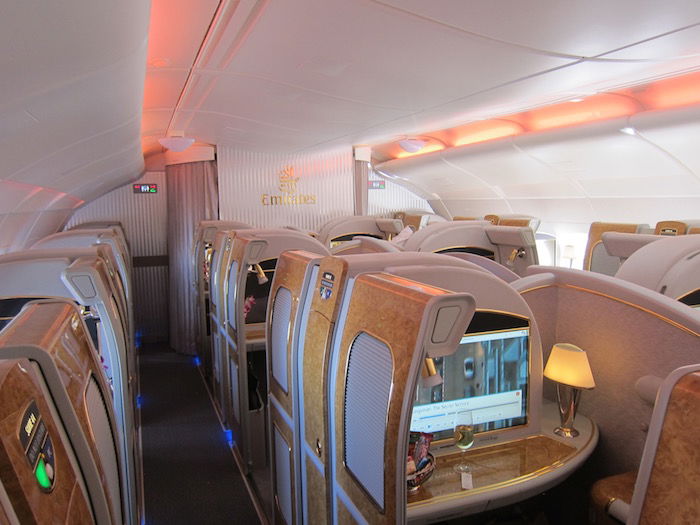 The business class cabin features a total of 76 seats, spread across two cabins. There's one massive business class cabin with 15 rows.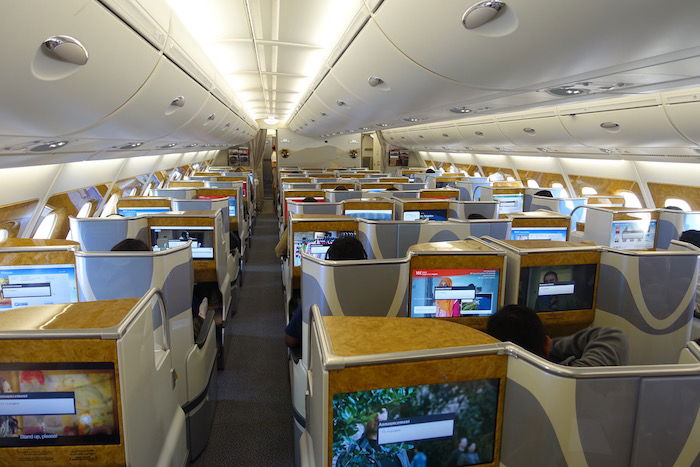 Then there's a partition due to the position of the emergency exit, and behind that are another five rows of business class.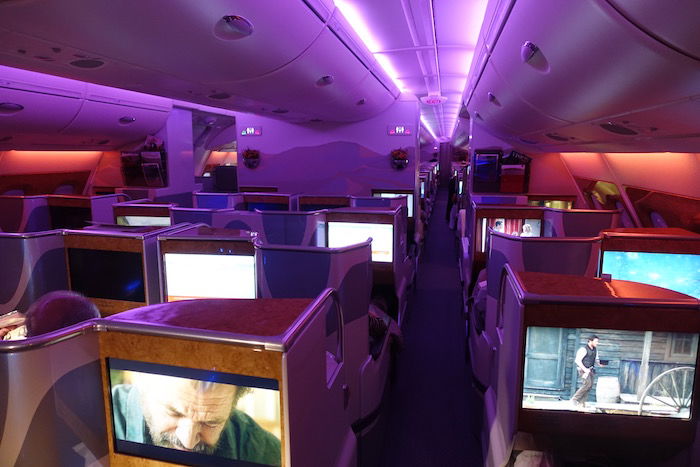 Then behind that cabin is the business class bar, which is a fun place to hang out.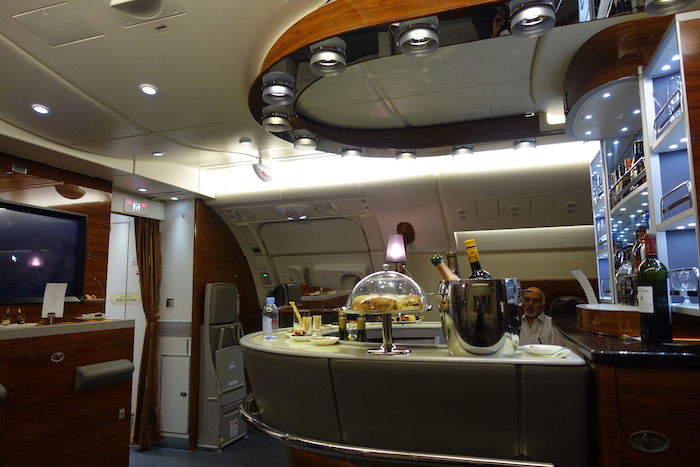 Then behind that are the four lavatories, and then the galley.
So, which Emirates A380 business class seat should you choose?
You want an "A" or "K" seat
These are the "true" window seats. Emirates has a staggered business class configuration, meaning that in each row the seats are in a different position.
The "A" and "K" seats are fantastic because of how private they are. The console is located on the aisle-side of the seat, so you really feel like you have a private cocoon.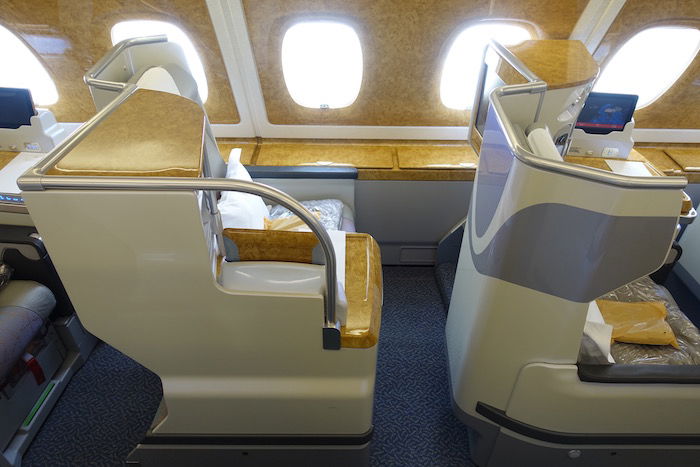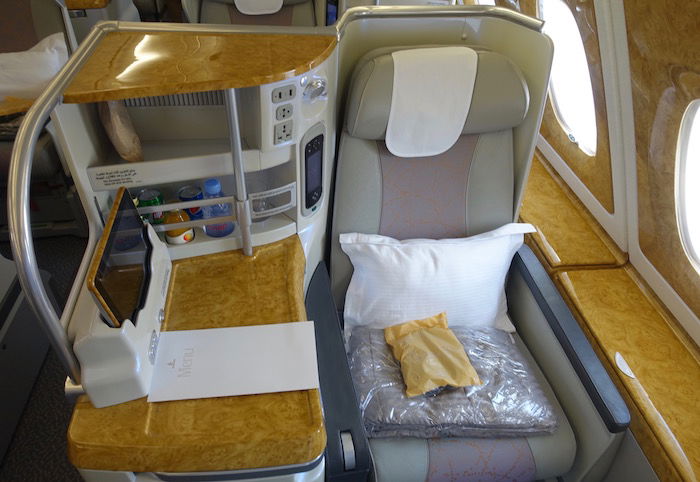 Furthermore, there are bins along the windows, so you have plenty of room to store things, and don't feel claustrophobic since you're not seated right against the fuselage.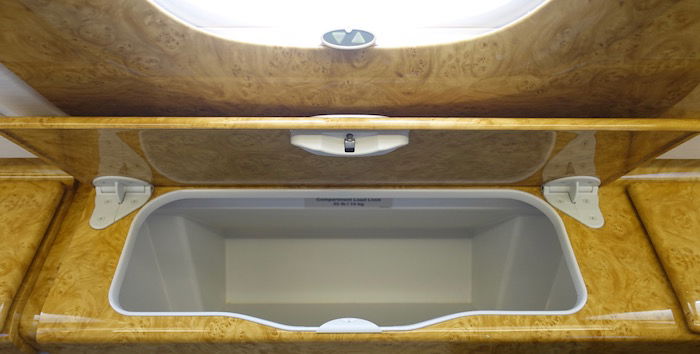 The "B" and "J" seats are also technically window seats, though they're much closer to the aisle. They're not nearly as private. It's also tougher to reach the storage lockers from these seats. So they'd only be my second choice after the "A" and "K" seats.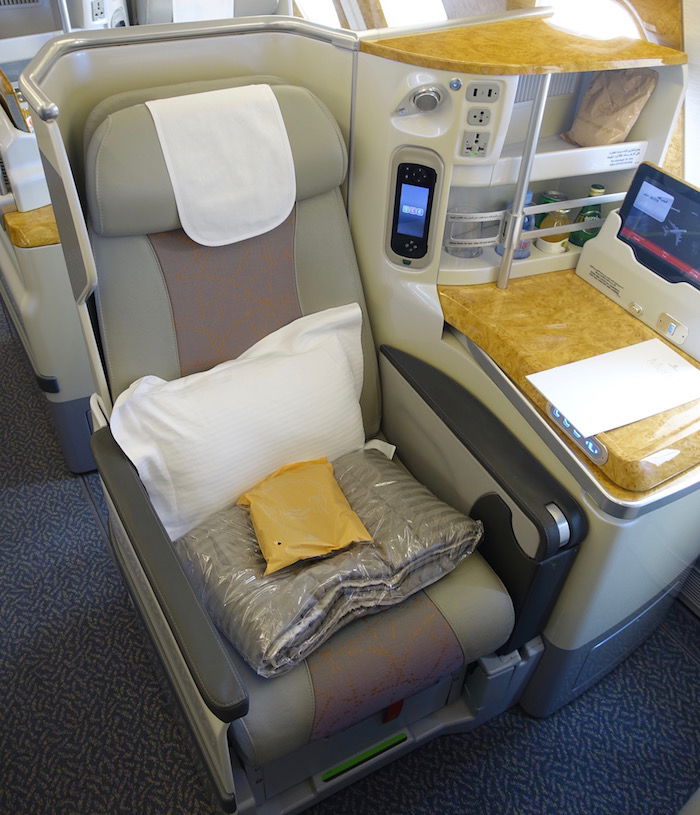 You don't want to sit in the rear mini-cabin
Usually I have unusual preferences, as I prefer to sit in the very back of a business class cabin. Don't do this on the Emirates A380 for a few reasons:
All the bathrooms and bar are at the back of the cabin, so there's going to be a ton of noise and foot traffic in these seats
All the service is provided from the rear galley, so the crew will constantly be passing you, and there will be a lot of light from behind the cabin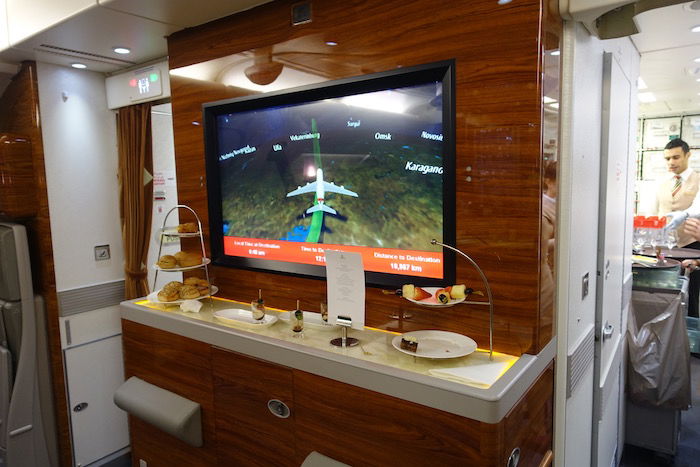 I actually sort of can't believe Emirates sells the last row of business class on this plane, as it's just a foot from the bar. I would hate to be seated in one of those seats if I were hoping to sleep.
You want to sit in the front half of the forward cabin
Everything is done from behind business class — it's where the bathrooms and bar are, and it's where service is conducted from. So if you're seated in the forward part of the cabin, there's virtually no foot traffic, which is great. However, you also don't want to be in the very front of the cabin, since the first class galley is located in front, so there's going to be some light and noise.
So my preference would be to sit between rows 9 and 16.
There's another reason to sit in row 16 or up. Emirates' business class service very much feels like an assembly line, and is done in two steps. First they do the service for rows 6 through 16, and then afterwards they do service for rows 17 through 26.
In other words, first they'll lay out the tablecloths, bring out the appetizer tray, and serve wine, for rows 6-16, and then once that's complete, they'll do the same in rows 17 through 26. So by being in the forward rows you'll get served much faster.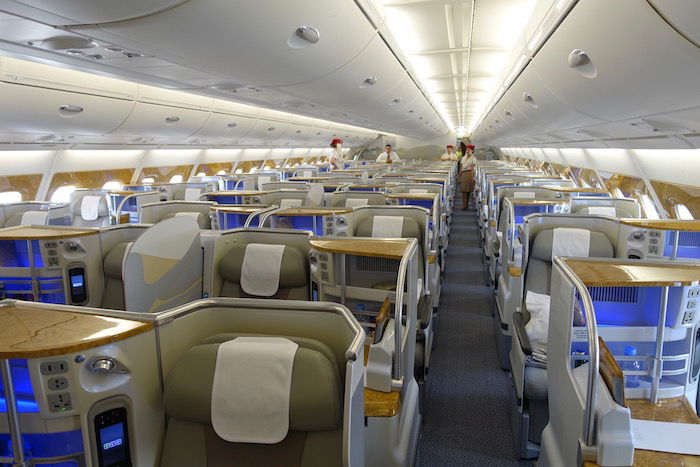 So, what are the best Emirates A380 business class seats?
I'd say the absolute best seats in Emirates A380 business class are 9A/K, 11A/K, and 14A/K, since you get a "true" window seat and are towards the front of the cabin, meaning you have as little foot traffic as possible. If those aren't available I'd choose 16A/K, 18A/K, or 20A/K, which will be good as well.
If you're traveling with someone, it all depends how close you want to be with them. The "E" and "F" seats are often referred to as honeymoon seats, because you'll be seated very close together, which some like. Personally I think privacy is the rarest commodity on planes, so even if I'm traveling with someone I want to spend time with, I wouldn't choose these seats. Otherwise there's no real difference among the "D" and "G" seats, which are all close to the aisle, and similar to the "B" and "J" seats.
Do you have a favorite Emirates A380 business class seat?