Over the past week I've flown roundtrip on American's 787 between Dallas and Beijing. I booked this thanks to some very cheap fares American was offering, which I managed to upgrade to business class using some systemwide upgrades.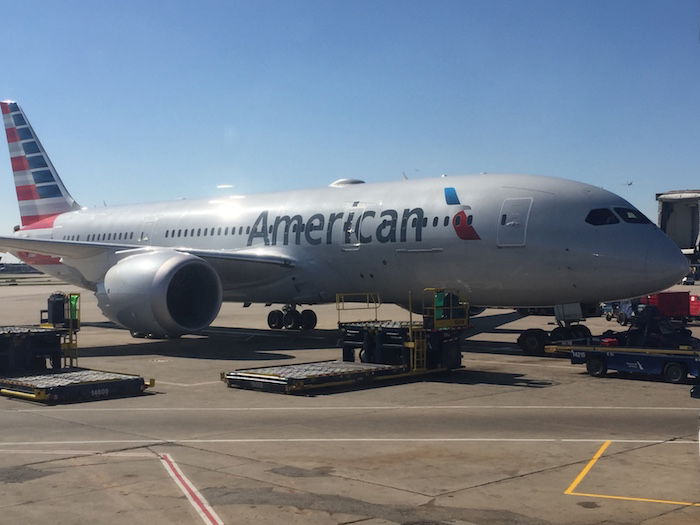 American 787
This was my first time flying American's 787-8. I recently flew American's reconfigured 777-200 for the first time, which features the same business class product as the 787-8. It's worth noting that American has halted reconfiguring their 777s with this product, given the issues they're having with the seats; they're now seeking out a new vendor.
Anyway, I figured I'd share my thoughts on the best business class seats on American's 787, given that it was a point of confusion for me before I took this flight.
American's 787 business class cabin consists of a total of 28 seats, spread across seven rows in a 1-2-1 configuration. There are five rows in the forward cabin, then there are two lavatories and the walk-up bar by the entryway, and then two more rows in a rear mini cabin.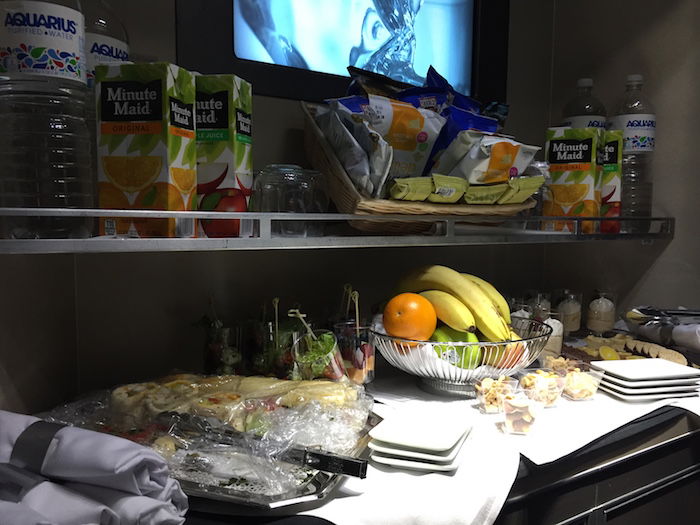 American 787 business class walk-up bar
A few things to note off the bat:
Half of the seats are rear facing, while the other half are forward facing
For the rear facing center seats, the partition between seats is permanently raised (meaning it's not good when traveling with someone), while for the forward facing center seats, the partition is permanently lowered (meaning it's good when traveling with someone)
On international flights, seat 1D is blocked as a pilot crew rest seat (they used to block 1A, but changed it to 1D); there are separate pilot crew rest bunks, but the pilot contract says they're entitled to a place to sleep and relax, which is why they also block a seat for the pilots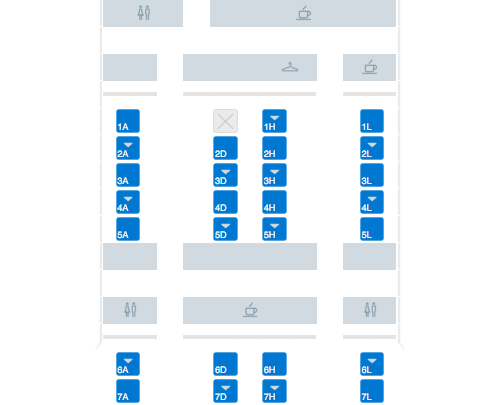 American 787 seatmap
To start, I figured I'd share my thoughts on forward vs. rear facing seats:
American 787 forward facing business class seats
Forward facing seats feel a lot like the reverse herringbone seats on American's 777-300ERs. The seats are angled towards the windows. The main benefit of these seats is that you have more shoulder space. On the side of the seat closest to the aisle there's an armrest which can be lowered. This means when you're sleeping there's plenty of room to stretch out, and it's even quite easy to bend your legs while sleeping.
There are two other things to note about the forward facing seats. First of all, they have shoulder harnesses, which have to be strapped on for takeoff and landing. Furthermore, the forward facing seats have a single side table on which you can store things.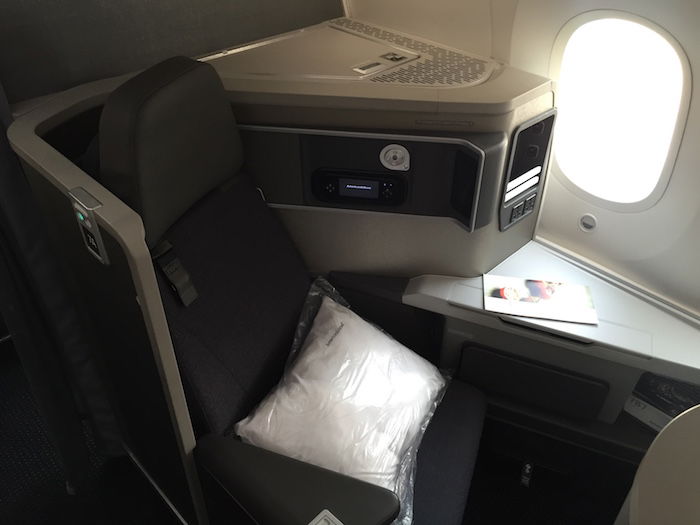 American 787 business class, seat 7A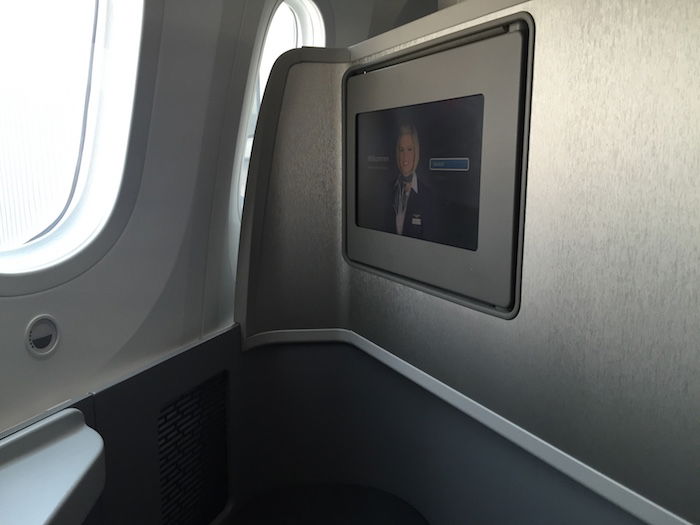 American 787 business class, seat 7A
American 787 rear facing business class seats
The rear facing seats have the benefit of having two side tables, so you'll really feel like you're cocooned when in these seats. There's no shoulder harness in the rear facing seats, though there's also the sensation of flying backwards, which I know makes some people feel uncomfortable during takeoff and landing. Personally it doesn't bother me.
Whether a forward or rear facing seat is better is really a function of personal preference. For example, Ford loves the rear facing seats since he feels cocooned in the seat, and also loves how private they are (when reclined your head is by the window, as opposed to by the aisle). Meanwhile I prefer the forward facing seats, since I'd rather have more shoulder room when sleeping.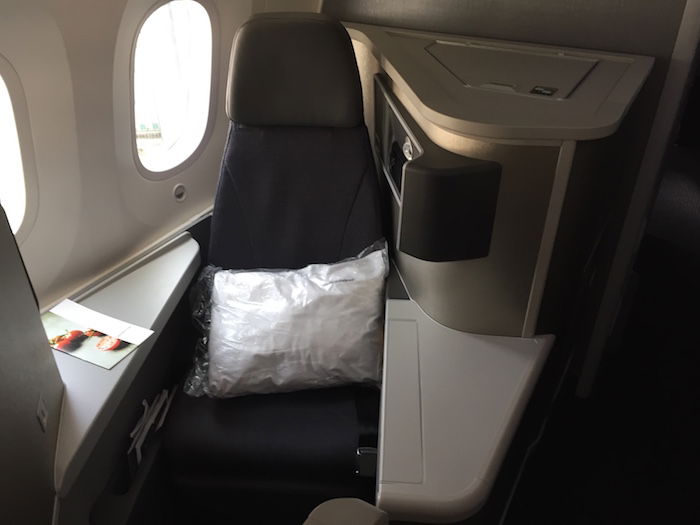 American 787 business class, seat 6A
Which seats are best?
Let me start by saying that the biggest weakness with these seats is that they shake. Each set of forward and rear facing seats are attached in such a way that you can feel whenever the person in the other seat moves. It's ridiculous, and makes you wonder if no one actually tried sitting in these seats before they committed to installing them throughout the fleet.
Because of the way the seats are configured, there are some seats which aren't actually connected to others. Here's which seats are and aren't connected to others:
Window seats which are attached: 1A & 2A, 3A & 4A, 1L & 2L, 3L & 4L
Window seats which aren't attached: 5A, 6A, 7A, 5L, 6L, 7L
Center seats which are attached: 2D & 3D, 4D & 5D, 6D & 7D, 2H & 3H, 4H & 5H, 6H & 7H
Center seats which aren't attached: 1D, 1H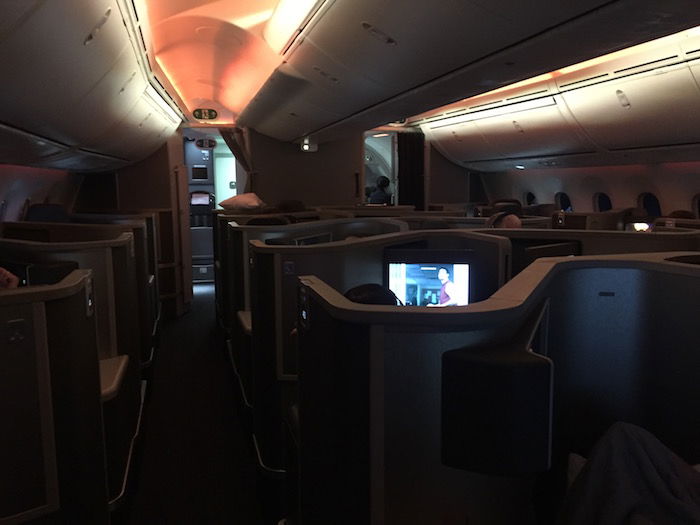 American 787 business class cabin
With that in mind, my favorite business class seats on the American 787 are the window seats in the mini cabin. If you prefer a forward facing seat (as I do), I highly recommend seats 7A & 7L. If you prefer a rear facing seat, I recommend 6A & 6L.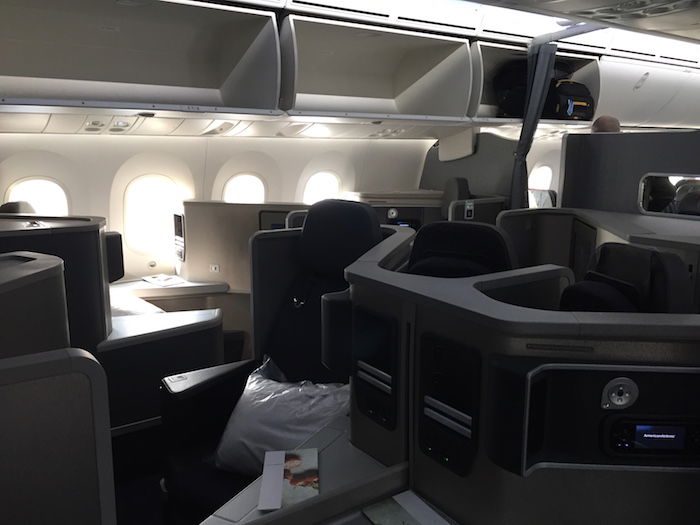 American 787 business class mini-cabin
I'd say my second choice would be the window seats in row five, given that they're the other "independent" window seats.
While all of these seats are fairly close to the lavatories, I didn't find the noise or light bothersome, and really liked the privacy of the rear cabin. For what it's worth, the service prep by flight attendants is done primarily in the forward cabin, so the mid-cabin galley isn't used much.
I'm sure some will disagree, but if traveling with someone I'd probably still choose window seats. The center seats are still fairly removed, so you won't easily be able to have a conversation without leaning forward. At that point it seems worthwhile to just choose the more private window seats.
If you do want to sit together in the center section, be sure you choose forward facing seats, because the rear facing seats have the partition permanently raised.
Bottom line
For other business class configurations I'd argue all seats are more or less equal. That's not the case on the American 787, where there's a huge variance in the quality of seats. While this configuration is in theory efficiently designed, they really screwed it up in terms of the sturdiness of the seats. By selecting window seats in rows five, six, or seven, you won't be at the mercy of others to have a restful flight.
And in general I really like rows six and seven for how private the mini cabin feels.
What's your favorite business class seat on the American 787?