In 2014 I first wrote about Baltia Air Lines, which is America's oldest start up airline. They've been in "business" for 27 years, except they've never actually flown a commercial flight, despite owning a 747-200 for over 20 years.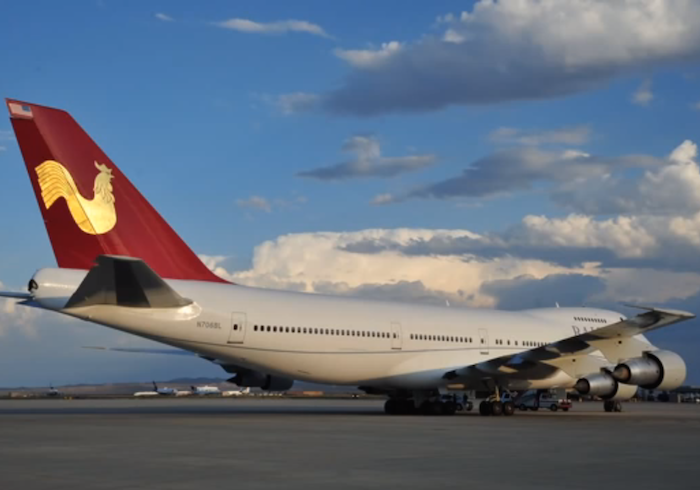 Their business plan is to initially fly between New York and St. Petersburg, Russia, with plans to later expand to other European capitals.
For years Baltia has been pretending that they're actually going to start flying some day soon. Hell, their website says the following:
Baltia is currently in an advanced stage of the FAA Air Carrier Certification process and expects to begin revenue generating flights in 2015.
If you go to Baltia's Facebook page, you'll see they post a minor update every couple of days about how they're "one step closer" to flying. It's quite entertaining to see how many people still believe the airline will actually begin operating commercial flights some day.
The airline is publicly traded under ticker code BLTA, and amazingly enough in 2014 had a market cap of nearly $70 million. It's beyond astonishing that people would invest in them, but I'm sure management was loving it, as they were able to raise that much capital without actually doing anything. I guess that has finally caught up with them, because their market cap is now "only" $11 million (which is still astonishing for a company which has generated zero revenue over three decades).
For the most part the airline has flown under the radar with regulators, at least up until now. The SEC has filed charges against one of the airline's executives, Barry Clare. Per the SEC filing:
The SEC's Enforcement Division alleges that Barry B. Clare, who resides in Bayside, New York and is the vice president of finance at Baltia Air Lines, Inc., acted as an unregistered broker for sales of Baltia's common stock to investors. Although Baltia has existed since 1989—ostensibly for the purpose of flying commercial flights from New York City to St. Petersburg, Russia—it has never operated a commercial flight or otherwise generated any revenue. To fund its operations, Baltia has sold its stock to investors. Between March 2011 and March 2015, when Baltia raised more than $26 million through such stock sales, Clare allegedly solicited potential investors, recommended the investments in Baltia, negotiated and closed stock sales, and received commissions totaling approximately $1.7 million for his work.
What is the SEC alleging?
Clare actively solicited investors by phone, by email, and in person, and received up to 20% of the proceeds of the Baltia investments he obtained.
Clare wrote emails to investors describing the Baltia investment opportunity as "attractive," "prudent," and capable of generating "tremendous gains."
Clare solicited potential investors on a New York-area Russian language radio station through paid advertisements.
During those advertisements, Clare described Baltia as a "great investment opportunity" with a share price that was "undervalued."
Clare maintained detailed ledgers of the Baltia investments he obtained and the compensation he received. Those ledgers show that Clare sold Baltia stock on a near-daily basis, participated in at least 820 sales of Baltia stock, and received commissions totaling $1.7 million for approximately 605 of these sales.
Not surprisingly, Baltia is "greatly disappointed" by the SEC's decision, and explains how instrumental Barry has been in bringing the airline's "business plan to fruition" (which is actually very true — he convinced people to invest without the airline ever intending to operate a flight, which seems to precisely be their business plan):
Baltia Air Lines, Inc. (BLTA) announced today that it is greatly disappointed with the SEC's decision to file an order against our Executive Vice President and Director Barry Clare after fully cooperating with the SEC investigation. Mr. Clare has worked tirelessly for our company and on behalf of our loyal shareholders to bring our business plan to fruition. We continue to make progress and will fight on regardless of these charges. We do not believe that Barry Clare has violated any laws, rules or regulations. We intend to defend and support Mr. Clare against the SEC charges vigorously in a public hearing. We are grateful for Mr. Clare's service without which Baltia would not have been able to continue its operations.
Hilariously, Baltia has also just announced that they're finally abandoning their 37 year old Boeing 747-200, following repeated certification failures from the FAA. Instead the airline is looking to lease a newer, more fuel efficient aircraft.
Bottom line
Baltia now has no plane and one of their executives is being investigated by the SEC. Could this finally be the last straw for the airline?
It's amazing how much money Baltia has raised over the past few decades. Anyone dumb enough to pump more money into this company almost deserves the ROI they'll get from it…
Do you think Baltia will finally go out of "business" with this news, or will they still find people dumb enough to invest?
(Tip of the hat to Wandering Aramean)