For those of you not familiar with Turo, it's a peer-to-peer car marketplace. Think of it as the Airbnb of car rentals. Instead of renting a car from a big, faceless corporation, known for bad service, you rent a car from an individual, and it's facilitated by Turo.
About two years ago I used Turo to rent a car for about a week. I had an overall positive experience — the pickup and drop off of the car went smoothly, the owner was communicative and easy to work with, and there were no issues with the vehicle.
Last week, I decided to give Turo another shot, as I've never been too fond of traditional car rental companies. I picked up the car from the owner in Manhattan and noticed immediately that the car had several problems — the check engine light was on and there were indicators flashing that the car had low coolant, a low right tire, and I later noticed that the rear parking sensor was broken.
I picked up the car in the middle of morning traffic and literally didn't have time to check its state. I met the owner near Bryant Park, he jumped out, handed me the keys, and told me to hurry and drive away before I got a ticket. For those of you familiar with midtown Manhattan on a weekday morning, it's not a place you can leave a car lingering for more than a few seconds without suffering the wrath of some angry drivers!
A warning bell went off in my mind right away. I had seen a review from another Turo user who had rented that car saying that he experienced a coolant issue and several other issues, calling it an "extremely unsafe vehicle." That said, most reviewers wrote the car worked well, so I thought it was a one-off and safe to rent.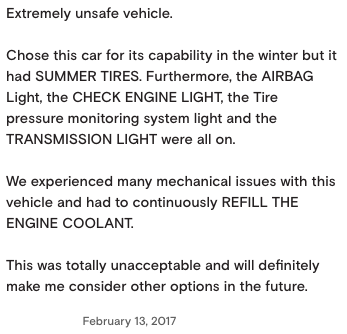 Two days after I picked up the car I became worried because the car started saying the engine was overheating when I drove it. Around that time, the air conditioning stopped working, and when I parked the car I noticed the engine making very loud and concerning sounds. I texted the owner and he admitted that he knew these issues were present when he rented me the car, but he "didn't have a chance to rectify" them. He did say that I could take the car to a mechanic and he would cover the mechanic adding coolant to the car, up to $100.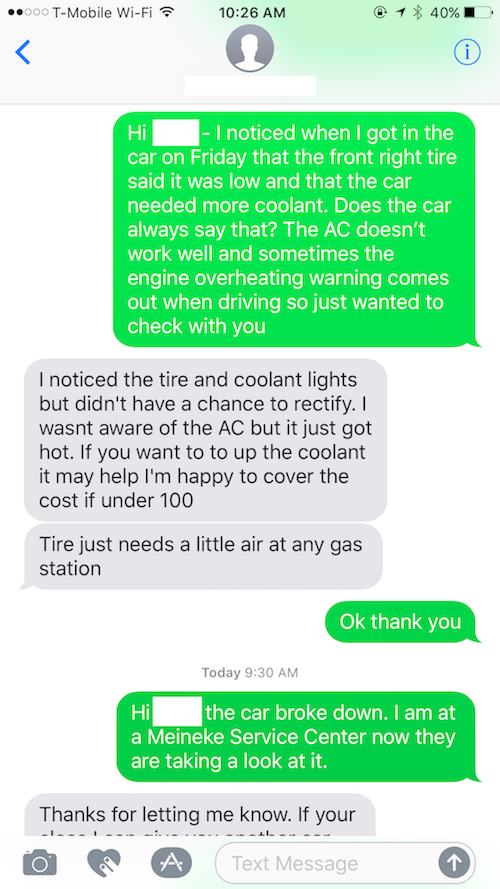 I planned to take the car to a mechanic the following day. Early that morning I was driving to get coffee when the car literally broke down in an intersection. As I was driving in the intersection, the car wouldn't accelerate and then stalled. The engine was making loud, worrisome noises again, so I turned it off. I tried to turn the vehicle on again several minutes later but was unable. After several more minutes the car turned on, and I drove it immediately to a Meineke car service center.
At Meineke they told me that they believed coolant was leaking from the car. I contacted Turo, and they told me that I could end the rental and would be refunded 70%, as I had used the vehicle for three full days and had rented it for ten. I explained that at this point I didn't want to continue the rental under any circumstances, as I felt the car was unsafe, given it had just stalled and broken down in an intersection. A few days later they reconfirmed in writing what they had already told me on the phone — that I would be issued a 70% refund.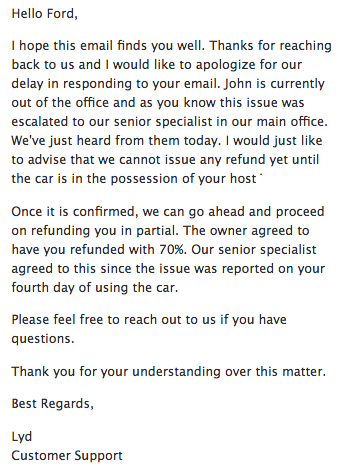 Turo was able to get ahold of the owner immediately after the car broke down and advised me that he had denied that the car had any issues when he rented it to me, so it was important that I was able to show that he knowingly gave me car in not-so-great condition. At Turo's request, I sent them a screenshot of our conversation in which he acknowledged that the check engine/check coolant indicator light was on. In follow up calls I also mentioned that I had seen other reviewers experienced the same issues with the car, but I was never able to get someone on the phone with the authority to make any decisions or issue a refund, so it was mostly a one-sided conversation.
This all took place seven days ago, and I have yet to receive a refund. Turo told me in writing in an email (as well as on the phone) that I would receive a 70% refund without any stipulations, but they have subsequently refused to honor the refund because the owner was able to provide a mechanics report stating the car does not have any problems. The customer service experience has been pretty horrific, and Turo seems to be much more concerned with protecting the owner of the vehicle rather than protecting the renter from an unsafe vehicle.
I guess the next step is to just dispute the charge on my credit card, given that they've charged me but aren't holding up their end of the bargain.
There are lots of things to love about the "sharing" economy, including the overall better value that can be had, and that the typically horrific service from car rental companies can be avoided… or so I thought. This highlights one of the challenges with the sharing economy, though. When things go right, it's great. When things go wrong, no one takes responsibility.
Has anyone experienced a similar issue with Turo? What would you do in this situation?