My wife and I have been bringing our kids along on our worldly adventures from just about the moment they were born. In fact, given the ages of our kids — currently 6, 5, and 1.5 — we've pretty much had a baby crib in our hotel since we became parents. As soon as one kid moves out of it, another shows up.
We brought our own pack-and-play along on our first few trips. But then we realized that we had enough to schlep, so we started to just borrow one from the hotel. That's what we've done for years now and it usually works out fine.
That said, we know that we're really never guaranteed to get a crib. Each hotel has a finite supply of them, so it's going to come down to how many other families need one at the same time. I usually figure that between traveling during the off-season and having elite status, the odds of getting one are probably in our favor.
But it does make me wonder, how many cribs should a hotel have?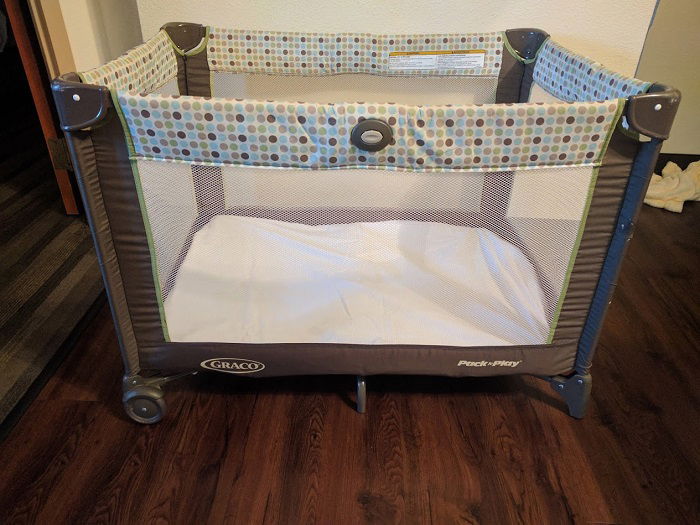 A typical pack-and-play crib available at many hotels
How many cribs should a hotel have?
I like math and statistics, so determining the optimal number of cribs a hotel should have is an interesting question. Logically, the only way to insure that everyone who wants a crib can get one is to have one available for every room. (And hope that no one shows up with twins I guess!)
But that's obviously going to be cost prohibitive, not to mention a storage nightmare.
So maybe you would look at historical crib analytics for similar properties. Then you could predict the nightly peak demand for cribs and plan accordingly. If you have 100 rooms, and on one night in July you had 10 rooms requesting cribs — the most of any night during the year — then perhaps you should choose to have 10 or so cribs available to cover the worst case. Or perhaps you plan for a worst case + 1 to allow yourself some margin in case one of them breaks, or you get a sudden influx of families one night.
I also wonder what the crib demand is like at luxury versus limited service properties. I would expect that a Park Hyatt might only expect a worst case in which 2% of their guests request a crib. On the other hand, the last thing a Park Hyatt wants to do is tell a guest they can't meet their every need, so maybe they actually stock double the cribs that they expect to ever need?
At the other end of the spectrum, I would think that limited service properties like Hyatt Place and Hyatt House would have lots of families staying with them. If you've ever been to a weekend breakfast at one of these places, it can feel like being at a Chuck-E-Cheese birthday party. So maybe they expect a worst case where 5% of their rooms need cribs.
And that leads me to a recent stay on our cross country road trip.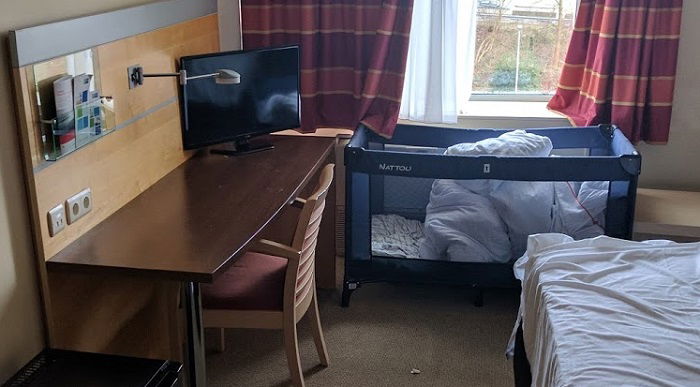 A giant euro-style baby bed from our room in Ghent
No cribs at the Hyatt Place Des Moines Jones Creek
We were stopping for the night just outside of Des Moines, and I was feeling fortunate to have found a Hyatt to help me maintain my Globalist status for next year. I booked the reservation, and even remembered to check the crib request box.


Crib request on the Hyatt website
When we arrived at the hotel, I asked at the counter if they had seen my request for a crib and if it was already in the room. He mumbled something, that I think meant no. But then he said said he'd go look for one.
That didn't surprise me at all because, in my experience, the front desk staff often doesn't know where the cribs are kept — housekeeping will stash them in the laundry area, the stairwell, the elevator shaft, etc. Sometimes they even need to call someone else or bumble around until they uncover one. But at least at Hyatt Places, I think we've always gotten a crib when we needed one. This hotel didn't seem at all busy, so I figured he'd find one eventually.
Except he didn't. And he couldn't even bother to tell me.
As I was bringing in the last of our bags, I stopped by the front desk to ask if he had found one. He said no, and that he had called his manager who said they didn't have any. I was perplexed.
"You mean, this entire property doesn't have any cribs?" That's right.
"Or do you mean they are all in use tonight?" No, we don't have any.
This was the first time I think I had ever heard of a hotel that didn't have any cribs.
Property management blames Hyatt corporate
I was hoping to speak to someone else in the morning, but the same guy was working as the night before. I have no idea what kind of shifts he was pulling, but he was there at 9 PM the night before, and 8 AM in the morning.
So having already spoken to him the night before — and knowing it wasn't his fault anyway — I asked for the manager on duty. Sure enough, the general manager of the property walked out, looking as though he'd rather be doing anything else other than interacting with a guest.
I explained the issue and he confirmed that the Hyatt Place Des Moines Jones Creek has zero cribs, despite having been open for about six months.
He was completely unapologetic and blamed corporate for mandating a crib type that was illegal in the state of Iowa. He said he wasn't going to break a state law to satisfy a franchise agreement.
I wonder if he could violate a franchise agreement to satisfy his guests….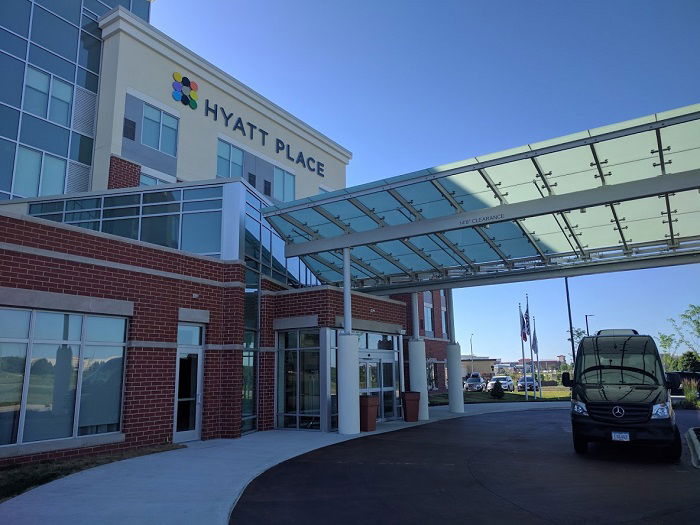 No cribs at the Hyatt Place Des Moines Jones Creek
Bottom line
I don't claim to know the optimal number of cribs that each hotel should have on hand to satisfy most of their guests most of the time. But I can be pretty damn sure that if a property has no cribs, no one will get one.
So perhaps we can safely say that a property should have at least one crib.
Which is one more than the Hyatt Place Des Moines Jones Creek has.
Have you ever requested a crib but not been able to secure one?