Airbnb has become a popular lodging alternative to hotels. There's obviously some crossover between those who fly frequently and those who need accommodation frequently.
So we've not only seen airlines forge partnerships with hotels, but also with Airbnb. Now we have yet another airline launching a partnership with Airbnb.
Earn British Airways Avios for Airbnb stays
It's now possible to earn British Airways Avios for Airbnb stays. You can earn three Avios per £1/€1/$1 spend spent with Airbnb worldwide. Furthermore, if it's your first stay with Airbnb you'll earn 500 Avios as a welcome bonus.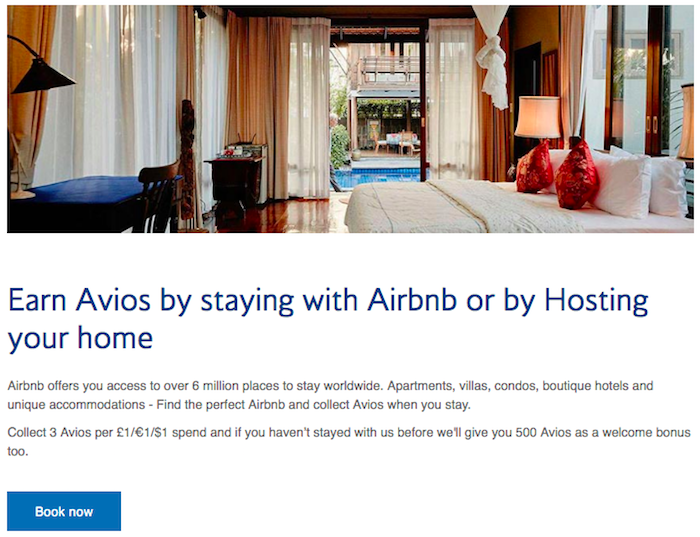 In order to take advantage of this you need to make your booking through British Airways' Airbnb portal. That's how they track your stays and are able to award you Avios (presumably they're being paid some commission by Airbnb, and in turn they're awarding some Avios to those booking through them).
The terms state that Avios will post within 60 days of the booking date.
Personally I value British Airways Avios at 1.3 cents, so to me that's the equivalent of a ~3.9% return on Airbnb spending.
See this post for the best ways to redeem British Airways Avios, and this post for the best credit cards for earning British Airways Avios.
Other options for earning points for Airbnb stays
British Airways isn't the first airline to partner with Airbnb, so there are some other options for earning points for stays as well. Each of these is mutually exclusive, which is to say that you have to book through the portal with the program you want to earn points with.
So what are the other options?
I'm sure we'll see other programs added in the future as well, though those are the two main ones I know of as of now.
Bottom line
It's great to see British Airways offer Avios for Airbnb stays. I'd note that their rate of being able to earn three Avios per dollar spent with Airbnb is the most rewarding of any such partnership, in my opinion. So if you are going to earn points for Airbnb stays through a portal, I'd recommend earning Avios.
Do you plan on taking advantage of this Airbnb British Airways partnership?