I'm sure we all remember last year's crash of Asiana 214 between Seoul Incheon and San Francisco, which touched down short of the runway, causing both death and serious injuries.
In June the NTSB concluded that pilot error was the main cause of the accident.
Aside from the overall damage this does to the airline (reputation, lawsuits, insurance claims, etc.), how is Asiana being "punished" for the accident? Well, apparently by being issued a 45 day suspension on their route between Seoul and San Francisco:
Via Yonhap News:
Under Friday's decision by a seven-member review committee, Asiana will be barred from operating its Incheon-San Francisco route for the penalty period from a date of its own choosing, the Ministry of Land, Infrastructure and Transport said.
Admittedly I don't follow "punishment" after air accidents all that much, but I do find this to be an interesting system:
"All committee members agreed a suspension of operation was inevitable," Kwon Yong-bok, head of the ministry's aviation security division, told reporters.

According to aviation safety law, an accident involving casualties is punished with a minimum 90-day suspension, according to the official.

"The committee decided to reduce the duration by 50 percent, which is the maximum reduction allowed under the law, considering the sincere and dedicated evacuation efforts by the flight's crew that helped minimize casualties," Kwon said.

Asiana previously said a 90-day suspension would cause a loss of some 20.8 billion won (US$18.9 million) in sales.

The government was initially said to have considered only imposing fines without an operational suspension.

Kwon, however, said the government decided to send a clear warning to all airlines to prevent future accidents. The maximum fine for a fatal accident is only 2.2 billion won.

"What we sought to do before anything else was to improve airline safety. Ensuring airline safety came before punishing the involved airline," he added.
Is suspending an airline's right to fly a route after an accident "fair?" On one hand there's a huge financial cost to doing that. As stated above, a 90 day suspension would cost the airline ~$18.9 million, so presumably a 45 day suspension would cost them roughly half that.
On the other hand, they're also inconveniencing lots of passengers in the process, so I'm not totally sure I get the benefit of suspending the route over just slapping them with a fine for the amount. I suppose there's some level of pride involved, and maybe the committee thinks that the embarrassment of having to suspend a route will make them focus more on safety, so that a similar incident doesn't happen again.
The Korean aviation industry historically has an abysmal safety rating, though it has improved considerably over the past decade or so. For example, Korean Air hasn't had a fatal accident in almost 15 years, while prior to that they had three fatal accidents in two years.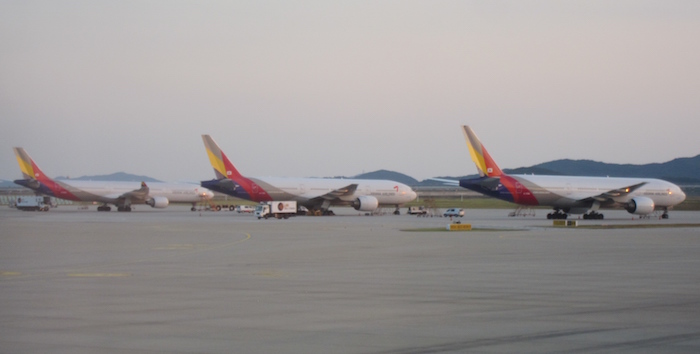 What do you think? Does forcing an airline to suspend a route seem like fair "punishment?"