Yesterday I flew US Airways from Chicago to Tampa via Charlotte using British Airways Avios. American didn't have award availability on the nonstop and revenue fares were ~$500, so at 9,000 Avios one-way it was the best value.
I'm still trying to learn the whole US Airways system, because it doesn't make much sense to me. For example, after putting my Executive Platinum number on the reservation I was given these seating options at check-in: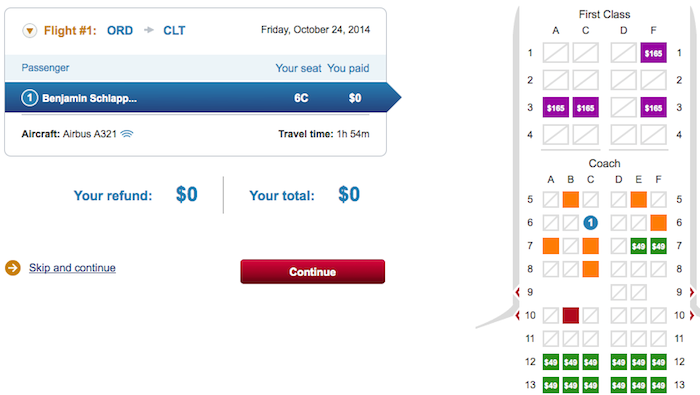 So I have to pay $49 to reserve seemingly arbitrary seats, which aren't in exit rows, or extra legroom, or…?
Anyway, I had selected seat 6C, which is an aisle seat in the second row of economy on the Airbus A321.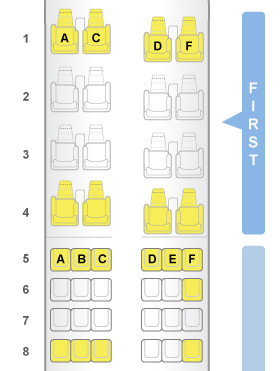 Since it was a 5:50AM flight it wasn't totally full, so I wanted to ask the gate agent if there were maybe seats with empty middles a bit further back. I far prefer an empty middle since I find it's easier to get work on my laptop with a bit more shoulder space (not to mention that I don't want anyone glaring at my laptop screen).
The conversation went something like this:
Me: "Morning! Do you by chance have a seat with an empty middle somewhere a bit further back? I had tried to select another seat online earlier, but it tried to charge me for other seats even though I'm an Executive Platinum with American."
Agent: "What seat are you in?"
*showed her my boarding pass*
Agent: "Oh you're in row six. Trust me you won't want to switch, you're in business class."
Me: "Isn't this a domestic plane? Aren't there only four rows of first class?"
Agent: "I didn't say you was in first class, but you is in business class. Trust me, you don't want to switch."
Me: "Since when do your domestic planes have first and business class?"
Agent: "Do you hear me? You won't want to switch. Trust me."
Me: "Bu… bu… bu… b…. b…"
Agent: *turns to other agent* "This guy does not trust me, I'm just trying to keep him in the best seat."

At this point the other gate agent announced boarding — "we're now boarding our first and business class passengers."
Okay, was I the one going nuts? Did American somehow sub one of their premium transcon A321s in for this flight?
Nope, it was a standard US Airways A321. And I was in exactly the economy seat I was expecting…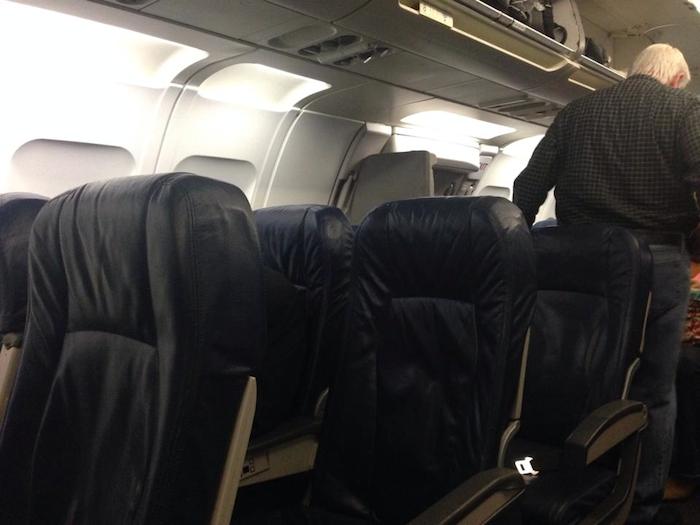 The most bizarre part? As boarding finished up that same gate agent came aboard with a standby passenger she was going to put in 6C. When she saw me there, she goes "oh that's right, I knew you were in 6C, not sure why I thought this seat was empty."
Oddly she didn't ask me how I was enjoying my business class seat.
Anyway, it was no big deal, though I did find it all a bit odd…