All Nippon Airways' Mileage Club frequent flyer program is transfer partners with both American Express Membership Rewards and Starwood, and I've transferred to them on many occasions. What makes them unique is that they have a distance based award chart, which makes them an especially great value for certain routes, like when flying from the East Coast of the US to Europe.
For example, a roundtrip award from New York to London is just under 7,000 miles in distance, and in business class that costs 63,000 miles through Mileage Plan. That's either on one of their Star Alliance partners, or otherwise on their partner Virgin Atlantic.
That's an amazing deal, given that New York to London roundtrip through Virgin Atlantic's frequent flyer program, Flying Club, would run you 90,000 miles. But there used to be something that made the deal even sweeter. Virgin Atlantic, like most non-US frequent flyer programs, imposed fuel surcharges on their award tickets, meaning in addition to 90,000 miles you'd be paying hefty surcharges.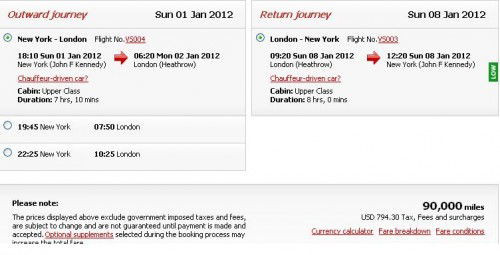 As you can see in the example above, the taxes and surcharges come out to $794.30. Ouch!
What was interesting about All Nippon Airways is that while they charged fuel surcharges on most of their partners, they didn't charge fuel surcharges for travel on Virgin Atlantic. So not only would you save 27,000 miles on the above award by booking through All Nippon Airways, but you'd save over $500 in surcharges.
I'm not sure if it was an oversight or intentional, though as of a couple of weeks ago that's no longer the case. All Nippon Airways is now imposing full fuel surhcarges on Virgin Atlantic awards, and according to this post on FlyerTalk, the same award now costs around $800, the same Virgin Atlantic would charge.
The other strange thing is that sometimes ANA didn't charge the UK luxury departure tax, which will run you about $192 nowadays.
Some of you may remember that I flew from San Francisco to London and London to New York on Virgin Atlantic in Upper Class last year. The mileage cost was 68,000 miles, and the taxes were only $153.60. No clue how they calculated them, but that's what the computer auto-priced it at.
So the moral of the story is that if you have to fly Virgin Atlantic, you're still better off going through All Nippon's frequent flyer program than you are going through Virgin's. However, what was easily one of the best award redemption values out there is no longer…