In the interest of full disclosure, One Mile at a Time earns a referral bonus for purchases made through some of the below links. These are products and services we use ourselves and are the best offers we know of. Check out our
Advertising Policy
for further details. Thanks for your support!
Card issuers have added all kinds of temporary perks in light of the current pandemic. A few weeks ago I wrote about the latest such benefit on the American Express Platinum Card, which is offering a one-time credit that most cardmembers should be able to get value out of.
I wanted to first recap this perk, and then share my experience using it yesterday.
Amex Platinum offering $100 Dell credit
If you log into your US-issued personal Amex Platinum account and scroll down to the "Amex Offers" section, you should see an offer for $100 back when you spend $100 or more on dell.com by January 31, 2021. In other words, you can get $100 worth of stuff from Dell, more or less for free.

There are some things to be aware of, not surprisingly:
You need to register through the Amex Offers page in your account
You must spend a minimum of $100 over one or more transactions
The offer is valid for purchases made online at dell.com/amexplat, through the Dell mobile app, or via phone at 800-291-3355
Gift card purchases are excluded
Not valid on purchases shipped outside the US, Puerto Rico, USVI, and Guam
This is separate from the annual Dell statement credits available on the American Express Business Platinum Card
How valuable is this offer?
Many may initially assume that this is worth almost nothing. I don't know about you guys, but prior to this, the last time I purchased a product from Dell was when I was using dial-up internet.
However, Dell sells a variety of products that could prove worthwhile, at least when factoring in the $100 credit. For example:
You could buy a Kensington international travel adapter for ~$31
You could buy Bose SoundSport wireless in-ear headphones for ~$129
You could buy an Aluratek portable battery charger for ~$37
If you're getting ready to buy the brand new Microsoft Flight Simulator, you could buy a Saitek yolk system for ~$170
Those are just a few examples of things that travelers might find to be valuable, though there are thousands of products to choose from. There's value in seeing if Dell has something that you might otherwise buy elsewhere.
My experience using the $100 Dell credit
Yesterday evening I finally placed an order to use my credit, so I just wanted to share a few observations:
While Dell offers free shipping, the company almost seems to be punitive with it; if I wanted free shipping it would only arrive in four weeks, while it could arrive within a few days if I paid
Shipping and taxes qualify towards the $100 minimum spending requirement
Dell lets you split payment across multiple cards, and this can be done on the final payment page; this is ideal if multiple people in your household have an Amex Plat, and you want to use your credit towards a larger purchase
Since Ford also has an Amex Platinum, I ended up making a purchase for $203, which included taxes and expedited shipping. I split the payment so that there was just over $100 charged to each card. Within minutes of confirming the purchase, we both received emails from Amex confirming that we would receive our statement credits.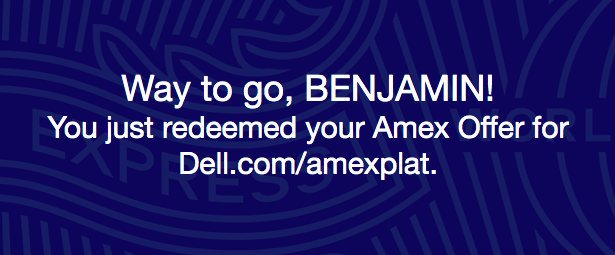 What did we order? Nothing too exciting, but I got a couple of international travel adapters (those always come in handy), a portable battery charger, and a couple of USB-C to USB-A cables (which I needed, as I lost my previous one).
Bottom line
Those with the Amex Platinum can register to receive a $100 credit when they spend $100+ with Dell by January 31, 2021. While I hadn't made a Dell purchase in years, I finally took advantage of this yesterday.
Shipping and taxes count towards the minimum spending requirement, and Dell even lets you split payment, so you could make a $200+ purchase and split it across two cards, should have multiple people who are primary cardmembers on an Amex Platinum.
If you have the Amex Platinum, do you plan on taking advantage of this $100 Dell credit?