As an update, Amex has issued the following statement regarding this situation:
"Due to a recent tech issue, a small group of customers recently experienced issues transferring their Membership Rewards points to Aeroplan Miles, which resulted in incomplete transfers. We have since fixed the issue and are in the process of returning the points to the impacted Card Members' Membership Rewards points bank. We apologize for any inconvenience this may have caused."
---
This won't apply to everyone, but just in case it's relevant to you I wanted to share a quick note of caution regarding making multiple transfers from American Express Membership Rewards (at least the US program) to Air Canada Aeroplan in a single day.
Trip & itinerary background
My niece is studying abroad in Australia right now. Her parents are going to meet her at the end of the semester, then the three of them will spend some time in New Zealand before flying home together. It should be a fun trip, and one that I'm thrilled to have the ability to facilitate with miles.
That being said, award inventory to and from Australia and New Zealand in November is never what one would call plentiful. Most business class itineraries will realistically route via Asia, unless you're booking extremely close to departure.
So I was delighted to find three award seats on an Auckland > Sydney > Vancouver > Seattle itinerary, within a day of when they were hoping to travel: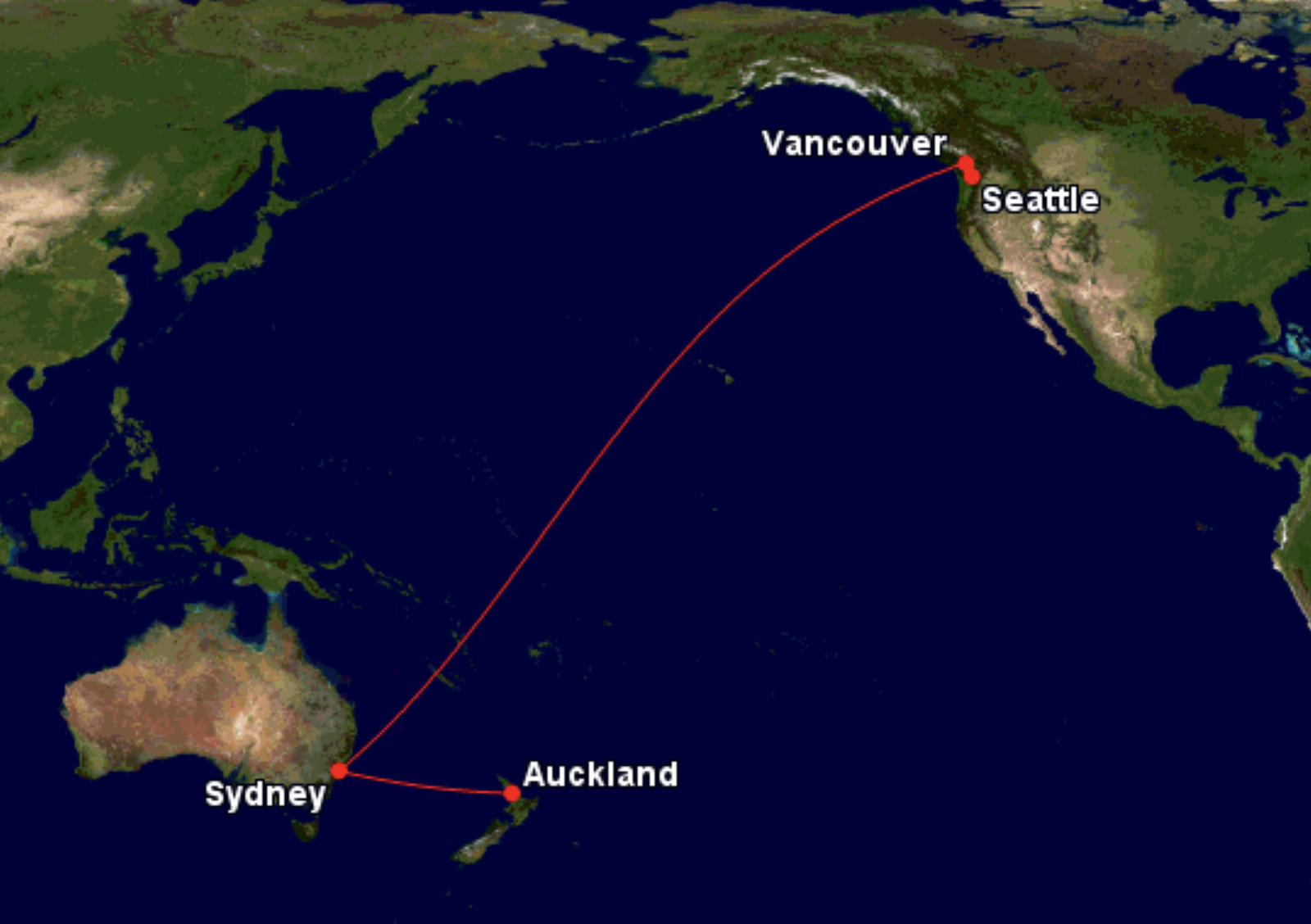 Air Canada sometimes makes additional inventory available to Aeroplan members, which was the case here, so these flights weren't bookable through other Star Alliance partners.
Which is fine, because at 80,000 Aeroplan miles (combined with no fuel surcharges out of New Zealand, so the fees were only ~$40), this is a fantastic use of Amex points.
Glitch when transferring points from American Express to Aeroplan
Points transfers between Amex and Aeroplan are usually roughly instant, so this should have been an easy and straightforward process.
Transfer points to Aeroplan with these cards:
The one complicating factor is that I wanted to move points from both my Membership Rewards account and my husband's into my Aeroplan account. This is something I've done dozens of times before for myself (and maybe thousands of times for clients), and shouldn't be a problem. We're authorized users on each other's cards, the account was previously linked, there have been successful historical transfers before, and so forth.
So I first logged in to my husband's account, and moved 107,000 points to Aeroplan.

They appeared in my Aeroplan account instantly (or as long as it took me to log out and back in), as expected.
Then I logged into my Membership Rewards account, and transferred an additional 133,000 points.

And waited.
And waited.
And waited.
After about an hour, I began to suspect I was in trouble. A quick survey of my colleagues at PointsPros confirmed that I at least wasn't crazy, and this was something that should be possible and everyone had done before, and no one had recently experienced problems with. The team at JuicyMiles said the same thing.
A ping to Ben, however, suggested a bigger issue:
Ruh roh. You might be in a new circle of hell. I think I saw a Tweet or comment with something about multiple transfers getting "stuck", but I haven't had a chance to chase it down, and can't find it now. Good luck.
Escalating with American Express
This is so frustrating, because while you and I and even the folks at Membership Rewards know that these transfers usually happen instantly. As the pleasant representative I spoke to with responded when I summarized the events and my concern that the second transfer was stuck:
That isn't how it is supposed to work, and there's nothing saying you can't make multiple transfers in a day, from one account or multiple. Our system shows that the points have not only been deducted from your account, but successfully received by Aeroplan. But I can't even open a ticket until it's been at least 48 hours, so I'm afraid you'll have to call back
And so I got ready to wait some more.
In the meantime we had a family discussion about how if award space disappeared (which, let's be honest, was likely), that the girls would just wait to book return flights, maybe taking a few extra days for some mother-daughter time. Heather's husband has the more restrictive work schedule though, so I went ahead and issued his ticket:

48 hours later the miles still hadn't posted (and I had no expectation at this point that they ever would), so called Amex to see if they could reverse the transfer, or otherwise push things along with Aeroplan. They filed a ticket with their research department, and were apologetic, but fundamentally weren't able to do anything to speed up the process.
Escalating with Aeroplan
LOL.
Don't even bother. They couldn't even see the second transfer from Amex in their system, but I do suspect that this is a problem with the Aeroplan system. Multiple transfers were never a problem prior to the most recent Air Canada and Aimia integration, so it would seem logical that some kind of update or change there is the triggering factor.
But the responsible team at Aeroplan seems to be profoundly uncurious, and was not interested in proactively researching or finding a resolution on their end.
The ultimate resolution from Amex
21 days after initiating the transfer (and 19 days after filing a ticket with the research team at Membership Rewards), I received a call saying that the points were being returned to my account.

There was no explanation as to why this had happened, other than that "it does appear to be an issue with the partner system when there are multiple transfers in a 24-hour period." I asked if other cardholders had experienced this, and the agent confirmed that "this was not an isolated case".
I asked if Membership Rewards was going to follow up with Aeroplan, or add messaging to the website so that cardholders were aware of the potential pitfalls. The agent agreed that would be useful, but in the tone of voice that strongly implied it was not a thing that was ever going to happen.
So, here's your warning: Don't make multiple transfers to a single Aeroplan account from American Express (whether one Membership Rewards account or multiple) in a 24-hour window. They'll get stuck.
This is an annoying limitation, and one that there's no good reason for, but hopefully sharing will help other people avoid some frustration when moving their own miles around.
Has anyone else had issues with Aeroplan transfers lately?