It looks like the Amex Membership Rewards program has its first major transfer bonus of 2020.
Transfer Amex points to Aeromexico with 25% bonus
The US American Express Membership Rewards program is offering a 25% bonus when you transfer points to Aeromexico Club Premier through February 14, 2020.

Points usually transfer at a ratio of 1,000 Amex points to 1,600 Premier points (because their points are more like "kilometers" than "miles"), so during this promotion you'll get 2,000 Premier points for every 1,000 Amex points. In other words, you're looking at a 1:2 transfer ratio.
The bonus is hard coded into the transfer ratio, so you can take advantage of this as awesome as you'd like.
Should you transfer Amex points to Aeromexico?
Aeromexico is in SkyTeam, so on the surface the program could be useful for redemptions either on Aeromexico, or on any of their partners.
Aeromexico's award pricing appears to be very high, though keep in mind that Aeromexico's points are more like kilometers than miles, so divide the amounts by 1.6 to get a fairer sense of prices (without factoring in the transfer bonus).
Here's the Club Premier award chart for travel on Aeromexico flights departing Mexico: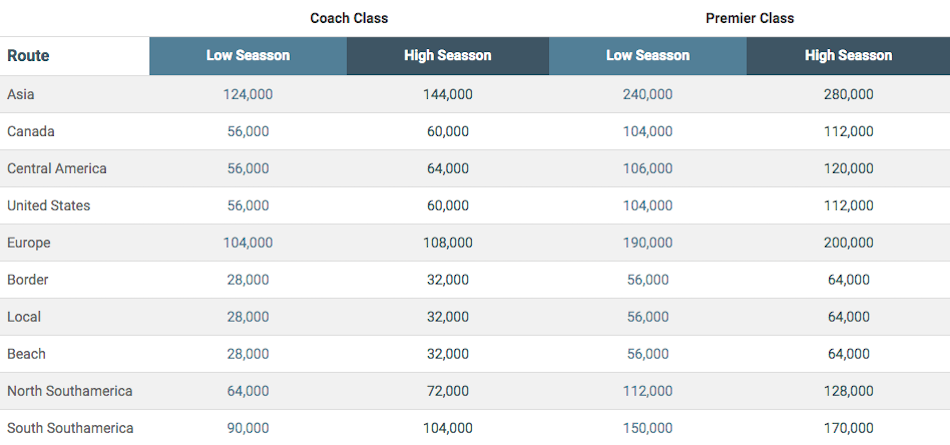 Then here's the Club Premier award chart for travel on SkyTeam partners departing the US: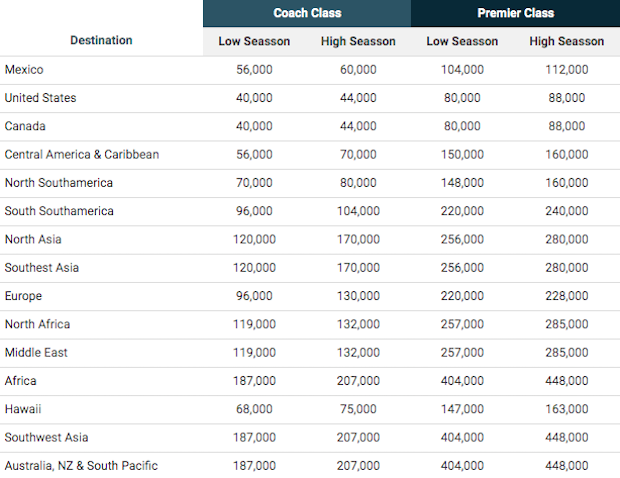 Perhaps the most tempting is their round the world award chart:

So for 352,000 Premier points (or 176,000 Amex points) you could book a ticket with anywhere from three to 15 stopovers, and you must continue traveling in the same direction.
On the surface that's an amazing deal.
But here's the thing — round the world tickets are really, really hard to actually book:
You need to find award availability on all of these flights
You need to book by phone, and Aeromexico's Club Premier call center leaves a bit to be desired, to put it mildly
SkyTeam has the most inconsistency among the alliances when it comes to award availability programs make available to partners
So if you've been redeeming points for decades and have redeemed tens of millions of miles, then by all means consider this, knowing going into it that it's going to be the adventure of a lifetime to book this.
But in general I think it's not smart to recommend this as an award to people, without cautioning that this is going to be colossally complicated to book, in terms of award availability, and in terms of booking this by phone and finding an agent who knows what they're doing.
I also generally don't like round the world awards in terms of their lack of flexibility. If your plans change last minute and there's not award availability on your new routing, you'll be stuck with the ticket with no way to make changes, short of forfeiting the entire remainder of the ticket.
Bottom line
With a 1:2 transfer ratio, there's potentially some value to be had with Aeromexico's Club Premier program. However, personally I'm not transferring points, due to the complexities of booking by phone, and also due to many SkyTeam airlines only making a majority of award space available to their own members.
For example, if you want to fly Air France, KLM, or Korean Air, you're going to find a lot more award availability through their programs, than through partner programs.
Anyone plan on taking advantage of this Amex transfer bonus to Aeromexico?