American has been undergoing a ton of international growth the past several years. Prior to the merger they were strong in Latin America, but pretty weak in most other international markets. They were way behind Delta and United when it came to their Asia route network, and were also lagging when it came to their Europe destinations.
But American has been working on growing their international network considerably, in particular to Asia. Just the past couple of years they've added additional flights to Beijing, Seoul Incheon, Hong Kong, and Shanghai, and as of later this year, even Sydney. Going forward, apparently we'll see more international growth out of Los Angeles.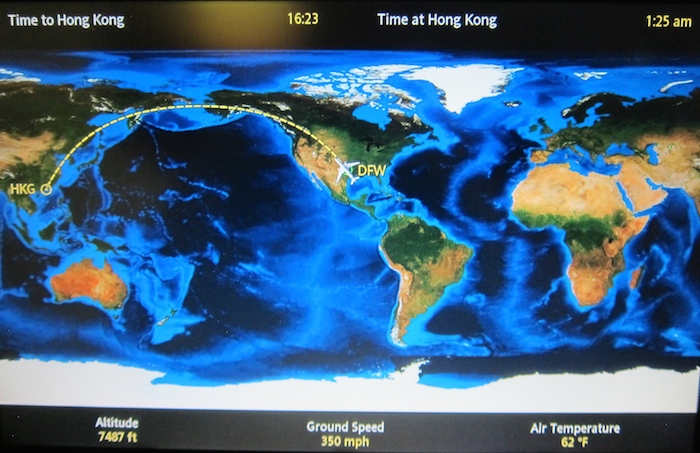 American has claimed most of these routes aren't profitable yet, but they're a long term investment in American's route network, as it can take a while for demand to ramp up in a new market. The good news is that they're codesharing with Qantas to Australia, and their Asia service is to pretty established destinations (ie, there are lots of connection opportunities in Hong Kong with Cathay Pacific).
There's no denying it's a tough time to grow international flights, though. With the US Dollar as strong as it is, international demand for travel to the US is down. Furthermore, the worldwide economy is pretty weak, especially when you look at what's going on in Europe, China, etc.
One of "legacy" US Airways' unique longhaul flights has been Philadelphia to Tel Aviv, which they've operated for about six years. The route is flown by an Airbus A330, featuring US Airways' excellent reverse herringbone business class product.
Via the APFA (Association of Professional Flight Attendants), American will be discontinuing flights between Philadelphia and Tel Aviv as of January 4, 2016. Here's what the union had to say about the route cancellation:
Earlier this morning, the Company announced that it will be discontinuing its Philadelphia to Tel Aviv route on January 4, 2016. PHL-TLV has not performed well since its inception in 2009. Service between PHL and TLV has been a source of pride for the Philadelphia base and is a popular bid choice for Flight Attendants due to its high credit. According to American Airlines Management, in its six years, the Philadelphia to Tel Aviv route never turned a profit in any year, and has already lost over lost more than $20 million on this service in the past year alone. Philadelphia is the fifth largest city in the United States and is in the top twenty for busiest U.S. airports. We are currently in discussions with the Company regarding their plans for the distribution of time and the aircraft utilization. While we are disappointed in the loss of this route, APFA looks forward to future announcements of growth in PHL and other bases throughout the American Airlines system.
Ouch! So apparently the route hasn't turned a profit in six years, and has lost more than $20 million in the past year alone. That's rough!
There are also the following FAQs associated with the route cut (which are obviously intended for flight attendants):
Q: Will the flight be reinstated in the future, perhaps when we have more opportunity to operate the route with a different aircraft or from a different hub like MIA or JFK?
A: We'll certainly continue to monitor the viability of reinstating TLV service and will evaluate future opportunities as we bring in new aircraft to the fleet and our network evolves. At this time, we do not anticipate restarting service to Tel Aviv in the near future.

Q: Why did this route work for US Airways for years but shortly after the merger, it does not work for American?
A: The PHL TLV route has never been profitable for our airline. We want to give every route the chance to succeed, andwe gave it a fair shot, but at a certain point, no matter how much we want to serve a particular route; we have to make the right decision for our business.

Q: The PHL TLV flight traditionally operates with high load factors. How can it not be making money?
A: There are a lot of different factors that determine the overall success of a route. Load factor is not the only way, nor the best way, to judge a route's performance. We also look at overall demand and the fares customers are willing to pay on that route. In the case of PHL TLV, a number of factors have resulted in poor financial performance.

Q: What will happen to customers who are ticketed on the PHL TLV service after the cancellation date?
A: American will be contacting all passengers to make alternative travel arrangements for them, or to offer a full refund. We apologize for the inconvenience that this decision will cause.

Q: What does this say about PHL as a hub? Is there enough connecting traffic for other international flights?
A: Our combined hub structure allows for each of our nine hubs to play a very important role in our overall network strategy. Looking at our international network, PHL is a prime hub for connecting customers to and from main business and leisure destinations throughout Europe and it will continue to be an important strategic hub for our partners through the Atlantic Joint Business.
Frankly I'm sort of surprised to hear Tel Aviv has been so unprofitable. It's not all that much further from Philadelphia than much of Europe, and the fares are consistently more. Assuming the load factors were good, this is sort of a mystery.
Especially since the route has apparently lost $20 million in the past year alone, with oil prices as low as they are.
Interestingly this route remains bookable even past January 4, 2016, though I assume it will be pulled soon.
Bottom line
As consumers we ultimately don't have access to the "math" on which flights work and which don't. But this one really surprised me, given low oil prices, and (based on what I could see) both high load factors and fares. And perhaps the most surprising is that the route has lost $20 million in the past year alone.
While I haven't taken the route yet, I really was hoping to at some point.
It doesn't sound like American has plans to simply operate the route out of another hub, which is what I initially assumed would happen after the merger. Presumably there are markets with more demand from the US to Tel Aviv than Philadelphia.
On the plus side, I don't think American can blame this route cut on the Gulf carriers (though if Delta canceled service to Tel Aviv, I bet they would!). 😉
In the back of my mind I do still wonder if this has something to do with American's pension dispute in Israel, which dates back a really long time…
What do you make of American cutting their Philadelphia to Tel Aviv route?